Lace-Covered Compromise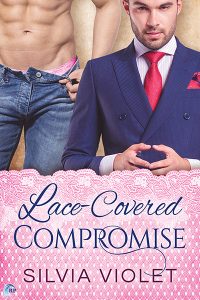 November 6, 2017
Riptide Publishing
Adam Kingston expects to inherit his father's multinational conglomerate. When he finds out half of it went to Nate Thomas—an annoying man whose dreams for Kingston Corp.'s future clash with Adam's need to stave off financial disaster—Adam is furious. He's willing to do whatever it takes to wrest control of Kingston Corp. from Nate.
Nate may be soft-spoken, but he refuses to be swayed by Adam's arrogant demands. When Nate accidentally drops a pair of his lacy panties in front of Adam, there's no mistaking Adam's interest. Nate hadn't realized Adam was bisexual, but now that his secret is out, Nate is willing to use Adam's lust against him if it means protecting the welfare of the company he loves.
For Adam and Nate, hatred and desire are closely linked. Their inability to compromise threatens the company and could expose their tightly held secrets. But as they work together to develop a plan to save Kingston Corp., they begin to realize there might be more to their relationship than anger and lust.

Excerpt
Nate's assistant, Michelle, was at her desk, but I blew past her and pushed his office door open so hard it banged against the wall. His back was to me, and he jumped, knocking a gym bag off the chair in front of him. He must have been putting something in it, because it was unzipped and the contents spilled onto the floor. He grabbed the bag and started frantically shoving everything inside. What the fuck? His smelly gym shorts can't be that different than— Oh my fucking God. I caught a glimpse of pink lace. I might've thought he'd hooked up with some girl at the gym except Nate didn't go for girls, which meant . . . No way. He didn't . . .
He zipped the bag and tossed it to the side of the room where it knocked over a stack of papers. I couldn't stop staring at it. Those were lace panties. Nate's lace panties? Oh my God.
Finally I tore my gaze away, but Nate was looking out the window, so I glanced around his office, determined I wouldn't look at the gym bag. Wow. The office was a mess. My father would've hated it. I started counting the number of seltzer cans Nate had stacked on a shelf.
Nate turned around and I looked up. He held my gaze as if daring me to mention what I'd seen, his cheeks pink with embarrassment.
Normally I took every chance I could to taunt him, but this time I was too busy trying to understand my own reaction. I couldn't seem to think—all my blood had rushed to my cock. Another one of the damnable things about Nate was that despite being so unaffected and nerdy and probably wearing pants made of hemp cloth, he was fucking hot. His arms might've been the most perfectly formed ones I'd ever seen, and his ass . . . I couldn't stop thinking of it covered in pink lace. I'd never, not even in my most secret dirty jerk-off fantasies, gotten off on a man wearing lingerie. I didn't usually like feminine men, much less men in something as ridiculous as manties, but Nate. In fucking pink lace. Holy shit, that was going to be my new favorite thing.
No, no, I was going to block it from my mind, unless it became useful in the near future. It was always good to know someone's secrets. Someone's hot, dirty secret.
Now what the fuck was I doing in his office?
Nate cleared his throat. "Hello Adam. I'm assuming you're here about the will," he said, his tone measured.
My anger came rushing back. "Of course I'm here about the will." My father had fucked over my entire future by giving half my company to Nate. I certainly wasn't here to chat with him about the weather.
"I suppose you think you have some 'solution' to this 'problem.'"
If only I could knock the smug look right off his face, if only I didn't find him so goddamned intriguing. "I know I do."
"One that involves me backing down on everything I believe in."
I pretended to consider his words. "Not everything."