Lucien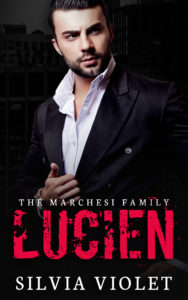 The Marchesi Family
April 24, 2020
I never imagined the protector I longed for would be a mob boss who demanded complete control.
I shouldn't have gone to Lucien's office.
Once I looked into his eyes, I couldn't leave.
He commanded me to kneel.
Beg.
Obey.
I couldn't help myself.
One taste, and I craved more.
Lucien vowed to protect me from his enemies…
But who's going to protect my heart from him?
This MM mafia romance is the first book in The Marchesi Family series.

Excerpt
"Once you crossed that threshold"—Lucien gestured toward the door to his office—"you became mine. The faster you accept that, the easier things will be for you."
Had his voice really gotten lower, huskier, or was that my imagination? There was heat in his eyes. I was sure of that. They'd been cold before when he'd been angry that Jimmy had sent me, but now they seemed warm, almost comforting, though his words were not.
"You can't own me, sir. No one can."
He shook his head. "You're wrong about that."