Painfully Attractive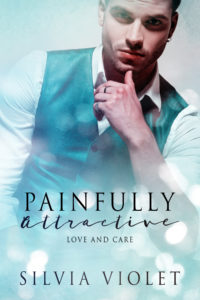 Love and Care
Love and Care 4
December 7, 2018
Wren has contemplated the fine line between pleasure and pain for years, but when he finally gets up the nerve to make his fantasies reality, things go terribly wrong. His father's best friend, Leo, comes to his rescue, and Wren knows instantly that Leo is the perfect person to introduce him to the world he longs to explore.
Leo has never met Wren before, and once he realizes who Wren is, he vows not to touch him again. Leo knows Wren's father won't approve of their relationship, especially considering the edgy play Leo enjoys. Leo values that friendship too much to risk it, but walking away from Wren isn't easy. There's a lot more between Wren and Leo than lust. They're pulled toward one another despite the trouble their relationship could cause. Ultimately, they give into their desire and begin seeing each other in secret.
The more they explore, the more obvious it becomes that Wren can take everything Leo wants to give, no matter how kinky or intense. They are a perfect fit in bed and out. Neither of them wants to keep hiding their relationship, but they both worry that once Wren's father knows about them, staying together will be too difficult. In order to make things work, they'll both have to believe in the power of love.

Excerpt
"You're welcome. Now, let's talk about what you're looking for."
"You mean like what I want to do?" His teeth sank into his lip again. God, had I ever been that young and innocent? He was all fresh and new to this, and I wanted to initiate him. I wanted to see the mark of my hand on his ass. I wanted to make him cry out, to see his face when he orgasmed after I'd hurt him just as much as he wanted me to. But that wasn't a good idea. The things I enjoyed weren't for novices.
"Yes, that's what I mean, but you don't have to be too specific yet. First of all, do you want this to be a sexual relationship or only a D/s one?"
"I totally want my Dom to fuck me."
Oh my God. I might not survive this. "You know some people keep sex out of their scenes, and that's okay."
"I've read about that on BDSM sites, but I can't imagine it. Just thinking about being spanked or flogged or being forced to wear nipple clamps makes me hard."
Hearing him mention it made me hard as well, and that made me even more reluctant to turn him over to another Dom.
I took a deep breath. Was I really considering playing with him? Maaaaybe.
If we put a time limit on it, if I agreed to a specific number of sessions, then I'd know when the end was coming. It wouldn't come as a surprise like it had with the last boy I'd taken on. I'd thought things were going well. I'd thought he had deeper feelings for me. I'd been very wrong.
But if I wasn't wondering if things would continue like I had other times, I wouldn't be questioning if there could be more between us.
Aren't you already questioning that? I really, really hated that voice.
"Before we discuss that further, I'm going to pull up a list of activities you and your Dom could try. Some of these might be things you never want to do."
"Hard limits."
"That's right. Others you might not be sure about, and some you'll definitely want to try. Remember that trying something doesn't mean you have to like it. A good Dom will stop the moment you use your safeword. When you're done going through the list, we'll compare our interests."
He studied me for a moment. "So you are considering taking me on?"
Damn him. His coy tone went right to my dick. How the hell could someone so young and innocent be seducing me? Wasn't I too jaded for that?