Remember Love (Memories with the Breakfast Club)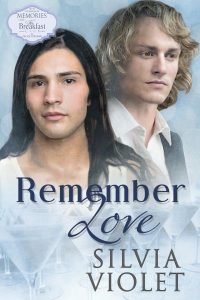 June 22, 2017
Amazon Kindle Worlds
This is a story set in Felice Stevens' Memories with the Breakfast Club Kindle World
The last person Antonio expected to see sitting at the bar in Sparks was Scott, the only man he'd ever truly cared about, the only man who ever broke his heart. As memories of the painful end of their relationship come flooding back, all Antonio can do is run.
Scott's number-one regret is believing Antonio would hurt him. He's never forgotten the look on Antonio's face the night they broke up. If there's any chance he can repair the damage he'd done, he's going to take it.
Though they care deeply for each other, Antonio and Scott will need to forgive and trust again if they're to find their way around the obstacles in their path.

Excerpt
Antonio looked up from wiping the bar and froze. A blond man had just found an empty stool at the far end. Antonio could only see his profile, but he would know the man anywhere. It didn't matter that it had been three years. That golden hair, the soft, loose curls that were so fucking effortless. Scott woke up looking perfect every damn morning. His cheeks were just plump enough to give him an innocent, boyish look, as if he would never hurt anyone. And of course, he wore impeccable—if occasionally stodgy—clothes that cost more than Antonio would ever dream of spending.
Scott couldn't really be there, could he? Antonio glanced away and then back, hoping he was hallucinating. He'd been working himself half to death recently between school and Sparks.
He looked again. He was going to have to accept it. Scott Ingles, the only man who'd ever broken Antonio's heart, was sitting at the bar in Sparks. Antonio's heart pounded. He felt hot and cold at the same time. Was he going to throw up?
Scott had moved to Boston after they'd broken up.
After you sent him packing and refused to talk.
Antonio shut that inner voice down fast.
What was Scott doing in New York? Business probably, or visiting friends. But why was he in Sparks? He didn't even like going to clubs.
He didn't a few years ago. Who knows what he likes now?
Had he known Antonio worked there? Probably not. Why would he? Sparks was one of the most popular places in town. It wasn't odd that someone would recommend it.
"That's quite a reaction."
It took Antonio a few seconds to process what his boss, Marcus, had said.
"Sorry. I—"
Marcus tilted his head toward Scott. "Who's that?"
"Just someone from a million years ago."
Marcus snorted. "You're too young to have problems that old."
"I doubt he even remembers me."
"I wouldn't bet on that."
Antonio couldn't resist the urge to look up. Scott was staring at him, eyes wide, expression unsure. He remembered Antonio all right, and Antonio surely remembered him: his skin, his scent, the way he loved to hold Antonio down, everything about him. And goddammit, Antonio still wanted him, no matter how much of an asshole Scott had been.