The Christmas Dragon's Mate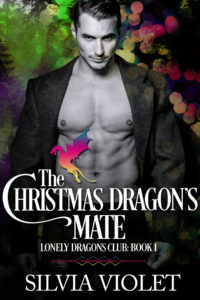 Lonely Dragons Club
Lonely Dragons Club 1
November 15, 2019
Best Surprise Ever: Going out to add to your Christmas hoard and finding your fated mate.
Laszlo
I've been longing to find my mate for over a thousand years. When I see him for the first time, he's standing beneath sparkling glass ornaments, like a present waiting to be unwrapped. A present I intend to lay claim to.
If I can lure him back to my lair, I'll shower him with so many gifts he'll never want to leave. Bonded with my mate by Christmas? Yes, please.
Roman
I'm no good at flirting and have terrible luck with men, so when a gorgeous alpha says he wants to take me home, I'm shocked. And wary. My heat is about to start, and I've never shared it with anyone, so why do I suddenly want to say yes to this stranger?
There's something unusual about him, the way his eyes shine, the odd phrases he keeps using. He says he wants to add me to his collection of beautiful things. I should be offended, but instead, I'm intrigued. Just this once, should I take a risk?

Excerpt
The shop I was looking for was on the next block. Tolliver's Treasures. I vaguely remembered the windows being full of all sorts of kitschy gifts, but it hadn't seemed nearly as interesting until it had been transformed into a Christmasy wonderland.
The door jangled as I pushed it open. A young man called out to welcome me, and I was suddenly transfixed, not by the beautiful glass I had come to acquire, but by the omega behind the counter. He made the two boys I'd devoured earlier that week seem like stainless steel next to the finest gold.
His golden hair shimmered in the light as magnificently as the glitter-filled ornaments. His eyes were bright blue, like jewels. His skin was smooth and beautiful, his body lean but not skinny. There was plenty of flesh for me to sink my teeth into. It was as if he'd been created just to tempt me. And he smelled absolutely delicious. His heat was coming on. Soon he'd be ready to beg for a thick cock inside him and a knot to fill him up.
Mine, my dragon insisted. Yes, he would be mine. The mere thought of him spending his heat with someone else made my dragon push to be released. The animal inside wanted to snatch up the omega and fly home with him held in his talons. But my dragon form was far too large for this little shop. My transformation would shatter all the lovely glass. I wondered if the omega had ever met a dragon. Not likely since my kind were rare. There weren't many of us within easy distance of this village. He was in for a treat. If he'd never experienced the wonder that was my kind, he'd never truly been satisfied. I stifled a groan as I imagined taking him home and playing with him amongst all my shiny things.
"May I help you, sir?" The delightful omega interrupted my fantasies. I smiled at him, reminding my dragon he would have to behave for now. "Is there something you need?"
Even his voice was perfect, soft and sweet. This omega wasn't a snack. He was a treasure I wanted to collect. I would add him to my hoard along with the sparkly things he sold.
"There is much you could help me with. But first, I'd like these." I pointed to the glass ornaments that hung near the counter.
"How many of them, sir? And what color?"
I tried to focus on the glass orbs, but all I could think about was the omega. His scent was too intoxicating. "All of them."