Unexpected Engagement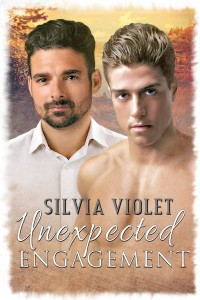 Unexpected
Unexpected 3
Silvia Violet Books
Simon McLeod was a promising young naval captain before pirates attacked his ship and CIA agents forced him to fake his death and join their ranks. Since that horrible night, Simon has focused on finding the men responsible for ending his career. He's close now, but he needs help from the man he loves. That's a problem because Edgar is straight, has no idea how Simon feels, and threatened to strangle him the last time they were together.
For years Edgar used his medical expertise to patch Simon up after ill-advised missions. Ultimately, watching Simon self-destruct became too painful and Edgar told Simon not to come running to him anymore. But when Simon shows up on Edgar's doorstep covered in blood, Edgar can't turn him away. He also can't fight the feelings he has for Simon, feelings that go way beyond friendship.
Neither man thought he'd ever truly be happy again, but if they can survive a final dangerous mission, they might be able to prove themselves wrong.
This book releases Oct 1, 2015 and will be up for preorder soon. I'll add the links as soon as they are live.

Excerpt
Edgar rubbed his eyes and turned over, which nearly resulted in him falling off the bed. What the fuck? Oh, right he wasn't on the bed. He was on the couch. Again. He checked the clock. Four AM. He'd guessed right. Nowhere near time to get up. So what the hell had woken him this time?
He listened, waiting for a clue.
A few seconds later, he heard it. A whisper of sound, just outside the door of his apartment. Most people wouldn't notice but he'd honed his instincts in the years he spent as a medic for a SEAL team, years before he was assigned to the Ridgeway and Simon. Sometimes hearing a whisper of sound meant you lived to see another day.
He moved silently as he crossed the room and unlocked the drawer where he kept his gun. It had been a while since serious trouble came to find him, but he wasn't taking any chances.
He approached the door, heart pounding, ready to defend himself any way he could. The lock began to move. The fucker was going to come in. Edgar took cover behind a sturdy chair.
The knob turned. Seconds past. Then the door swung open.
Edgar aimed for the intruder, finger on the trigger.
"Edgar, it's me." Simon pushed the door closed behind him and Edgar lowered his gun, flicking on the safety.
"Simon, what the fuck? Have you ever heard of knocking? I could have shot you."
"Someone beat you to it. And why knock when I have a key." Simon pulled his coat to the side to reveal a dark stain on his side.
"What happened?" Edgar hated the way his stomach knotted as memories rushed to his mind. Simon bleeding all over the deck. His blood staining the floor in the prison where they were taken after being "rescued" from the Ridgeway. Simon lying on that cold concrete floor. Simon flatlining while Edgar fought to save him.
"Someone shot me. I thought you got that already." Ah, Simon ever the comedian.
"Why?" Edgar knew he should do something to help, but he was frozen in place. This was exactly why he'd quit going on missions with Simon after the disaster in South America. Edgar was no good in a crisis anymore.
Simon shrugged. "I tend to give people a lot of reasons."
"No shit."