Unexpected Trust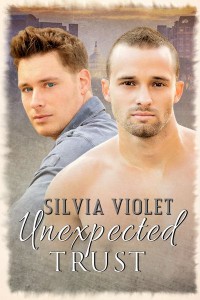 Unexpected
Unexpected 2
Silvia Violet Books
Special Agent Hugh Cranford, better known as Sport, is conducting an off-the-record investigation. He's after Danny O'Sullivan, a spy rumored to have assisted in the ambush of Sport's former SEAL team. Danny claims he and Sport are on the same side, and the real traitor is the man Sport is working for. But Danny is a master manipulator. He's also the most seductive man Sport has ever met. Sport can't help being attracted to him, but that doesn't mean he's willing to trust him.
In his quest to bring down a few highly-placed traitors in the US government, Danny O'Sullivan has been keeping tabs on Sport. When Sport comes looking for him, Danny decides to bring Sport in on his secret mission and into his bed. Sport may not trust Danny, but he wants him. As the two men risk their lives to complete Danny's mission, they discover neither is as strong as they like to pretend.
Excerpt
Sport closed the box and reached for another. Then he heard the whoosh of a door opening. No footsteps followed. Someone was trying to be silent. O'Sullivan? A security guard? It might be nothing more than a routine check, but his instincts told him he was about to be discovered. He flattened himself again the wall next to the shelves.
Several seconds of silence. The hall door opened and closed again. Sport started to put his gun away.
Suddenly, the office door swung open and Danny was there, aiming a Glock at his chest. Fuck. He hadn't heard a thing.
Why hadn't he waited to come back here? Based on what he'd seen of the security, he could have gotten in easily after hours. He could hear his instructor at Quantico berating him for his impatience. Mr. Invincible. Mr. I'm-Better-Than-Any-Fucking-Spook. Look where that got you.
"Hello there," O'Sullivan said. "Waiting for me?"
The Irish lilt went straight to Sport's cock. Damn the man. "Just leaving actually," Sport said, pushing away from the wall.
Danny shook his head. "Not yet. Get rid of your gun and then we're going to get to know each other better."
"I don't think that's a good idea, O'Sullivan," Sport said as he dropped his gun on the floor. Danny kicked it away from him.
"Call me Danny. You've obviously been getting to know me already."
"Can't say that I have. Not much here to learn from."
Danny walked to the desk and jerked open the drawer where Sport had seen the bug. Danny ripped it loose, dropped it on the floor, and smashed it with his foot, apparently no longer caring if whoever placed it realized Danny was on to them. "That's better, now we can have some privacy. So tell me this, why did you bother poking around in this dusty old place when what you really want is right here?" Danny swept his hand down his body, letting it graze over his cock.
"It looked like you'd already found some company," Sport said, keeping his face neutral. "I don't do secondhand."
Danny moved closer. "You'd do me. Any way you could get me."
Sport fucking hated him, and he hated that he wanted the man under him, begging for mercy. That would be a mistake though; he couldn't trust a word a man like O'Sullivan said. "Cut the games. Either shoot me or step out of the way so I can get back to my evening."
Danny took another few steps toward him. Sport could have reached out and touched him, made a grab for Danny's weapon or…. something else.
Danny reached out and drew a line down Sport's chest with the tip of his gun. Sport didn't flinch. Danny wasn't going to shoot him, not that night anyway. After a while you learned to tell who was likely to pull the trigger and who wasn't. Danny had no intention of ending things yet. He was the type who enjoyed the game far more than the outcome. He liked pitting himself against other operatives and coming out on top.
Sport could make sure he enjoyed coming on the bottom too.