To Capture A Spy Available In Print!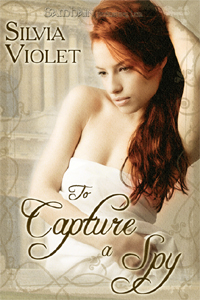 My Paris-set, Regency historical, To Capture A Spy is now available in print.
To Capture A Spy by Silvia Violet
Blurb:
When danger lurks, is courage alone enough to save a country—and a heart?
It's not enough Meg Wentworth has suffered kidnapping, imprisonment and torture. She kept her wits about her and escaped with her life, only to be captured by a handsome British officer—and promptly accused of spying for the French. Convincing him otherwise turns out to be easier than dealing with her next discovery: that Lucien just might be the man to help her put her life back together. If only he will let go of his rigid control long enough to let her show him they belong together.
Recovering from a near-fatal injury, British intelligence officer Lucien Archer hoped to leave the shadowy, violent world that left him scarred, body and soul. But a mysterious letter calls him back to duty, and nothing prepares him for Meg. The beautiful spy's fiery spirit threatens to break through the shell Lucien has built around his heart.
But Meg's kidnapper wasn't looking for simple ransom. He's an old enemy of Lucien's, Le Lézard, who's resurfaced with a single goal. To raise magical forces dark and powerful enough to destroy England. To do it, blood must flow. The blood of Lucien and Meg.
And the fire of passion that burns between them is the perfect lure to get them both where he wants them. On an altar of sacrifice.
Excerpt:
Meg stood and approached Lucien, trying to move exactly as Fabienne had taught her. "I am so pleased to meet you, Mr. Archer," she purred, offering her hand to be kissed.
He took her hand and brushed his lips across it, lingering longer than he should. For a few seconds, they stood, looking into each other's eyes. Then Meg stepped back, breaking the spell, pleased to see she had such an effect on him.
Smiling, he looked at Fabienne. "Are you certain this is the same woman I brought here yesterday?"
"Yes, but the change is amazing, non? She even convinced Therese that she is your current mistress."
Meg reverted to her normal self. "Fabienne is a wonderful tutor. She is teaching me all the things I ignored in London and making me into the woman I never wanted to be."
"You play the part of this woman well."
"Come along." Fabienne linked arms with Meg, and bid Lucien follow. They walked to the center of the room, where Fabienne positioned them to begin a waltz.
Lucien looked uncomfortable. "I'm no dancing instructor, so you will have to tell me what you expect."
"Meg explained to me that dancing was never important to her, so she never perfected the skill."
"I know all the steps, but I never manage to perform them with the grace of other women. I don't understand it. I can direct a horse with only the pressure of my knees, and I can tiptoe through the brush tracking a rabbit, but when it comes to the subtleties of dancing, I'm lost."
Fabienne smiled. "Perhaps you've never had the correct partner. Lucien is a master of the waltz." Meg thought she heard a faint sound from Lucien, somewhat like a groan.
Fabienne continued, looking at her. "Don't think too much about the steps. Let Lucien lead, and your body will follow. Let your mind dwell on that feminine power we discussed. Use your body to attract Lucien as he spins you in the dance." This time, Meg was certain she heard Lucien groan.
Fabienne crossed to the piano and sat down to play a waltz. On her first try, Meg failed to relax and follow Lucien's lead. Used to being in charge herself, she wanted to set her own pace and quickly ended up trodding on Lucien's boots and stopping to apologize.
Lucien looked thoroughly exasperated. "You're holding on to me like you're drowning, and I'm the only thing keeping you afloat. Relax. You don't have to control this. Let go and let your body turn. Follow the music."
"Step closer to him Meg," Fabienne added. "You're an adventurous young woman, not a matron at a country dance. The closer you press together, the easier it is to follow his lead."
She was more physically aware of Lucien than she wanted to be, but she took a step closer and concentrated on relaxing her posture. She could feel the heat coming from his body. Her nipples hardened as her breasts brushed against his chest.
Fabienne began to play once more. Meg focused on Lucien, trying to forget what her feet were doing and let him sweep her along. He was so strong he could have held her aloft through the whole dance. As she fell into the rhythm of it, she felt as if she were twirling above the ground. For the first time, she was really enjoying a dance, but her close proximity to Lucien made it feel far more erotic than was proper. She began to understand her aunt's objection to the waltz.
The tempo sped up, and she panicked. Once again she tried to control her steps and lost the proper rhythm. Lucien stopped. "This is not a fight. It's a dance. You don't have to control it. Quit trying so damned hard."
"How can I get it right if I don't try?" She felt Lucien's tension where her hand rested on his shoulder. It was like holding on to a rock.
"For the last time, relax!"
How could she relax with him filling her senses so thoroughly? Every time she breathed, she smelled his potent, musky scent.
Fabienne rose from the piano. "Lucien dear, as it turns out, you're quite an excellent instructor. A few more tries and Meg should be ready to dazzle and amaze her partners tonight. I'm afraid I am going to have to leave you now. I have an engagement tonight myself, and I must get ready." With that she breezed through the door.
Lucien muttered something vile about her under his breath. "Do you think you can get it right this time?"
"I don't know why you have to be so nasty about this," Meg replied. "You're the one who gave me a single day to completely remake myself."
"One day is all we can afford. I don't have time to give dancing lessons when our lives are in danger."
"I can think of numerous things I'd rather be doing. The very fact that I'm not an accomplished dancer should tell you how much I dislike the activity."
"You're the one who wanted to work with me. I can leave now and do this on my own."
"And you'll lose the one person who could identify Le Lézard for you."
"I know the value of that possibility, or you would not be here. We're going to try this blasted dance again. This time, I am not going to give you any choice but to move as I do."
He wrapped his arm around her waist and lifted her against his body. Holding her aloft, he began to waltz. He held her as if she weighed nothing, the muscles of his arm rigid against her back. She had no fear he would drop her, but her heartbeat accelerated as he spun. She didn't think about the movements or about learning to dance. All she thought about was him.
When he stopped, she slid down the length of his body and felt the hard ridge of his shaft. Apparently, he'd also been affected by their closeness.
"Do you understand how to let me lead now?" he asked with a calmness that seemed forced.
"Yes," she answered breathlessly.
Neither of them moved. She met his gaze and tried to discern his thoughts. Passion was the only thing that showed in his eyes. He released her hand and gripped the back of her neck, pulling her up to meet his lips. The warmth of his mouth felt delicious.
She lifted her arms and combed his hair with her fingers, luxuriating in its thickness and moving deeper to massage his scalp.
This kiss wasn't fierce like the ones he'd given her at the inn. Instead, he explored her mouth slowly, pressing gently to encourage her to open to him. Warmth gathered slowly at the core of her body, but when he ran his tongue across the roof of her mouth, she felt a stab of desire so strong she tugged on his hair and made him gasp.
He pressed harder against her lips, and she answered the pressure. She sucked on his tongue pulling it into her mouth, trying to get as close to him as she could. Thinking she'd like to stay locked with him forever.
Lucien fought with himself. He knew he should stop, but he wanted Meg as desperately as she apparently wanted him. When her greedy mouth released him, he couldn't resist the smooth column of her neck.
Purchase To Capture A Spy in print or ebook.