Archive for the 'BDSM Excerpt Week' Category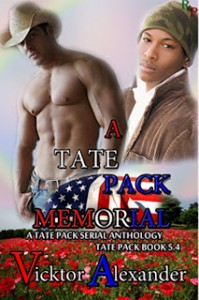 Tate Pack Memorial by Vicktor Alexander
Blurb:
Sometimes finding your mate comes with a price.
And sometimes that prices may be just a little too high.
Zander Laskaris has spent most of his life looking for his mate. Joining his brothers Zathan and Zavier, he joins the Tate Pack still hoping to one day find the man created to be his for eternity. The man who will be all he's ever hoped for and all he'll ever need.
Former soldier Devontae Robinson doesn't want his mate. He doesn't think he deserves him. After enlisting in the Army with his friends Derik and Lewis, Devontae returns home to the Tate Ranch under a medical discharge… and with the body of one of his friends in a coffin. He's haunted by war, by rumors, by the information that he's received about someone kidnapping paranormals and selling them on the slave market. He wants to curl up and die, not find the one man not only able to heal his heart and help him heal but to get him to fly again, but giving him the anchor he so desperately needs.
These two men will discover that Fate always knows best and that sometimes, in order to truly experience the freedom of flying, one must first give up control.
Excerpt
Devontae now stood before him completely nude, and Zander licked his lips at the delicious spread before him. He couldn't wait to taste every inch of the younger man's skin. He wanted every drop of sweat and cum in his mouth, on his cock at that very moment. More than that, he wanted to see his marks on the smaller man's skin. Zander's had shook slightly as he smoothed his hand over the unmarked skin of his future lover's body. He held onto his usual control by a hangnail, breathing deeply so that he didn't hurt his bunny by shoving his cock into the younger man without adequate preparation. He knew that some misguided Doms and subs thought that those with darker skin tones had to be hit harder to have marks appear on their skin. That was a fallacy. Zander had lived as a Dom for a long time, and he knew exactly how to get his marks to appear on the darker man's skin. A few well-placed lashes with his flogger or his hand and his marks would be there, on Devontae's skin, where they belong.
"On your knees, Bunny," he commanded the smaller man.
Devontae dropped to his knees immediately, his eyes beginning to glaze over, pleading as he looked up at Zander. Devontae silently begged Zander to take control, to possess him and dominate him. It made Zander feel about twenty feet tall. He felt his shoulders roll back, and his eyes closed with the sensual scent of his mate's surrender and submission as it spread over his senses and infused his every organ.
"Mmmm. Your surrender tastes delicious, bunny," he praised as he ran his hand over the younger man's closely cropped hair. The tight, black curls felt like the softest cotton underneath his palm. Zander knew that he would have Devontae grow his hair out so that he had enough to grab as he fucked the smaller man's face. The thought of his cock in his mate's mouth made him groan softly, and he looked down at the other man as Devontae looked up at him with trust shining in his eyes and a deep sadness that Zander was determined to remove.
"Choose a safe word, bunny," Zander instructed his mate, reinforcing the term of endearment with the smaller man.
"A-a s-safe word? What's that?" Devontae questioned.
"It's a word or phrase that you will remember and say if I go too far or you want me to stop what I'm doing," he explained. "And when we are in a scene—a scene is what we do when I am dominating you and you have turned over your control to me," he stated, having noticed the look of confusion that swept over Devontae's face. "When we are in a scene, you will address me as Sir. Understood?" he instructed his trembling mate.
Devontae nodded. "Yes, Sir."
Zander shivered. Gods, those two words sounded beautiful coming from his mate's lips. He clenched his teeth and fell back on the self-control that was a part of his inherent DNA in order to prevent himself from spewing his load all over his mate's face. Stepping back, he pulled off his black cotton tee and unbuttoned his jeans, stopping when he noticed Devontae licking his lips. Hhhmmm…interesting.
Stepping close to the other man, he repeated himself. "Choose a safe word, bunny."
"F-forty rounds," Devontae stuttered, his eyes darkening with lust.
Zander nodded his head, wondering if that phrase had connections to Fort Jackson where the younger man had done basic training with his friends.
"Forty rounds. Very good. Now." He stepped close enough that the bulge of his erection, trapped behind the zipper of his jeans, pressed against his mate's lips. "I want you to unzip my jeans with your teeth."
"Yes Sir," Devontae answered immediately, leaning his head forward, grabbing the zipper tab with his teeth, and pulling it down slowly.
Zander looked down at the top of his mate's head, grinning when he noticed that without being told his mate had assumed a completely submissive pose. Devontae kneeled before him, nude, his hands clasped behind him, his head up, but his eyes down.
"You are a very good sub, bunny," Zander praised.
"Thank you, Sir," Devontae whispered, practically glowing under the compliment.
"Now I want you to stand up and I want you to kneel down and lean over the spanking bench over there," Zander directed, pointing to the padded bench.
Devontae gracefully stood to his feet and walked over to the spanking bench, lying over the padding, pulling his knees up onto the padded restraints and laying his head forward. Zander pulled his cock and balls out of the top of his boxer briefs and pulled the flaps of his jeans apart. Walking over, he grabbed Devontae's legs and began putting them into the restraints. He pulled the restraints tight across the bottom of the other man's knees and then across Devontae's legs. Walking around the bench, he placed the smaller man's hands in the cuff that lay attached to the front of the spanking bench.
Zander placed his hand underneath his mate's chin and lifted Devontae's head to look into the other man's eyes. Seeing no fear, he gave him a small smile and then let go of Devontae's chin, proud when the smaller man immediately dropped his head again. Drifting his hand across the back of his mate's neck, Zander walked toward his wall of whips and floggers and pulled off his favorite—specially designed black and red—velvet flogger, custom made to fit his hand. Walking back toward his mate's feet, Zander drifted the strands of his whip down his lover's back and over his large, rounded ass, grinning at the shiver that wracked the other man's frame.
"Fifteen lashes, love. Count them off," he instructed.
"Yes, Sir," Devontae immediately answered.
Pulling his hand back, Zander delivered the first blow. The sound of air through the strands of the flogger making his cock throb and as it connected with the flesh of Devontae's ass, he moaned along with the black man.
"One, Sir."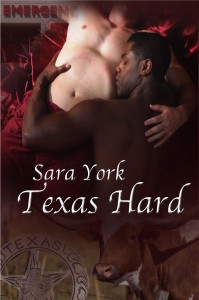 Thank you Silvia for having me on today. Connor, from Texas Hard, needs to be bound but he's placed his trust in the wrong man before. Trusting Riley is difficult in the beginning, but once he does his world is forever changed.
Blurb
Spurned by his heart's desire, Riley's aching for a fight, and he finds one with Connor, a sexy Texas lawman. Attraction fires between them, but Riley walks away, ignoring the lust between he and Connor…Until weeks later he's caught trespassing on Connor's new property–Naked.
Connor's tempted to arrest the audacious naked man in his watering hole until he realizes it's Riley. Lust muddles Connor's logic and soon he finds himself on a path rife with temptations. Passion twists Connor inside out leading him to share one of his deepest secrets. Still Riley's hiding something and the lack of mutual trust may end their relationship.
Then there's the Lane factor. Riley's ex leaves Connor feeling threatened. Riley swears it's over, but something doesn't sit right and Connor needs resolve. Coming to terms with their attraction means submitting to the fears haunting Connor and Riley before they can grasp the love that brought them together.
Texas Hard excerpt
Their lips met in the softest, most emotional kiss Conner had ever experienced. They clung together, gripping each other like their lives depended on them staying connected. Riley probed Connor's mouth, their tongues twining. Riley tugged at Connor's shirt, slipping his fingers under the material and grazing his belly. Connor jumped at the sensation. He remembered his need to be bound so he pushed Riley away. Hurt showed on Riley's face before he hid the pain.
"I need you to tie me up. Please."
"I've never really tied anyone up before."
"Oh."
"I'm willing, but I don't want to hurt you."
Connor fingered the buttons on Riley's shirt, unbuttoning the top one before moving to undo the second. "I'll give you a safe word. A word that if I say it, you stop."
"Tell me." Riley's eyes were filled with passion, his lids half closed. His nostrils flared as he sucked in a deep breath.
Connor undid another button, opening Riley's shirt, giving him a view of the man's crisp white undershirt.
"Give me your safe word," Riley commanded.
Connor shut his eyes and threw his head back, wicked cravings snaking their way though him. "Apple."
"Nice. A bit sinful, I like it. But first, I need you to help me find something you're willing to be tied up with."
"Anything." A wave of lustful dizziness washed over him as he opened his eyes and looked at Riley.
"No, I'm a doctor first, which means I'll keep you safe if we're going to do this."
Tears clouded Connor's vision. He'd known this was the perfect guy to do this with, now all of his doubts were dashed away. He hadn't made a mistake when he asked Riley to tie him up.
"Babe, what is it?"
Connor swallowed over the rush of emotions, "I trust you to keep me safe."
"Come on, help me look."
Riley held Connor's hand as they made their way through the house, opening and closing drawers, cabinets and closets. It was crazy how many household items wouldn't work. Connor was willing to use a phone cord, but Riley wouldn't allow it. They finally agreed on a tie for a bathrobe, a leather belt, an old necktie that Riley hated, and a plaid long-sleeved shirt with a rip in one of the sleeves. Connor insisted on a blindfold, and Riley solved the problem by using a soft cotton scarf.
Connor buzzed with excitement, almost ready to explode from Riley being near. He stood at the end of the bed, anticipation weaving through him as he waited for Riley to come back to the bedroom with the scarf. Riley approached hesitantly, his eyes downcast with a shy look on his face as he held up the scarf.
"I'm a little afraid of hurting you," Riley whispered.
Connor breathed out an explosive breath and a load of tension left his body.
"You okay?" Riley dropped the scarf on the bed and wrapped his arms around Connor.
"Yeah, just the last time I trusted someone to do this, I shouldn't have."
"I swear I won't hurt you. Apple is our safe word. Any time you feel overwhelmed or want me to stop, say the word and I'll pull back. I want this to be pleasurable to you, not scary."
Connor nodded as his throat closed with emotions. Riley was being amazingly nice, to the point that Connor was falling more and more for the guy.
"Say the word," Riley commanded.
Connor glanced into Riley's eyes and blinked. "Apple."
"Good, you be good and I'll let you come. You got that, big boy?"
Connor nodded and Riley grabbed Connor's ass and pulled him close. "Say yes sir."
Heat filled Connor, sparks flitting over his body, leaving all of his senses heightened. "Yes, sir."
"That's better. Now, I want you to take off your clothes."
Connor grabbed at his shirt, ready to pull the material off but Riley's hand came down hard on his arm, not a slap but the action made Connor jump.
"Slow, I want you to go slow, and you keep your eyes on mine as you undress."
Connor nodded and began pulling off his shirt, keeping his gaze on Riley. His hands shook as he pulled at the zipper on his pants, finally getting them unbuttoned after the third try. Tingling sensations rolled over his body, covering him in goose bumps. Connor shivered.
"Are you cold?" Riley asked.
"No."
Riley cocked his eyebrow, a look on disappointment on his face. For a second Connor wondered what he'd done wrong, then he remembered.
"No, sir."
"That's better. It's time to shower, I've had a long day and I don't want to smell like a hospital any longer."
Connor was disappointed for a moment before realizing Riley was being smart trying to make this a wonderful experience for both of them. He followed Riley into the bathroom and let Riley soap him up, washing off the day. After Riley sudsed and rinsed his own body, he turned off the water and wrapped Connor in a towel, drying his skin. Riley led him back to the bedroom, his hand on Connor's arm directing him where to go.
"Lie down on the bed, face-down so I have access to that sweet little hole," Riley growled.
Connor crawled onto the bed and lay down in the middle. Riley sat at the foot of the bed and grabbed Connor's right ankle. He wrapped one sleeve of the plaid shirt around Connor's ankle and tied a knot.
"That fine?" Riley asked.
"Yes, sir."
"Good answer. I'll reward you for saying sir."
Pleasure slithered through Connor, leaving him all warm and gooey inside. His cock throbbed, and his balls tightened. Pleasing Riley was his focus, everything from this point on was about doing what Riley wanted.
Riley worked on using the items to tie Connor down, making it difficult for him to move. He could probably get free if he wanted to. Riley hadn't tied him too tight, but he didn't want to be free. He was right where he needed to be, tied up and under Riley's control.
The last piece of their bonds Riley hadn't put into place was the blindfold. Riley knelt on the bed, close to Connor's head. Connor turned his head to the side. Before he placed the scarf over Connor's eyes, Riley leaned in and kissed him, his lips brushing gently over Connor's.
Riley pulled away and licked his lips, his eyes filled with excitement. "Use your safe word if you need to. I'm serious."
"Yes, sir," Connor breathed out.
The world went dark as Riley covered his eyes, wrapping the scarf around his head and tying a knot at the side. Before he'd positioned himself on the bed they'd propped up his lower body with a couple of pillows, giving Riley a good view of Connor's hole and balls. Connor's cock grew stiff, pushing at the pillows below him. He ground his dick forward and was surprised at the sharp sting of Riley's hand on his ass. He gasped in a breath, choking in surprise.
"You move when I say you move." Riley's mouth was at his ear, whispering the command.
Sara York's website
Sara York's blog

Surrender in the Dark by Silvia Violet
Blurb:
Radek, king of the Underworld, knows that Nia is destined to be his. Yet as the crown princess of Upperworld, Nia is unavailable to him. Desperate to claim her, Radek puts the safety of his own colony at risk and lures her to him by seducing her in his dreams.
A progressive ruler, Nia believes in the importance of modernization. But as princess, her say is limited. Her mother, the Queen of the Upperworld, forbids the Underworld's king from attending Nia's crowning. So when a man from Underworld invades Nia's dreams and invites her below, she accepts the offer, hoping for an audience with the king
The moment Nia lands in Radek's throne room, she realizes her mistake. By Underworld law, she is Radek's slave for seven days — and seven nights. Radek vows to make use of every moment.
Nia's society expects women to dominate in bed, but Radek draws out her hidden desires. How can serving him be so deeply thrilling? Even when he shows her the pleasure in pain, she craves more of his brand of dominance.
The seven days pass far too quickly. When Nia and Radek must face the censure of two societies, passion may force them apart more thoroughly than it held them together.
Excerpt:
"Taste me, Nia."
She hesitated. He wrapped her hair around his wrist and jerked her toward him. "Now."
Her tongue snaked out, licking the head of his cock. He sucked in his breath. Her tentative strokes fired him in a way the most experienced slave never could. "Take me into your mouth."
Fear showed in her eyes, but Nia did as he bade. He fisted his hands in her hair, longing to feel the back of her throat, but resisting the urge to thrust deeper. He wanted her to love serving him this way, to relish being on her knees in front of him. Only after she had would he show her the sweet agony of swallowing him whole.
"More. Take me deeper."
She groaned, but managed it.
His knees threatened to buckle as the heat of her mouth surrounded him. "Suck." The single word was all he had breath for.
Within seconds he would have sworn she'd lied about her experience. Her mouth brought him exquisite pleasure, and he didn't need his Lalatian senses to know desire fueled her enthusiasm, along with her natural need to serve. He could smell the hot cream dripping from her cunt, and he wanted to taste it as much as he wanted to draw his next breath.
The rhythm of her sucking quickened, and she swirled her tongue around his shaft with as much skill as any woman in his harem. His climax rose. He tightened his grip on her hair, thrusting into her as she sucked. "Swallow as you feel me come in; see how much of me you can take."
Fear returned to her eyes. She tried to pull back, but he held her firm. "Trust me to know your limits."
Nia whimpered, but ceased her struggles.
"I'm going to come in your mouth, and you are going to take it like the gift it is."
Her eyes widened as he thrust into her mouth, holding her still. A few strokes later, he felt her surrender.
Buy it at Amazon
Buy it at Loose Id
Buy it at All Romance eBooks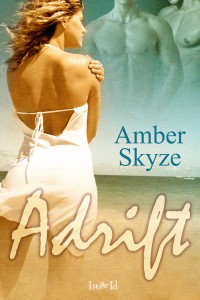 Adrift by Amber Skyze
Blurb:
Ben Eckhart has been the object of Kari Kirkland's lust for almost three years. Yet he's never spoken a word to her and why would he? She's a plus-sized woman with scars that haunt her every day. And although Kari longs for happily ever after, she's pretty much given up on love.
When their boss declares he's having a mandatory picnic, Ben not only talks to Kari, he wants to know if she's going and if she'll be alone. Kari is, if only to fantasize about Ben in his swim shorts.
But Ben has other ideas in mind for Kari. He's bringing along his best friend and lover Adam – to help him seduce Kari into believing there's great sex and true love in her future.
Unexpectedly trapped on a deserted island, Kari witnesses the men having sex then lets herself get talked into sex on the beach and a whole lot more. But when they're rescued, will Kari accept their proposition or cast their newfound love Adrift?
Excerpt:
"I expect everyone to be there." Mr. Carlton stood up and continued talking to the small group in the conference room. "My wife looks forward to this every year, so I don't want to disappoint her. There will be boats at the dock to take people back and forth to Carlton Island."
Kari cringed just thinking about getting into a boat and being escorted over to her boss's island. The last thing she wanted to do over her weekend was spend it with him and fellow coworkers. Kari enjoyed the peace and serenity of her apartment. She didn't have to make small talk except with Pepper, her cat.
Last year she'd been able to get out of the company picnic, but something told her this time she wouldn't be so lucky.
"This is bullshit."
Kari swiveled her chair to see who else felt like she did, but was brave enough to voice his opinion. She was met with the most amazing blue eyes.
Ben.
Her heart caught in her throat. Was he speaking to me?
Ben Eckhart hadn't uttered a word to her in the three years he'd worked at Carlton Technologies. Kari had admired him from afar, knowing he'd never be interested in someone like her. She wasn't a size 2 pinup model like Ben probably dated.
"Does he think we don't have a life outside of work?"
He was talking to her.
Hanging out on her deck with a book wasn't in the cards for her this weekend.
"Have you ever been?" he asked.
"Once. I've managed to escape all the other yearly get-togethers, but I don't see that happening this weekend."
"I heard people have gotten let go for not attending."
She'd heard that too, but thankfully it hadn't happened to her. With the economy in dire straits, she wasn't risking it this year. "That's what they say. I can't afford to take any chances. I'll be going."
"Me too, I guess."
Kari groaned inwardly. She didn't want to spend the weekend lusting over Ben. At work she could cover up her scars, but on Carlton Island she'd be expected to dress more casually.
Maybe she could think of a way out of this.
"Spouses and significant others are more than welcome too," Mr. Carlton continued.
Kari turned her attention back to her boss. Right about now, she wished she had someone in her life she could bring along to ease the pain of watching Ben. Fortunately he wasn't aware of her feelings for him.
He leaned closer to her chair and whispered in her ear. "You bringing someone?" Heat from his breath trickled down her neck, straight to her core. Images of Ben wearing only swim trunks filled her mind. She pictured a hard, smooth chest and abs of steel she could run her fingers along.
"No," she snapped.
"Sorry. I didn't mean to offend you."
She swiveled her chair slightly and glanced over her shoulder. His lips were close. Close enough that if she leaned just a little bit, she could graze them with her own. "I didn't mean to snap. I'm just really frustrated about having to go this weekend. I'm going alone."
"Hmmm. I guess I'll see you there."
"Guess so."
Mr. Carlton ended the meeting. Kari gathered her notebook, pen, and coffee mug before heading back to her office. She wondered if Ben would be coming alone or if he would be bringing some lucky lady.
She prayed he came alone. He'd broken the ice by talking to her in the meeting. Maybe they could get to know each other better over the weekend.
As she sat in her chair, she realized she was fooling herself. Ben would never be interested in a size 12 disfigured woman. Even if he did show an interest, Kari couldn't take her clothes off for him. Her scars were a reminder that she'd never have a love life again. It was bad enough that the memories of that horrible night still haunted her; visible scars stared back from the mirror. They screamed at her, taunting that she'd be lonely the rest of her life.
* * * * *
Try as she might, Kari couldn't find a way out of the weekend. She packed enough clothes for the overnight excursion. Maybe she could feign sickness later in the evening. Surely Mr. Carlton would understand her leaving if she was sick.
Kari parked her car in the parking lot just above the boat launch. Grabbing her overnight bag from the trunk, she made her way to the dock. There wasn't anyone waiting, and the boat ferrying people to the island was nowhere in sight.
She set her bag down and leaned against a wooden pole, waiting for the boat to return. The warm sun cascaded its rays down on her. Sweat beaded on her forehead. She'd have to remove the sweater she'd worn over her tank top soon.
"Hey, are you waiting for the boat?"
Wariness crept into her body. Kari was certain she knew that voice but prayed it wasn't him.
"Kari!"
She used her hand to shade the sun from her eyes; even with sunglasses, the brightness was blinding. She looked toward the voice calling her name. Sure enough, it was Ben. He wasn't alone; he was with another guy, who appeared to be around five-ten, Ben's height. He had jet-black hair, a contrast to Ben's sandy blond.
They dressed like twins in khaki cargo shorts and tight T-shirts. Ben's was hunter green, and his friend's an orange color. As they drew nearer, she noticed they moved in sync. Were they lovers? Their motions were as familiar as a couple. She dismissed the idea. Ben had seemed interested in her during the conference. He couldn't be gay. They each carried backpacks in one hand and a cooler in the other, swinging it as they walked.
She hadn't thought about bringing anything to drink. She had assumed Mr. Carlton would provide all the food and drinks they needed.
"Hey, Ben," she said as they drew nearer.
"This is Adam. Adam, this is Kari. We work on the project management team together."
"Nice to meet you, Kari."
He placed the cooler on the ground and offered her a hand. She accepted. Tingling sensations filled her body. She pulled her hand back quickly, afraid he'd sense her arousal at his touch.
"The boat's not here right now," she said, looking out at the water.
"We're not taking Mr. Carlton's boat," Ben said. "I have my own. Want to join us?"
Absolutely not!
She was not getting into a boat with these two gorgeous guys.
"Thanks for the offer, but I'll wait for the boat."
"Are you sure? There's no one else here. At least you can talk to us on the ride over."
Ben had a point, but Kari couldn't get her mind off him. Being on a boat making small talk should produce warm, fuzzy emotions, but she was nervous. She didn't know what to talk about with either of them.
"Come on," Adam urged. "We won't bite."
Too bad.
What the hell was she thinking? Neither of them would be interested in her.
"Please."
Kari swung her head toward Ben. He'd moved to her side and whispered softly. Was she imagining it, or was there desire in his eyes? He looked like he was undressing her with those crystal blue eyes. For a moment she allowed herself to be mesmerized.
She swallowed the moan that threatened to escape and said, "Yes, please."
Adam touched her arm, and Kari felt faint. How could she resist when they were practically begging?
"Okay, you've convinced me. I'll go with you guys." She took a step back, regaining some of her personal space. She couldn't help but wonder if she'd made the right decision.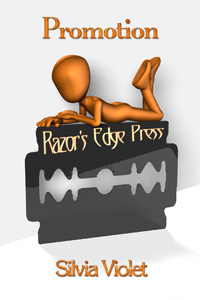 Here's an excerpt from a little piece of escapist erotica….
Promotion by Silvia Violet
Luke Jackson has been hot for his boss since the day he started work. When he's offered the chance to win a promotion, he has no idea what his boss expects in return until he finds himself on his knees in his boss's office. For Luke, his promotion doesn't just come with better pay but also the fulfillment of all his submissive desires.
Excerpt
My heart pounds as I walk down the hall to my boss's office. I have to get myself together. Yes, the man is fucking hot, but I have to learn not to be tongue tied in front of him, or I'll never get the promotion he's been dangling in front of my face.
A few days ago I was called to an executive level meeting out of the blue. My boss told me he'd chosen me to handle our newest accounts and that if I gave him everything he wanted, I'd be promoted to VP. I was speechless, as I usually am around him — speechless and horny as hell.
He's the most perfectly put together man I've ever seen, but his presence is what really does me in. He fills the whole room, dominates everyone, gets whatever he wants with no more than a look. He's ruthless power personified, and I want him. I want him to take me, use me, and do unspeakable things to me. But every time I see him, I start dropping things and goggling like a fish.
When I reach his outer office, his assistant buzzes me in. His back is to me as he types on his laptop. Rather than say anything, I simply take him in, his perfect posture, his smooth, long-fingered hands that I know would feel so good running over my body.
So much for my plan of keeping my thoughts professional. Now I need to use the file folder I'm carrying to cover the hard-on tenting my suit pants.
He curses and pushes away from his desk. When he glances up, something my twisted mind wants to believe is erotic interest flashes in his eyes. His lips curl up in a self-satisfied smile. Does he know I want him? I fight the urge to fall into his nearly black gaze. His eyes are so hypnotizing, I almost think he holds some supernatural power over me.
Several heart pounding seconds pass in silence. Then I find my voice. "What can I help you with, sir?"
He stands and walks around to me, invading my space with his heat and his nearly tangible aura of authority. He shifts his hips so he's half sitting on the edge of his desk and looks me up and down. He's close enough I could reach out and pet him — and I want to.
My gaze drops to his mouth as his lips part and his tongue swipes across them before he speaks. "Yesterday you said you'd be willing to do anything I needed. Did you mean that?"
His question makes my breath catch. Why do I have the feeling he isn't just talking about putting in extra hours? I nod. "Yes, sir."
Buy it at Amazon
Buy it at Changeling Press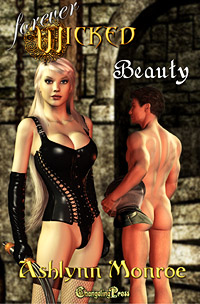 Beauty by Ashlynn Monroe
Beauty beyond compare… and a curse just made to be broken. Brand's the perfect prince for the job. But not every fairytale princess deserves to be freed from her bonds. Sometimes it's better to let sleeping beauties lie, lest you rouse the demon within. Fortunately, our prince thinks outside the box.
Excerpt:
Beauty lay on the bed, covered with rose-filled vines. Her long blond hair flowed around her pale, naked body. Her nipples stood high, peaking from the chill, as if frozen in time. The room felt frigid. Not a single ember remained in the long dead hearth.
Everything here was dead, except the roses.
Prince Brand stood at the foot of the bed and stared at her nude perfection. His cock grew hard. He'd sought this fabled beauty and her mystical, forgotten castle, and now he'd found the room where Beauty still lay. She looked too beautiful to be dead. Not a single flaw appeared on her face or form.
He pulled roses from the foot of the bed, tossing them to the floor. Slowly he worked his way around, removing the thorn vines obscuring his view. He moved to the head of the bed and carefully pulled the remaining roses from around her face.
A soft sigh escaped her lips. Startled, Brand jumped back and pulled the thick gloves from his hands, throwing them down on the dusty chair beside her resting place. He held his hand under her nose. To his surprise, the subtle breath of life remained in the eons-old body. Slumber? Can it be?
He'd come seeking treasure from the long dead kingdom, but now he found another reward to enjoy. In the halls below, dried corpses lay where they had fallen on a typical day as they went about their usual work. But here, the princess lay alive and as perfect as the day her city had fallen to the evil plague of the death roses.
Brand removed his armor carefully, afraid to touch the roses scattered on the floor. His cock throbbed. The bards sang ancient tales of Beauty's unequaled perfection, but she was more perfect than words could describe. The girl's supple body cried out for his hands and lips.
Naked, Brand carefully crawled onto the bed. It dipped under his weight and another soft sigh left the girl's red lips, which seemed to be begging for his kiss. He touched her face and felt the smallest trace of warmth. He refused to let such a sexy body go to waste. He let his hand slowly trail from her cheek to her neck, then her collarbone, and then the soft globe of her breast. He tweaked the nipple and her body stirred.
Brand sucked the pink pebble into his warm mouth, drawing hard on her nipple. The princess arched her back. He glanced at her face, but she hadn't awakened. He moved his mouth to the waiting twin, suckling hard. Her soft mewing cry spurred him on. He reached up to fondle the other breast, and her mews became throaty gasps.
Kissing down her stomach, he twirled his tongue into the small navel. She shifted. Brand looking up at her face expectantly, but her eyes remained closed. He worked lower, his mouth hovering just above her pussy. The musky womanly fragrance heightened his lust and he spread her naturally covered lips to gaze on her intimately.
Smiling, Brand flicked his tongue over her clit, and the princess's hips bucked. He lapped at her with ferocity, savoring her taste. Beauty cried out, bucking wildly under his mouth. Brand could take no more. Her body seemed to beckon to him. Climbing to his knees, he hovered above her, slowly, carefully sliding his ready cock into her tight, hot pussy. She was dripping wet for him and his mind barely registered she was no virgin before he began pumping into her wet cunt.
Her eyes flew open and he stared into the bright blue orbs. Brand felt his face grow hot and flush as he realized just how shocking his actions would appear. But a sensual smile spread across her face as she stretched her arms above her head. "My prince, you've finally come."
"My lady, I…"
"Fuck me," the sweet young voice commanded.

Protect and Serve: Savage Wolf by Silvia Violet
Blurb:
I'm Wolf, Officer Aidan "Wolf" Savage. I'm a werewolf. But unlike most of my kind these days, I'm one of the good guys even if I do scare the hell out of most people the first time they meet me. When a white-tailed deer shifter comes leaping into my life, she makes my body hotter than an erupting volcano. She's on the run, and she doesn't want my help. But I'm not about to let her get herself killed, and I'll use any means necessary to keep her safe.
Excerpt:
I tried to make myself be a gentlemen and roll off my naked little shifter. But werewolves aren't gentlemen. I heard her racing heart and smelled the hot cream between her legs, and my wolfish side begged me to shove her legs up onto her chest and bury my cock in her pussy. Then she shocked me by opening her legs and inviting me in. How could a man say no?
And, by all that's holy, she said those four words that just about made me lose it before I'd even gotten inside. "I like it rough." Just what an alpha wolf like me needs. A woman who appreciates my appetite.
When I drive into her, holding nothing back, she cries out. Her pussy holds me tight. I fight to hold still and let her adjust to my size. But she wraps her legs around my hips and bucks against me.
"More," she begs, and I'm not about to deny her. I slide out nearly all the way. She whimpers.
I thrust back in, and she groans, "Yes." After that I ride her hard and fast. She meets every stroke, slamming her hips against mine. I fuck her with brutal strength, and she keeps crying for more. I'm in heaven.
Her gorgeous breasts bounce up and down in rhythm with my thrusts. I can't wait another second to get better acquainted with them.
I shift my weight to one arm, and use the other hand to cup the tantalizing flesh, which is as soft and smooth as it looks. I slide my thumb back and forth over her tightly puckered nipple, and I'm rewarded with a sharp cry.
I keep up the light, teasing strokes. She arches toward my hand, whimpering. I pinch and tug on the pink bud. She bucks so hard she nearly unseats me. "Yes, God, yes!" she cries.
I need one of those sensitive nipples in my mouth like I need to breathe. I grab her hips, holding her firmly on my cock as I sit back on my heels. She lets her torn dress and bra slide from her arms. Then she wraps her arms around my neck and pulls herself up until she's seated in my lap. Now I can lick and suck and bite those hard buds all I want while driving myself even deeper inside her tight, wet cunt.
As if she can read my mind, my doe pulls my head down to her breast. I draw a pink tip into my mouth and suck hard, letting my teeth sink in just enough for her to feel them. She cries out, digging her hands into my scalp. "Harder, oh God, harder. I . . ."
I glance up without letting go of her nipple, desperate to know what she wants to say. Her deep brown eyes are wide and filled with need. "I like it to hurt."
I nearly choke around the hard flesh in my mouth. Have I died and gone to werewolf heaven? I bite hard enough to make her scream. She writhes against me. Before she's recovered, I give her other nipple a vicious pinch.
Buy it at Amazon.
Buy it at ARe
Buy it at Changeling Press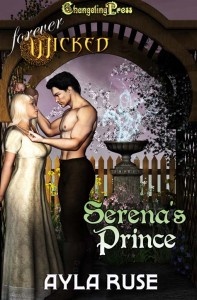 Serena's Prince by Ayla Ruse
Blurb:
A frog, a curse and a broken promise. Sometimes punishment can be its own reward.
Serena never thought asking for help from a frog would result in her being naked and tied to her bed. She should be afraid. She should call for the guards. She definitely should not be… begging for more.
Prince Rennick needs to get his hands on Serena's necklace — the one item sure to break the curse that turned him into a frog. When an accident makes him temporarily human, he cannot help but use his dominant nature to bend Serena to his will.
What should have broken the curse turns into a desperate attempt to save Rennick's life. As they try to find the key, Rennick demands much from Serena, but is she willing to surrender everything to this frog-turned-prince?
Excerpt:
Serena carefully sat on her knees near the water, as he directed. It felt strange, letting someone else tell her what to do. A part of her wanted to defy him on principal, because she was used to having the last word. But for a few moments, she'd give over to his requests. They seemed innocent enough, and it was exciting to wait, to see what he'd ask of her next, to wonder where he'd take her.
"I like seeing you like this," he murmured, his gaze dropping to her breasts. She didn't have to look to know her nipples pebbled hard against the tight bodice. Seeing him stare made them tighten more. He squatted down, cupped his hands in the water, and poured a small stream of liquid over her shoulder. She shivered as the cool water trickled over her chest and into the valley between breasts.
"What are you doing?" she asked, not stopping him, though. She liked how his eyes had darkened and grown hooded. He had a plan, and it included the two of them naked, she was sure. She shivered again as he poured more water over her chest.
"Don't ask," he told her. He took one wet finger and rubbed her bottom lip. "My mind is tired from trying to figure out the riddle of the curse and the necklace. Maybe taking my mind off the puzzle will show me the answer." She set a kiss against his finger, then swiped it with her tongue. She returned his smile and quirked her brow, as if challenging him. In truth, she wanted his mind away from the puzzle, too.
"I see that look," he said. "Let's see how well you remember to do as I ask. Don't get up, but hold your hands behind your back." Her chest thrust forward, and just as she'd feared when she'd put on the dress that morning, the movement pulled the material down and her nipples popped out over the top of the neckline. His lips twitched as if he'd expected such a thing to happen. To amp up the tease, she arched her back, making her breasts spill out of her dress a little more.
He laughed at her move. "You're a quick learner, Serena. And a tease, it seems. I like that. Now I need you to remain exactly as you are."
He cupped more water and ran it over her until her dress clung to the entire front of her body. He'd occasionally flick her pebbled nipples with the backs of his fingers, and she moaned at every contact. When he reached behind her and unclasped her necklace, she stiffened.
"Shh. Don't move. I'm only rearranging the strand." She remained still, although it was hard. When Rennick finished, she glanced down and saw that he'd made one loop so the pearls hung low to her belly. He arranged the strand so it lay on the outside of each nipple.
He dipped his head and pulled both her nipple and the necklace into his mouth. He rubbed the bumpy pearls around and over the tip while his teeth grazed her flesh. She gripped her hands together, making soft little whimpers with his every touch. The added sensation of the necklace stroking her as he suckled sent streaks of fire running through her. She grew wetter between her legs and she squirmed, wanting him to take off the dress and bury himself deep inside her.
She forced herself to be still and bit her lip to keep from begging him again. She squeezed her eyes closed as he continued what he was doing. The way he took her breasts made her head spin and her body ache.
He plumped up her breasts as he feasted from one to the other, always taking the necklace and her nipple at the same time. When she thought she couldn't take any more, that she'd throw her arms around him and pull him down on top of her, he trailed a hard tongue through the valley between her breasts, up to her neck. Meeting her lips, he kissed her hard, raising up to his knees and making her head fall painfully back under the press of his mouth.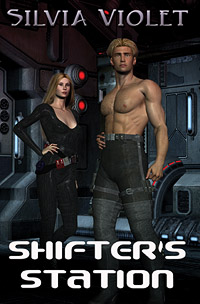 Shifter's Station Collection by Silvia Violet
Years ago, the Terran Government betrayed special forces officer Marc Devlin, forcing him to flee for his life. He rescued several fellow officers and built a new life as the head of his own mercenary force. When he captures a beautiful Cerian diplomat, he thinks to torture the man to learn Cerian secrets. Instead, he finds a lover. Months later, Marc and his Cerian lover, Kirlos, take a young woman captive, fearful she might be an agent of one of Marc's oldest enemies. The two men strike a bargain with her that lands her in their bed for a month. As they dole out exquisite torment with their Cerian sex table, passion builds and turns to love. But Marc and Kirlos must fight to keep her and the life they've made for themselves.
This e-book collection contains the previously released Shifter's Station series novellas Pilot's Bargain, Pilot's Heart, Loving the Enemy, and Eye of the Tigress.
*Warning: This is an X-rated excerpt*
Excerpt from Book 2: Pilot's Heart
"I want you at the side of the table."  Larissa didn't move, unsure if Devlin were directing her or Kirlos.  "Now.  Both of you."
Larissa took a deep breath as she stepped up to the long side of the Cerian sex table  Anticipation zinged through her body.  She'd expected a simple spanking but Devlin obviously had something more complex in mind.  Whatever it was, it would ultimately be delicious but with his current mood, she knew he would work them both over thoroughly first.  She glanced over her shoulder at him.  Why did he have to look his finest when he was about to deal out pain?
"Table, take their wrists and stretch them out."
Tentacles snaked out and captured Larissa's wrists.  They pulled her forward until her chest lay flat on the table.  She raised her head enough to see Kirlos lying beside her in the same position.
"Secure their ankles."
More tentacles slid over the side of the table and dangled down until they reached her feet.  They wrapped her ankles to two of the numerous thin legs that supported the table.  Devlin leaned forward and caressed her spine.  "Ready?"
She nodded and sucked in her breath.
Out of the corner of her eye, she saw him take something out of the drawer at the end of the table.  But before she could register what she saw, he cracked it against her ass.  Lines of fire sizzled down her legs and up her spine.  Gods of earth, it was his most wicked crop.  It had a large, soft, leather loop at the end that delivered a fiendish sting.
He caressed her other buttock with the tip.  She tensed, waiting for the blow.  She heard it snap but didn't feel any pain.  Then she realized he'd hit Kirlos.  She opened her eyes and peeked at the Cerian, watching him as Devlin nailed his ass again and again.  Kirlos's teeth sank deeply into his dark, red lips.  His ribs expanded and contracted rapidly, but he didn't make a sound.  He loved to make Devlin work for the cries the captain wanted to hear.
She was so mesmerized by Kirlos's beauty that she failed to notice Devlin shifting his attention to her.  His blow caught her by surprise, and she screamed.  The sound echoed in the room.  She forced herself to focus on the sound rather than the fire on her ass.  Devlin kept the blows coming fast and hard.
Finally, he stopped.  Larissa floated, feeling lost and unaware until Devlin laid his hand on her back.  "Deep breaths."
She obeyed without thought.  Pushing his hand up as she pulled air in until her lungs could take no more.  Then, Devlin pushed his hand down, forcing her to exhale.  "You're mine, and I will protect you."
His voice had a haunted edge to it.  She wanted to turn over and pull him into her arms.  She longed for him to accept the comfort she wanted to give.  But sending her to heights of sensation and pleasure was his way of working through his emotions,.  She smiled as she thought how life with him could be a lot worse.
Pleasure rushed in to fill the void of sensation as her pain receded.  She squirmed her hips against the side of the table.  Devlin slapped her sore ass with his palm.  "Don't move".  She fought for control as her body screamed for release..
Devlin slipped two fingers inside her and pumped them in and out.  She pushed back against him.  Another slap with his hand.  "I said don't move."  He drew the nails of his other hand slowly, deliberately across her welted ass.  She sucked in her breath and squeezed her eyes shut, fighting the pain.
"Relax and breathe."  Devlin wiggled the fingers he'd kept inside her, curling them against her g-spot.  She panted. How could she possibly relax if he expected her to stay still?
"Table, wrap her hips."  A tentacle streamed out and circled her upper thighs right under her buttocks, pinning her to the side of the table.  Devlin worked his fingers under it and started plundering her again.
She gasped as he flexed his fingers, filling and stretching her.  As he kept driving in and out, she fought the growing wave of orgasm, knowing he would expect her to wait for permission.
Buy it at Changeling Press.
Buy it at Amazon
Buy it at ARe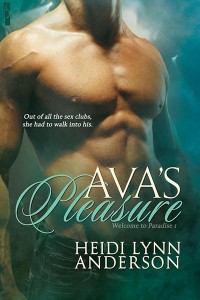 Ava's Pleasure by Heidi Lynn Anderson
Blurb
Of all the sex clubs, she had to walk into his.
When prim proper Ava stumbles into a Miami sex club, she isn't expecting to find the man from her dreams. Navy SEAL Logan is just wasting time between missions until this naïve and innocent woman turns his world upside down.
How was Ava Cullen supposed to know her prim and proper aunt was part owner of the premier sex club in Miami and a top-notch Dominatrix? When she stumbled into club Paradise and came face to face with her dream man, she had a feeling she stood on the precipice of something life changing.
Navy SEAL Logan Turner always knew he needed more out of life than the next mission. That's why he opened Paradise with his best friend Julie. It didn't hurt that he could reap the benefits of owning a sex club. That was until a sexy, doe-eyed woman walked in, making his control slip for the first time ever.
Excerpt
Ava's tongue swiped over her lips. "I don't know."
Logan slid the blindfold over Ava's eyes and stood back to drink in the sight before him.
"I don't know if I like this," she said.
"What don't you like, honey?" Logan watched the pulse in her neck beat a fast tattoo.
"I don't know."
"Are you uncomfortable?"
She shook her head. "No."
"I know you think you haven't been in control of your life." Logan grasped the flogger and ran the silk strands over his palm. "But the opposite is true."
"You've been making all the decisions for yourself." Logan ran the strands between Ava's full round tits, tracing their curve.
The sound of her moan had Logan inhaling hard. He needed to be careful, if he didn't want to blow his load too soon. "Honey, you're beautiful like this." Logan made his way slowly—almost painfully so—to her luscious pussy. The sounds of longing that came from Ava filled him with joy and love.