Archive for the 'm/m' Category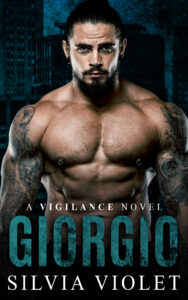 Giorgio starts a new series, Vigilance. This is a spinoff from The Marchesi Family but it can be read on its own. Vigilance is a secret group of former spec ops soldiers and federal agents who handle problems the police can't or won't touch.
I'm a sniper. A trained operator. A bodyguard. A member of the elite private security force known as Vigilance.
When my boss's son acquires a stalker, of course I'm the one he calls to keep the guy safe. Mr. X's one rule? Keep my hands to myself.
Not a problem.
At least, not until I meet Lane Porter.
He's gorgeous. Flamboyant. Fascinating. He makes me want things I can't have. He stretches my self-control to the limit… and then breaks it.
As the threat to Lane intensifies, we're forced to hide out in a remote, one-bedroom cabin with danger stalking us from all sides, but suddenly keeping the boss's son safe isn't enough.
My new mission is to make Lane mine.
Buy Giorgio now or borrow in Kindle Unlimited.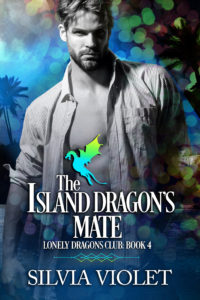 Best Day Ever: When your fated mate washes up on the beach like a gift from the sea.
Desmond
I'd nearly resigned myself to a life alone when the sea brings me a beautiful omega who smells like heaven. I realize he's mine, and I'll do anything to protect him. He doesn't know his name or how he got to my island, but he feels our connection. I wait for his memory to return, but no matter what happened in his past, I won't let it take him from me.
Jonah
I woke up on a beach with a big, gorgeous man standing over me, but I can't remember my name. I should be afraid, but I'm not. This man feels safe, his touch comforting. Even when I learn he's actually a dragon, I'm not intimidated. He's caring and protective, and he wants a big, loving family just like I do. I don't want to think about my past, only my time with Desmond. But when my old life catches up with me, I'll have to find a way to face my past while protecting my future.
Buy now or download to read in KU: Amazon Global | Amazon US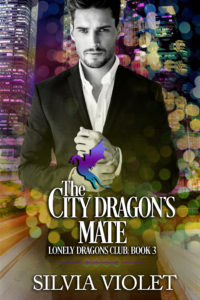 The City Dragon's Mate is the third book in Lonely Dragons Club, an mpreg series where thousand-year-old dragons long for their fated mates.
Best Decision Ever: Hiring a man in need of discipline and finding out he's your fated mate.
Bartholomew
When a friend calls, hoping I'll take a problem employee off his hands, I jump at the chance. Despite running a large company and having a bustling city at my feet, I'm bored. I need a project. And if that project happens to be teaching a young man discipline, all the better.
But when he arrives, I realize my mistake. Pierre carries burdens from his past and needs my comfort as well as my discipline. My dragon instincts tell me I'm never going to want to let him go.
Pierre
I made a terrible mistake, and it nearly cost me my life. Now I've got a second chance with Bartholomew, and I'm determined not to screw it up, no matter what he requires of me. But I didn't expect to want him so much, not when longing for a different dragon was what got me into this mess in the first place.
All I'd ever wanted was security, but now I'm falling in love. And nothing sounds riskier than trusting my heart to a dragon.
Buy it now Amazon Global | Amazon US
---
Be sure to check out the rest of the series:
Get The Christmas Dragon's Mate (Book 1) and The Snow Dragon's Mate (Book 2) now.
Preorder The Island Dragon's Mate (Book 4) which releases December 27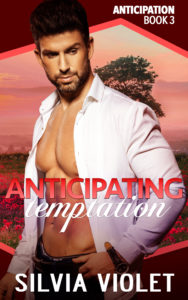 Anticipating Temptation is out now! I'm so happy to be able to share Rob and Marty with you!
Here's a little more about their story:
Marty doesn't want to need a Daddy, but he's still anticipating temptation…
Marty's new boss pushes all his buttons. He's confident, capable, and he expects to get his way.
But Marty's past experience has made him wary of dominant men and determined to establish his independence. Even if deep down he knows Rob will treat him right, he can't put his new job at risk. Everyone knows sleeping with your boss is a terrible idea.
Rob is the CEO of a company he built himself. He's wealthy and successful, but he's also lonely.
While he'd never admit it, he longs for a place to call home and a man to love.
Before he met Marty, Rob never felt such a protective urge toward anyone. When he hires Marty to be the housekeeper for his new ranch, Rob doesn't just want Marty to work for him. He wants to be Marty's Daddy. Rob is a man who always goes after what he wants, even if he has to break some rules.
Get Rob and Marty's book here.
---
All the Anticipation stories can be read on their own but why not experience the entire series? Book 1 and 2 are available in both ebook and audio.
Book 1: Anticipating Disaster | ebook | audio
Book 2: Anticipating Rejection | ebook | audio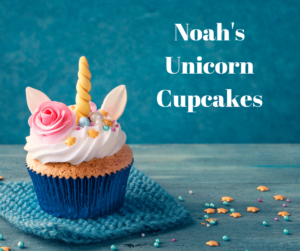 I've had several readers ask about a recipe for the unicorn cupcakes from Anticipating Rejection. While I've made many of the cupcakes in the book and I've made the cake and frosting from the unicorn cupcakes, I've not made unicorn cupcakes exactly like Noah's so I don't have a picture of mine to share, however, I do have the recipes you'll need to put yours together and some ideas for easier alternatives. I'm planning to make some in the next few weeks and I'll come back and post my results (warning: my decorating skills aren't up to Noah's standards).
When he makes the Unicorn cupcakes, Noah says he uses a cake he often uses for wedding cakes that has a light lemon flavor.
Use the lemon cake from this Martha Stewart recipe.
Or if you want something quicker, Duncan Hines Classic White Cake is a good mix. Add 1/2 tsp lemon extract and 1 tsp lemon zest.
Noah says he uses the icing from his Dreamsicle cupcakes. These are cupcakes I make frequently and this is the icing recipe I use.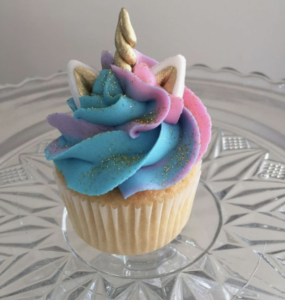 Dreamsicle icing**
1/2 cup butter softened
1/4 cup whipping cream
1 tsp orange extract
1/8 tsp salt
3.5-4 cups powdered sugar
**You may want to double it to have plenty to color and experiment with.
Whip butter with a stand mixer or a hand held mixture until it's soft and creamy. Add next three ingredients and mix thoroughly on medium speed. Add 2 cups powdered sugar. Mix on low and then increase to medium high until well-combined. Add another 1.5 cups of sugar and mix well. You may need to add more sugar or more cream to get a smooth spreadable texture. If you want a deeper orange flavor, add a few more drops of orange extract.
Divide into three bowls and color one bowl blue, one pink, and one purple. Or use the color combo of your choice.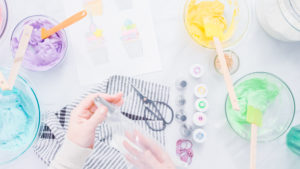 Pipe the icing onto the cupcakes using a large star tip. Place all three colors side by side in the bag and they'll come out with a striped rainbow-y effect.
Noah explains that he made the lemon candy horns himself, wowing everyone. Unfortunately, this isn't something I've tried, but I do know what Noah would have done so I'm going to tell you what you could do to try it out. If you want to go simpler, you can buy unicorn horn cupcake toppers online or at stores like Michael's and Wal-mart.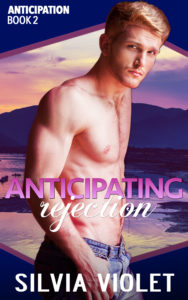 Candy horns:
Start by making butter mints but substitute lemon extract for the mint extract. Here's a recipe.
When you shape the candy, make it into the shape of a horn by twisting it rather than creating the shapes suggested in the recipe.
Noah doesn't mention how he made the ears, but they can be made from fondant, purchased premade (try Etsy, Michaels, or a party shop), or made from marshmallows like in this recipe.
Noah decorates them with edible golden glitter and silver stars. I have both those topping and purchased them at Michaels. I'm sure you can get them anywhere that sells baking decorations.
I've got more unicorn cupcake inspiration on my Anticipation Series Pinterest board.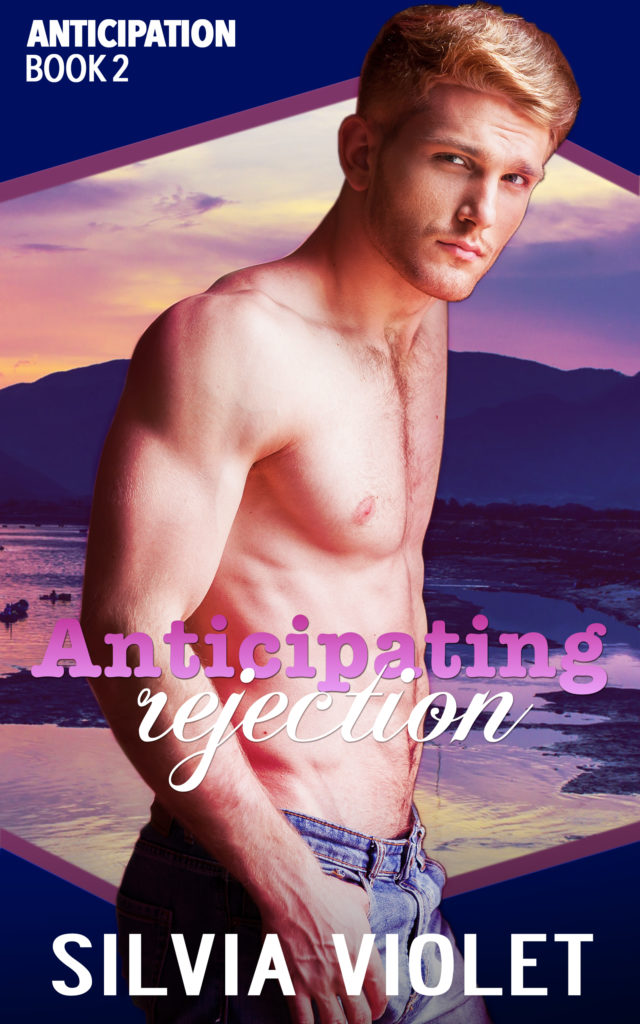 I'm so excited to bring you Anticipating Rejection, the next book in the Anticipation series. This is Noah and Del's story and it's actually the first one that came to me as this series developed. If you know about my love of baking, you'll know why this one is extra special to me. I hope you enjoy it as much as I have.
Here's a little more about the story:
Del is now a single dad, and for the sake of his young daughter, he's moving back to his parents' ranch. Returning to Anticipation means seeing Noah again—the man who was his best friend and then so much more. Del enjoyed surrendering control to Noah, but fear of what their relationship would mean sent him running. Will Noah even speak to him again, much less give him a second chance?
Noah has resigned himself to a quiet life improving his baking skills and running his family's café. When his mom volunteers him to pick up Del at the airport despite an incoming blizzard, he braces himself to be stranded overnight while trying to pretend he hasn't missed the man who broke his heart.
The moment they see each other, heat flares between them, and all Noah's dominant urges come to life again. He wants Del as badly as he always has, but he can't trust Del to stay around long enough for their relationship to develop. Is there any chance of a future for these two men who are both anticipating rejection?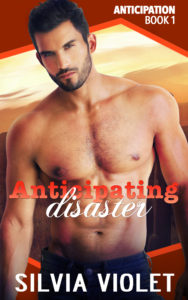 ---
If you haven't read Book 1, Anticipating Disaster you can find it in ebook, audio, and print.
I'm currently working on Book 3, Anticipating Temptation and plan to release it in late July or early August.


Waverly
I'm not a typical omega. I like control, and I'd rather take than be taken.
After years of fantasizing, I finally find an alpha who will submit to all my desires. Our connection is beyond intense. My wolf says we're fated for each other, but I know better.
Even if a test strip says I'm pregnant, I don't want a mate. No matter how submissive he may appear, I won't link myself to an alpha.
Derek
I'll never live up to what my pack thinks an alpha should be.
I don't want to order omegas and betas around. In fact, I'd prefer to hand over the reins and enjoy the bliss of surrender.
I jump at the chance when a dominant omega asks me to share his heat. Once I get a taste of him, I know a few days together won't be enough. I want it all: a mating ceremony, kids, the future stretched before us. He wants to run as fast as he can, but I'm determined to show him I don't want to confine him—I want to set him free.
Download Love Someone Like Me now!
_____________________________________________________________________________________________________________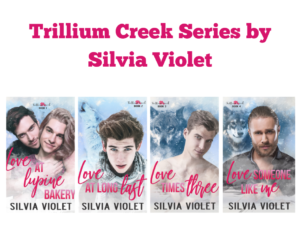 Love Someone Like Me is Book 4 of the Trillium Creek series. If you haven't started the series yet, you can find it all here.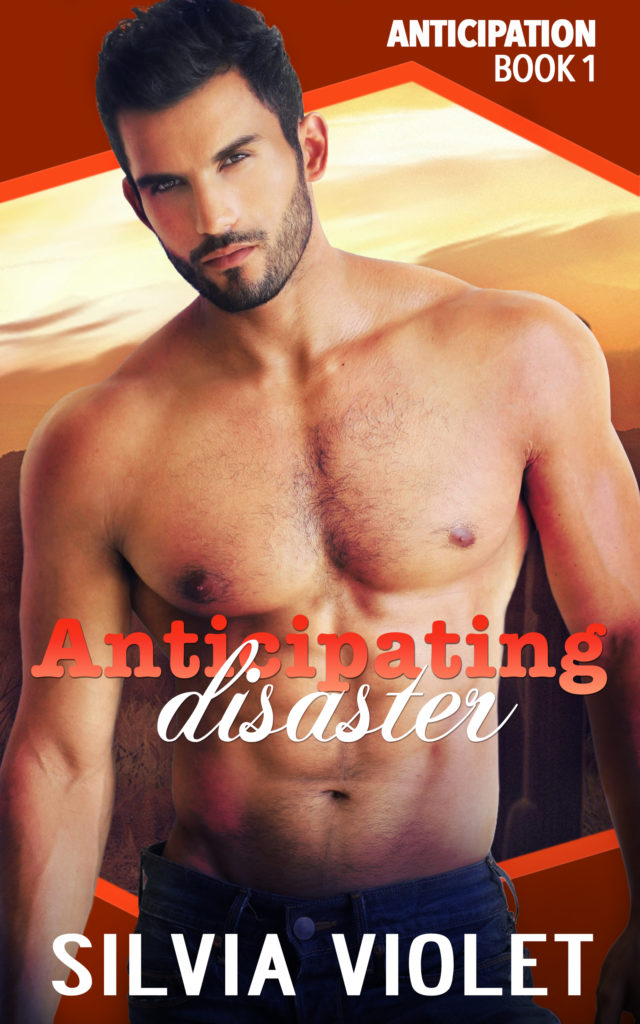 It's release day for Anticipating Disaster! This story starts a new series called Anticipation which is set in the fictional town of Anticipation, Wyoming. This story will give you all the comfort you need and all the heat you crave.
Oliver hates cold weather, sports, and socializing, but he loves his grandmother, so when she organizes a family reunion at a ski lodge in Wyoming, he reluctantly agrees to go. He promises her he'll take one ski lesson, though he plans to spend as much time as possible in his room. After a registration mix-up places Oliver in a children's lesson, a hot stranger comes to his rescue and offers to teach him. Oliver indulges in all kinds of fantasies about the tall, outdoorsy man, even ones including Oliver's biggest secret, the satin and lace he likes to wear under his jeans. The mention of a past girlfriend makes Oliver assume his fantasy man is straight until the man starts making innuendos and looking at Oliver with heat in his eyes.
David has never been one for casual hookups. For the last few years, he's focused all his energy on starting his own business, but now he's ready to make a real connection with someone. As he gets to know Oliver, he realizes there's the potential for something special between them. Most people see Oliver as a nerdy guy who talks too much when he's nervous and knows far too many trivial facts. David sees the real Oliver, a man bursting with creativity and intelligence who needs someone to show him how special he is. Just because David hasn't been with a man before doesn't mean he hasn't wanted to. Can he start a relationship when Oliver's only staying in Wyoming for a week? David plans on spending every moment he has convincing Oliver that David can keep him warm, no matter what the weather—or the world—sends their way.
You can buy Anticipating Disaster on Amazon and borrow it in Kindle Unlimited. Grab your copy now!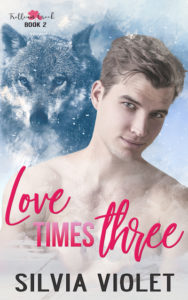 Love Times Three (Trillium Creek 2) is out now so grab yourself a copy or borrow it from KU!
If you love something let it go…
Brett thought letting Ryder go was the best way to show how much he loved him. Ryder would be free to find an omega and start the family he'd always wanted. Ryder doesn't want anyone but Brett, and he will do whatever necessary to convince him they belong together.
If it comes back to you…
Cam is on the run from his pack. He's not looking for love, but when he's rescued by Brett, his childhood crush, he realizes those feelings he had for his former packmate haven't faded. Then fate steps in when Cam meets Ryder, Brett's alpha mate, and a bond is formed. Cam tries to fight his attraction to both men, but the pull he feels toward them may prove too strong.
It's yours…
Ryder knows Cam is the omega he and Brett need to complete their dream of happily ever after. He's their missing piece, and it will take them both to convince Brett the three of them belong together
If you haven't started the Trllium Creek series yet, the prequel, Love at Lupine Bakery and Book 1, Love at Long Last are out now.

Love at Long Last, the first book in my shifter mpreg series, Trillium Creek,is available now to purchase at Amazon and borrow through Kindle Unlimited!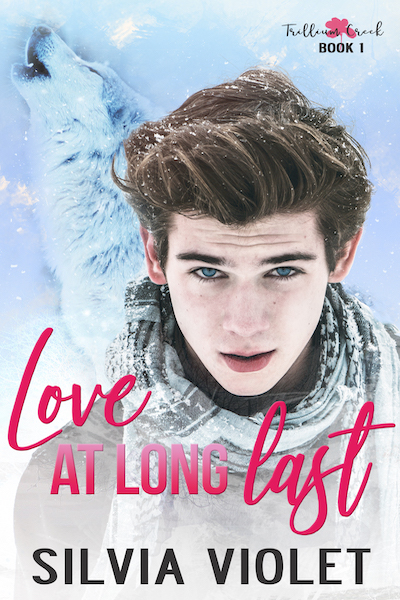 Silas had always expected to find his fated mate early in life, like most pack leaders do. But as he nears his fortieth birthday, still single, he begins to accept that maybe he's not meant to have a mate after all. When he finds an intruder in his territory, a young cop who smells human but also like everything he's longed for, Silas can't help but feel a spark of hope. Could this man be part shifter? Could he be Silas's mate?
Cory's conservative family believes shifters are evil, but when he meets Silas, he's shocked by the pack leader's gentleness and hit with feelings of desire beyond anything he's ever experienced. All of Cory's fantasies center around older men who take charge and take care of him, so when Silas asks if he needs a Daddy, all he can say is yes.
Torn between his family's expectations and the pull he feels toward Silas, Cory knows he'll have to give up his career if he follows his heart. Silas wants Cory, not fate, to decide if they should be together, so he fights his protective instincts. But an unexpected pregnancy forces their hands, and the two men have to figure out how to fit their lives together. And maybe have love at long last.
---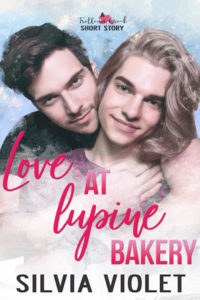 Love at Lupine Bakery is a prequel to Trillium Creek so grab it too if you haven't already. Levi and Finn will continue to be part of the series.
Finn is focused on continuing the success of his family's bakery. Eventually, he'll settle down with an alpha and start a family, but for now, he's content to satisfy his needs with casual hook-ups. Then a gorgeous stranger walks into the bakery, and Finn's whole world shifts.
Levi's father was a wolf shifter, but he was raised by his human mother and—like most hybrids—has never shown any wolf characteristics. That all changes when he enters Lupine Bakery and every instinct tells him the omega behind the counter is his.
Both Finn and Levi try to ignore what their hearts and bodies are telling them, but an unexpected pregnancy may force them to face what fate has in store.