Archive for the 'recipes' Category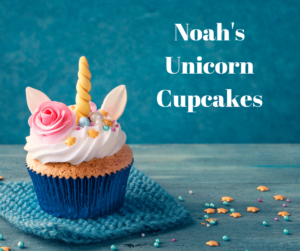 I've had several readers ask about a recipe for the unicorn cupcakes from Anticipating Rejection. While I've made many of the cupcakes in the book and I've made the cake and frosting from the unicorn cupcakes, I've not made unicorn cupcakes exactly like Noah's so I don't have a picture of mine to share, however, I do have the recipes you'll need to put yours together and some ideas for easier alternatives. I'm planning to make some in the next few weeks and I'll come back and post my results (warning: my decorating skills aren't up to Noah's standards).
When he makes the Unicorn cupcakes, Noah says he uses a cake he often uses for wedding cakes that has a light lemon flavor.
Use the lemon cake from this Martha Stewart recipe.
Or if you want something quicker, Duncan Hines Classic White Cake is a good mix. Add 1/2 tsp lemon extract and 1 tsp lemon zest.
Noah says he uses the icing from his Dreamsicle cupcakes. These are cupcakes I make frequently and this is the icing recipe I use.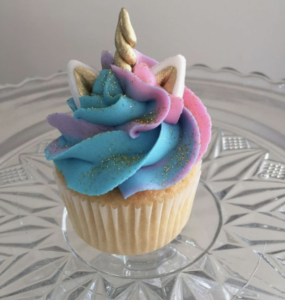 Dreamsicle icing**
1/2 cup butter softened
1/4 cup whipping cream
1 tsp orange extract
1/8 tsp salt
3.5-4 cups powdered sugar
**You may want to double it to have plenty to color and experiment with.
Whip butter with a stand mixer or a hand held mixture until it's soft and creamy. Add next three ingredients and mix thoroughly on medium speed. Add 2 cups powdered sugar. Mix on low and then increase to medium high until well-combined. Add another 1.5 cups of sugar and mix well. You may need to add more sugar or more cream to get a smooth spreadable texture. If you want a deeper orange flavor, add a few more drops of orange extract.
Divide into three bowls and color one bowl blue, one pink, and one purple. Or use the color combo of your choice.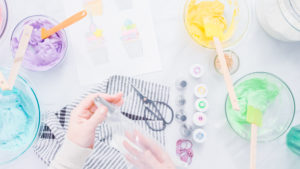 Pipe the icing onto the cupcakes using a large star tip. Place all three colors side by side in the bag and they'll come out with a striped rainbow-y effect.
Noah explains that he made the lemon candy horns himself, wowing everyone. Unfortunately, this isn't something I've tried, but I do know what Noah would have done so I'm going to tell you what you could do to try it out. If you want to go simpler, you can buy unicorn horn cupcake toppers online or at stores like Michael's and Wal-mart.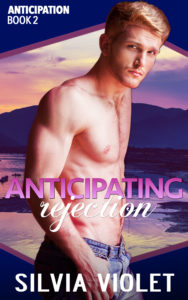 Candy horns:
Start by making butter mints but substitute lemon extract for the mint extract. Here's a recipe.
When you shape the candy, make it into the shape of a horn by twisting it rather than creating the shapes suggested in the recipe.
Noah doesn't mention how he made the ears, but they can be made from fondant, purchased premade (try Etsy, Michaels, or a party shop), or made from marshmallows like in this recipe.
Noah decorates them with edible golden glitter and silver stars. I have both those topping and purchased them at Michaels. I'm sure you can get them anywhere that sells baking decorations.
I've got more unicorn cupcake inspiration on my Anticipation Series Pinterest board.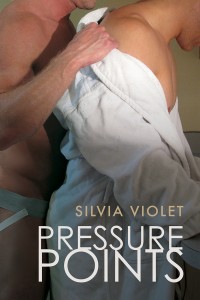 Matt from the Pisgah Mountain Wolves series is know for his pie-making abilities. His speacialty is blackberry pie. Today he's sharing his secret recipe. If he were making it his favorite way, the way his grandmother did, he'd substitute lard for the butter and shortening.
Crust
2 cups flour
1/2 tsp salt
pinch of baking powder
8T cold butter, cut in cubes
2T shortening
8-10T ice water with a touch of lemon juice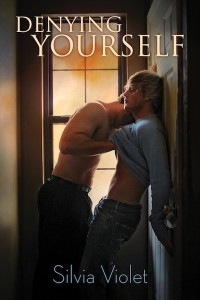 Mix flour, salt, baking powder.  Rub in half the butter by hand.  Use pastry blender to mix in the rest of the butter until pieces are the size of peas. Do not overmix.  Add water and mix with a fork.  Turn out on a cutting board or other hard surface.  Split in half and form into two flattened disks.  Refrigerate for at least 3 hours or up to 2 days.
Filling
4 cups blackberries
1.5 T cornstarch
1.5 T instant tapioca
1/2 cup sugar
Mix sugar, cornstarch and tapioca. Pour over fruit and mix together, tossing lightly.
Roll out one chilled crust.  Fit into a 9in pie pan.  Pour in filling.  Roll out top crust.  Cut vents. Put top crust on pie. Bake at 425F for 15 minutes.  Reduce heat to 350F and cook up to 45 minutes more or until filling is bubbling in center of pie.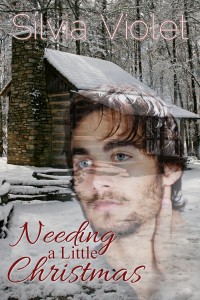 In Needing A Little Christmas, Mac's mama sends Eli a caramel cake and the two men get to know each other while enjoying it. Here's the delectable recipe she used…..
Mac's Mama's Caramel Cake
You will need three layers of your favorite yellow cake. I love the one here but you will need to multiply by 1.5 to get three layers. If tackling this well-worth-the-time caramel is all you're up for, then use Duncan Hines Butter Recipe Golden mix. It's, in my opinion, the best yellow cake mix out there.
Caramel Icing
3 cups sugar, divided
3/4 cup evaporated milk
1.5 sticks butter
1T white corn syrup
1 tsp vanilla
Put 1/2 cup sugar in a saucepan over medium heat. As the sugar melts, shake the pan so the sugar coats the bottom but don't let it run up the sides. Stir gently so the sugar browns evenly. When the sugar is almond the color of the skin on an almond, slowly pouring in the evaporated milk while stirring vigorously. The mixture will boil rapidly and start to seize up but keep stirring, breaking up the chunks of sugar. When all the milk is combined with the sugar, add the rest of the sugar, butter, and corn syrup. Mix well. Attach a candy thermometer and bring to a boil. Boil for 10-20 minutes or until the candy thermometer reads 248F. Stir occasionally. If you see any signs of burning, turn the heat down a bit. Be very careful. The mixture can splatter and you don't want to get burned!*
When the mixture is at 248F, remove the pan from the heat and carefully pour the mixture into the bowl of a stand mixer. Using a paddle attachment, turn the mixer on low and add the vanilla. Be very careful, it could splatter and it will still be very hot. Continue mixing on medium until the mixture begins to thicken and lose it's shine. Working quickly while the caramel is still pourable, pour or spoon 1/2 cup on the first layer and spread over the top. Add second layer and repeat. Add top layer, repeat and then use remaining caramel to cover the sides.
*You may want to keep a bowl of ice water nearby. Submerge skin immediately if you are burned.
And now for a bit of Mac and Eli…..
Needing A Little Christmas is available at Amazon, ARe, and Barnes and Noble.
Several minutes later, Mac had unloaded all the wood and gotten a fire going, and I'd made coffee and served cake. When we were seated at the table in the kitchen, I took my first bite of the gorgeous caramel cake and sighed. Forget sex. I was going to come from eating this cake.
"Oh my God, this is the best cake I've ever had."
Mac smiled, not the sly sexy grin he'd given me earlier but a little-boy smile of pure joy. "It's my great-grandmother's recipe. Christmas just wouldn't be right without caramel cake."
I stared at him in horror. "This wasn't supposed to be for your family tomorrow was it?"
He shook his head. "My mom always makes several of them. We give them as gifts and one would never be enough for us anyway."
"I feel honored to have one. You don't even know me; your mom doesn't know me. I could have been an asshole or even a serial killer."
Mac laughed. "Nah. I could tell you were all right when we talked on the phone. You sounded like a nice guy who was having a rough time and then got stranded. And I should know. I get plenty of assholes calling me demanding a load of wood five minutes ago because their cabin dropped below eighty toasty degrees for five seconds or expecting me to clear a foot of snow from the driveway of their artfully-decorated cabin so they can get their BMW down the mountain without a scratch. They don't get the family treatment or the family rates. But I could tell from your voice that I was going to like you."
Like I could tell from yours that you are a sex god. "Thanks. You sounded like a good guy too." A good guy? Had I really said that?
He grinned. "I aim to please."

Today some of my favorite authors and I are going to be sharing holiday recipes. If you comment and share a favorite recipe of your own (a link to one is fine) you'll be entered to win your choice of my Christmas titles, One Kiss and Needing a Little Christmas (These stories are temporarily unavailable).
One of my favorite things about the holidays is making cookies. I love to bake year round but at Christmas I usually go a little crazy making as many as a dozen different types of cookies and giving them as gifts. But one kind that we make every year are Oatmeal Hershey Bar Cookies. They hold together well for shipping once the chocolate bars on top are set and they are usually gobbled up quick as lightning. I always save plenty for our family and I have been known to eat embarrassing amounts of them when someone else doesn't beat me to it.
Oatmeal Hershey Bar Cookies
(This recipe makes 10-12 dozen cookies. When I make it at other times of year, I usually halve it.)
2 c. Butter (4 sticks)
2 c. Sugar
2 c. Brown Sugar
4 Eggs
2 t. Vanilla
4 c. Flour
5 c. Oatmeal, ground into powder (I do this in the food processor)
1 t. Salt
2 t. Baking Powder
2 t. Baking Soda
2 c. Chopped Pecans
3 cups Semi-Sweet Chocolate Chips
12 Hershey Bars (the plain milk chocolate ones that are divided into 12 pieces)
Preheat oven to 375F.
Cream butter and both sugars.  Add eggs and vanilla and blend until creamy.  Add flour, oatmeal, salt, baking powder and baking soda.  Blend just until combined.  Add pecans and chocolate chips and blend on the mixer's lowest setting. (If I make a full batch, it overflows from my mixer and I have to do the chips and pecans by hand.)
Drop by tablespoons onto a parhment lined cookie sheet.  Bake 6-8 minutes.  The cookies will be soft and will not look done when you take them out.  The edges may have just a hint of brown. Do not overbake!
Before removing them from the pan, top each cookie with one section of a Hershey bar.  After about 2 minutes, remove them from the pan and let cool. The chocoalte will remain gooey and soft for a long time.
Enjoy!
Needing a Little Christmas by Silvia Violet
Discovering his boyfriend's affair with a co-worker wrecks Eli's holiday plans. With his parents on a cruise and his brother and sister out of town, he's on his own. His mother insists he escape to her friend's mountain cabin. Eli reluctantly agrees, but he takes off unprepared and ends up driving into the worst snowstorm the area has seen in years.
He survives the trip, but he's stuck with no logs for the woodstove and little food. Fortunately, he gets the number for Mac's Wood Delivery. Mac doesn't mind riding to the rescue, and his deep, sultry voice has Eli eagerly anticipating the delivery. Is Mac the little bit of Christmas cheer Eli has been needing?
Excerpt:
"What do mean you're not going to be with Dave's family for Christmas? Why?"
I pulled the phone away from my ear. I'd known my mother would be upset, but her reaction was even more vehement and loud than I expected. "Apparently one of the junior partners at his firm isn't nearly as boring as I am. They've been having an affair for months."
My mother made a sound of disgust. "Oh, honey, I'm so sorry, and you are not boring."
"Sure, I know, but Dave thinks I am." And honestly, I thought he was probably right. I preferred to stay at home rather than go out. I spent most days in sweats and T-shirts. When Dave did drag me to a party with his socialite friends, I inevitably embarrassed him with my lack of knowledge of current affairs. I'd taken to hiding out in the bathroom writing notes for my next book on my phone. He'd even attempted to coach me in the art of party conversation. I'd used his lessons in a book but ignored them as they applied to me. The book had done well; readers found the lessons hilarious.
When Dave suggested I was not only an uninteresting social companion but boring in bed as well, I'd taken that seriously. I might prefer a quiet lifestyle, but I knew how to please a partner sexually. After pondering what I could do to shock him, I'd gotten my nipples pierced, something I'd secretly wanted to do for years. He'd laughed. I should have broken up with him that night. We'd only had sex a few times after that, and each time, Dave raced to completion, showered off the scent of me, and promptly fell asleep.
I heard my mother's heels click against the floor. She must be pacing, something she always did when strategizing. "I'm so sorry, honey. Do you want us to cancel our cruise?"
That was the last thing I wanted. "Of course not. You've been looking forward to it for months. I'm fine. Really."
"Are you sure?"
I held the phone between my shoulder and ear as I poured myself a generous measure of whiskey. "Yeah, things hadn't been great between me and Dave for a long time."
She huffed. "That doesn't give him any excuse to—"
I held up my hand even though she couldn't see me. "No it doesn't. He acted like an ass, and I think he knows it. He moved out of his beloved apartment and told me I could keep it." Not that I could afford it for long unless my next book was a runaway hit.
Mom sighed. "I don't want you spending Christmas alone."
After draining my drink, I'd wandered into my bedroom and caught a glimpse of myself in the mirror. My eyes were red from lack of sleep and they looked more hazel than their usual bright green. My curly dark hair stood out at odd angles. The stress of trying to meet the deadline for my book and trying to hold on to a relationship that had died well before I caught Dave fucking his colleague in his office hadn't been good for my appetite. I'd lost weight and the bones in my face showed prominently. I was definitely not looking my best, but I wanted a few more days to wallow in self-pity. "I really don't want to be around anyone right now."
My mom sighed. "But it's Christmas."
I ran my hand through my hair, making it stick out even more. "I'm not in the mood for holiday cheer."
"Your dad and I can go on a cruise another year."
"No, arranging this once was difficult enough. Rick and Cindy will want to spend next year with you since they're with Cindy's family this year. And Ally's trip to California is a special one-time deal. This is our gift to you, and I won't be responsible for screwing it up."
"You wouldn't be responsible; Dave would be."
"I wasn't exactly looking forward to listening to his family brag about how wonderful they all are. I'll have a better time alone." My mom's pacing stopped, and I realized I'd said the wrong thing.
"Eli, why didn't you tell us you didn't want to go home with Dave? We would never have agreed to the cruise if we thought you'd be miserable at Christmas."
I tried to back pedal. "It would have been fine. I enjoy visiting Boston even if the company leaves something to be desired."
"Hmm." My mom didn't sound convinced. "Maybe we could get you a ticket for the cruise. It might not be full."
The cruise was supposed to give my parents some uninterrupted time together. And the last thing I wanted was be trapped on a ship with lots of happy, smiling people encouraging me to socialize while my mom fussed over me. "No, thanks. I really, truly would rather be on my own."
"But what will you do?"
"Stay home and drown my sorrows in Christmas cookies and eggnog."
Buy it at Amazon, ARe, or Silver
Visit the other post in the Christmas Blog Hop:
Angel Martinez: http://www.freewebs.com/angelwrites/apps/blog/show/21254472-christmas-recipes-cookies–
Laura Harner: http://lauraharner.com/hp_wordpress/christmas-recipe-blog-hop/
Lee Brazil: http://leebrazilauthor.blogspot.com/2012/12/holiday-dessert-blog-hop.html
Em Woods: http://authoremwoods.com/2012/12/22/holiday-recipe-swap/
Havan: http://havanshawthaven.blogspot.com/2012/12/our-just-dessertsholiday-recipe-blog-hop.html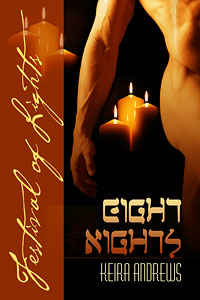 Here's a yummy twist on the standard latke. I think Nate's mother might initally frown upon anything but the traditional latke at Hanukkah, but these are so tasty she'd come around!
Pesto Latkes
2 pounds Yukon Gold potatoes
1 medium onion
4 cloves garlic, minced
3/4 cup packed fresh basil leaves, finely chopped
1/3 cup pasteurized egg substitute
1/2 cup grated Parmigiano-Reggiano cheese
2 tablespoons extra-virgin olive oil
1 teaspoon salt
1/2 teaspoon freshly ground pepper
Preheat oven to 350 degrees F. Coat a 12-cup muffin pan with cooking spray.
Peel potatoes, then grate them through the large holes of a box grater into a large bowl. Squeeze in small batches between your hands over the sink to remove excess moisture. Then grate onion into the bowl through the same holes in the box grater.
Stir in garlic, basil, egg substitute, cheese, oil, salt and pepper. Place a generous 1/2 cup of the potato mixture into each muffin cup, packing the mixture firmly.
Bake the latkes until lightly browned and firm, 45 to 50 minutes. Cool in the pan on a wire rack for 10 minutes before unmolding.
Eight Nights by Keira Andrews
Blurb:
Lucas McKenzie figures spending the holidays with his annoying roommate's family is better than being alone on campus. The last thing he expects is to lust over Sam's brother — or for Nate to actually want him back.
They hide their attraction during Hanukkah celebrations, but behind closed doors, Lucas and Nate can't keep their hands (or mouths) off each other. Nate's only looking for a bit of holiday fun, and amazing sex with a hot virgin definitely fits the bill.
Yet as the candles burn, Nate and Lucas begin to realize eight nights will never be enough.
Excerpt:
As Nate went through the steps, Lucas tried to pay attention. At one point, Nate handed him a pair of rubber-tipped tongs, and Lucas dutifully plucked out a developed photo and hung it on the line. They worked in companionable silence, and Lucas found he enjoyed watching the photographs come to life. They were all black-and-white cityscapes, and he felt a frisson of excitement, knowing he'd get a chance to finally see New York for himself in the days to come. "You took all of these?" Lucas admired the clean lines and unique angles of the photos.
Nate waved his hand dismissively. "Yeah, I'm just messing around."
"I'd like to see what you can do when you're taking it seriously because these are amazing."
"It's nice of you to say so." Nate wiped his hands on a towel and plucked a doughnut from the plate Lucas had left on the counter. "We just need to wait now before we open the door."
Nate didn't seem comfortable with praise, so Lucas stopped talking and took his own doughnut, relishing the sweet, fruity flavor. He couldn't understand why Nate trivialized his talent. Lucas was no expert, but he found the photographs beautiful.
They ate in silence, and Lucas noticed a blob of jelly filling on the corner of Nate's mouth. Before he could think, he reached out, swiping at it with his finger. Their eyes locked, and Lucas froze, his hand still at Nate's mouth.
Oh God, what was he doing?
He stayed in place, not breathing as he and Nate stared at each other in the muted red light. Before Lucas could process what was happening, Nate's tongue curled out and licked the jelly from his finger. A jolt of desire ran though Lucas, and he swallowed thickly, his throat suddenly dry.
Nate turned his head just a bit and sucked Lucas's finger into his mouth.
As Lucas moaned low in his throat, Nate yanked him close, and they were kissing. Lucas's head swam from the explosion of sensations he felt.
He was actually kissing another man.
He opened his mouth and Nate's tongue dived in, probing and stroking as his hands ran over Lucas's back, down to his ass.
Quiet, mild-mannered Nathaniel Kramer was grabbing his ass.
His head swimming, Lucas kissed Nate back, his body alive in a way it never had been while kissing a girl. The scratch of Nate's stubble, his musky scent — every thing about him was so male, and any lingering doubts Lucas had about being gay melted away as he explored Nate's mouth.
They both gasped for air, and Lucas realized that his jeans were undone as Nate sank to his knees. "What are you…?"
Buy it here.
Learn more about Keira Andrews:
Website
Twitter
Facebook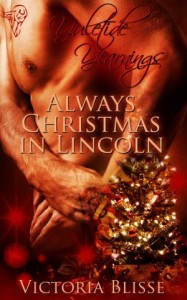 Coconut Ice.
December is here and it's time to think about presents. I know it can be difficult to think of meaningful presents that don't cost the earth because let's face it things can get expensive this time of year. Well I can tell you that this recipe always goes down a treat. Adults love it and so do kids and the best thing is it is quick and easy to make and requires no cooking at all.
Equipment:
Tin to set the coconut ice in (9×9 inch works well) if using
Wooden spoon
Large bowl
Sieve
Spatula
Ingredients:

300g desiccated coconut
300g icing sugar
400g tin of condensed milk
Optional food colouring (pink is traditional but try different colours if you'd like)
Method:
Place the condensed milk into a bowl, use a spatula to scrap out all the contents. Sieve the icing sugar into the bowl.  Beat well together then mix in the desiccated coconut. It may get a bit difficult so persevere, everything will come together in the end.
To make traditional squares of coconut ice divide the mixture into two then add a few drops of red to one half and mix it in to make it pink.
Spread the pink layer on the bottom of the tin them spread the white layer on top. At this point I suggest you score some squares into the top of the coconut ice so it is easier to cut when it is set.  Put the tin in the fridge and leave to set for at least 3 hours but preferably overnight before cutting into squares and serving or putting in pretty boxes/jars to give as presents!
You can mould the coconut ice mixture into shapes, kids love making little mice out of it. You can add chocolate buttons for ears and sweet laces for whiskers and a tail but the sky is the limit. Colour the sweet whatever colour you like and make whatever shapes you like. If you make something unusual let me know (victoria @victoriablisse. co. uk no spaces) I'm always looking for new, fun present ideas!
Always Christmas in Lincoln by Victoria Blisse
It isn't really always Christmas in Lincoln but when Felicity gets her man it feels like it.
Felicity hates Christmas. It reminds her of a traumatic event from her childhood. She thinks the Permanent Christmas shop is tacky, with its windows full of trees and tinsel all year round and would rather it disappeared from her picturesque home town.
When she discovers that Carl, who she lusts over every time she sees him in the tea rooms, is in fact the owner of Ho, Ho, Ho! She's not quite sure what to think. It takes a sexy meeting in the middle of a fake winter wonderland to make her realise the advantages of Christmas in the middle of summer.
As time passes, Carl and Felicity indulge in more sexy liaisons but as Christmas approaches Felicity doubts whether she is anything more than a sensual distraction for the festive shop owner and when her handsome ex, Sean, sweeps into town on a quest to win her back she finds she has a tough decision to make.
Can Carl and his Christmas cheer win over her hardened heart?
Excerpt:
He squeezed my arm and I shuddered with pleasure. We continued to talk business for a while and it was quite obvious Carl didn't just know his stuff—he loved it. He was like a kid waiting to visit Santa.
"Yes, I'm mad," he said. "I know that. I love Christmas."
"Oh, no, it's sweet," I gasped. "It's just… I'm not a fan of the festive season."
"Really?"
"Really, really. It's not Christmas, just something happened at that time of year and…well; it kind of poisoned my enjoyment of it."
"That's awful," Carl sympathised. "I hope you work out some way to separate the two, because no one should miss out on the joy of Christmas."
The silence that fell wasn't particularly awkward. Funny how quickly a stranger can become a friend, but I was on edge because I could feel him beside me, smell his light cinnamon aftershave, and I just wanted to pounce on him and have my wicked way.
"I guess I should be going," I sighed. "Not that I want to go out there again—it's so cool and refreshing in here."
"Then stay. I'd be grateful of the company while I finish putting together my North Pole."
"Well, if you're sure…"
"Yes, yes, stay. I could do with a second opinion on where to place my candy canes."
"All right," I agreed. "Can I give you a hand since I'm here anyway?"
"Well, go on then. I'm used to doing them on my own, but I've seen your window displays and they're always gorgeous. Can you organise the penguins and polar bears for me?"
"Sure." I smiled, shut the laptop and picked up a polar bear. It's not often a person gets to say that, I suppose. We chatted amicably as we positioned and re-positioned soft toys, ornaments and gingerbread houses. I'd not felt so relaxed and happy for a long while. The loneliness had sunk into my soul and I'd barely even recognised it. As I pondered what that meant for me and my life, I miscalculated how far forward I needed to lean to place my singing, dancing penguin, and I slipped. I knocked into Carl, yelped and thankfully landed on the soft toys. Carl's landing wasn't quite so soft, since he ended up on top of me.
"Oh, fu—I'm so sorry."
"It's fine, it's fine." Carl pushed himself up, but I was still very aware of his pelvis pressing against mine. "Don't worry, accidents happen."
"I'm sorry, I'll pay for anything I've broken, I'll put everything back in just the place it was…"
Carl kissed me.
It was far more complex than that, but at that moment my mind went blank and I just couldn't think. His lips were on mine. They were plump, hot and very skilled. He took my breath away with just the gentlest undulations. I wrapped my arms around him without thought; pulled him close and let out all the passion that had built up inside me. We broke apart and took ragged breaths before our lips pulled us back together again. Our eyes were open and I could see that he was holding back just a little bit, nervous about whether this was what I wanted. I was sure he'd see the same emotions in the sea of my green eyes.
It struck me as funny that two grown adults lip-locked together still seemed so hesitant. I think he felt the smile cross my lips, because he turned up the heat. He rolled to his side and pulled me over on top of him. I laughed, then groaned because I felt the significant bump rising from his crotch. I was now somewhat in control and after a moment, a very brief moment of doubt, I reached out to undo the buttons on his shirt. His fingers crept up my thighs in response.
I kissed down the outline of his jaw; he moved a hand to cup one of my buttocks. I finished unbuttoning him and he clasped me from the other side, so I was surrounded by his touch and aroused by his gentle squeezes. I continued my kiss trail down over his chest. It was a strong chest, not bursting with muscles—that does nothing for me anyway—but steely, with the kind of muscles that aren't showy but get the job done well enough, thank you.
As I slipped lower, Carl reluctantly let go of my cotton-covered arse. His breath was ragged as, I am sure, was mine. I felt like I couldn't quite catch my breath and I was sure that if I were a heroine in a historical romance I'd be experiencing a touch of the vapours.
The real experience waited for me within the casual trousers of the all-year-round Christmas salesman. I was relieved to find plain, black underwear without a Santa, reindeer or Christmas tree in sight, and that the significant bulge inside was all tasty, hot flesh and not a figment of my fevered imagination.
It was very surreal being surrounded by snow, even fake snow, in the middle of summer. Every time I bobbed my head up and down on his delicious dick—I swear it tasted of gingerbread and cinnamon—something different would catch my eye. The green and red- scarfed penguin lying on its side next to me or the grinning Santa on a rocking chair up on the shelf. Each had a smug smile that I was sure signalled how much they liked the show.
Buy it here.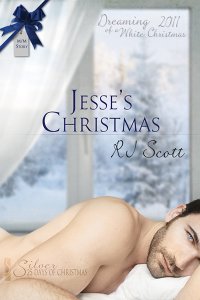 Poor Jesse… I bet Gabriel drags him to a Christmas Shortbread making event!
Jesse's Christmas, coming from Silver Publishing 25 December
Blurb:
For Jesse Connor, Christmas is nothing but a series of bad memories. It takes a man imbued with the spirit of Christmas to help him realize that the Christmas spirit lies in everyone–if they only know where to look.
Recipe
Jane Asher's Chocolate Caramel Shortbread
Ingredients
175g spreadable butter
75g castor sugar
200g plain flour
25g soft brown sugar
450g tin (or squeezy bottle) condensed milk
200g milk chocolate drops
Makes 10-12 slices
Method
1. Pre-heat the oven to 175g°C (160°C fan assisted, 350°F, gas mark 4). Grease and line a 7"x11" baking tray
2. Put 150g of the butter into a mixing bowl, together with the castor sugar. With a wooden spoon, cream together until soft .
3. Add the flour, and mix together, pressing the flour into the butter/sugar with the back of the spoon
4. Turn the mix out into the pan, pressing it evenly out with your hand to fill the pan
5. Bake for 30-35 minutes until just beginning to colour at the edges. Remove from the oven and cool in the tin
6. Put the remaining butter, brown sugar and condensed milk into a small pan.
7. Heat carefully, stirring all the time, until it begins to bubble – keep scraping right round the bottom, or it will catch and burn (although don't worry if you do find up a few dark bits – once covered in chocolate you'll never notice!)
8. Keep stirring until the mix thickens – this will only take a couple of minutes – then remove from the heat and, still stirring, let it cool for a few seconds, before spreading it over the shortbread base. Allow to cool
9. Melt the chocolate in a basin over hot water or in the microwave, then spread it evenly over the base.
10. Leave the chocolate to set, then divide into rectangles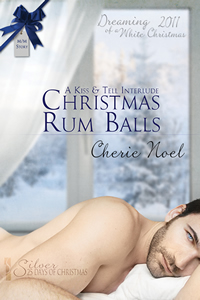 Part and parcel of my holiday story is one of my favorite Christmas recipes. I wrote it into the story so I'll give you the recipe as it occurs at the end of my story, Christmas Rum Balls. I knew I wanted to use the cookies in a Christmas story, and then when I realized how much my main character Tony loves to cook it was an easy step to get him to divulge his super secret recipe for the good of people everywhere.
Tony's Rum Ball Recipe
Listen. First youse gotta have mixin' bowls and bakin' stuff.
'Cept youse don't gotta bake for these.
So youse can make em with the kids and old folks and people who might not remember the rules about makin' hot stuff.
Okay.
Second, youse gotta put love into 'em. They taste better that way.
No, really, they do.
So, here's the list.
Ingredients:
2 ½ cups of Nilla wafers. Crush 'em up good. Youse gonna start out with a whole box of the suckers, but when they gets crushed? 2 ½ cup.
2 tablespoons of cocoa. (Me? I love this stuff)
1 ¼ cups icing sugar. Youse can find it in the baking aisle in the grocery store. Just ask the clerks, 'cause they always know where ta find stuff.
½ cup of Spiced Rum. Or youse can use Bourbon. But, the cookies are Rum Balls, so I think youse should use the rum. On account of that's what they're called.
2 tablespoons of white corn syrup. It's the clearish kind, like Karo syrup. That's a brand name.
1 cup of pecans or walnuts, broke up kinda good. I like the walnuts better. 'Cause putting something called "pee can" in my food just seems wrong, youse know what I mean?
Now youse need to know how ta put it all together.
Directions:
Youse gotta mix the cocoa with 1 cup of the sugar in a special way the fancy cooks call sifting. If youse don't have a sifter, youse can just mix them up real good. But youse might wanna think about using maybe a fine mesh colander. That could do for a sifter in a pinch.
Mix the rum and the syrup together, and then stir them into the cocoa an' sugar mix.
Pour in the crushed up Nilla wafers (I guess any vanilla wafers would work, but I like the Nilla ones) and the nuts.
Mix everything up real good.
Make little bouncy balls or walnut size balls. Then youse can either roll them in the remaining icing sugar or leave 'em plain. I love sweets, so I put the extra sugar on.
Then youse just store them in a tin.
It's best to make Christmas Rum Balls a little early so they have time to sit and get tastier. So make them about a week before youse wanna eat 'em.
Christmas Rum Balls  by Cherie Noel
Santa Neil in leather, elf Tony in a sock;
Watch naughty Kevin, falling like a rock.
He's off the nice list—coal city's straight ahead,
'Til a miracle's made with wrist restraints, a bow and Rum Balls in their bed.
Santa Neil and Elf Tony have a problem. Their wayward boy Kevin, fallen off the nice list and headed straight for coal-in-the-stocking-city, is hauling around a truckload of unnecessary guilt.
Together, they mix up a brand new recipe for Christmas fun, complete with Santa Neil in leather, Elf Tony in a smile and a strategically placed sock, and of course, some delicious Christmas Rum Balls. Their bring the big day early, but one question still remains…Can they entice Naughty Kevin to release his burden and open his sweet self to the Christmas spirit all around him?
Excerpt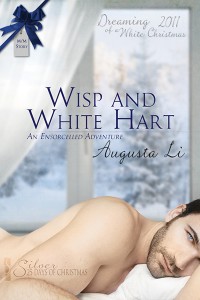 Hi Silvia! My name is Augusta Li (Gus), author of Wisp and White Hart, part of the Dreaming of a White Christmas anthology at Silver Publishing. Among other things, Wisp and White Hart is the story of two young men, Dust and Elijah, who are estranged from their families and are all each other have. They find their way to an inn in rural Yorkshire on Christmas Eve, and decide to start their own holiday traditions, including a delicious regional meal. Elijah, a former cook, wishes he could prepare a holiday dinner for his partner. He misses cooking and baking cookies. So, in the spirit of family and tradition, here is the recipe for my grandmother's almond cookies. Read on for an excerpt from the book!
Chinese Almond Cookies
Ingredients:
2 cups flour
1/2 teaspoon baking powder
1/2 teaspoon baking soda
1/8 teaspoon salt
1/2 cup butter
1/2 cup shortening
3/4 cup white sugar (can add up to 2 more tablespoons, if desired)
1 egg
2 1/2 teaspoons almond extract
1/4 pound whole, blanched almonds (one for each cookie)
1 egg, lightly beaten
1.Preheat oven to 325 degrees Fahrenheit (162.5 degrees Celsius).
2.In a large bowl, sift the flour, baking powder, baking soda, and salt. In a medium bowl, use an electric mixer to beat the butter or margarine, shortening, and sugar. Add the egg and almond extract and beat until well blended. Add to the flour mixture and mix well. Note: The dough will be crumbly at this point, but don't worry – that is what it's supposed to be like.
3. Use your fingers to form the mixture into a dough, and then form the dough into 2 rolls or logs that are 10 to 12 inches long. Wrap and refrigerate for 2 hours (this will make it easier to shape the dough into circles).
4. Take a log and lightly score the dough at 3/4 inch intervals so that you have 15 pieces and cut the dough. Roll each piece into a ball and place on a lightly greased cookie tray, approximately 1 1/2 inches apart. Place an almond in the center of each cookie and press down lightly. Repeat with the remaining dough.
5. Brush each cookie lightly with beaten egg before baking. Bake for 15 minutes to 18 minutes, until golden brown. Cool and store in a sealed container.
Wisp and White Heart by Augusta Li
Available December 20th from Silver Publishing
Being stranded in rural Yorkshire on Christmas Eve offers Elijah and Dust a romantic vacation from their dangerous work, until a strange man with unfathomable motives appears in need of their assistance.
Excerpt:
A waning, gibbous moon peeked from behind the thick mantle of snow clouds now and then, accentuating a jut of limestone, the crumbling ruin of a Roman wall, or just a gentle knoll or valley. Fat flakes of snow spiraled lazily down, gradually covering more and more of the Yorkshire landscape. A mottled gray sky stretched toward the horizon, making Elijah Tupper feel that the thirty year old pickup in which they rode was driving toward the edge of the world. He didn't feel uneasy, only humbled. For the last several hours, he'd watched in wonder as the rugged beauty of the Wolds and Dales rolled past. The arched ruins of medieval abbeys and priories stood black against the luminous expanse of clouds. Stretches of woods cropped up and faded back into the moor, and waterfalls rushed down tiers of stone before foaming into plumes of white mist at the bottoms. Elijah rested his temple against the passenger window and watched the austere, monochromatic vista. Snowflakes dissolved into shimmering droplets where they hit the glass.
Beside him, Elijah's partner Dust looked sleepily through the windshield. An old Yorkshire man in a knitted hat and leather gloves drove the truck. Mr Thomas Whipple had been kind enough to stop when he'd seen the two young men wandering through the inhospitable Dales. He had jowls like a bull dog and eyes perpetually squinted from decades of wind and sun. He was a man of few words, but had offered to give the two men a ride to the nearest village on the way to his farm. He smelled of dried alfalfa and the lanolin from his sheep. None of the three men said much as the old pickup, low on its axles due to the many sacks of grain in its bed, bounced along the rocky paths.
Though he and Dust had spent some time in London, and recently in Leeds, Elijah had never been so far north before. Beneath the snow, limestone, and chalk, Elijah felt a strong but dormant current of magic, like an underground stream. Remnants of Roman sorcery and medieval enchantment braided with the ancient power inherent in the northern land to form a mystic mélange that Elijah felt humming in his bones and teeth. He knew that Dust, a fellow magic-user, sensed the same enchantment.
A few weeks before, a wealthy family in Leeds had hired the two enchanters to investigate their son's fiancée, a beautiful North African princess. It hadn't taken long for Elijah and Dust to realize the princess was an ifrit, a desert spirit similar to a djinn. They'd prepared spells to force the creature into its true form and bind it. They hadn't anticipated for the young man to admit his knowledge of his beloved's nature, nor for the epic fight that ensued during a dinner party. The two young men had defeated the ifrit and the spirits it summoned, but not without destroying the eastern wing of the family's ancestral home. Glass and limestone had rained to the street below. The fire that started had quickly spread through the house and to the nearby buildings. Inevitably, the authorities had arrived: fire trucks, ambulances, and an army of police. Elijah and Dust, rather than answer difficult questions, fled the scene. Elijah stole an Austin-Healey Sprite and they drove it into the Dales until it ran out of gas. The snow had started right around then, and they'd continued on foot until Mr Whipple had been kind enough to stop.
They'd left their bags, with all their extra clothing and possessions, behind. Luckily, Elijah had the enchanted katana he'd acquired during his first adventure with Dust, and he knew Dust had at least a few days worth of money in his pocket. Since it was Christmas Eve, it would be some time before they could access any of their accounts.
The old pickup crested a hill and slowly descended into a valley, where around thirty small buildings stood nestled between two high, steep knolls. They huddled around the single, dirt road that ran through the village. Mr Whipple stopped in front of a white-washed structure with a thatched roof and a shingle that read The White Hart Inn and Public House.
"I'll leave you lads off here, then," he said in a gruff but friendly voice. Dust shook the man's hand and offered him a few pounds, which he declined.
"Thank you so much, Mr Whipple," Elijah said as he stepped into the snow with the brown sack of groceries he'd purchased when they'd stopped at a small market after the Sprite ran out of fuel. He'd been it carrying for miles when Mr Whipple showed them charity. "Have a Merry Christmas."
"Same to you, lads," the man said before he shut the passenger door and drove off, his tires leaving gray ruts in the otherwise virgin snow. When he'd gone, the village was so silent Elijah swore he could hear the fall of the flakes on the old buildings. If magic had run like rivulets beneath the rest of the landscape, beneath this small town it pooled in a vast reservoir. Elijah felt it purr and pulsate beneath his sneakers, the power tingling up his legs. He looked at the pub. An inviting light spilled from its windows of beveled, amber glass.
"This is probably the only place in town," he said to Dust. Melting snow sparkled on Dust's black hair and thick eyelashes, and the cold had nipped his golden cheeks dark red. Elijah squeezed Dust's wrist. "Let's go inside. I'm hungry."
"Me too," Dust agreed, opening the two dark, wooden doors and holding one for Elijah. The White Hart's interior was warm and cheery, lit by old wall sconces and a healthy fire in the stone hearth. Dark paneling, similar to the wood of the doors, covered the walls and floor. Ivy, holly, and red tapers decorated the tables, and evergreen wreaths with red velvet bows adorned the walls. A large, L-shaped bar stood at the back of the room, though no patrons occupied the wooden stools around it. The glasses and bottles of liquor twinkled, and a savory smell drifted from the kitchens beyond. Dust inhaled deeply and smiled before he approached the elderly couple drying pint glasses together.
"Good evening," he said, as Elijah stood a few feet back. "Are you the proprietors?"
"Aye," said the gentleman, eying them with a bit of suspicion.
Elijah knew how they looked. Dust's long, black hair was pulled back in a ponytail, though a few loose strands clung to his damp cheek, and his light, silver eyes looked out of place on his dark, Asian-featured face. Often people sensed Dust's otherworldly nature and felt uncomfortable. Elijah imagined he probably looked a little rough himself, with his unruly, blond hair hanging to his shoulders beneath his heather-blue, knitted cap with the pom-pom and two days worth of stubble on his face. He remembered the elaborate sword he wore on his back. Also, their American accents marked them as outsiders. Luckily, Dust knew how to charm and manipulate people when he needed to: he'd had centuries of practice after all. If all else failed, Dust could employ a simple charm to gain the trust of the pub owners. Slipping his hat off and sticking it in his coat pocket, Elijah left Dust to it and found a table close to the fire. He observed the old tin signs that decorated the walls and the porcelain angels on the mantle as he listened half-heartedly to the exchange.
The Hart had three rooms to rent, and since there were no other guests, Elijah and Dust would have the best. The man poured two ales and gave Dust a key while his wife went to prepare some supper for her young guests. Dust brought the drinks to the table and sat down across from Elijah. He looked around at the stuffed animal heads: stags, boars, foxes, and wildcats mounted on wooden plaques. "This isn't too bad," he said with a smile. "It'll be like an adventure."
"It's kind of romantic," Elijah agreed, sipping the foam from his ale and looking at his partner's face in the low, golden light. He liked the content smile on Dust's full lips, liked that he saw it more and more lately. "At least we're safe. Those were some bad times back in Leeds."
"Yeah. We couldn't have known."
Taking another deep gulp from his glass, Elijah said, "Did we do the right thing, killing the ifrit?"
"It was self-defense by then," Dust assured, draping his hand over Elijah's knuckles. "She would have killed us."
"But she loved that man, and he loved her…"
"He claimed to," Dust corrected. "He might have been under a powerful spell."
"Or he might not," Elijah said. "We didn't know for sure. People used to think you put a spell on me. It's not impossible that they actually loved each other."
"It's improbable," Dust said. "Creatures like that are masters of manipulating human emotions. I'm sure we did him a favor. We probably freed him from her thrall. I didn't sense any authentic emotion."
Though he nodded, Elijah recalled the young man's grief. He couldn't help imagining how it would feel to lose Dust. It scared him more than anything, more than death itself. He hated to think he'd caused anyone else that pain.
*****
Also check out these other books in the Ensorcelled series, featuring Elijah and Dust:
Epiphany- Ensorcelled #1
The Midnight Children- Ensorcelled #1.1
Wisp and White Hart- Ensorcelled #1.2
Thanks so much for having me, Silvia. It's been a pleasure. I wish you and all of your readers prosperity and good fortune in the new year!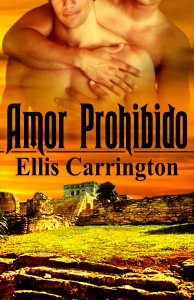 Cozy up this holiday season with a couple of mugs of sweet & spicy Mexican hot cocoa, and the hot heroes of Amor Prohibido.
Simple Mexican Hot Cocoa (adapted from allrecipes.com)
Ingredients
3 tablespoons instant hot chocolate mix
1 tablespoon chocolate syrup
1/2 teaspoon ground cinnamon
1 pinch chili powder
1/4 cup milk
3/4 cup boiling water
Directions
In a large mug, mix the hot chocolate mix, chocolate syrup, cinnamon, and chili powder. Pour in the milk. Add the boiling water and stir. You may need to play with the water/milk ratio to get it just right. Enjoy!
About Amor Prohibido:
Jacob Freehan has no job, no man, and no motivation. In pain both from ending a long-term abusive relationship and a severe back injury, he escapes to the sunny seaside town of Puerto Morelos for a little yoga, a little R&R, and possibly a place to quietly end his own life.
Pakal is a centuries-old immortal Mayan spirit guide who has been charged with getting Jacob on the path toward healing. Romantic involvement with a spirit charge is strictly forbidden, and it has never been a problem…until now. Pakal sees something special in Jacob, but failure to keep a rapidly growing attraction at bay could result in Jacob losing his life and Pakal being condemned to the Underworld forever…
Excerpt:
"Uh, yeah. Hi. Pakal, right?" As if he didn't remember. Just like he remembered the hills and valleys of the large man's muscular arms, the golden glow of the sun as it shimmered on his chest. The strong grip with which the man had shaken Jacob's hand. He had, in fact, remembered it the night before in his dreams, and again that morning in the shower.
Pakal nodded and grasped Jacob's injured leg without any pause to request permission. "Let me look at this," he murmured.
Ah, damn. Pakal's hands were warm, firm, and alarmingly reassuring as they massaged the muscles around Jacob's aching knee. And then…there was that strange pulse again, strongest at the points where Pakal's hand touched Jacob's skin.
Though it had been a little startling at first, the sensation wasn't at all unpleasant. It reminded Jacob of walking into a large dance club and feeling his body throb along with the bass line of his favorite music. He had an inexplicable urge to place a hand over Pakal's bare chest, to see if it was the larger man's heartbeat that Jacob's body was vibing with.
Amor Prohibido is available from Amber Allure and Amazon. Also check out Goodreads for Ellis's free short story, Yes, Sir. Find out more at EllisCarrington.com, Ellis's author page on Facebook, or on Twitter @MMbyEllis.