Archive for the 'shapeshifter' Category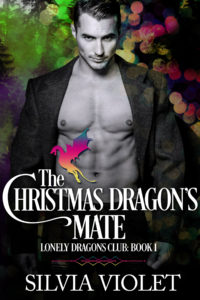 The Christmas Dragon's Mate is the first book in Lonely Dragons Club, an mpreg series where thousand-year-old dragons long for their fated mates.
Best Surprise Ever: Going out to add to your Christmas hoard and finding your fated mate.
Laszlo
I've been longing to find my mate for over a thousand years. When I see him for the first time, he's standing beneath sparkling glass ornaments, like a present waiting to be unwrapped. A present I intend to lay claim to.
If I can lure him back to my lair, I'll shower him with so many gifts he'll never want to leave. Bonded with my mate by Christmas? Yes, please.
Roman
I'm no good at flirting and have terrible luck with men, so when a gorgeous alpha says he wants to take me home, I'm shocked. And wary. My heat is about to start, and I've never shared it with anyone, so why do I suddenly want to say yes to this stranger?
There's something unusual about him, the way his eyes shine, the odd phrases he keeps using. He says he wants to add me to his collection of beautiful things. I should be offended, but instead, I'm intrigued. Just this once, should I take a risk?
Buy It Now: Amazon Global | Amazon US
---
Lonely Dragons Club 2 is up for preorder.
The Snow Dragon's Mate is available for preorder. It will be released on November 29.
The rest of the books in the series will also be available later this year.
The City Dragon's Mate – December 13
The Island Dragon's Mate – December 27

Grab your copy of Bodyguard's Bite now!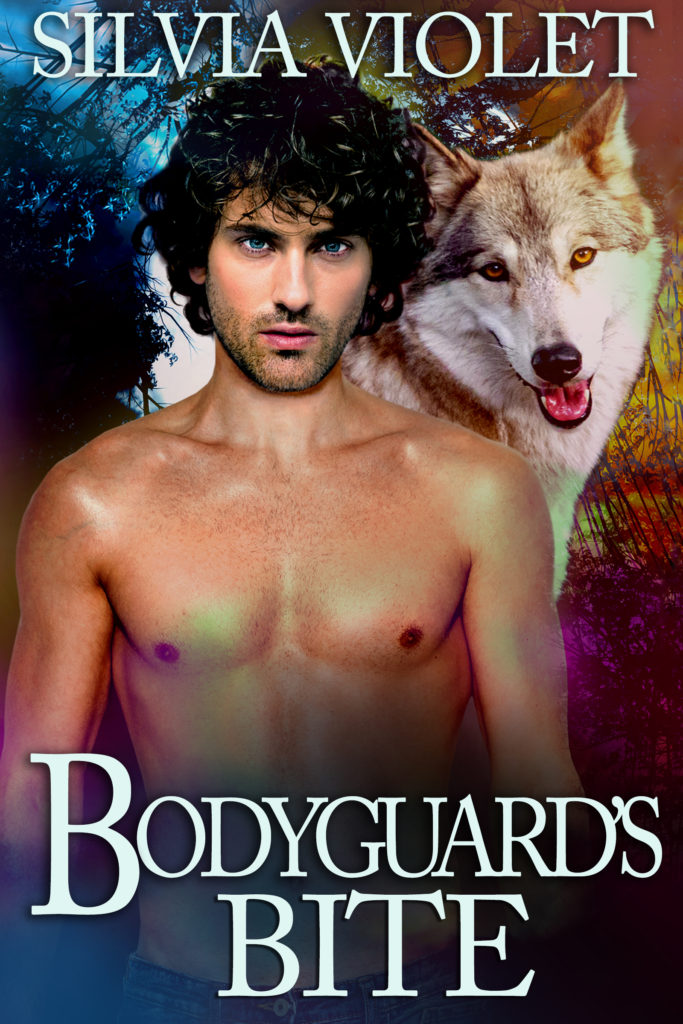 What if the one thing you wanted most was forbidden?
Wealthy werewolf Storm Howler wants a chance to act out his submissive fantasies without his overprotective brothers scaring off every dominant man in sight. If he can't choose his own partners, how will he ever find his fated mate?
As the former leader of a shifter special forces unit, Jax knows how to keep people safe, but he also craves the one thing he never had in the military: control.
When Storm and Jax meet, tension sizzles between them. It only takes one night of control and surrender for each of them to question whether they're fated for one another. But the next day, they discover Storm's brothers have hired Jax as Storm's new bodyguard. Rather than resign, Jax agrees to the hands-off policy in his employment contract, because no one can protect Storm as well as he can. But when danger threatens, Storm needs a man who can calm his mind as easily as he protects Storm's body. The two begin spending more time together, and there's only so long anyone can fight against fate—or love.
Download now Amazon US | Amazon Global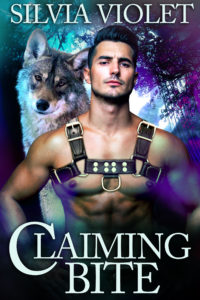 If you haven't read the first Howler Brothers book, Claiming Bite, grab your copy now.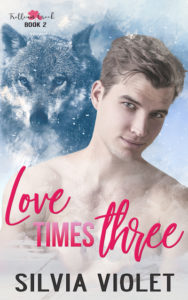 Love Times Three (Trillium Creek 2) is out now so grab yourself a copy or borrow it from KU!
If you love something let it go…
Brett thought letting Ryder go was the best way to show how much he loved him. Ryder would be free to find an omega and start the family he'd always wanted. Ryder doesn't want anyone but Brett, and he will do whatever necessary to convince him they belong together.
If it comes back to you…
Cam is on the run from his pack. He's not looking for love, but when he's rescued by Brett, his childhood crush, he realizes those feelings he had for his former packmate haven't faded. Then fate steps in when Cam meets Ryder, Brett's alpha mate, and a bond is formed. Cam tries to fight his attraction to both men, but the pull he feels toward them may prove too strong.
It's yours…
Ryder knows Cam is the omega he and Brett need to complete their dream of happily ever after. He's their missing piece, and it will take them both to convince Brett the three of them belong together
If you haven't started the Trllium Creek series yet, the prequel, Love at Lupine Bakery and Book 1, Love at Long Last are out now.

Love at Long Last, the first book in my shifter mpreg series, Trillium Creek,is available now to purchase at Amazon and borrow through Kindle Unlimited!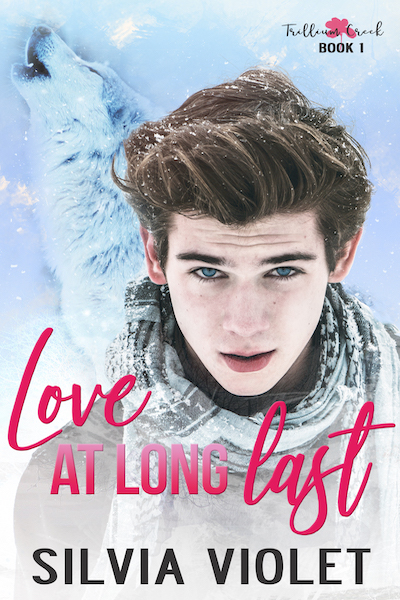 Silas had always expected to find his fated mate early in life, like most pack leaders do. But as he nears his fortieth birthday, still single, he begins to accept that maybe he's not meant to have a mate after all. When he finds an intruder in his territory, a young cop who smells human but also like everything he's longed for, Silas can't help but feel a spark of hope. Could this man be part shifter? Could he be Silas's mate?
Cory's conservative family believes shifters are evil, but when he meets Silas, he's shocked by the pack leader's gentleness and hit with feelings of desire beyond anything he's ever experienced. All of Cory's fantasies center around older men who take charge and take care of him, so when Silas asks if he needs a Daddy, all he can say is yes.
Torn between his family's expectations and the pull he feels toward Silas, Cory knows he'll have to give up his career if he follows his heart. Silas wants Cory, not fate, to decide if they should be together, so he fights his protective instincts. But an unexpected pregnancy forces their hands, and the two men have to figure out how to fit their lives together. And maybe have love at long last.
---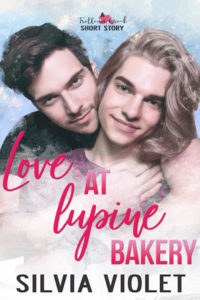 Love at Lupine Bakery is a prequel to Trillium Creek so grab it too if you haven't already. Levi and Finn will continue to be part of the series.
Finn is focused on continuing the success of his family's bakery. Eventually, he'll settle down with an alpha and start a family, but for now, he's content to satisfy his needs with casual hook-ups. Then a gorgeous stranger walks into the bakery, and Finn's whole world shifts.
Levi's father was a wolf shifter, but he was raised by his human mother and—like most hybrids—has never shown any wolf characteristics. That all changes when he enters Lupine Bakery and every instinct tells him the omega behind the counter is his.
Both Finn and Levi try to ignore what their hearts and bodies are telling them, but an unexpected pregnancy may force them to face what fate has in store.

The holiday season is fast approaching! While I don't have a holiday book per se this year, Professional Distance wraps up at Christmas and the holiday plays a significant part in the end. I love writing about couples at Christmas and about the holiday in all it's cheesy glory – overdone decorations, movies, music, and ugly sweaters. And the food, oh the holiday food. If you enjoy holiday books too, check out these.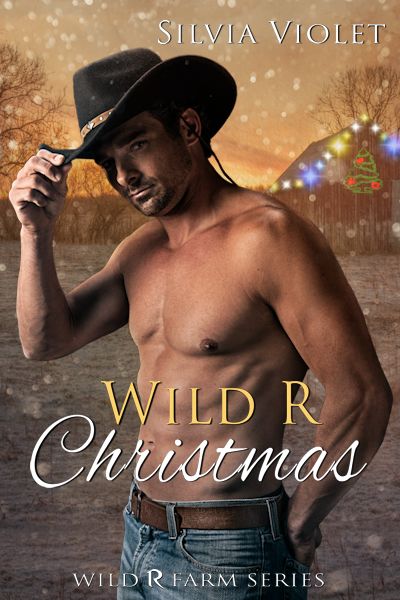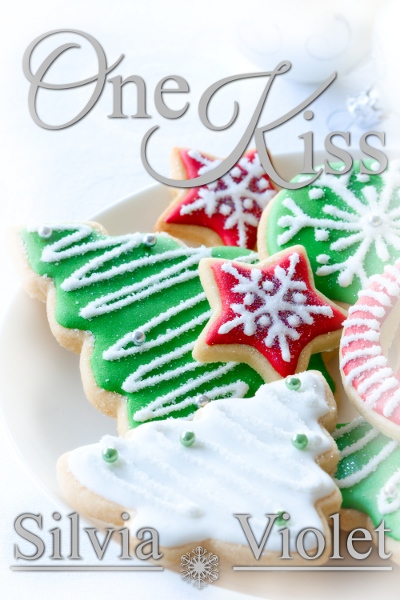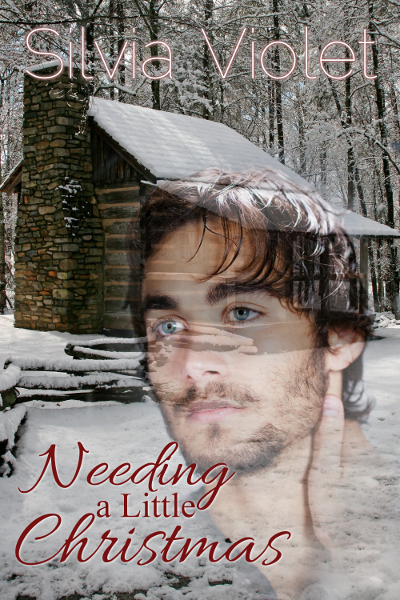 We're Celebrating the Ndulgent Bloggers' 4th BLOGiversary!


4 Years of Reviews. 4 Years of Supporting Authors. 4 Years of Great Books. 4 Huge Bags o' Swag.
Visit each of these BLOGS -Authors, Reviewers and Bloggers- and have fun!
I'm thrilled to be part of the Guilty Indulgence Blog Hop today!
I have a cover reveal for you today for Shifting Hearts, Wild R Farm Book 6. This is one of my all times favorite covers. Meredith Russell has done an amazing job.
In case you haven't met the men of Wild R Farm, I would like to introduce them to you. Wild R Farm is owned by Cole Wilder, a halfbreed werewolf. The first book in the series, Finding Release, is about Cole and his partner Jonah and each subsequent book tells the story of more of the men who work at the farm or living in the town of Cranford, TN. Finding Release is also available in audio.
And now for the cover reveal, Book 6, Shifting Hearts will be released October 25, check out the gorgeous cover.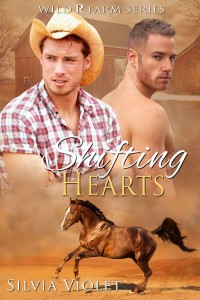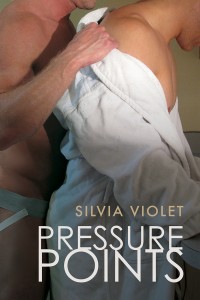 Matt from the Pisgah Mountain Wolves series is know for his pie-making abilities. His speacialty is blackberry pie. Today he's sharing his secret recipe. If he were making it his favorite way, the way his grandmother did, he'd substitute lard for the butter and shortening.
Crust
2 cups flour
1/2 tsp salt
pinch of baking powder
8T cold butter, cut in cubes
2T shortening
8-10T ice water with a touch of lemon juice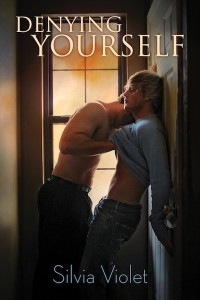 Mix flour, salt, baking powder.  Rub in half the butter by hand.  Use pastry blender to mix in the rest of the butter until pieces are the size of peas. Do not overmix.  Add water and mix with a fork.  Turn out on a cutting board or other hard surface.  Split in half and form into two flattened disks.  Refrigerate for at least 3 hours or up to 2 days.
Filling
4 cups blackberries
1.5 T cornstarch
1.5 T instant tapioca
1/2 cup sugar
Mix sugar, cornstarch and tapioca. Pour over fruit and mix together, tossing lightly.
Roll out one chilled crust.  Fit into a 9in pie pan.  Pour in filling.  Roll out top crust.  Cut vents. Put top crust on pie. Bake at 425F for 15 minutes.  Reduce heat to 350F and cook up to 45 minutes more or until filling is bubbling in center of pie.

Today I'm participating in the Autism Blog Hop and I'm offering two ebooks from my backlist as a prize.
Fact: Autism affects the way a person communicates with, and relates to, other people. It also affects how they make sense of the world around them.
Communicating effectively can be a challenge for anyone. Sometimes you want to say something but you worry that the person you need to talk to will take it wrong or that you will hurt them. Or you might be traveling in a country where you don't speak the language and you're not sure if a few basic words and hand gestures will suffice to help you find what you need. As a writer I have stories in my head but I'm never sure if I'm going to be able to find the right words to tell that story to others and have them see it as I do.
Every human being has a unique perception of the world around them and we can't always communicate what we see or feel to others. But those challenges we face are magnified many times over for those who have autism. For them, even the most basic communication with others may not be possible or may bring on so much frustration that they stop trying. Many years ago, I worked in a preschool and one of the boys in my class was autistic. You could see the frustration build as he attempted to interact with other kids. Most days he ended up pulling at his hair and kicking because the challenge was too much for him. I wanted so badly to help but I couldn't see the world the way he did. It's so easy to judge someone when they don't react or behave as we expect—and I've certainly done that many times—but we never know what challenges that person might be facing.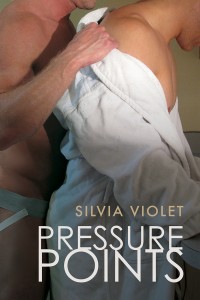 My latest release is Pressure Points, Book 2 in the Pisgah Mountain Wolves series.
It's hard enough being an inn manager, serving at everyone's beck and call, making sure all the guests are happy and the employees are paid on time. Add to that being a werewolf, a recovering alcoholic, and a pack leader. Add to that a brother who is trying to tear the pack apart and a dark past he can't escape. Needless to say, Carl is under a lot of stress. Not helping: Justin, the inn's human massage therapist—who Carl is trying not to fall for—has offered Carl a massage to "lower his stress levels." As his boss, Carl can't tell Justin his hands might lower stress levels, but they would raise something else.
Despite Carl trying to put him off, Justin won't give in. Carl's friends won't leave him alone, and the divisions in the pack are near exploding. And it's tourist season. The last thing Carl needs are wolf wars in the lobby. Like it or not, Carl is going to have to rely on Justin and the wolves who love him to teach him how to let go and get through everything without falling apart.
You can find Pressure Points at Dreamspinner, Amazon, ARe, and BN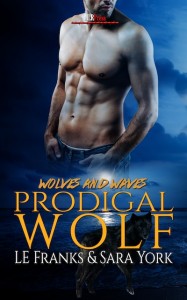 I love shifters. Silvia's Wild R Farms series drew me in and had me falling in love with the characters. She always does such an excellent job of creating worlds that are believable and characters that are amazing.
When Linda and I started writing Prodigal Wolf we wanted to make the shifters believable. We wanted the characters to be more than just wolves who occasionally turned into humans or humans that occasionally turned into wolves. We wanted fully formed characters that were shifters and couldn't be separated from or exist without the other piece of themselves. Of all the wolves, I think Ted is my favorite. He's comical but dangerous. Ted isn't the main focus of book one, but he's a big part of it. Ted's humor comes from his laid back attitude. He's masterful but in a calm way.
My next favorite would be Carlo. He's all smoke and shadows with a dose of sexy and dangerous. Tall dark and handsome along with smart make him one hell of a man. Add to that the animalistic nature that is his beast and he's the total package. Carlo is the central character in the Wolves and Waves series, featured in book one but his story isn't resolved that quickly.
Then there are the twinks, Kevin and Grady. They are cute and sweet but together, they are trying to hard and they might just ruin the best thing to happen in their lives. Through their fumbling, Kevin and Grady might just find happiness, if they get their head up high enough to see that they have something special.
I hope you enjoy Prodigal Wolf and our guys. Prodigal Wolf is available at most online ebook retailers like Amazon
Blurb: Carlo has a problem; after years away he's finally returned to his South Carolina roots – but instead of peace and quiet all he's found are nosy wolves, romancing twinks, an out of control roommate threatening to expose them all, and a demanding Alpha who just won't go away.
All his Alpha wants is to show Carlo who he really is, and where he belongs. But Carlo Montefiore is a man fighting his instincts, memories, and responsibilities. His beachside home was supposed to provide sanctuary, but pack politics, unruly roommates, and human neighbors at risk of discovering that shifters exist, are making life anything but peaceful. Twinks Kevin and Grady have their own problems. Two college freshmen are no match for a couple of hot wolves who like to play chase. If they don't stop playing games they'll miss the biggest thing to happen in their young lives—love.
Excerpt:
Joey moved to stand beside him at the sink. "Whoa! Dude!" he threw over his shoulder, "Ya gotta check this out—twinkies!!!"
Ted tossed his rag on the board and crowded in to check out the scene. "Sweet!"
Two slender young men were unloading a little red Audi A3 hatchback, pulling bags and suitcases out of the rear. They looked like twins from this angle—all light brown curls and tan skin. Typical East Coasters in their pastel polo shirts and colorful madras shorts. You could literally pick them out of a Vineyard Vines catalog. Everything you ever thought about a preppy was currently bent over across the way. "Yum!" Joey couldn't resist. The change in Carlo was immediate, his eyes darkening, a scowl fixed on his face. One glance had Ted slinking back to his seat at the table.
"That is exactly what I'm fuckin' talking about! You stay the fuck away from them! You do not shift in the house without drawing the curtains… No. Wait. No fucking shifting in the house at all. You want to run, you take a drive and walk into the refuge or head to Pinckney Island. Period."
"Hey! What the fuck Carlo. You can't tell me…" Joey was protesting when a finger jammed into his breastbone, Carlo's breath in his face, brows drawn.
"Grow up, Joey… Just…." He jammed his finger, highlighting each word with a thump before moving back to lean against the counter, running his fingers through his thick black hair.
"Shit. I need you to drive to Beaufort and pick up a package. I also have a list of errands, it's there on the counter…"
Joey stared at the man. Carlo was completely losing it.
"Christ Carlo, just chill. I can pick up the stuff later—"
Carlo growled, his eyes narrowing and turning yellow, indicating the wolf was about to show. "Pick it up now."
"Fuck! Just because Angelo crawled up your ass this morning doesn't mean you have to take it out on us!"
"That's the prob, Carlo wants Angelo up his ass…" Ted muttered under his breath.
The silence was shocking and Joey knew they'd gone too far. Normally they kept their razzing at a low hum, but this morning he and Ted had thrown wisdom out the window, pouncing on the man.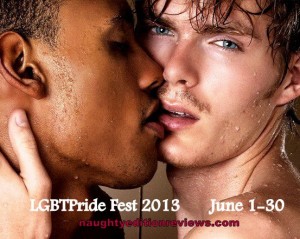 Hi everyone! I'm happy to be part of the 2013 LGBTPride Blog Fest at Naughty Editions reviews. I love writing about LGBT relationships and giving my characters happy endings. I hope that eventually all LGBT people will be able to publicly take pride in who they are and that everyone in our society will realize that we're all just people no matter who we love.
Today in celebration of Pride Fest I'm giving away all three ebooks in my Wild R Farm series. To be entered to win leave a comment here.
In the Wild R Farm series, my characters face predjudice both because they are gay and because they are shapeshifters. Just as there are those in our society today who tell LGBT people that their actions are sinful, there are people in my shapeshifter world who preach that changing form goes against God and that shapeshifters shouldn't take their animal forms. In other words, they should suppress who they really are.
The third book in this series, Embracing Need has just been released. I hope you enjoy Tristan and Wes as much as I've enjoyed writing them.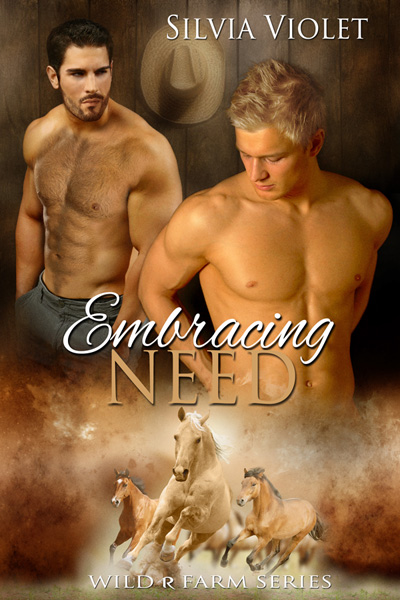 Embracing Need (Wild R Farm 3) by Silvia Violet
Blurb:
Horse shifter, Tristan Hayes, doesn't believe in relationships. He believes in hot, sweaty one-night stands that leave him aching for days.
Private investigator, Wesley James, is looking for someone to settle down with, but it's never occurred to him that someone could be a man.
Tristan loves a good game, so he flirts with Wes, never thinking anything serious will come of his attraction. Wes fends him off, but after three months of cat and mouse, both men are worn out from fighting what they feel.
When a young woman from Tristan's herd goes missing, he asks for Wes's help. Tristan keeps up his flirtatious façade until Wes calls his bluff, taking him out for dinner and dancing. As they search for the missing shifter, Tristan struggles to believe Wes could care for the man Tristan hides beneath his abrasive exterior.
Excerpt:
Tristan was sitting in a chair on Wes's front porch with his feet up on the railing when Wes pulled up.
Wes jumped out of his car, but his messenger bag tangled on something, and he tripped as he tried to yank it free. After cursing and kicking the car door, he turned back to Tristan, who was doing nothing to hold back his laughter. "If you were hoping that would turn me off, it didn't work."
Wes flipped him off, but Tristan just smiled. Wes's T-shirt stretched across his muscular chest as he worked to catch his breath. His well-trimmed, dark beard begged Tristan to rub his face against it and find out if it was as soft as he imagined. Even the annoyance in Wes's rich, brown eyes only made Tristan hotter, because knowing he could fluster Wes so easily was a major turn-on. Not that Tristan had any business pushing Wes's buttons more than he already had. The right thing to do was to keep things businesslike, but he just couldn't help himself. Years of overindulgence made his desires impossible to curb.
"What are you doing here?' Wes asked, his tone implying Tristan was the last person he wanted to see even though the fact that he was still not breathing steadily after falling out of his car belied his disinterest.
"I have a business proposition."
"Is that an innuendo?"
Tristan grinned. "Do you want it to be?"
"I've never paid for sex, and I don't intend to start now."
"Ouch." Tristan stuck out his lip, and Wes laughed, too good-natured to stay annoyed.
"I do have to say it's unsettling to find you all cozied up on my porch."
Tristan stretched deliberately, letting his shirt ride up. He ran a hand over his chest and across his toned abs, stopping just short of his crotch. "I have been getting rather comfy waiting for you."
Wes eyed him suspiciously. "What are you really doing here?"
"Are you afraid I'm here to demonstrate my riding skills?" He pushed up the hat, the same straw one he'd been wearing when he'd last seen Wes.
Wes's gaze strayed to the hat and then skittered over Tristan's lean body. "No. Yes. Damn it, Tristan, quit being so fucking infuriating."
Tristan took pity on him then. "A young woman from my herd is missing, and I need your help to find her."
Wes sighed. "Calling the police is out of the question?"
"Yeah. We don't involve humans in our affairs unless we absolutely have to."
Wes stared at him. "I'm human. Did you forget that?"
"Oh, you don't count."
Wes glared. "I don't?"
Heat rose in Tristan's cheeks. "You know what I mean. You're not going to try to force us to adhere to your human ways."
Wes shook his head. "I'm not going to force you to do anything."
"Really? Are you sure? I've been such a bad boy. You might need to teach me a lesson."
Wes growled. "Knock it off."
"Aren't you going to invite me in?" Tristan asked, gesturing toward Wes's front door.
Wes sighed. "Do I have to?"
"Well." Tristan paused to fan himself dramatically. "It is a bit warm out here." With Wes so close, warm was an understatement.
When they got inside, Wes offered Tristan a bottle of water from the fridge. He took it, then watched, paralyzed, as Wes cracked his own bottle open and gulped it down, the muscles of his throat flexing, his large hand wrapped around the bottle.
When Wes put the bottle down, he seemed to realize Tristan was staring at him, and his cheeks reddened. Tristan looked away and opened his own water. He really needed it now, since all the moisture seemed to have left his mouth.
"I'm assuming you haven't eaten dinner," Wes said.
Tristan shook his head.
"Then let's go get some. I even know a place where after we eat, you can show me your dance moves like you've been threatening to do."
Tristan stared, openmouthed. He'd been teasing Wes about taking him out dancing since the day they met, but he never thought Wes would propose such a thing. "What are you up to?" he asked. Calling his bluff. That's what the bastard was doing.