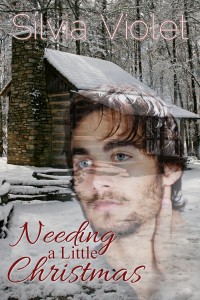 In Needing A Little Christmas, Mac's mama sends Eli a caramel cake and the two men get to know each other while enjoying it. Here's the delectable recipe she used…..
Mac's Mama's Caramel Cake
You will need three layers of your favorite yellow cake. I love the one here but you will need to multiply by 1.5 to get three layers. If tackling this well-worth-the-time caramel is all you're up for, then use Duncan Hines Butter Recipe Golden mix. It's, in my opinion, the best yellow cake mix out there.
Caramel Icing
3 cups sugar, divided
3/4 cup evaporated milk
1.5 sticks butter
1T white corn syrup
1 tsp vanilla
Put 1/2 cup sugar in a saucepan over medium heat. As the sugar melts, shake the pan so the sugar coats the bottom but don't let it run up the sides. Stir gently so the sugar browns evenly. When the sugar is almond the color of the skin on an almond, slowly pouring in the evaporated milk while stirring vigorously. The mixture will boil rapidly and start to seize up but keep stirring, breaking up the chunks of sugar. When all the milk is combined with the sugar, add the rest of the sugar, butter, and corn syrup. Mix well. Attach a candy thermometer and bring to a boil. Boil for 10-20 minutes or until the candy thermometer reads 248F. Stir occasionally. If you see any signs of burning, turn the heat down a bit. Be very careful. The mixture can splatter and you don't want to get burned!*
When the mixture is at 248F, remove the pan from the heat and carefully pour the mixture into the bowl of a stand mixer. Using a paddle attachment, turn the mixer on low and add the vanilla. Be very careful, it could splatter and it will still be very hot. Continue mixing on medium until the mixture begins to thicken and lose it's shine. Working quickly while the caramel is still pourable, pour or spoon 1/2 cup on the first layer and spread over the top. Add second layer and repeat. Add top layer, repeat and then use remaining caramel to cover the sides.
*You may want to keep a bowl of ice water nearby. Submerge skin immediately if you are burned.
And now for a bit of Mac and Eli…..
Needing A Little Christmas is available at Amazon, ARe, and Barnes and Noble.
Several minutes later, Mac had unloaded all the wood and gotten a fire going, and I'd made coffee and served cake. When we were seated at the table in the kitchen, I took my first bite of the gorgeous caramel cake and sighed. Forget sex. I was going to come from eating this cake.
"Oh my God, this is the best cake I've ever had."
Mac smiled, not the sly sexy grin he'd given me earlier but a little-boy smile of pure joy. "It's my great-grandmother's recipe. Christmas just wouldn't be right without caramel cake."
I stared at him in horror. "This wasn't supposed to be for your family tomorrow was it?"
He shook his head. "My mom always makes several of them. We give them as gifts and one would never be enough for us anyway."
"I feel honored to have one. You don't even know me; your mom doesn't know me. I could have been an asshole or even a serial killer."
Mac laughed. "Nah. I could tell you were all right when we talked on the phone. You sounded like a nice guy who was having a rough time and then got stranded. And I should know. I get plenty of assholes calling me demanding a load of wood five minutes ago because their cabin dropped below eighty toasty degrees for five seconds or expecting me to clear a foot of snow from the driveway of their artfully-decorated cabin so they can get their BMW down the mountain without a scratch. They don't get the family treatment or the family rates. But I could tell from your voice that I was going to like you."
Like I could tell from yours that you are a sex god. "Thanks. You sounded like a good guy too." A good guy? Had I really said that?
He grinned. "I aim to please."
Mischief Corner Books – What Happens When Creative Minds Start Thinking Too Much
We didn't set out to do this. Honestly, we didn't. MCB was born of a need to keep a bunch of friends writing together who miss each other too damn much. We live all over America and even in Australia, for gosh sakes, and we only get to see each other maybe once a year, if that.
It's tough being separated but group writing projects made us feel like we were still in the same room, bouncing ideas off each other, making outrageous suggestions just to see if someone would take us up on it. Someone always did. But the more we worked on these things, the more we realized…we needed to go legit. So Mischief Corner Books was born as a company.
Today, we thought we'd share some details and some snippets of MCB stories – both from the current release and some past ones that are getting ready for individual release soon.
The current release, Horns and Halos was a reader selected anthology. We like that kind of thing. You guys tell us what you want. We go out and interpret the request each in our own unique way. We had three takers on this one: Toni Griffin, Freddy Mackay and Angel Martinez, and while we had originally asked for short stories, this collection of three tales ended up at 99K words. Um. Yeah. Some of us need to learn the meaning of short. *ahem*
The prompt? Write a story about angels and/or demons. Take your cues from whatever culture you like. Write in whatever genre you see fit. We ended up with an interesting trio.
Archie's Accidental Kidnapping by Toni Griffin (M/M Fantasy – Hellhound Shifters)
Hell may not have any fury like a woman scorned, but even that's nothing compared to a Hell Hound when you get between him and his mate.
Snippet:
"What the hell are you doing?"
"Sleeping. What does it look like I'm doing?" Archie asked quietly as sleep tried desperately to take him away. Really, Archie was starting to wonder about his kidnapper with a question like that.
"You get kidnapped and think it's okay to just go to sleep?" The man sounded genuinely confused. Archie didn't know why. Everyone needed sleep.
"See, told you that you kidnapped me."
Internment by Freddy Mackay (M/M Fantasy)
Tadashi's life spirals out of control, and he hides away on his mountain taking care of the one place he knows he is safe, and people are safe from him. But the world has a way of interrupting life.
Snippet:
The squirrel danced around the broom, determination on its face. It sat back on its hind legs and pointed at him. "Bad human!"
"Argh!" God, it talked. It really fucking talked. The broom came down on instinct, landing right on top of the demon squirrel. It squeaked. That seemed normal.
"Stop trying to squish me!"
That did not! Its tail flicked wildly under the bristles.
"Get this broom off me!"
"Stop talking!" he demanded, his chest heaving. His head felt kind of light. That couldn't be good.
Hell For The Company by Angel Martinez (M/M Science Fiction/ Humor
Shax, the Demon Prince of Thieves, has reconciled himself to exile. He has a grand time careening around the galaxy as a high-end, intergalactic purloiner of pretties. Everything's going just fine, thank you very much, until he comes across an injured angel in a psychedelic alien jungle.
Snippet:
"Ver."
"Hey, trouble."
Shax sipped his coffee, staring in confusion down into the not-quite-empty-anymore hold. "We have cows."
"You figured that out all by yourself."
"They're…floating."
"Yeah." Steam rose from Verin's nostrils when he snorted. "They're antigrav cows. The guy explained the science-y stuff about how they have some kind of extra antigrav stomach built into their genetics but I wasn't really listening."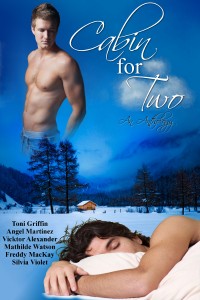 Cabin For Two was our first anthology, inspired by…our cabin. Ha. That's where we all met, though, and it was quite an inspirational place

Next month, we'll start releasing the Cabin for Two stories as individual pieces, nice little bite-sized Mischief Corner stories just for you. A few tastes to hold you over:
Their Natural Habitat by Silvia Violet (M/M Contemporary)
A forest ranger and his lover just want a nice weekend away. The bear baiters have other ideas.
Snippet:
Dan had been told how to handle a bear encounter countless times. Why the fuck couldn't he remember what to do? He looked down stupidly at the flashlight in his hand. Carry a flashlight if you go out, Parker had said. What the hell was he supposed to with a flashlight? Shine it in the bear's eyes? That seemed unwise. Try to bash it over the head? That would be sheer stupidity.
A loud clang behind him nearly stopped his heart. The bear dropped to all fours and took off into the woods. Dan stared, unable to move.
"You okay?"
Parker's voice snapped him out of his paralysis.
He turned to see his lover holding a large bell. He tried to find the words he wanted to say, but his mouth just hung open as he tried to remember how to breathe.
Parker lifted the bell. "I keep this on the porch, because it's good for scaring off bears."
"You could've told me that."
Three Little Words by Mathilde Watson (M/M Historical
Lifelong friends have returned from the Korean conflict and now need to fight their way through the feelings they've harbored for each other for so long.
Snippet:
Hugh opened the door and disappeared inside. Gary followed him into the bedroom and took in his surroundings, once again frozen in place. The room had a tiny closet, a chest of drawers… and one large bed. Only one. Gary swallowed hard and watched as Hugh moved around the room.
"My things are all in the bottom two drawers. You can have the two on top. And I've got some extra hangers in the closet… What is it?" Hugh frowned at him from across the room. Gary took a deep breath, willing himself not to panic. He cleared his throat.
"Where…" One word and he ran out of air. Gary took another deep breath, carefully trying to keep his tone light. "Where do I sleep?"
Hugh looked pointedly at the bed. His eyebrows were drawn together over a puzzled expression. "In the bed."
"With you?"
"Well, yeah. Unless you want to sleep on the floor…" Hugh sighed, his voice softening. "I warned you that this place was small. But the bed, it's big enough for the both of us.
We're on a roll now – look for lots more in the future, including our (yet to be titled) Cowboy anthology coming out later this fall! Stay with us folks. It's going to be an interesting ride.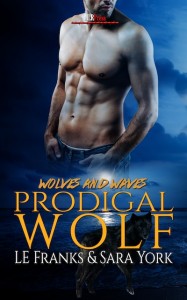 I love shifters. Silvia's Wild R Farms series drew me in and had me falling in love with the characters. She always does such an excellent job of creating worlds that are believable and characters that are amazing.
When Linda and I started writing Prodigal Wolf we wanted to make the shifters believable. We wanted the characters to be more than just wolves who occasionally turned into humans or humans that occasionally turned into wolves. We wanted fully formed characters that were shifters and couldn't be separated from or exist without the other piece of themselves. Of all the wolves, I think Ted is my favorite. He's comical but dangerous. Ted isn't the main focus of book one, but he's a big part of it. Ted's humor comes from his laid back attitude. He's masterful but in a calm way.
My next favorite would be Carlo. He's all smoke and shadows with a dose of sexy and dangerous. Tall dark and handsome along with smart make him one hell of a man. Add to that the animalistic nature that is his beast and he's the total package. Carlo is the central character in the Wolves and Waves series, featured in book one but his story isn't resolved that quickly.
Then there are the twinks, Kevin and Grady. They are cute and sweet but together, they are trying to hard and they might just ruin the best thing to happen in their lives. Through their fumbling, Kevin and Grady might just find happiness, if they get their head up high enough to see that they have something special.
I hope you enjoy Prodigal Wolf and our guys. Prodigal Wolf is available at most online ebook retailers like Amazon
Blurb: Carlo has a problem; after years away he's finally returned to his South Carolina roots – but instead of peace and quiet all he's found are nosy wolves, romancing twinks, an out of control roommate threatening to expose them all, and a demanding Alpha who just won't go away.
All his Alpha wants is to show Carlo who he really is, and where he belongs. But Carlo Montefiore is a man fighting his instincts, memories, and responsibilities. His beachside home was supposed to provide sanctuary, but pack politics, unruly roommates, and human neighbors at risk of discovering that shifters exist, are making life anything but peaceful. Twinks Kevin and Grady have their own problems. Two college freshmen are no match for a couple of hot wolves who like to play chase. If they don't stop playing games they'll miss the biggest thing to happen in their young lives—love.
Excerpt:
Joey moved to stand beside him at the sink. "Whoa! Dude!" he threw over his shoulder, "Ya gotta check this out—twinkies!!!"
Ted tossed his rag on the board and crowded in to check out the scene. "Sweet!"
Two slender young men were unloading a little red Audi A3 hatchback, pulling bags and suitcases out of the rear. They looked like twins from this angle—all light brown curls and tan skin. Typical East Coasters in their pastel polo shirts and colorful madras shorts. You could literally pick them out of a Vineyard Vines catalog. Everything you ever thought about a preppy was currently bent over across the way. "Yum!" Joey couldn't resist. The change in Carlo was immediate, his eyes darkening, a scowl fixed on his face. One glance had Ted slinking back to his seat at the table.
"That is exactly what I'm fuckin' talking about! You stay the fuck away from them! You do not shift in the house without drawing the curtains… No. Wait. No fucking shifting in the house at all. You want to run, you take a drive and walk into the refuge or head to Pinckney Island. Period."
"Hey! What the fuck Carlo. You can't tell me…" Joey was protesting when a finger jammed into his breastbone, Carlo's breath in his face, brows drawn.
"Grow up, Joey… Just…." He jammed his finger, highlighting each word with a thump before moving back to lean against the counter, running his fingers through his thick black hair.
"Shit. I need you to drive to Beaufort and pick up a package. I also have a list of errands, it's there on the counter…"
Joey stared at the man. Carlo was completely losing it.
"Christ Carlo, just chill. I can pick up the stuff later—"
Carlo growled, his eyes narrowing and turning yellow, indicating the wolf was about to show. "Pick it up now."
"Fuck! Just because Angelo crawled up your ass this morning doesn't mean you have to take it out on us!"
"That's the prob, Carlo wants Angelo up his ass…" Ted muttered under his breath.
The silence was shocking and Joey knew they'd gone too far. Normally they kept their razzing at a low hum, but this morning he and Ted had thrown wisdom out the window, pouncing on the man.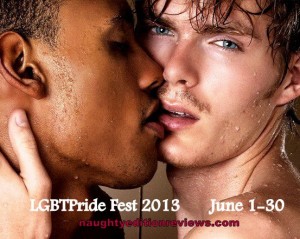 Hi everyone! I'm happy to be part of the 2013 LGBTPride Blog Fest at Naughty Editions reviews. I love writing about LGBT relationships and giving my characters happy endings. I hope that eventually all LGBT people will be able to publicly take pride in who they are and that everyone in our society will realize that we're all just people no matter who we love.
Today in celebration of Pride Fest I'm giving away all three ebooks in my Wild R Farm series. To be entered to win leave a comment here.
In the Wild R Farm series, my characters face predjudice both because they are gay and because they are shapeshifters. Just as there are those in our society today who tell LGBT people that their actions are sinful, there are people in my shapeshifter world who preach that changing form goes against God and that shapeshifters shouldn't take their animal forms. In other words, they should suppress who they really are.
The third book in this series, Embracing Need has just been released. I hope you enjoy Tristan and Wes as much as I've enjoyed writing them.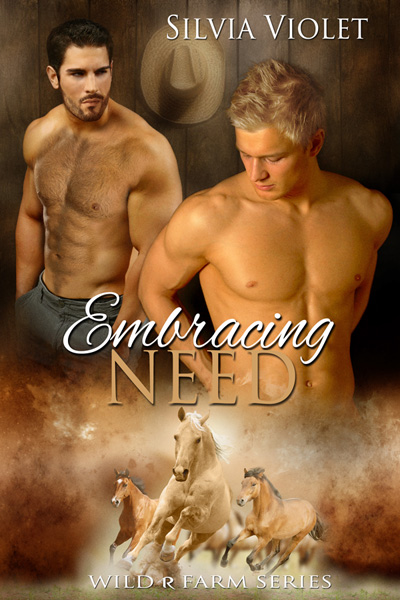 Embracing Need (Wild R Farm 3) by Silvia Violet
Blurb:
Horse shifter, Tristan Hayes, doesn't believe in relationships. He believes in hot, sweaty one-night stands that leave him aching for days.
Private investigator, Wesley James, is looking for someone to settle down with, but it's never occurred to him that someone could be a man.
Tristan loves a good game, so he flirts with Wes, never thinking anything serious will come of his attraction. Wes fends him off, but after three months of cat and mouse, both men are worn out from fighting what they feel.
When a young woman from Tristan's herd goes missing, he asks for Wes's help. Tristan keeps up his flirtatious façade until Wes calls his bluff, taking him out for dinner and dancing. As they search for the missing shifter, Tristan struggles to believe Wes could care for the man Tristan hides beneath his abrasive exterior.
Excerpt:
Tristan was sitting in a chair on Wes's front porch with his feet up on the railing when Wes pulled up.
Wes jumped out of his car, but his messenger bag tangled on something, and he tripped as he tried to yank it free. After cursing and kicking the car door, he turned back to Tristan, who was doing nothing to hold back his laughter. "If you were hoping that would turn me off, it didn't work."
Wes flipped him off, but Tristan just smiled. Wes's T-shirt stretched across his muscular chest as he worked to catch his breath. His well-trimmed, dark beard begged Tristan to rub his face against it and find out if it was as soft as he imagined. Even the annoyance in Wes's rich, brown eyes only made Tristan hotter, because knowing he could fluster Wes so easily was a major turn-on. Not that Tristan had any business pushing Wes's buttons more than he already had. The right thing to do was to keep things businesslike, but he just couldn't help himself. Years of overindulgence made his desires impossible to curb.
"What are you doing here?' Wes asked, his tone implying Tristan was the last person he wanted to see even though the fact that he was still not breathing steadily after falling out of his car belied his disinterest.
"I have a business proposition."
"Is that an innuendo?"
Tristan grinned. "Do you want it to be?"
"I've never paid for sex, and I don't intend to start now."
"Ouch." Tristan stuck out his lip, and Wes laughed, too good-natured to stay annoyed.
"I do have to say it's unsettling to find you all cozied up on my porch."
Tristan stretched deliberately, letting his shirt ride up. He ran a hand over his chest and across his toned abs, stopping just short of his crotch. "I have been getting rather comfy waiting for you."
Wes eyed him suspiciously. "What are you really doing here?"
"Are you afraid I'm here to demonstrate my riding skills?" He pushed up the hat, the same straw one he'd been wearing when he'd last seen Wes.
Wes's gaze strayed to the hat and then skittered over Tristan's lean body. "No. Yes. Damn it, Tristan, quit being so fucking infuriating."
Tristan took pity on him then. "A young woman from my herd is missing, and I need your help to find her."
Wes sighed. "Calling the police is out of the question?"
"Yeah. We don't involve humans in our affairs unless we absolutely have to."
Wes stared at him. "I'm human. Did you forget that?"
"Oh, you don't count."
Wes glared. "I don't?"
Heat rose in Tristan's cheeks. "You know what I mean. You're not going to try to force us to adhere to your human ways."
Wes shook his head. "I'm not going to force you to do anything."
"Really? Are you sure? I've been such a bad boy. You might need to teach me a lesson."
Wes growled. "Knock it off."
"Aren't you going to invite me in?" Tristan asked, gesturing toward Wes's front door.
Wes sighed. "Do I have to?"
"Well." Tristan paused to fan himself dramatically. "It is a bit warm out here." With Wes so close, warm was an understatement.
When they got inside, Wes offered Tristan a bottle of water from the fridge. He took it, then watched, paralyzed, as Wes cracked his own bottle open and gulped it down, the muscles of his throat flexing, his large hand wrapped around the bottle.
When Wes put the bottle down, he seemed to realize Tristan was staring at him, and his cheeks reddened. Tristan looked away and opened his own water. He really needed it now, since all the moisture seemed to have left his mouth.
"I'm assuming you haven't eaten dinner," Wes said.
Tristan shook his head.
"Then let's go get some. I even know a place where after we eat, you can show me your dance moves like you've been threatening to do."
Tristan stared, openmouthed. He'd been teasing Wes about taking him out dancing since the day they met, but he never thought Wes would propose such a thing. "What are you up to?" he asked. Calling his bluff. That's what the bastard was doing.
I'm so excited about the wonderful reviews I've gotten of Denying Yourself like this one from Whitney at Live Your Life, Buy the Book -  "This book left me all swooney and happy. I was sucked from the first few pages. Matt and Shane were just meant to be together. This is one of those hard-fought roads to love for a love that was there from the start. Really tragic but beautiful."
And this one from Tyra at Guilty Indulgences -"This book may be a  paranormal but the feelings of self loathing and denial not to mention the addictive personality traits are very real. Shane could be any teen today struggling, looking for approval and love. This is an emotionally intense story about self acceptance."
Lucky from Mrs. Condit Reads Books had this to say – "Silvia Violet writes stories of amazing and powerful shifters, but what happens when the shifter doesn't want to be one? What happens when he has fallen so far that there is nowhere else he can go? These are the questions that begin in the next section of the book. They're not easy things to answer. Some of the answers are not pretty. Some are disturbing, even to the point of wanting to scream no at what Shane does. Ms. Violet doesn't sugarcoat it at all. I know that Shane is meant to be with Matt, but it's a lesson he needs to learn."
To read an excerpt, go here.
I love to read at least as much as I love to write and I always enjoy talking about books so I've decided to start a series of give-aways based on questions about your favorite books. Share one or two of your favorite recent reads and you'll be entered to win your choice of any of my ebooks.
Two books I've read recently and loved are Touch and Geaux by Abi Roux (if you haven't met Ty and Zane, run and do so now) and Dirty Laundry by Rhys Ford which manages to be hilarious, romantic, suspenseful, and hot all at the same time. Cole and Jae are two of my all time favorite characters.

I'm thrilled to be part of this blog hop to raise awareness about autism and prejudice.
After reading, leave a comment for a chance to win your choice of any ebook from my backlist.
Autism Fact: Autism affects the way a person communicates with, and relates to, other people.
When my older daughter was three, she had a very small pre-school class and one of the girls in the class had autism. The little girl had a very limited vocabulary, she didn't join in most class activities, and she left class for part of each day for speech or occupational therapy. At the beginning of the school year, I wasn't sure how my daughter would react to this girl since my daughter was speaking with more complex sentences than most three-year-olds and was very observant and would wonder why the other girl left class with different teachers. But instead of being concerned by her differences, my daughter made sure the other girl knew she was welcome to join the class when they made crafts or had snack, and she talked to her just as she did the other children in the class even though the little girl didn't answer back.
Whether it had to do with my daughter's attitude towards her or something else about my daughter, the little girl started sitting beside her at snack, playing with toys beside her and generally attempting to make friends in her own way. Her mother and I became friends, and the girls played together outside of school. My daughter never saw a reason to treat her differently from her other friends.
No one at the pre-school talked about there being anything "wrong" with the autistic student and the teachers treated her the same way they treated the others students. I think my daughter saw that and modeled the behavior herself.
It wasn't until several years later when her friend went to an elementary school with a special needs program that my daughter realized her friend had something society consider a disorder. As far as she was concerned, her friend just thought and communicated in her own special way. I was so glad that this was how my daughter formed her early impression of children with special needs. Rather than having a pre-conceived idea of someone with autism, she got to know her first and then found out why her brain worked differently. It would be great if we could all meet each new person we encounter without making any assumptions about them ahead of time.
Sadly, that's not possible for most adults, but when I find myself judging someone I haven't met, I remind myself of all the times my pre-conceived notions (or prejudices) have been wrong and the person I got to know was nothing like I would have expected.
My most recent release is Astronomical. In this story, Greg MacIntyre, an astronomy professor, defies most assumptions people make about geeky astro-physicists.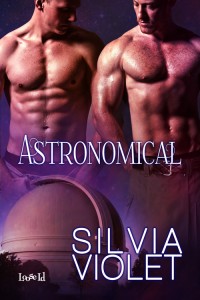 Astronomical by Silvia Violet
Blurb:
When sexy, kilt-wearing astronomy professor Greg MacIntyre moves in next door, Blake Theriot knows he's in trouble. Blake is a research librarian, and he likes things orderly and controlled. But in his secret fantasies, he craves a big, powerful man like Greg to stir up his life.
Every time Blake tries to talk to his erudite neighbor, his brain shuts down and his vocabulary is reduced to one-word utterances, but when Blake's niece challenges him to invite Greg to dinner, he does. A few shots of after-dinner whiskey loosen Blake's inhibitions, and the two men share a hot kiss and the promise of more. Can Blake relax enough to give himself a chance with Greg, or will his fear of letting go ruin his hopes for love?
Excerpt:
The front door banged open, making me jump. I muttered a curse as I looked at the spaghetti sauce I'd splattered on my shirt. I'd have to change before I headed to work.
"Blake, are you in the kitchen?"
"Yeah."
My sister's shoes made a swishing sound as she walked through the living room and into the kitchen. "It smells great."
"Thanks," I answered absently as I looked through the spice rack for cayenne.
"Have you been outside lately?"
I shook my head. Renee had a conspiratorial tone in her voice that told me trouble was coming. I focused on stirring. I would not fall prey to her scheme, whatever it was.
"You should come check out the view."
"What?" I tasted the sauce and added more pepper. "Why?"
"When you told me your new neighbor was an astronomy professor, I imagined someone even geekier than you."
Heat rose to my cheeks like it did every time I thought about Dr. Greg MacIntyre. No one had caused such a strong reaction in me in years. The man was truly devastating—tall and beefy with wavy red hair I longed to run my hands through, preferably while on my back throwing my legs over his shoulders. No need to choose between brains and brawn with him.
But during the few conversations we'd had, I'd babbled like a fool in response to his erudite remarks. If Greg was gay—and he'd given me no solid reason to believe he was—he wouldn't want a drooling imbecile for a partner.
Renee started to say something else, but she was interrupted by her daughter, Haley, rushing into the kitchen. "Hey, Mom. I thought I heard you come in."
Renee was raising Haley on her own. She worked as a nurse in pediatric intensive care and had arranged her schedule to work three night shifts in a row and then have four days off. Haley usually spent those nights with me and occasionally stuck around for a few hours after school on the first of Renee's days off so her mom could catch up on sleep or run some errands.
Haley turned pleading eyes on me. "Dr. MacIntyre is outside. Can I go meet him now?"
My shirt was stained. I'd overslept and raced out the door without shaving or doing anything to tame my curly hair. I was rushing to get dinner made because I'd agreed to fill in for someone at the main campus library and had to go back to work.
But Haley had been anxious to meet Greg since he'd moved in a week ago. She loved astronomy and all the mind-boggling math it required. She'd seen Greg setting up a telescope in his backyard and hoped he'd let her take a look through it. I couldn't deny her the chance to meet a real-life astrophysicist, especially one so well-respected that Louisiana State University had lured him away from Berkeley for their Advanced Gamma Ray Survey Mission. I wasn't sure exactly what the program's professors did, but their work sounded impressive and expensive.
I sighed. I'd already made an ass of myself with Greg, so what difference did it make how I looked?
"Sure. Just let me—" Before I finished my sentence, Haley shot out the door. I nearly busted my ass racing after her. Renee laughed as I stumbled down the porch steps.
When I reached the yard, my heart nearly stopped. Greg was indeed outside, up a ladder, fixing a broken gutter, wearing nothing but a utility kilt. A fucking kilt. Could he get any more perfect?
I stared, frozen to the spot. My mouth watered as I took in his muscular legs, his round ass, and the broad expanse of his back. He reached up to hook the gutter back in place, and I bit my lip to hold in a groan at the sight of his muscles flexing.
"Uncle Blake?" Haley snapped me out of my trance. "Are you okay?" she asked.
"Uh…yeah. I'm fine."
Her lips turned up in a mischievous grin. "You like him, don't you?"
"Who?"
She rolled her eyes. "Dr. MacIntyre."
I prayed her loud whisper hadn't carried across the yard. "He's a nice man."
"Right."
Not a conversation I wanted to continue. "Come on. Let me introduce you."
As we got closer, I had to resist the urge to look up Greg's kilt. Sweat rolled down my temples as I wondered whether he was naked under there. At least in the Louisiana heat, everyone was sweaty.
"Hi, Greg," I called.
He looked down and smiled. His green eyes sparkled, and my cock responded. I so didn't need to be standing there with a hard-on.
"I know you're busy, but I wanted to introduce you to Haley."
"Hi, Haley." He waved at her, and she blushed a deep red. Even nine-year-olds couldn't resist him.
He started down the ladder, his kilt lifting with each step. I couldn't stop myself from peeking. I nearly passed out when I caught a glimpse of his pale, hair-covered ass cheek. My cock hardened more, and I prayed he—or worse, Haley—wouldn't notice.
When he reached the ground, Greg shook her hand. "Nice to meet you."
"Nice to meet you too. I was hoping you'd show me your telescope sometime. I've been reading Seeds's Foundations of Astronomy, and I've got lots of questions."
His smile widened. "Most likely you already know more than most of the freshmen I've taught. I'd love to answer your questions and do some stargazing together."
Haley grinned. "Great!"
I nearly swooned. Greg was hot, brilliant, and apparently also good with kids.
"There are lots of cool things I can show you. How much math have you done? Any algebra yet?"
I barely heard his questions. My gaze was glued to his hand as he ran it casually up and down the handle of his hammer. I couldn't stop imaging him touching my dick the same way.
"I've been working on algebra on my own," Haley said. "My stupid school won't let me move ahead, and my class is still adding fractions."
He rolled his eyes. "I'll help you with the math too."
Haley lit up. I couldn't recall ever seeing her so happy. "That's awesome! Thanks!" She glanced at his kilt. "So are you, like, Scottish or what?"
He laughed. "On my father's side, yes, but I wear kilts because I like them, especially this style. It's got lots of useful pockets and straps." He slid the hammer he'd been caressing through a loop on the side as a demonstration. "Pants get too confining."
My knees threatened to give as I thought about what was under his kilt, unconfined.
"Hmm." Haley considered his statement. "I like shorts better than skirts. You can do cartwheels in shorts without showing your underwear." She demonstrated, flipping herself over on his lawn.
He laughed. "You've got a point there, but it's been a very long time since I attempted a cartwheel."
I wondered if I could convince him to attempt one after Haley left.
Renee motioned to Haley as she exited my house and walked to the car. "Come on. We're going to be late for your piano lesson."
"All right. I'm coming," she yelled to her mom. "I'll see you soon, Dr. MacIntyre."
He smiled at her, and I got all wobbly again.
"Call me Greg," he called as she ran off.
She turned back, grinning. "Awesome."
"Haley, come on," Renee called impatiently. She waved to Greg from her spot by the car. "I'm Renee. Sorry to be in such a rush, but I'm sure I'll see you again soon."
Greg smiled at her, but he gave no indication he was checking her out. Renee and I were twins, and, like me, she had thick, curly black hair and dark brown eyes. Where I was tall and lean, she was short and curvy, very curvy. Straight men did a lot of staring when she was around.
Maybe Greg is gay after all. Or am I just seeing what I want to see? As I considered my track record with relationships, I doubted I could be that lucky.
Greg waved to Haley as they drove off. "Your daughter's great," he said, looking at me.
"What?" The word flew out as my brain worked to comprehend what he'd said. I'd been observing the hard planes of his torso and marveling at the way his golden chest hair glinted in the sun.
"Your daughter?"
"Haley? She's not my daughter. She's my…uh…my niece." I wished I could melt into the ground. Why did he have this stupefying effect on me? "Renee's my sister. I'm not… I mean, I don't have any kids."
Greg's emerald eyes sparkled as his gaze drifted up and down my body, assessing me. "I see."
Is he flirting with me?
He smiled as if he sensed he'd gotten me flustered. "Are you interested in seeing the stars too?"
Was I ever, but not in the way Greg meant. At least I didn't think he meant it that way. My cock, on the other hand, was convinced it should be ready for action. "Well… I…"
"Because I'd love to show you my telescope."
To my lust-crazed ear, his low voice was filled with sexual intent. My cock strained against my pants, and the dryness of my mouth rivaled the Sahara's. I forced myself to swallow as I tried to remember how to speak. "That sounds…um…great. Yeah, great." I grabbed my phone from my pocket and looked at the time. "Work. Late. I-I'm going to be late." What a blubbering idiot.
Greg grinned, and heat flashed in his eyes. "Go. We'll talk later."
Buy it at Amazon, ARe, and Loose Id
Welcome Kameron and Dirk! They are here to share a little about themselves along with an excerpt from their erotic collaboration, Sinfully Delicious

.
Bio: Kameron and Dirk, a passionate couple in and out of the bedroom, has decided to join forces and bring their erotic imagination to life with words. Their solo stories are electric; however, the works they create together will practically sizzle off the page. Yes, they might live in a quiet suburb neighborhood, but they're anything but tame and unadventurous. A fact you shall read and learn about soon enough. 
Contact info:
Blog
Facebook Author page
Goodreads' links:
Amazon Author Pages: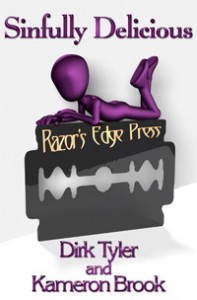 Kam and Dirk collaboration – "Sinfully Delicious" (M/F)
Book Summary:
Christine's been without a man for far too long, so she lets her BFF Jasmine talk her into speed-dating. Unfortunately, far too many of her dates are romantic non-starters — in the worst way. But all it takes is one… and when the right man comes along, he's Sinfully Delicious.
Excerpt:
Wednesday Evening
It'd been two years, six months, and fourteen days since Christine had felt the loving touch of anyone but herself — not that she was keeping track. Which was the reason she'd allowed her best gal-pal, Jasmine, to talk her into heading out tonight and giving the speed-dating scene a try… again.
"Woo hoo, Christine. Come in. Are you with me?"
Christine studied her completed look in the glass door of the Midnight Rendezvous. She held the phone tucked between her ear and shoulder while she kept tugging at the hem of her dress, which barely covered her ass cheeks. "Jasmine, I can't believe you talked me into this get-up. I'm literally popping out all over."
"Babe, you look hot, so quit the bitching and stop tugging on it."
Christine's hands stalled and dropped to her sides. "How'd you know what I was doing? Are you lurking nearby?"
Jasmine's voice rose an octave. "Hello, best friend here. I know you, and I know you're freaking the hell out. Do me a favor and relax, because any man would be lucky to have you. Now, hang up and get your sexy ass inside."
Christine gave herself a final once-over and took a deep breath, releasing it slowly. "Thanks, Jasmine. You always know how to calm me down. Love you."
"I love you too. Now go."
Christine nervously inched her way over to the sign-up table, paid the twenty-dollar fee, picked up a nametag, and found an unoccupied chair. As the announcer went over all the rules of the event, she eyed the prospects and found several who looked attractive. Hope began to blossom. It seemed simple enough. Every two minutes a new man would sit down across from her and engage in a brief conversation. If she believed a connection was made, she would place his name on a card. The men would do the same, and if there was a match between cards, both parties would be notified through an email. "I can do this," she mumbled.
The announcer rang the bell.
The first eligible bachelor, Bradley, sat down, and it was two minutes of pure awkwardness. His hands shook uncontrollably, and he wouldn't stop apologizing. He refused to make eye contact and finally excused himself to the restroom, leaving her alone.
Christine couldn't believe how badly the night was starting off. She tried to embrace Jasmine's glass half full attitude and hope the next guy would at least remain seated for the entire two minutes.
Ding. A very handsome man with perfect features slid into the chair across from Christine. She noticed right off the bat he had no wrinkle lines, crow's feet, laugh lines — nada. She found that odd until he spoke. Then it all became clear. Unlike Bradley, he didn't say "Hi" or offer any other pleasantries. His gaze traveled from her face down to her chest, head tilting left to right, and then he spoke. "You have a beautiful face and body, from what I can see, for a woman of your age, but if you ever decide to fix your trouble spots, I'd be happy to give you a discount."
Christine couldn't believe her luck. She already doubted her looks, and now this man she didn't know was judging her appearance? Great, just freaking great. If she were Jasmine, she would've been spewing words that would make a sailor blush; however, Christine hated public confrontations. Instead she put on a fake smile. "Don't bother writing my name down." Their remaining time couldn't possibly end quickly enough for her liking.
Ding. "Thank God that's over." One look at the surgeon, and she realized she'd spoken aloud. She opened her mouth to apologize, but before she could get the chance, he turned and walked away.
Prospective dates three through twelve were nice enough, but she knew they'd be no more than friends, and not the kind with naughty benefits. Her shoulders slumped in depression and she wondered why she'd let Jasmine talk her into this. A dozen men had come and gone but none lit a fire in her belly. Eyes downcast, she waited to hear the sound of a chair scraping the floor.
Instead, she felt cool glass press against her palm and a warm breath against her ear. "I didn't know what you normally drink, but I sensed you needed something strong."
Christine looked up into the most gorgeous eyes she'd ever seen. They were almost hypnotic, and his voice was equally distracting, drawing her in. She was clueless about how long she stared at him like a lovesick puppy, but it was long enough that another bachelor took his position for the two-minute meet and greet. Spell broken, she addressed dreamy eyes first because she had to know his name. "Umm, yes, thank you, Mr…"
"You may call me Sin." Then he stood upright and kept all his attention on her but clearly directed his words to the gentleman across the table. "If you were a smart man, you'd start the conversation by telling her how gorgeous she looks tonight. Let her know no other woman has ever looked lovelier in your eyes. That from the moment you saw her, you wanted nothing more than to feel her lips against yours, to touch her and be touched by her."
Christine grew more aroused with each word Sin uttered. She'd come out tonight looking for a spark, and damn if she hadn't found a five-alarm fire. Did Sin realize the effect his words were having on her?
He winked, and her silent question was answered. Damn him, he knew exactly what he was doing to her. The other bachelor cleared his throat. "Yeah, thanks for the advice, but I don't need it. I've got this."
Sin's face tensed up. "Not yet, you don't."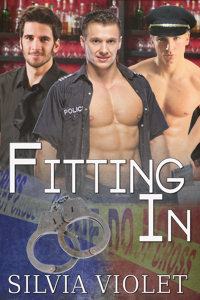 Fitting In is now available at Amazon, ARe, BN, and Smashwords. Get your copy today!
Blurb:
Two cops walk into a bar. Mason, the bartender, waits for the punch line, because no way in hell are these ridiculously hot men real cops. They're straight out of a cop-fetish fantasy. But he quickly learns that Jack and Gray are the real deal, and they want him in the worst way.
What starts as a night of hot, three-way sex becomes a lot more. The two cops fulfill Mason's submissive fantasies, but they also meet a more basic need, comfort. They want to take care of Mason, to offer him unconditional friendship, but their concern for him unnerves Mason more than even the kinkiest sex.
To find happiness with his new partners, Mason must change his belief that love is as much a fantasy as a pair of gorgeous, handcuff-wielding cops landing in his bed.
Excerpt:
Two cops walked into a bar. Mason, the bartender, waited for the punch line, because no way in hell were these ridiculously hot men real cops. They were one hundred percent fantasy material. He hoped to hell they were strippers, and they'd be willing to do a private performance for him.
Their dark blue uniforms were snug, hugging their bodies in all the right places. The taller of the two men was big enough to bench-press Mason. His shirt looked like it might burst at the seams, and Mason hoped it would. Dark, wavy hair fell over his forehead and softened the hard lines of his face. His eyes were dark without being warm, just right for a cop.
His partner was shorter, about Mason's own five foot eleven or so. He had buzz-cut dirty blond hair and blue eyes. He looked younger than his partner, like he hadn't been out of the academy for long, but he was just as ridiculously hot as the bigger man. His looks were the all-American-boy type. He'd probably played baseball in school and won the heart of every girl he smiled at. He was a perfect counter to his partner's rough, domineering appeal. They could play a scintillating game of good cop, bad cop, and Mason would love for them to play it with him.
If Mason were in a porno, the cops would cuff him and drag him to a back room where they would proceed to plow his ass until he couldn't stand up. Sadly, this was real life. They were probably relentlessly straight and only here for a beer.
They headed toward the end of the bar by the register where there weren't any customers during the midafternoon lull.
"What can I get for you, officers?" Mason asked.
The big one smiled. "Anything cold."
The shorter man punched his partner's arm. "Nothing. Thank you. We're here on official business."
The big man rolled his eyes. "Can't I at least get a soda?"
"Fine. Two Cokes please."
Mason was glad to have the simple task of scooping ice and pouring fountain drinks to distract himself for a few minutes. What official business would they have here? While the occasional fistfight broke out, most typically during the NCAA basketball tournament, Nathan's Public House was hardly a hotbed of crime.
He picked up the drinks and faced them again, willing his hands to stop shaking. It wasn't like he hadn't served plenty of attractive men in the past. What was it about these two that had him so stirred up?
He set the drinks on the bar in front of them and watched as they both took a sip. His cheeks heated when he realized he was staring, openmouthed, at the flex of muscles in the bigger man's throat as he swallowed.
Focus, Mason, focus. "So…um…what kind of business brings you here?"
The shorter man smiled and held out his hand. "I'm Officer Jack Abney, and this is my partner, Gray Sadler. We want to talk to the staff who were working last night when Gino's was robbed in case anyone might have seen or heard something that will help with the investigation."
Mason took Jack's hand. His skin was softer than Mason expected, and he held Mason's hand a few seconds longer than he needed to. "Um…I'm Mason Shields."
"Nice to meet you, Mr. Shields," Jack said, grinning.
Mason thought he might melt, but this wasn't a time to become a puddle of lustful intentions. The robberies had shaken up most of the business owners in the part of downtown Durham where Nathan's was located. The break-in at Gino's was the third one in the area, and all the robberies were believed to have been inside jobs pulled off by well-organized professionals. The occasional group of kids breaking a window and trying to get into the till or taking valuables customers foolishly left lying on the seats of their cars wasn't uncommon, but this type of systematic criminal activity was something new.
"I was here last night, but until I heard sirens, I had no idea anything was going on. It was really crowded, and I had a long line at the bar so I was focused on making drinks and keeping customers happy."
Jack stood up and looked toward the windows. "Not much of a view of the place either."
Mason shook his head. "Once the lights go out over there, I can't see a thing, especially with people blocking my view out front."
His partner, Officer Sadler, looked at Mason then, his dark eyes calculating. "We understand one of your servers worked at Gino's until a month or so ago."
"Yes, Gwen did." The idea of Gwen working for a band of criminal masterminds was ludicrous. She could barely manage to serve a couple of tables without fucking up their orders.
"Was she working last night?" Gray asked.
Mason thought through the evening. Gwen had been there, but he didn't remember seeing her after the dinner crowd left, and he'd wondered why they were understaffed when the rowdy game watchers filled the place up. "She was, but her shift must have ended by nine."
"Is that unusual?" Jack studied him as carefully as his partner had. Having the two gorgeous men staring at him was doing unsettling things to his insides, and his expanding dick was making his pants uncomfortable.
"I guess so. Kinda. Usually most of the waitstaff works until eleven on weekends, but I really don't think—"
Jack held up his hand. "Just routine questions."
"Okay. Maybe it would be better if you talked to my manager."
"We will," Gray assured him. "But right now, we want to talk to you."
His voice was low and sexy. If Mason didn't know better, he'd have thought Gray was flirting with him, but he had to be imagining it. Jack was staring at his partner like he'd lost his mind.
Mason looked back at Gray and was caught by his cool gaze. He bit into his lip, needing the sharp pain to break the spell and allow him to look away. Gray exuded dominance. Mason had no doubt he was a man who expected to get his way, and Mason would be happy to give him just that. The thought of being pinned under him and told exactly how to please him made Mason shudder.
Needing to break the tension vibrating among the three of them, Mason said, "The bartender knows all, is that the theory?"
"Something like that." Jack's sly grin made Mason's knees weak. These two were going to be the death of him.
The officers asked a few more questions, but Mason truly didn't have anything useful to tell them so they moved on to questioning the servers.
He was glad there weren't many customers in the bar because both cops had asses worthy of his devoted attention. He sighed as he watched them while pretending to wipe down the bar. What he wouldn't give to peel them out of their tight blue pants and get a closer look.
The intensity of his attraction puzzled Mason. Gray's size and dominating presence pushed all his buttons, setting off submissive fantasies that had him reeling. And Jack, Mason could imagine him reveling in a hard, rough fuck or giving the orders himself with the confident air he used for interrogation. If the two men had told him to drop his pants and bend over the bar, he truly might have done it, which unnerved him. While he'd had his share of hook-up sex with no names exchanged, he wasn't usually quite so slutty.
Maybe the fact that it had been months since he'd bothered to find a partner at all was part of the problem. He'd never really enjoyed the anonymous club sex, but he'd learned the hard way that depending on someone to be there for you was pointless, so he wasn't much for relationships either. Hitting the clubs was the easiest way to take care of his sexual urges. He'd stepped out of his comfort zone often enough to keep from dying of unfulfilled lust, but the last few times he'd hooked up with someone in a grungy bathroom, he'd felt more sick than satisfied after it was over. For the last few months, he'd reveled in his nerdy side, the side of him that still hoped to go back to college, get his degree in chemistry, and then move on to grad school. Instead of going out he'd been spending his time off reading scientific journals and watching his favorite Star Trek episodes over and over. Perhaps he was experiencing temporary insanity from lack of sex.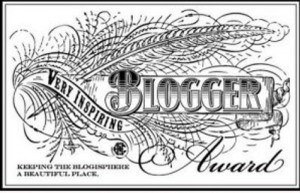 I was nominated for the Very Inspiring Blogger Award by RJ Scott. If you have read her recent release, Bodyguard to a Sex God, run grab it right now!
The Rules:
Display the award logo on your blog.
Link back to the person who nominated you.
State 7 things about yourself.
Nominate 15 bloggers for this award and link to them.
Notify those bloggers of the nomination and the award's requirements.
Seven Things About Me:
1. I've lived in the Southern US my entire life and I have the accent to prove it.2. I love to bake especially cookies, scones, and muffins.
3. I have an unholy passion for Sriracha.
4. I homeschool my children.
5. I make a weekly meal plan for all our meals, but I cannot for the life of me plot out a book and stick with it.
6. I have a crush on Dr. Sheldon Cooper.
7. I'm married to my high school sweetheart.
Now head on over to check out what these wonderful authors have to offer.