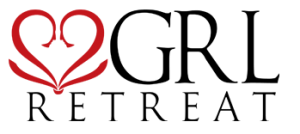 I'm really looking forward to my third Gay Rom Lit Conference. I can't wait to see old friends and meet new ones! I'm happy to meet up any time during the conference but here's where you can definitely find me:
Stamping Books in the Atrium: Thursday 10-12
Author's Lounge: Thursday 12:00-12:40
Scrapbooking at the Fun Fair: Friday 2:30-4:20
Reading from Shifting Hearts (Falling Waters Lounge): Saturday 9:00-9:55
Featured Author Signing: Saturday 2:00-5:00
Time Travel Party: Saturday 9-11 (I'll probably be at the other evening parties but I'm not much of a night owl. I have a costume so I'll definitely be at this one.)
I'll have some free books so come ask me for one and I'll also have these guys to give away!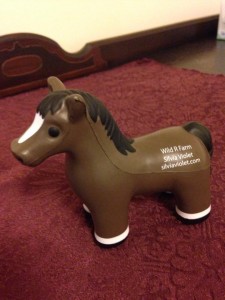 We're Celebrating the Ndulgent Bloggers' 4th BLOGiversary!


4 Years of Reviews. 4 Years of Supporting Authors. 4 Years of Great Books. 4 Huge Bags o' Swag.
Visit each of these BLOGS -Authors, Reviewers and Bloggers- and have fun!
I'm thrilled to be part of the Guilty Indulgence Blog Hop today!
I have a cover reveal for you today for Shifting Hearts, Wild R Farm Book 6. This is one of my all times favorite covers. Meredith Russell has done an amazing job.
In case you haven't met the men of Wild R Farm, I would like to introduce them to you. Wild R Farm is owned by Cole Wilder, a halfbreed werewolf. The first book in the series, Finding Release, is about Cole and his partner Jonah and each subsequent book tells the story of more of the men who work at the farm or living in the town of Cranford, TN. Finding Release is also available in audio.
And now for the cover reveal, Book 6, Shifting Hearts will be released October 25, check out the gorgeous cover.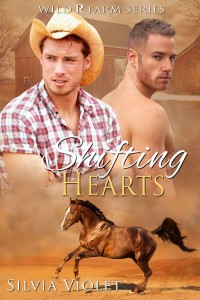 I'm entering a new decade in my life this week and to celebrate, I'm having a sale on some of my titles. Also tomorrow, Wednesday, I'll be sharing lots of beautiful men on Facebook, Twitter, and Tumblr.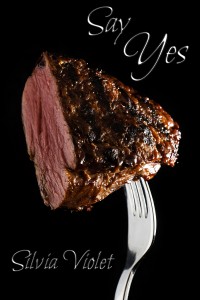 Say Yes is free through 9/18 at All Romance eBooks.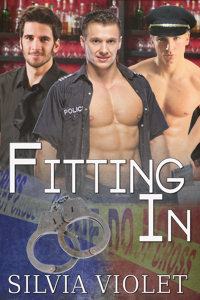 Fitting In is 75% off through 9/18 at Amazon and All Romance ebooks.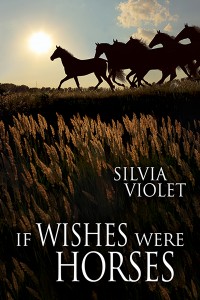 If Wishes Were Horses is 40% off through 9/21 at Amazon and All Romance ebooks.
You can preorder copies of my print books at a discount and I will deliver them to you at GRL. I will be selling books at GRL but the prices will be a bit higher than the preorder price.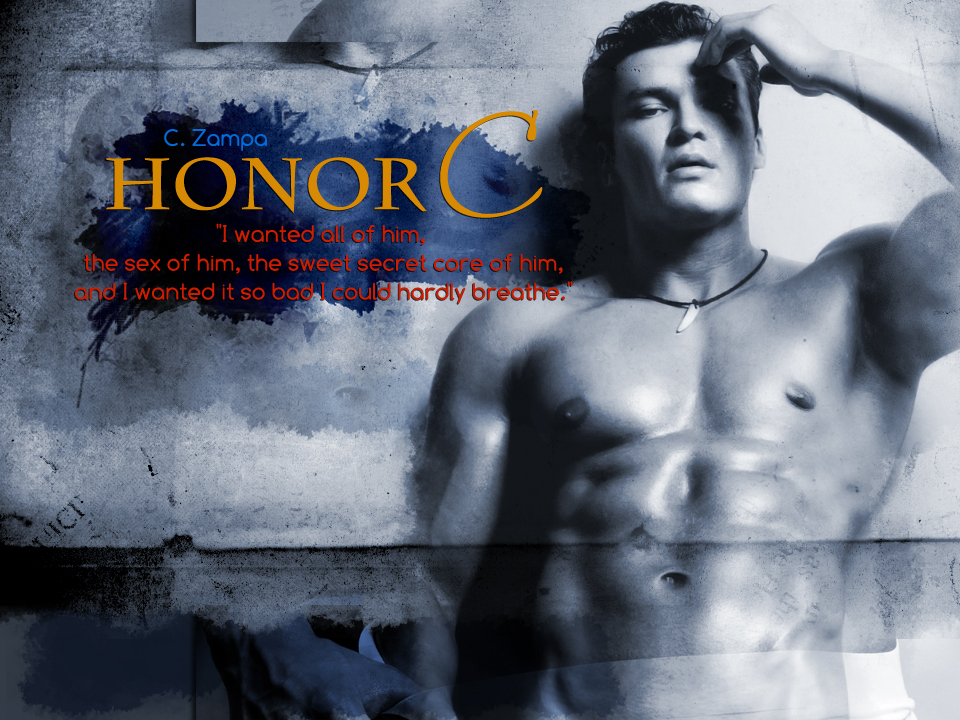 Today I'm welcoming Carol Zampa to my blog. She's celebrating the publication anniversary of Honor C and she's got an awesome giveaway as well. Check out the rafflecoptor details at end of the post.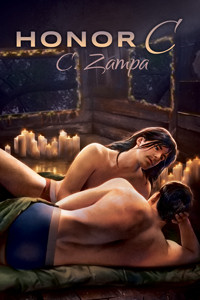 Honor C by Carol Zampa
When Honor Castillo convinces himself he isn't gay, he begins a new life. He ends his affair with his lover, Jorge Villagomez, and marries Rebecca to establish a life with her as a respected San Antonio businessman. They have a son and he tells himself he is happy.
Eleven years later, Jorge returns to San Antonio, and his path crosses with Honor's once more. The flame of their passion never died, and neither did Jorge's love for Honor.
When Jorge approaches Honor to design his studio, Honor believes he can walk the line between friendship and lovers. But when a sudden crisis threatens to take Jorge from him forever, Honor must choose between his duty and his heart. Most of all, he's forced to decide what he's willing to lose in order to be true to who he really is.
Buy links:
Excerpt
JORGE stirred beside me, dragging me from my reverie of schoolyards, lunches, and bullies and back to the present.
Tonight was our last chance to make love. I had no words, I just wanted to look at him, memorize him. I reached to paint the line of his full bottom lip with my thumb and shivered at the sigh it evoked from him, the tiny whimper as he wriggled to face me.
He twirled a finger in the curls at my nape. "Remember Shirley Setzer?"
I turned on my side to take in the sight of Jorge's nude body—skinny, girly, driving-me-out-of-my-mind sexy—stretched out beside me.
The limited light transformed his thin form into smooth, elegant planes with a tantalizing thatch of shadow between his legs.
"How weird. I was just thinking about her." I lifted onto my elbow.
His hand dropped to his chest. "The day we met."
I snorted. "We didn't meet that day. You never even spoke to me."
"Didn't I?"
"Hell, no."
"But—"
"Ah, no. You pranced your stuck-up little ass back to the building, never said two words to me."
Lifting his hand, he pretended to slap me. "I was not stuck up."
I said nothing, just lifted an eyebrow that I was sure he couldn't really see in the dark.
"I didn't mean to be, Honor. I guess I was afraid to talk to you. None of the other kids had anything to do with me. Figured you wouldn't either."
"But you charged into Shirley. You sure weren't shy then."
"I just reacted."
"I'll never forget. You knocked the shit out of ol' Shirley and never even said anything to me. You just strutted away, all prissy-assed. Do you know what I thought?"
"What?"
"I thought you were irritated at me, that you thought I should have defended myself. That you thought I was weak."
"Oh, querido," he murmured and cupped his warm palm to my cheek. "I was the weak one, to give in to her taunts. You were the strong one. And I think I loved you that day. Even that young, I think I loved you."
"Me? Gordo? Cerdo Castillo?"
With a grunt, Jorge flopped onto his back. "Stop it, damn you."
"Sorry," I chuckled. It riled him so for me to put myself down about my size.
He shifted toward me once more, wormed nearer. "Fuck, fuck, fuck. I'd see you smile at somebody in the halls and I'd nearly cry like a baby, wanting so bad to get one of your killer smiles aimed at me. Holy shit, I had the biggest girly crush on you."
"Could have fooled me."
"Your smile, Honor." He pressed a trembling finger to my lips. "Your smile."
"Once you did speak to me, I don't think my smile showed itself for anybody but you again."
"Bullshit." This time he did slap me. Lightly, but still a slap to my cheek. "She sure as hell sees it."
"Ay-ay." I coaxed the head of my cock against his crotch. "We agreed not to bring that up tonight."
"Please don't do this." He whispered the words onto my shoulder. His voice, so husky, a sultry purr—all Lauren Bacall, just put your lips together and blow—hadn't lost its power to make me grovel at his feet in lust.
"Want me to stop?" I teased and turned him in my arms.
"Make jokes." Burrowing deeper into my embrace, he growled and circled his palm over the hair on my chest. "Becky," he spat. "I can't even say her name without choking on it."
I held him tighter but said nothing. What more was there to say? We'd been arguing all night, ever since I'd broken the news to him that I'd gotten serious with Rebecca Sanchez, the dazzling woman I'd met a few months back.
We can still fuck, can't we? Jorge had contended. Why does she have to change anything?
Because once my relationship with Becky seemed to be heading on a serious route, I couldn't cheat on her. I just couldn't. The decision hadn't come easily, but I'd made it, and I knew it was good.
Author links:
Giveaway Information:
Enter to win a $50 Amazon Gift Card at the end of the tour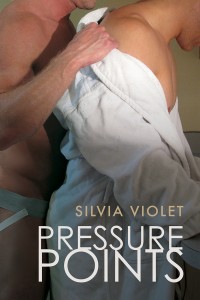 Matt from the Pisgah Mountain Wolves series is know for his pie-making abilities. His speacialty is blackberry pie. Today he's sharing his secret recipe. If he were making it his favorite way, the way his grandmother did, he'd substitute lard for the butter and shortening.
Crust
2 cups flour
1/2 tsp salt
pinch of baking powder
8T cold butter, cut in cubes
2T shortening
8-10T ice water with a touch of lemon juice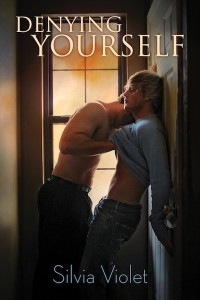 Mix flour, salt, baking powder.  Rub in half the butter by hand.  Use pastry blender to mix in the rest of the butter until pieces are the size of peas. Do not overmix.  Add water and mix with a fork.  Turn out on a cutting board or other hard surface.  Split in half and form into two flattened disks.  Refrigerate for at least 3 hours or up to 2 days.
Filling
4 cups blackberries
1.5 T cornstarch
1.5 T instant tapioca
1/2 cup sugar
Mix sugar, cornstarch and tapioca. Pour over fruit and mix together, tossing lightly.
Roll out one chilled crust.  Fit into a 9in pie pan.  Pour in filling.  Roll out top crust.  Cut vents. Put top crust on pie. Bake at 425F for 15 minutes.  Reduce heat to 350F and cook up to 45 minutes more or until filling is bubbling in center of pie.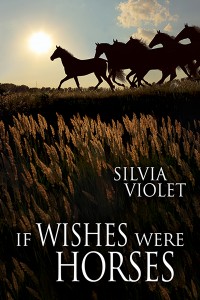 Vendors were fast to get things loaded up so if Wishes Were Horses is ready for you now! You can get it at Amazon in ebook or print, at ARe, and at Smashwords. Barnes and Noble will be up soon as well as iBooks and Kobo.
I'm so excited about everyone meeting Ken and Andy!
Blurb:
Kenneth Carver had everything growing up except warmth and acceptance. When protecting his family's name became more than he could bear, he came out as gay, sold his company, and bought a horse ranch.
Andrew Wofford's last undercover assignment nearly cost him his sanity. Now he has another chance of catching the drug runner who killed one of his informants and then escaped, but gruesome flashbacks threaten his ability to function in the field.
Andy's latest investigation sends him to Ken's ranch where he poses as a ranch hand. Ken is a prime suspect, but Andy refuses to believe Ken is guilty, in part because Andy is falling for him. Ken knows Andy isn't who he seems, but he can't bring himself to push the man away. When Ken hears rumors that someone is using his land to move drugs out of the city, he worries that it's Andy.
Neither man can trust the other even though that's exactly what their hearts tell them to do.
From Chapter One (for another excerpt, see the book page):
Ken wrapped his hand around the ornate door handle and tugged. He was not going to ring the bell at his childhood home, though that was what his parents expected. Even as a kid, he'd been treated more like a visitor than a member of the family.
He stepped into the foyer and glanced around. His mother had redecorated since he'd been here last. But the style still screamed ostentatious wealth like it always had. He strode down the hall and into the dining room where his parents were already at dinner. He was an hour late, and his mother wouldn't have risked upsetting Renata, the cook.
Thinking of Renata made Ken smile despite the tension pulsing through him. She was perhaps the only person on Earth his mother was afraid of.
"I'm sorry I'm late," he said as he took a seat.
His mother sniffed. "It was to be expected."
His mom was justified in starting without him. He'd never been enthusiastic about family gatherings, but he'd shown up late or failed to show at all since he'd stopped hiding who he really was—a gay man who disagreed with the way his father ran Carver Corp.
Of course, if his family had ever given him a warm reception, he might have tried harder to be punctual. Tonight, though, his tardiness had been unpreventable. He'd been stuck in a meeting for hours, finalizing the sale of the company he'd built, an offshoot of his family's conglomerate. He grinned as he laid a starched linen napkin in his lap. His parents were going to be pissed even though he had sole ownership and the capital he'd invested had all been his. The idea of anything bearing the Carver name being sold outside the family would give his father a heart attack if he had a heart.
Ken had arranged to have dinner with his parents so he could let them know before the news became public, more courtesy than they deserved considering they'd have taken the company from him in half a second if they'd had legal grounds to.
His mother looked up from her plate wearing the cool smile she used for public appearances. "How have you been, Kenneth?"
"Just peachy, which you'd know if you ever called," he responded, giving her the false look of graciousness he'd been schooled in from infancy.
"I'm not the one who broke off contact." Her ice calm infuriated Ken.
"If you hadn't insisted—"
His mother interrupted. "The only time you called even before the tacky airing of your private business was when you needed something, so don't try the guilt trip with me."
His father cleared his throat. "You said you had something important to tell us."
Ken nodded. "Yes, sir. I do."
"Then let's get down to business before we all lose our goddamned appetites."
That's how it'd always been. Business first. As far as his father was concerned, his family was just another arm of Carver Corp, a public relationship requirement.
Conversation stopped as the main course was brought in. Ken acknowledged the servant who'd just set his dinner in front of him with a warmer smile than he'd given his parents, even though he didn't recognize her. He looked down at the steak, grilled asparagus, and creamy mashed potatoes with gravy on top and nearly sighed. This might be the last meal of Renata's he'd ever have, and he doubted he'd get to eat it.
"I sold Carver Pharmaceuticals."
"What? That's impossible," his father stammered.
"I assure you it's not. I put out the word that I was looking for a buyer. I found one, and we just signed the paperwork. That's why I was late."
His mother pinched the bridge of her nose as if trying to fight off a headache.
"I'll top the offer," his father said as Ken had predicted he would. That was the main reason he'd kept things silent until the deal was done.
"The deal has been finalized, and my buyer will not be accepting offers." He'd given the man, an old friend from boarding school, a good price, a steal really, and he'd put a clause in the contract that his friend could not sell the business to anyone in Ken's family.
"He'll take mine," Mr. Carver insisted.
"He can't. The sales agreement won't allow it."
His father narrowed his eyes and then almost smiled. "I hadn't given you credit for being that big of a bastard. You've got bigger balls than I thought to try this shit with me."
"I learned from the best."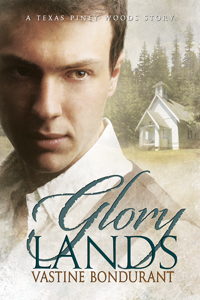 I'm excited to be part of the Glory Lands blog tour today. Here's more on Vastine Bondurant's latest release.  Enter the Rafflecopter giveaway below for fantastic prizes a $100 Victoria's Secret giftcard or a $100 Amazon giftcard.
Blurb:
A Texas Piney Woods Story
Rural East Texas, 1931. Preacher's son Emory Joe Logan and a fiddler from Shreveport, Glory Lands, meet and form a tender bond. When they are caught and arrested for homosexual acts by Sheriff Elihu Bishop, the lawman's sanctimonious bigotry threatens to rip the young men from their families.
Emory Joe's father, Pastor Charles Logan, is brought to his knees in terror, confusion, and anger. He still regrets not standing up against Bishop when the lawman murdered a youth in cold blood nine years ago.
Now there's no longer a choice for the preacher to stand up to the lawman. Cold-blooded justice, bigotry-disguised-as-religion, and hatred take on a whole new meaning when they're standing on his doorstep, ready to take the son he loves.
Buy links:
Dreamspinner Press
Amazon
All Romance
What Readers Are Saying..
"…This story is beautifully written with charm and a very classy style.  " cathy- (Amazon)
"..
But every so often a story comes along and absolutely annihilates me. Glory Lands is that story…~ Astrid (Amazon)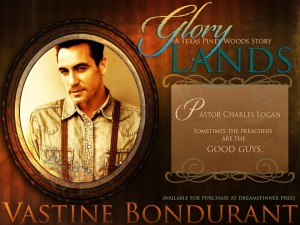 Excerpt:
Oh, Emory Joe was a skinny country boy, a kid hidden deep in the heart of the piney woods. No imposing deity. But to look at him right then—the light in his bashful smile, the trust beginning to bloom in his eyes—he was a god to me.
Eyeing me with a lifted eyebrow that signaled he surely expected to shock me, he shrugged. "I have kissed a boy, you know."
"Did you now?"
"Yes." He braced his shoulders, his head tossed back. King of the county, he was. "I have."
"Well, what do you know." I nodded.
"Are you shocked?" So proud, so adorable.
"Do you want me to be shocked?"
"What I want is, if you were thinking of kissing me, for you to know it's all right."
Jesus Lordy Almighty.
"I'm not shocked." The power of his gentle light paralyzed me. I wanted to step nearer, but couldn't. "How could a fella not want to kiss you?"
Offering nothing but a faint turning up of the lips that eased the nervous needles burning my skin, Emory Joe slowly turned and made his way back to the bank.
Once standing on the sandy strip, he dropped his hands to his sides and scratched his fingers on his thighs. "Well, then…."
"You nervous, Emory Joe?" I advanced a step.
"Why, yes, kind of… I mean…."
"Those hands of yours, always a-goin' to town on your pants legs."
"Daddy teases me about it too. I am a might nervous." Just as I opened my mouth to apologize, he tossed back his head, stopped his busy fingers, and smiled. "So…." And, his voice half-sure and half-trembly, he invited, "Would you like to kiss me?"
My pulse marched like a battalion of boots in my ears. I couldn't hear my voice over the noise, but I thought I said, "I'd like very much to kiss you, Emory Joe."
And he just stood there. Waiting. Smiling
Did I walk on the water or through it? Somehow I made it to the bank to his side.
He sighed. Those full lips parted and the blue eyes closed. Expectant. Willing.
I leaned, just inches from his lips, so close I could smell the readiness of him mingled with the red scent of the rose in my pocket, and something pleasant and electric filled the tiny space between us.
The touch of his lips. Soft, firm, giving, greedy, innocent, seasoned, sweet, spicy, playful, deadly serious. All that in one breath of a kiss.
Had I fainted? No, I stood on my two feet, but I couldn't feel my legs. All I felt was Emory Joe and his want.
After a million years stuffed into one second, he pulled away, and I, like a baby bird straining for morsels at feeding time, stretched my neck to bring back the contact.
Happy and scared, I watched while he fumbled with the buckles at the straps of his overalls. Oh dear Jesus. "Emory Joe…."
I'd come to fish only to have the fish leap straight out of the water and into my hands, and it had set my brain spinning off-kilter.
"Shush." He touched his finger to his lips.
Soon the straps fell from his shoulders and the bib unfolded, falling away. He pulled his shirt over his head to expose his pale chest with its glorious rosy nipples, then bent to carefully drape the shirt over a tree stump.
I wanted so badly to see the rest of him—naked, buck naked—but I was also afraid of that very thing. The desiring of something so bad you feared it might stop your heart.
But not heeding my silent terror, Emory Joe slowly tugged the overalls until they hugged his narrow hips to show me his flat belly and the tease of golden hair at his crotch.
"Emory Joe," I whispered.
Had that been a protest or a plea?
With a soft curl of the lips, his eyes holding me in some beautiful suspension like a man leaping from a cliff but not falling, he gave one last pull of the overalls to send them and his underpants to a blue pile at his bare ankles.
In that sunlight filtering through the trees stood a man too comely and heavenly to be tucked out here in the middle of nowhere.
A beautiful erection nestled in a light patch of hair. The tip of his cock, pink as his nipples.
Gone were my thoughts of not being able to take him. I had to have him. Jesus Christ, that proverbial team of wild horses couldn't stop me now, not with this delicate, naked beauty wanting what I wanted.
Emory Joe lifted a hand to pluck the rose from my pocket. Drawing even closer, he tucked it into the hair at my ear then began to unbutton my shirt.
My breath caught while his fingers fumbled at each buttonhole, the light pressure like the delicate fluttering of a baby chick's wings. And, then—oh, goddamn, then—when he unfastened my trousers and tugged them along my hips. The tiny gasp he issued when my dick, so hard and aching, sprang free of the denim folds.
After placing our clothes over the tree stump, there we both stood. Nothing between our naked bodies but warm spring air and need.
Emory Joe sank to his knees in the sand, arched his chest and palmed his nipples. "Glory."
To hear my name loaded with such want, spoken in such an unbearably gentle caress.
I followed suit and dropped to my knees, taking his hands in mine. His hands. Shaking, holding tight.
"Yeah?" I turned up his palms and pressed them to my lips.
The taste of his skin—a delicate mix of faded shaving lotion and roses.
Oh, the wonderful pain in my groin.
"Do something to me." He turned the request into a soft little moan.
"What do you want me to do?" Grasping his wrists, I pulled him against me. His body, unbearably soft and writhing, the satiny hardness of his dick pressing into mine. "Tell me what you want me to do."
"I don't know." With his lips breathing the words onto my neck, he twined his fingers in the hair of my nape and squeezed. "It feels so good, I have to… to…." A whimper. "Please."
Drawing back, I cupped my palm to his cheek, thumbed the downy stubble. "Have you really ever kissed a boy before, Emory Joe?
"No." He glanced away to the creek. "Surely not because I haven't wanted to. There's just no boys like… me… to kiss in these parts."
"Then let me see what I can do for a fella who's never kissed a boy before." A wispy, quick meeting of the lips. "Lie down, Emory Joe."
His gaze fixed with mine, Emory Joe let his arms slide from my neck, and he slowly lowered himself onto his back in the sand. "Kiss me again."
I lay beside him. "You liked kissing, then?"
He didn't reply, just nodded, parted his lips, and lifted his head a bit.
"How much did you like it?" I sighed the words close to his mouth, reveling in the pleasure of the almost-touch of his lips.
Resting his head on the ground again, he traced his forefinger along my chin. "Very much.
About the Author:
I'm Texas born and raised, an old fashioned, bling-loving girly girl. I love to read and write stories of men and women and the sizzling chemistry that draws them together. Passion. My heart is helplessly bound to romance of a time long gone- gritty, sexy stories of men in fedoras and overcoats. Old Spice Aftershave, Lucky Strike cigarettes, fancy cuff links, hair pomade, mobsters. Clandestine whispers on Bakelite telephones from the shadows of cheesy restaurant phone booths. Stories of a time when sex was all the more sexy because it wasn't plastered on every billboard—no naked Joes and dames in every ad in every magazine. Lovemaking—hot, sweet-and-naughty, a secret between lovers. My make believe world is sex and danger, hotter than Hades but wrapped up in a deceptive package—gals with soft skin, pretty lace slips, seamed stockings, satin peignoirs, powder puffs and Chanel No. 5. And the tough guys in dress shirts and suspenders who lust to get their hands on the garters they know tease just beneath those kick pleats. I'm a goner for the dynamics of testosterone meets sugar and spice.
Find Vastine online at:
Blog
Facebook
Pintrest
Twitter
Goodreads Author Page
Glory Lands Goodreads Page
Purly Gates Goodreads Page
Amazon Author Page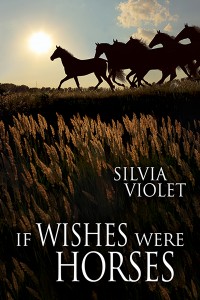 Here are a few hot and dirty excerpts from my upcoming books. To see character inspirations for these books, check out this post and this one on my tumblr and follow me there for more dirty excerpts.
The first excerpt is from If Wishes Were Horses which releases on May 16. Ken is a ranch owner and Andy is an undercover copy who's investigating a drug-running operation while working at the ranch.
Ken grinned. "Control issues?
"You're one to talk."
Ken gave a hard thrust, and Andy groaned, tipping his head back and closing his eyes. Ken should have known it was an act, but he got lost in seeing Andy's pleasure.
Andy used the moment to break free and shove at Ken's shoulders, knocking him off balance. He stumbled and Andy lunged for him, grabbing him around the waist and dragging him to the floor.
He wrapped a leg around Andy's and flipped them, spearing his hands into Andy's hair and using the leverage to slam his head against the floor.
Andy roared and arched up, nearly bucking Ken off.
They tussled, rolling over until they hit the edge of Ken's desk. Andy ended up on top, and he managed to get hold of Ken's wrists and pin them over his head. Andy hung over him, looking like he was trying to decide if he was ready to stop fighting and fuck.
"Fighting is excellent foreplay, but maybe it's time for more. What do you think?" Ken asked.
"Fuck you," Andy said, shoving at him and standing up.
Ken watched Andy as he loomed over him. The man was pissed that he'd given up on self-control and come back for what he wanted.
Andy turned like he was going to walk away, but Ken wasn't about to let that happen. "Andy."
Andy froze and slowly turned. Ken pressed his palm against his cock and rubbed, back and forth along his length. Andy watched, mesmerized. Then Ken unzipped his jeans, pulled his cock out, and kept stroking. "I thought you were here to do something about this."
"Hands off," Andy ordered.
Ken grinned at him. "Make me."
Andy took a step toward him. "I'm going to tear you up."
Ken grinned. "You were right, you know?"
"About what?"
"I love a man who's got what it takes to hold me down and shove his cock up my ass. Do you have what it takes?"
This unedited excerpt is from Unexpected Trust, a sequel to Unexpected Rescue staring Jackson's friend Sport. The projected release date is mid July. Sport is an FBI agent and Danny specializes in black ops for one or multiple lettered agencies. Danny has been following Sport trying to determine whether to bring him in on his current mission.
Sport settled at the bar and downed drink after drink. He was furious, probably more with himself than anyone else. Danny could tell by the way he carried himself even if the drinking hadn't been a clue. Danny toyed with the idea of making a move on him but this wasn't the time. Instead he chatted up a couple of young men who'd been eye-fucking him while they made out with each other. When he proposed that one of them seduce Sport while Danny fucked the other one against the wall out back, They looked like they'd won the lottery. The fact that they couldn't let on to Sport that it had all been planned made it even sweeter for them. Danny was afraid they might come just from thinking about it before he ever got them outside.
If Sport had been anything approaching sober, Danny wouldn't have gotten away with it. But he was drunk and angry and he'd let his guard down. By the time Sport stumbled outside with the twink Danny had sent to seduce him, Danny already had the young man's friend pressed against the wall, hands spread, legs apart.
The man with Sport looked at him and winked. Danny scowled but the kid didn't have time to react, because Sport grabbed his shoulders and pushed him to his knees. Danny rolled on a condom and slicked up as he watched, slapping his partner on the ass when he begged Danny to move faster.
Danny watched, mesmerized as Sport unfastened his suit pants and pulled out his cock. "Suck me," he demanded, his low, rough voice just carrying over to Danny.
Danny took his cock in hand and pushed into the young man in front of him. He groaned as the man's tight ass gripped his cock, thrusting in hard, not caring if it hurt. "You like it rough?" he asked.
The man nodded frantically. "Good, because that's how I give it." Especially when I'm so turned on I can't see straight.
Danny pounded the young man, desperate to get off. He was moaning and grinding back, loving the rough treatment. His friend must like rough too because Sport braced himself on the wall and grabbed his hair dragging his head back, and the boy took it, relaxed and easy like he would do anything Sport asked.
Danny lost his rhythm and nearly swallowed his tongue when Sport turned to look at him, holding his gaze as he drove all the way down the boys throat, choking him, using him. Holy fuck. That was the best thing Danny had every seen. He was going to get off to that memory for a long time.
As you may have heard, Silver Publishing has now closed it's doors. Rights have reverted to the authors and many are in the process of finding new homes for their stories or self-publishing them. Many authors have or will be making posts like this one to let readers know where to find their titles so check the blogs of your favorite authors. All my former Silver titles have been re-released and this is where you can find them.
Astronomical is available from Loose Id and I continued the series with a new title, Meteor Strike
All my other former Silver books are available from Silvia Violet Books.
Finding Release (Wild R Farm 1) and 4 new volumes in this series which you can find links to here.
Abandoned (Galactic Betrayal 1)
Deceived (Galactic Betrayal 2)
You can read excerpts of all these books here on my website on each book's page.