Archive for the 'erotica' Category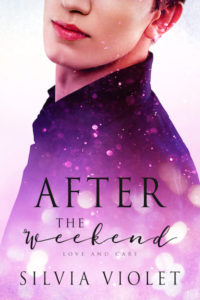 After the Weekend (Love and Care 2) is here now! Grab your copy today.
Amazon | iBooks | Kobo | Barnes and Noble | Smashwords
After the Weekend continues Graham and Avery's story from Father of the Groom.
What Graham and Avery thought would be a single night of pleasure turned into so much more. Their needs and desires lined up perfectly, and by the time they parted after three glorious days, they both knew there was far more than lust between them.
Living in different towns makes continuing their relationship challenging, but Graham visits Avery most weekends, and their bond deepens. Avery thinks Graham is the best Daddy ever and Graham loves nothing more than taking care of Avery and challenging his need to surrender. But both men are unsure exactly how far they want this relationship dynamic to go. There are so many hard questions to answer when both men would prefer to live in a fantasy world during their limited time together.
But reality is calling. Graham and Avery both have friends who need their help with major life decisions, inquisitive family members, and a growing desire to spend more time together. In order to continue their relationship, they must figure out where their boundaries lie and what they want from each other outside the bedroom.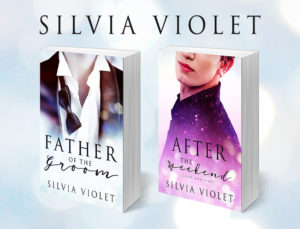 After the weekend, the sequel to Father of the Groom will be here August 21. So if you haven't read Father of the Groom yet, now is a great time.
You can find it at
Amazon | iBooks | Barnes and Noble | Kobo | Smashwords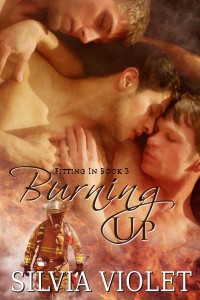 This is the first in a series of list posts. These lists will include books I love and, where appropriate, titles from my own catalog. I enjoy many romance subgenres depending on my mood. This week's list consists of books that are ultra hot, ones where the erotic content is integral to the character development.
A slight digression: You may have noticed I like writing this type of book as well as reading it. At GRL 2015, I will have the privilege of being on a panel with two authors who know all about writing hot, LA Witt and SE Jakes and we'll be talking about this very topic. So join us if you'll be attending.
Sizzling M/M Books and Series
Hell or High Water series by SE Jakes
Tristan and Jared (Market Garden series) by LA Witt and Aleksandr Voinov (sold in a bundle or as separate stories)
The Magpie Lord series by KJ Charles
Force of Law by Jez Morrow
Whitetail Rock by Anne Tenino (a free download at ARe)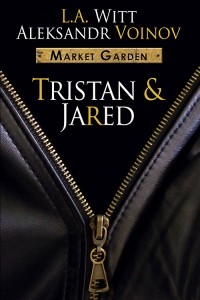 Dirty Laundry by Heidi Cullinan
Shock and Awe by Abi Roux
More by Sloan Parker
A Simple Romance by JH Knight
My own Fitting In series
I'd love to hear some of your suggestions for more hot books!

Welcome Kameron and Dirk! They are here to share a little about themselves along with an excerpt from their erotic collaboration, Sinfully Delicious

.
Bio: Kameron and Dirk, a passionate couple in and out of the bedroom, has decided to join forces and bring their erotic imagination to life with words. Their solo stories are electric; however, the works they create together will practically sizzle off the page. Yes, they might live in a quiet suburb neighborhood, but they're anything but tame and unadventurous. A fact you shall read and learn about soon enough. 
Contact info:
Blog
Facebook Author page
Goodreads' links:
Amazon Author Pages: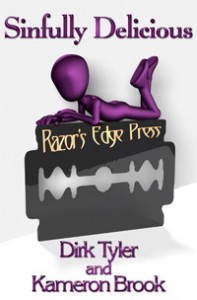 Kam and Dirk collaboration – "Sinfully Delicious" (M/F)
Book Summary:
Christine's been without a man for far too long, so she lets her BFF Jasmine talk her into speed-dating. Unfortunately, far too many of her dates are romantic non-starters — in the worst way. But all it takes is one… and when the right man comes along, he's Sinfully Delicious.
Excerpt:
Wednesday Evening
It'd been two years, six months, and fourteen days since Christine had felt the loving touch of anyone but herself — not that she was keeping track. Which was the reason she'd allowed her best gal-pal, Jasmine, to talk her into heading out tonight and giving the speed-dating scene a try… again.
"Woo hoo, Christine. Come in. Are you with me?"
Christine studied her completed look in the glass door of the Midnight Rendezvous. She held the phone tucked between her ear and shoulder while she kept tugging at the hem of her dress, which barely covered her ass cheeks. "Jasmine, I can't believe you talked me into this get-up. I'm literally popping out all over."
"Babe, you look hot, so quit the bitching and stop tugging on it."
Christine's hands stalled and dropped to her sides. "How'd you know what I was doing? Are you lurking nearby?"
Jasmine's voice rose an octave. "Hello, best friend here. I know you, and I know you're freaking the hell out. Do me a favor and relax, because any man would be lucky to have you. Now, hang up and get your sexy ass inside."
Christine gave herself a final once-over and took a deep breath, releasing it slowly. "Thanks, Jasmine. You always know how to calm me down. Love you."
"I love you too. Now go."
Christine nervously inched her way over to the sign-up table, paid the twenty-dollar fee, picked up a nametag, and found an unoccupied chair. As the announcer went over all the rules of the event, she eyed the prospects and found several who looked attractive. Hope began to blossom. It seemed simple enough. Every two minutes a new man would sit down across from her and engage in a brief conversation. If she believed a connection was made, she would place his name on a card. The men would do the same, and if there was a match between cards, both parties would be notified through an email. "I can do this," she mumbled.
The announcer rang the bell.
The first eligible bachelor, Bradley, sat down, and it was two minutes of pure awkwardness. His hands shook uncontrollably, and he wouldn't stop apologizing. He refused to make eye contact and finally excused himself to the restroom, leaving her alone.
Christine couldn't believe how badly the night was starting off. She tried to embrace Jasmine's glass half full attitude and hope the next guy would at least remain seated for the entire two minutes.
Ding. A very handsome man with perfect features slid into the chair across from Christine. She noticed right off the bat he had no wrinkle lines, crow's feet, laugh lines — nada. She found that odd until he spoke. Then it all became clear. Unlike Bradley, he didn't say "Hi" or offer any other pleasantries. His gaze traveled from her face down to her chest, head tilting left to right, and then he spoke. "You have a beautiful face and body, from what I can see, for a woman of your age, but if you ever decide to fix your trouble spots, I'd be happy to give you a discount."
Christine couldn't believe her luck. She already doubted her looks, and now this man she didn't know was judging her appearance? Great, just freaking great. If she were Jasmine, she would've been spewing words that would make a sailor blush; however, Christine hated public confrontations. Instead she put on a fake smile. "Don't bother writing my name down." Their remaining time couldn't possibly end quickly enough for her liking.
Ding. "Thank God that's over." One look at the surgeon, and she realized she'd spoken aloud. She opened her mouth to apologize, but before she could get the chance, he turned and walked away.
Prospective dates three through twelve were nice enough, but she knew they'd be no more than friends, and not the kind with naughty benefits. Her shoulders slumped in depression and she wondered why she'd let Jasmine talk her into this. A dozen men had come and gone but none lit a fire in her belly. Eyes downcast, she waited to hear the sound of a chair scraping the floor.
Instead, she felt cool glass press against her palm and a warm breath against her ear. "I didn't know what you normally drink, but I sensed you needed something strong."
Christine looked up into the most gorgeous eyes she'd ever seen. They were almost hypnotic, and his voice was equally distracting, drawing her in. She was clueless about how long she stared at him like a lovesick puppy, but it was long enough that another bachelor took his position for the two-minute meet and greet. Spell broken, she addressed dreamy eyes first because she had to know his name. "Umm, yes, thank you, Mr…"
"You may call me Sin." Then he stood upright and kept all his attention on her but clearly directed his words to the gentleman across the table. "If you were a smart man, you'd start the conversation by telling her how gorgeous she looks tonight. Let her know no other woman has ever looked lovelier in your eyes. That from the moment you saw her, you wanted nothing more than to feel her lips against yours, to touch her and be touched by her."
Christine grew more aroused with each word Sin uttered. She'd come out tonight looking for a spark, and damn if she hadn't found a five-alarm fire. Did Sin realize the effect his words were having on her?
He winked, and her silent question was answered. Damn him, he knew exactly what he was doing to her. The other bachelor cleared his throat. "Yeah, thanks for the advice, but I don't need it. I've got this."
Sin's face tensed up. "Not yet, you don't."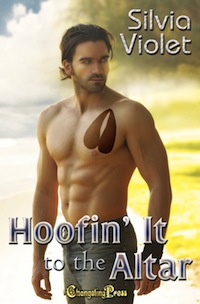 Hoofin' it to the Altar, my most recent contribution to the multi-author Protect and Serve series, is now at Amazon and ARe and Barnes and Noble.
Blurb
Deer shifter Jason Fleetfoot and vampire detective Drew Danvers have been together for a year. When Drew proposes, Jason is thrilled but shocked. Vampires aren't usually the marrying kind, even the few who side with the good guys. Drew wants to elope, but Jason's sister, Natalie, insists on planning an elaborate ceremony.
As Jason and Drew fend off well-meaning friends and family, a far more serious problem threatens their union. A vampire killer is on the loose. He subdues his undead victims without a struggle and finishes them off by literally curdling their blood. Drew has no idea what could kill a vampire so easily, and everyone suspects he's next on the killer's list. Can he stop the killer in time for "Dearly Beloved, we are gathered here today…" to start his wedding instead of his funeral?
Reviews for Hoofin' It to the Altar
"Ms. Violet has the knack for infusing lots of witty humor into the dialogue between the characters. They click as friends and even better as lovers. The storyline was interesting and very sexy. This author knows how to write some hot sex scenes."
— 4 Hearts from Beverly, The Romance Studio
"I absolutely adore Silvia Violet's Protect and Serve stories in this multi-author series. She infuses her stories with some humor, lots of lovin' and amazing characters. The writing is tight, story moves along at a nice pace and there were a few twists that had me flipping the pages quickly to see what would happen next."
— 4 Hearts from Dawn, Love Romances & More

Surrender in the Dark by Silvia Violet
Blurb:
Radek, king of the Underworld, knows that Nia is destined to be his. Yet as the crown princess of Upperworld, Nia is unavailable to him. Desperate to claim her, Radek puts the safety of his own colony at risk and lures her to him by seducing her in his dreams.
A progressive ruler, Nia believes in the importance of modernization. But as princess, her say is limited. Her mother, the Queen of the Upperworld, forbids the Underworld's king from attending Nia's crowning. So when a man from Underworld invades Nia's dreams and invites her below, she accepts the offer, hoping for an audience with the king
The moment Nia lands in Radek's throne room, she realizes her mistake. By Underworld law, she is Radek's slave for seven days — and seven nights. Radek vows to make use of every moment.
Nia's society expects women to dominate in bed, but Radek draws out her hidden desires. How can serving him be so deeply thrilling? Even when he shows her the pleasure in pain, she craves more of his brand of dominance.
The seven days pass far too quickly. When Nia and Radek must face the censure of two societies, passion may force them apart more thoroughly than it held them together.
Excerpt:
"Taste me, Nia."
She hesitated. He wrapped her hair around his wrist and jerked her toward him. "Now."
Her tongue snaked out, licking the head of his cock. He sucked in his breath. Her tentative strokes fired him in a way the most experienced slave never could. "Take me into your mouth."
Fear showed in her eyes, but Nia did as he bade. He fisted his hands in her hair, longing to feel the back of her throat, but resisting the urge to thrust deeper. He wanted her to love serving him this way, to relish being on her knees in front of him. Only after she had would he show her the sweet agony of swallowing him whole.
"More. Take me deeper."
She groaned, but managed it.
His knees threatened to buckle as the heat of her mouth surrounded him. "Suck." The single word was all he had breath for.
Within seconds he would have sworn she'd lied about her experience. Her mouth brought him exquisite pleasure, and he didn't need his Lalatian senses to know desire fueled her enthusiasm, along with her natural need to serve. He could smell the hot cream dripping from her cunt, and he wanted to taste it as much as he wanted to draw his next breath.
The rhythm of her sucking quickened, and she swirled her tongue around his shaft with as much skill as any woman in his harem. His climax rose. He tightened his grip on her hair, thrusting into her as she sucked. "Swallow as you feel me come in; see how much of me you can take."
Fear returned to her eyes. She tried to pull back, but he held her firm. "Trust me to know your limits."
Nia whimpered, but ceased her struggles.
"I'm going to come in your mouth, and you are going to take it like the gift it is."
Her eyes widened as he thrust into her mouth, holding her still. A few strokes later, he felt her surrender.
Buy it at Amazon
Buy it at Loose Id
Buy it at All Romance eBooks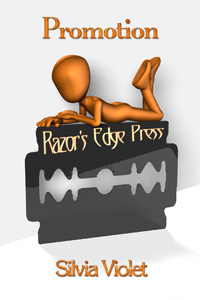 Here's an excerpt from a little piece of escapist erotica….
Promotion by Silvia Violet
Luke Jackson has been hot for his boss since the day he started work. When he's offered the chance to win a promotion, he has no idea what his boss expects in return until he finds himself on his knees in his boss's office. For Luke, his promotion doesn't just come with better pay but also the fulfillment of all his submissive desires.
Excerpt
My heart pounds as I walk down the hall to my boss's office. I have to get myself together. Yes, the man is fucking hot, but I have to learn not to be tongue tied in front of him, or I'll never get the promotion he's been dangling in front of my face.
A few days ago I was called to an executive level meeting out of the blue. My boss told me he'd chosen me to handle our newest accounts and that if I gave him everything he wanted, I'd be promoted to VP. I was speechless, as I usually am around him — speechless and horny as hell.
He's the most perfectly put together man I've ever seen, but his presence is what really does me in. He fills the whole room, dominates everyone, gets whatever he wants with no more than a look. He's ruthless power personified, and I want him. I want him to take me, use me, and do unspeakable things to me. But every time I see him, I start dropping things and goggling like a fish.
When I reach his outer office, his assistant buzzes me in. His back is to me as he types on his laptop. Rather than say anything, I simply take him in, his perfect posture, his smooth, long-fingered hands that I know would feel so good running over my body.
So much for my plan of keeping my thoughts professional. Now I need to use the file folder I'm carrying to cover the hard-on tenting my suit pants.
He curses and pushes away from his desk. When he glances up, something my twisted mind wants to believe is erotic interest flashes in his eyes. His lips curl up in a self-satisfied smile. Does he know I want him? I fight the urge to fall into his nearly black gaze. His eyes are so hypnotizing, I almost think he holds some supernatural power over me.
Several heart pounding seconds pass in silence. Then I find my voice. "What can I help you with, sir?"
He stands and walks around to me, invading my space with his heat and his nearly tangible aura of authority. He shifts his hips so he's half sitting on the edge of his desk and looks me up and down. He's close enough I could reach out and pet him — and I want to.
My gaze drops to his mouth as his lips part and his tongue swipes across them before he speaks. "Yesterday you said you'd be willing to do anything I needed. Did you mean that?"
His question makes my breath catch. Why do I have the feeling he isn't just talking about putting in extra hours? I nod. "Yes, sir."
Buy it at Amazon
Buy it at Changeling Press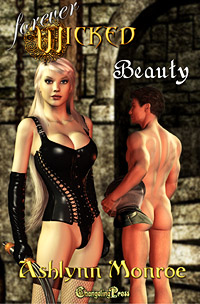 Beauty by Ashlynn Monroe
Beauty beyond compare… and a curse just made to be broken. Brand's the perfect prince for the job. But not every fairytale princess deserves to be freed from her bonds. Sometimes it's better to let sleeping beauties lie, lest you rouse the demon within. Fortunately, our prince thinks outside the box.
Excerpt:
Beauty lay on the bed, covered with rose-filled vines. Her long blond hair flowed around her pale, naked body. Her nipples stood high, peaking from the chill, as if frozen in time. The room felt frigid. Not a single ember remained in the long dead hearth.
Everything here was dead, except the roses.
Prince Brand stood at the foot of the bed and stared at her nude perfection. His cock grew hard. He'd sought this fabled beauty and her mystical, forgotten castle, and now he'd found the room where Beauty still lay. She looked too beautiful to be dead. Not a single flaw appeared on her face or form.
He pulled roses from the foot of the bed, tossing them to the floor. Slowly he worked his way around, removing the thorn vines obscuring his view. He moved to the head of the bed and carefully pulled the remaining roses from around her face.
A soft sigh escaped her lips. Startled, Brand jumped back and pulled the thick gloves from his hands, throwing them down on the dusty chair beside her resting place. He held his hand under her nose. To his surprise, the subtle breath of life remained in the eons-old body. Slumber? Can it be?
He'd come seeking treasure from the long dead kingdom, but now he found another reward to enjoy. In the halls below, dried corpses lay where they had fallen on a typical day as they went about their usual work. But here, the princess lay alive and as perfect as the day her city had fallen to the evil plague of the death roses.
Brand removed his armor carefully, afraid to touch the roses scattered on the floor. His cock throbbed. The bards sang ancient tales of Beauty's unequaled perfection, but she was more perfect than words could describe. The girl's supple body cried out for his hands and lips.
Naked, Brand carefully crawled onto the bed. It dipped under his weight and another soft sigh left the girl's red lips, which seemed to be begging for his kiss. He touched her face and felt the smallest trace of warmth. He refused to let such a sexy body go to waste. He let his hand slowly trail from her cheek to her neck, then her collarbone, and then the soft globe of her breast. He tweaked the nipple and her body stirred.
Brand sucked the pink pebble into his warm mouth, drawing hard on her nipple. The princess arched her back. He glanced at her face, but she hadn't awakened. He moved his mouth to the waiting twin, suckling hard. Her soft mewing cry spurred him on. He reached up to fondle the other breast, and her mews became throaty gasps.
Kissing down her stomach, he twirled his tongue into the small navel. She shifted. Brand looking up at her face expectantly, but her eyes remained closed. He worked lower, his mouth hovering just above her pussy. The musky womanly fragrance heightened his lust and he spread her naturally covered lips to gaze on her intimately.
Smiling, Brand flicked his tongue over her clit, and the princess's hips bucked. He lapped at her with ferocity, savoring her taste. Beauty cried out, bucking wildly under his mouth. Brand could take no more. Her body seemed to beckon to him. Climbing to his knees, he hovered above her, slowly, carefully sliding his ready cock into her tight, hot pussy. She was dripping wet for him and his mind barely registered she was no virgin before he began pumping into her wet cunt.
Her eyes flew open and he stared into the bright blue orbs. Brand felt his face grow hot and flush as he realized just how shocking his actions would appear. But a sensual smile spread across her face as she stretched her arms above her head. "My prince, you've finally come."
"My lady, I…"
"Fuck me," the sweet young voice commanded.

Protect and Serve: Savage Wolf by Silvia Violet
Blurb:
I'm Wolf, Officer Aidan "Wolf" Savage. I'm a werewolf. But unlike most of my kind these days, I'm one of the good guys even if I do scare the hell out of most people the first time they meet me. When a white-tailed deer shifter comes leaping into my life, she makes my body hotter than an erupting volcano. She's on the run, and she doesn't want my help. But I'm not about to let her get herself killed, and I'll use any means necessary to keep her safe.
Excerpt:
I tried to make myself be a gentlemen and roll off my naked little shifter. But werewolves aren't gentlemen. I heard her racing heart and smelled the hot cream between her legs, and my wolfish side begged me to shove her legs up onto her chest and bury my cock in her pussy. Then she shocked me by opening her legs and inviting me in. How could a man say no?
And, by all that's holy, she said those four words that just about made me lose it before I'd even gotten inside. "I like it rough." Just what an alpha wolf like me needs. A woman who appreciates my appetite.
When I drive into her, holding nothing back, she cries out. Her pussy holds me tight. I fight to hold still and let her adjust to my size. But she wraps her legs around my hips and bucks against me.
"More," she begs, and I'm not about to deny her. I slide out nearly all the way. She whimpers.
I thrust back in, and she groans, "Yes." After that I ride her hard and fast. She meets every stroke, slamming her hips against mine. I fuck her with brutal strength, and she keeps crying for more. I'm in heaven.
Her gorgeous breasts bounce up and down in rhythm with my thrusts. I can't wait another second to get better acquainted with them.
I shift my weight to one arm, and use the other hand to cup the tantalizing flesh, which is as soft and smooth as it looks. I slide my thumb back and forth over her tightly puckered nipple, and I'm rewarded with a sharp cry.
I keep up the light, teasing strokes. She arches toward my hand, whimpering. I pinch and tug on the pink bud. She bucks so hard she nearly unseats me. "Yes, God, yes!" she cries.
I need one of those sensitive nipples in my mouth like I need to breathe. I grab her hips, holding her firmly on my cock as I sit back on my heels. She lets her torn dress and bra slide from her arms. Then she wraps her arms around my neck and pulls herself up until she's seated in my lap. Now I can lick and suck and bite those hard buds all I want while driving myself even deeper inside her tight, wet cunt.
As if she can read my mind, my doe pulls my head down to her breast. I draw a pink tip into my mouth and suck hard, letting my teeth sink in just enough for her to feel them. She cries out, digging her hands into my scalp. "Harder, oh God, harder. I . . ."
I glance up without letting go of her nipple, desperate to know what she wants to say. Her deep brown eyes are wide and filled with need. "I like it to hurt."
I nearly choke around the hard flesh in my mouth. Have I died and gone to werewolf heaven? I bite hard enough to make her scream. She writhes against me. Before she's recovered, I give her other nipple a vicious pinch.
Buy it at Amazon.
Buy it at ARe
Buy it at Changeling Press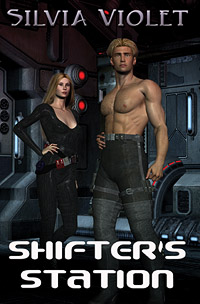 Shifter's Station Collection by Silvia Violet
Years ago, the Terran Government betrayed special forces officer Marc Devlin, forcing him to flee for his life. He rescued several fellow officers and built a new life as the head of his own mercenary force. When he captures a beautiful Cerian diplomat, he thinks to torture the man to learn Cerian secrets. Instead, he finds a lover. Months later, Marc and his Cerian lover, Kirlos, take a young woman captive, fearful she might be an agent of one of Marc's oldest enemies. The two men strike a bargain with her that lands her in their bed for a month. As they dole out exquisite torment with their Cerian sex table, passion builds and turns to love. But Marc and Kirlos must fight to keep her and the life they've made for themselves.
This e-book collection contains the previously released Shifter's Station series novellas Pilot's Bargain, Pilot's Heart, Loving the Enemy, and Eye of the Tigress.
*Warning: This is an X-rated excerpt*
Excerpt from Book 2: Pilot's Heart
"I want you at the side of the table."  Larissa didn't move, unsure if Devlin were directing her or Kirlos.  "Now.  Both of you."
Larissa took a deep breath as she stepped up to the long side of the Cerian sex table  Anticipation zinged through her body.  She'd expected a simple spanking but Devlin obviously had something more complex in mind.  Whatever it was, it would ultimately be delicious but with his current mood, she knew he would work them both over thoroughly first.  She glanced over her shoulder at him.  Why did he have to look his finest when he was about to deal out pain?
"Table, take their wrists and stretch them out."
Tentacles snaked out and captured Larissa's wrists.  They pulled her forward until her chest lay flat on the table.  She raised her head enough to see Kirlos lying beside her in the same position.
"Secure their ankles."
More tentacles slid over the side of the table and dangled down until they reached her feet.  They wrapped her ankles to two of the numerous thin legs that supported the table.  Devlin leaned forward and caressed her spine.  "Ready?"
She nodded and sucked in her breath.
Out of the corner of her eye, she saw him take something out of the drawer at the end of the table.  But before she could register what she saw, he cracked it against her ass.  Lines of fire sizzled down her legs and up her spine.  Gods of earth, it was his most wicked crop.  It had a large, soft, leather loop at the end that delivered a fiendish sting.
He caressed her other buttock with the tip.  She tensed, waiting for the blow.  She heard it snap but didn't feel any pain.  Then she realized he'd hit Kirlos.  She opened her eyes and peeked at the Cerian, watching him as Devlin nailed his ass again and again.  Kirlos's teeth sank deeply into his dark, red lips.  His ribs expanded and contracted rapidly, but he didn't make a sound.  He loved to make Devlin work for the cries the captain wanted to hear.
She was so mesmerized by Kirlos's beauty that she failed to notice Devlin shifting his attention to her.  His blow caught her by surprise, and she screamed.  The sound echoed in the room.  She forced herself to focus on the sound rather than the fire on her ass.  Devlin kept the blows coming fast and hard.
Finally, he stopped.  Larissa floated, feeling lost and unaware until Devlin laid his hand on her back.  "Deep breaths."
She obeyed without thought.  Pushing his hand up as she pulled air in until her lungs could take no more.  Then, Devlin pushed his hand down, forcing her to exhale.  "You're mine, and I will protect you."
His voice had a haunted edge to it.  She wanted to turn over and pull him into her arms.  She longed for him to accept the comfort she wanted to give.  But sending her to heights of sensation and pleasure was his way of working through his emotions,.  She smiled as she thought how life with him could be a lot worse.
Pleasure rushed in to fill the void of sensation as her pain receded.  She squirmed her hips against the side of the table.  Devlin slapped her sore ass with his palm.  "Don't move".  She fought for control as her body screamed for release..
Devlin slipped two fingers inside her and pumped them in and out.  She pushed back against him.  Another slap with his hand.  "I said don't move."  He drew the nails of his other hand slowly, deliberately across her welted ass.  She sucked in her breath and squeezed her eyes shut, fighting the pain.
"Relax and breathe."  Devlin wiggled the fingers he'd kept inside her, curling them against her g-spot.  She panted. How could she possibly relax if he expected her to stay still?
"Table, wrap her hips."  A tentacle streamed out and circled her upper thighs right under her buttocks, pinning her to the side of the table.  Devlin worked his fingers under it and started plundering her again.
She gasped as he flexed his fingers, filling and stretching her.  As he kept driving in and out, she fought the growing wave of orgasm, knowing he would expect her to wait for permission.
Buy it at Changeling Press.
Buy it at Amazon
Buy it at ARe