Sweet Treats: Lemon Cupcakes
Jul 21, 2011 Filed under: recipes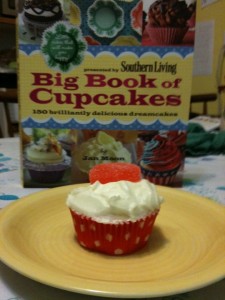 My daughters and I made these lemon cupcakes from the Big Book of Cupcakes last week. They were delicious and great for helping us think cool thoughts in the heat. We topped them with orange candies because we couldn't find lemon ones.
Lemon Cake
3/4 cup milk
1/4 cup lemon juice
1/2 tsp lemon extract
1 cup butter, softened
2 cups sugar
4 eggs
3 cups flour
2 tsp baking powder
1 tsp salt
Heat oven to 350F. Combine milk, juice and extract and set aside. Cream butter and sugar until fluffy. Add egg and mix until combined.  Measure dry ingredients into a medium bowl. Add dry ingredients alternately with milk, mixing after each addition.
Spoon batter into lined cupcake cups, filling them 2/3 full. Makes 24 cupcakes. Bake 18-20 minutes.
Lemon Frosting
1 cup butter
1/4 tsp salt
3T lemon juice
1 tsp lemon extract
3-4 drops yellow food coloring
1 tsp lemon zest (optional)
4 cups powdered sugar
1/4 cup heavy cream
Mix first six ingredients in a stand mixer. Gradually add powdered sugar and cream, alternating the two. Continue mixing until frosting is thick and creamy.
Frost cupcakes and decorate as desired.  Enjoy!