Sweet Treats: Mojito Cupcakes
Aug 8, 2011 Filed under: recipes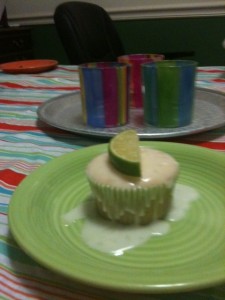 I made mojito cupcakes this afternoon and they were the perfect finish to a lovely staycation day of uninterrupted writing and reading. I'm going to include a link to a white cake recipe but if you'd rather not make the cake from scratch, the Duncan Hines Classic White Cake mix is quite good especially if you replace half the water with milk to make it richer.
Mojito Cupcakes
You can use this recipe for white cake.
Filled lined cupcake cups 1/2 full. Bake as directed and cool completely.
Glaze
3 cups powdered sugar
1/4 rum
1/4 cup fresh squeezed lime juice
1 tsp lime zest
1/8 tsp salt
Mix ingredients together and add more powdered sugar or more rum if needed to make a good pourable consistency.
Pour glaze over cooled cupcakes. Top with lime slices and mint leaves (which got left out in my photo).