Guest Blogger: Lisa Worrall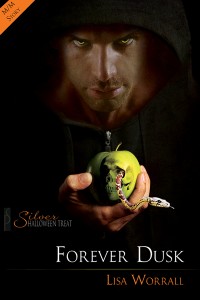 Today we welcome the fabulous Lisa Worrall. Lisa, tell us about your latest release.
I have two already released and one due at the end of this month.  Chasing the Dream is an anthology with Patricia Logan, Sue Brown, GA Hauser and SammyJo Hunt, some of the best in the biz.  Then we have No Strings Attached which has just been re-released this week by Dreamspinners which is about a guy who's first venture into the underground club scene, goes better than he'd ever dreamed.  And released by Silver on the 29 October is Forever Dusk, about Jonah, who gets talked into attending a vampire theme-club with his friend…and meets the club's delicious owner, Sebastian.
What is your favorite genre to write? What other genres do you enjoy?
I really only write M/M.  I used to write M/F, and am hoping to have another tiptoe through that genre, but M/M is really my niche.  I have no idea why other than it comes to me the easiest and flows the easiest.
Do you have a favorite character from one of your books?
Oh, God yes…Carter Gray. Carter is one of the two main characters of Thirst which is being released by Silver in January.  He is a cold, calculating vampire who finds himself in a whole heap of trouble when he literally falls over Detective Max Bowman in an alley after the detective has been attacked.  And like any sensible vampire would do when faced with dessert….he picks him up and takes him home.  I know…Carter had a little trouble with that one too.  Seeing Carter go on this journey with Max and how the other man shows him that yes, he is what he is, but he is still capable of love and being loved in return.  I loved him.
Is there a style or genre of writing that you haven't tired yet but you'd like to explore?
I'd like to explore a little F/F, but I'm not sure…I'm still thinking on that one…
How do you make time in your life for writing?
I'm a stay at home mum, and now the kids are both at school it's easier, but as all writers know, you have to discipline yourself and strap yourself in that seat…or you'll spend a lot of time thinking and not much doing 
I do sooooo know how that goes 🙂
What do you like to read? Do you have some favorite authors?
Stephen King is a stalwart favourite of mine.  The way he draws you in and wraps you in a story, scaring the pants of you and also sending you on a whirlwind of emotions as well, never ceases to amaze me.  In my genre, my favourites are Sue Brown, Chris Quinton, Patricia Logan, Lee Brazil and I've just read and insist everyone else does too, TJ Klune's first release…Bear, Otter and the Kid.  You have to read it – it was fantastic! 
I'm about 3/4 of the way through Bear, Otter, and the Kid and it is blowing me away!
If you decide to take a Saturday off, what are we likely to find you doing?
You are likely to find me *hangs head in shame* in front of the television watching the omnibus of Come Dine With Me.  It's an English show where five people, complete strangers to each other, cook a meal each over five days and the winner gets £1,000.  I know!  I'm sad and pathetic.
Or you'll find me poking the kids while they're on their DS's and watching the TV, complaining that I'm bored and they won't play with me.
Choose six adjectives to describe yourself.
Okay…this is where you tell me I have no business being a writer because I had to look up what an adjective is…I know…I get confused between nouns and adjectives
Me…ummmm….kind, generous, loyal, impatient, insecure, and my daughter's favourite, squishy.
Describe the perfect meal.
No hesitation, no doubts, no queries…steak and kidney pie, mashed potato, onions and gravy.  *Le sigh*
Mmmm sounds wonderful. Comfort food at it's best.
If you were a dessert what would you be and why?
I'd be apple pie…because I can be slightly crispy on the outside…but when you get past it, I'm all gooey and squishy on the inside
Forever Dusk by Lisa Worrall
Blurb:
When Theo decides to drag Jonah to a fabulous new club, he reluctantly agrees. Five minutes inside Forever Dusk, a theme club for wannabe vampires, is more than enough for him — until he catches the violet gaze of the mysterious owner, Sebastian O'Keefe. Inexplicably drawn to the vision of tall, dark and mysterious, Jonah makes a decision that could change his life forever.
Excerpt:
"I believe the gentleman said he wasn't interested."
Jonah turned his head in the direction of the chocolaty voice and winced at the pull on his hair that the movement created. His assailant took one look at the owner of the voice and released him.
"I'm sorry, Sebastian," the oaf slurred, obviously drunk. He turned back to Jonah and held his hands out in a placating gesture. "I should not have been so forward. I overstepped my boundaries. Please forgive me."
"Yeah, whatever," Jonah said, his cheeks flushing with embarrassment at the crowd that seemed to have assembled around them. He turned away and looked down at his beer, desperately willing the people to disperse so he could die quietly. He started when a slender hand fell onto his shoulder and he looked into eyes the color of which could only be described as violet, in a face so ethereally handsome that his mouth actually dropped open.
"I'm Sebastian O'Keefe, I am the owner of this establishment and I would like to extend my apologies for the way you have been treated this evening, Mr…?"
"Michaels, Jonah Michaels," he replied, hoping he didn't sound like a complete moron, because his tongue was currently stuck to the roof of his suddenly dry mouth.
"Mr Michaels, again, my apologies. Braden will furnish you with a drink on the house." He motioned to the bartender. "Please, enjoy the rest of your evening," Sebastian said politely with a nod of his head and turned away.
"Wait," Jonah said on a rush of breath, not entirely sure what he was doing, but certain in that split second he didn't want to stop listening to the lilting, musical quality of the man's voice. "The least I can do is buy you a drink after you defended my honor."
"Thank you, but no," Sebastian replied, his violet gaze travelling over Jonah slowly from beneath lowered lashes. "I have some work to do in the office, and I don't really care for alcohol."
"A soda then?" Jonah blurted as the man turned away. "Tea, coffee… water?" He held out his hands in a hopeful gesture. "I've got a breath mint in my pocket…" /Way to go, Jonah, your best pick up line yet/. He smiled as Sebastian's lips twitched and he tilted his head, gazing at the other man with his best hang-dog look. "Just one?"
"Very well, Mr Michaels," Sebastian replied, "just one."
"Please, it's Jonah." Indicating to the stool beside him, Jonah encouraged Sebastian to sit down.
"Then Jonah it is."
They were only seated for mere moments, Jonah noted, when a cup of black coffee was put down in front of the other man and another microbrew to replace the one he had finished. He swallowed hard as he lifted his gaze and found Sebastian O'Keefe's glittering eyes staring at him.
The man was quite basically the most gorgeous thing Jonah had ever laid eyes on. He was easily over six foot, slender framed, but he could see the muscles clearly defined beneath the close fitting black button down the man wore. Sebastian's hair was jet black and fell to his shoulders in a silky curtain, the ends flicking up to rest on his shoulders, and bangs lay across his forehead. He had thick black brows above what, at first glance, could be mistaken for piercing blue eyes but, on closer inspection, the blue was that of cornflowers, lending a violet hue to his gaze. Violet eyes surrounded by long black lashes which would not have looked out of place on a girl, but didn't feminize the man's strong angular features in the slightest. His straight nose sat above full pink lips, and below that his chin was square and strong, giving a heart shaped appearance to his almost symmetrical face. Sebastian O'Keefe was, quite simply, beautiful.

Comments
Lisa Worrall says:

Thank you for having me my lovely – I had fun – although my daughter informs me that I should have been a cheesecake because it's my favourite – lol
I hasten to add she only knows this because I asked her what dessert I should be.

finance research topics says:

Thanks for finally talking about >Guest Blogger: Lisa
Worrall – Silvia VioletSilvia Violet <Liked it!

health goth says:

I'm gone to inform my lottle brother, hat he should
also go to see this website on regular basis to obtain updated from newest information.