Holiday Recipe Extravaganza – Keira Andrews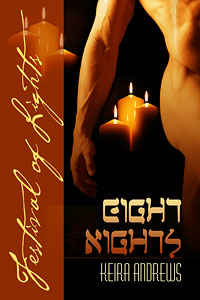 Here's a yummy twist on the standard latke. I think Nate's mother might initally frown upon anything but the traditional latke at Hanukkah, but these are so tasty she'd come around!
Pesto Latkes
2 pounds Yukon Gold potatoes
1 medium onion
4 cloves garlic, minced
3/4 cup packed fresh basil leaves, finely chopped
1/3 cup pasteurized egg substitute
1/2 cup grated Parmigiano-Reggiano cheese
2 tablespoons extra-virgin olive oil
1 teaspoon salt
1/2 teaspoon freshly ground pepper
Preheat oven to 350 degrees F. Coat a 12-cup muffin pan with cooking spray.
Peel potatoes, then grate them through the large holes of a box grater into a large bowl. Squeeze in small batches between your hands over the sink to remove excess moisture. Then grate onion into the bowl through the same holes in the box grater.
Stir in garlic, basil, egg substitute, cheese, oil, salt and pepper. Place a generous 1/2 cup of the potato mixture into each muffin cup, packing the mixture firmly.
Bake the latkes until lightly browned and firm, 45 to 50 minutes. Cool in the pan on a wire rack for 10 minutes before unmolding.
Eight Nights by Keira Andrews
Blurb:
Lucas McKenzie figures spending the holidays with his annoying roommate's family is better than being alone on campus. The last thing he expects is to lust over Sam's brother — or for Nate to actually want him back.
They hide their attraction during Hanukkah celebrations, but behind closed doors, Lucas and Nate can't keep their hands (or mouths) off each other. Nate's only looking for a bit of holiday fun, and amazing sex with a hot virgin definitely fits the bill.
Yet as the candles burn, Nate and Lucas begin to realize eight nights will never be enough.
Excerpt:
As Nate went through the steps, Lucas tried to pay attention. At one point, Nate handed him a pair of rubber-tipped tongs, and Lucas dutifully plucked out a developed photo and hung it on the line. They worked in companionable silence, and Lucas found he enjoyed watching the photographs come to life. They were all black-and-white cityscapes, and he felt a frisson of excitement, knowing he'd get a chance to finally see New York for himself in the days to come. "You took all of these?" Lucas admired the clean lines and unique angles of the photos.
Nate waved his hand dismissively. "Yeah, I'm just messing around."
"I'd like to see what you can do when you're taking it seriously because these are amazing."
"It's nice of you to say so." Nate wiped his hands on a towel and plucked a doughnut from the plate Lucas had left on the counter. "We just need to wait now before we open the door."
Nate didn't seem comfortable with praise, so Lucas stopped talking and took his own doughnut, relishing the sweet, fruity flavor. He couldn't understand why Nate trivialized his talent. Lucas was no expert, but he found the photographs beautiful.
They ate in silence, and Lucas noticed a blob of jelly filling on the corner of Nate's mouth. Before he could think, he reached out, swiping at it with his finger. Their eyes locked, and Lucas froze, his hand still at Nate's mouth.
Oh God, what was he doing?
He stayed in place, not breathing as he and Nate stared at each other in the muted red light. Before Lucas could process what was happening, Nate's tongue curled out and licked the jelly from his finger. A jolt of desire ran though Lucas, and he swallowed thickly, his throat suddenly dry.
Nate turned his head just a bit and sucked Lucas's finger into his mouth.
As Lucas moaned low in his throat, Nate yanked him close, and they were kissing. Lucas's head swam from the explosion of sensations he felt.
He was actually kissing another man.
He opened his mouth and Nate's tongue dived in, probing and stroking as his hands ran over Lucas's back, down to his ass.
Quiet, mild-mannered Nathaniel Kramer was grabbing his ass.
His head swimming, Lucas kissed Nate back, his body alive in a way it never had been while kissing a girl. The scratch of Nate's stubble, his musky scent — every thing about him was so male, and any lingering doubts Lucas had about being gay melted away as he explored Nate's mouth.
They both gasped for air, and Lucas realized that his jeans were undone as Nate sank to his knees. "What are you…?"
Buy it here.
Learn more about Keira Andrews:
Website
Twitter
Facebook