Deanna Wadsworth's Naughty North Pole
Today I'm thrilled to welcome, my good friend, Deanna Wadsworth. She's here to share her latest Naughty North Pole story, Everybody Hates Fruitcake…
How do Santa's Elves shop for Christmas?
Well, in THE NAUGHTY NORTH POLE, Santa's elves really have no need to Black Friday shop or login in Cyber Monday. Since they make toys and gifts at the Workshop, most elves who want to give a gift to their loved ones barter. For example, Pip from PIP'S BOXING DAY WISH rewired the internet connection in the stable bunkhouse in order to have a new fur coat for his boyfriend Erik. It gets cold working out in the stables at the North Pole, so the gift is Pip's way of keeping his lover as warm during the workday as he does at night. Sheila, the head chef has been known to bake cookies in order to get jewelry for her wife Danni. This year, however Danni and Sheila are bartering with something else as a gift for their friend Ivan.
In my fifth NAUGHTY NORTH POLEbook EVERYBODY HATES FRUITCAKE, readers get to meet Ivan, one of Santa's reindeer handlers who work out in the stables making sure Santa's team are ready for the big Christmas Eve ride. But Ivan has been feeling blue lately because he has a secret.
In case you haven't heard all of Santa's elves have candy flavored cum in THE NAUGHTY NORTH POLE LOL And it only seemed right that one of them would taste like fruitcake. Trouble is, Ivan knows all the jokes people say about fruitcake, and he is afraid to tell anyone his secret. He thinks no one will ever find him as delicious as the chocolate and peanut butter flavored guys.
But Sheila—the head chef at the North Pole and supervisor of Santa's Christmas Cookie Baking School—thinks fruitcake is delicious! She has been spending years perfecting her recipe, but has never been able to get it right. When her wife Danni tells her about Ivan….well, let's just say Sheila is in the mood for some taste testing!
~D
Deanna Wadsworth might be a bestselling erotica author, but she leads a pretty vanilla life in Ohio with her wonderful husband and a couple adorable cocker spaniels. She has been spinning tales and penning stories since childhood, and her first erotic novella was published in 2010. When she isn't writing books or brainstorming with friends, you can find her making people gorgeous in a beauty salon. She loves music and dancing, and can often be seen hanging out on the sandbar in the muddy Maumee River or chilling with her hubby and a cocktail in their basement bar. In between all that fun, Deanna cherishes the quiet times when she can let her wildly active imagination have the full run of her mind. Her fascination with people and the interworkings of their relationships have always inspired her to write romance with spice and love without boundaries.
Facebook │ Twitter │Blog │goodreads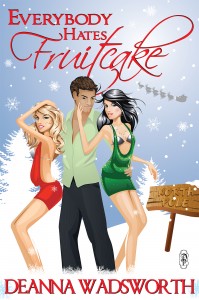 Ivan has the bad luck to be the only elf at the naughty North Pole with fruitcake-flavored cum—and he's not telling anyone. When fellow elf Jimmy hits on him, Ivan fears revealing his secret and losing a chance to have a real relationship with the sexy elf.
After all, everybody hates fruitcake!
Danni's wife Sheila is the Head Chef at the North Pole. Unfortunately, while Sheila hunts for the perfect recipe for fruitcake, she neglects her wifely duties. So when Ivan tells Danni about his dilemma, she devises a plan to solve both of their problems.
Can these two girls help Ivan realize he is perfect just the way he is? Will Danni's wife perfect her fruitcake recipe with Ivan's special ingredient? But most importantly, will Ivan have the courage to take Jimmy up on his offer?
EXCERPT:
A soft hand caressed mine. "Why don't you like Jimmy?"
Naturally, Danni wouldn't let it drop. "It's not that," I answered. "I like him a lot, actually. That's the problem."
She shook her head, her long black ponytail swaying. "That makes absolutely no sense."
"Of course you don't get it." I brushed a lock of silky black hair off her brow. Her bangs were always falling in her eyes, and she didn't flinch from my familiarity. "You're perfect."
Grinning, she said, "Well, that's obvious. But it still doesn't explain why you say you like Jimmy, yet you ignore all his advances."
"Because I don't know if I should do anything about it. He'll just end up being disappointed."
"I'm still going to go with, that makes absolutely no sense." She gave me a head to toe once over. I managed a smile when she tipped back to take in my ass and give me a whistle—she was such a flirt. "You're gorgeous, Ivan. And you're funny. You forget I've seen you take care of those pathetic earthbound reindeer."
"They're not pathetic."
"See what I mean? All the other Dökkálfar in the stables prefer to work with the flyers. But not you. You're kind and patient. A real caregiver. So I ask you, what would Jimmy have to be disappointed about?"
I squirmed in my seat, unsure if I should tell her, but desperately wanting to. I had not breathed a word of it since I'd arrived, preferring to have my choice of lovers, rather than be laughed at like I had been in my hometown. But something about the sincerity, the kindness in Danni's brown eyes made me feel like I should trust her. Like it was finally time to tell someone the truth.
"Because I taste like fruitcake."
Pick up your copy of EVERYBODY HATES FRUITCAKE today!

Comments
Deanna says:

Thanks for hosting me, Silvia!