The Christmas Dragon's Mate is available!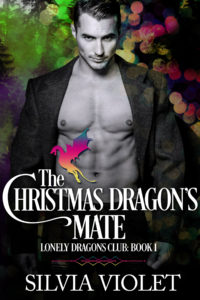 The Christmas Dragon's Mate is the first book in Lonely Dragons Club, an mpreg series where thousand-year-old dragons long for their fated mates.
Best Surprise Ever: Going out to add to your Christmas hoard and finding your fated mate.
Laszlo
I've been longing to find my mate for over a thousand years. When I see him for the first time, he's standing beneath sparkling glass ornaments, like a present waiting to be unwrapped. A present I intend to lay claim to.
If I can lure him back to my lair, I'll shower him with so many gifts he'll never want to leave. Bonded with my mate by Christmas? Yes, please.
Roman
I'm no good at flirting and have terrible luck with men, so when a gorgeous alpha says he wants to take me home, I'm shocked. And wary. My heat is about to start, and I've never shared it with anyone, so why do I suddenly want to say yes to this stranger?
There's something unusual about him, the way his eyes shine, the odd phrases he keeps using. He says he wants to add me to his collection of beautiful things. I should be offended, but instead, I'm intrigued. Just this once, should I take a risk?
Buy It Now: Amazon Global | Amazon US
---
Lonely Dragons Club 2 is up for preorder.
The Snow Dragon's Mate is available for preorder. It will be released on November 29.
The rest of the books in the series will also be available later this year.
The City Dragon's Mate – December 13
The Island Dragon's Mate – December 27