The Island Dragon's Mate is out now!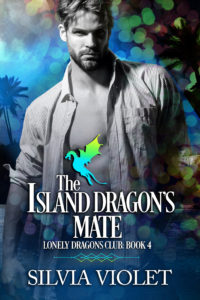 Best Day Ever: When your fated mate washes up on the beach like a gift from the sea.
Desmond
I'd nearly resigned myself to a life alone when the sea brings me a beautiful omega who smells like heaven. I realize he's mine, and I'll do anything to protect him. He doesn't know his name or how he got to my island, but he feels our connection. I wait for his memory to return, but no matter what happened in his past, I won't let it take him from me.
Jonah
I woke up on a beach with a big, gorgeous man standing over me, but I can't remember my name. I should be afraid, but I'm not. This man feels safe, his touch comforting. Even when I learn he's actually a dragon, I'm not intimidated. He's caring and protective, and he wants a big, loving family just like I do. I don't want to think about my past, only my time with Desmond. But when my old life catches up with me, I'll have to find a way to face my past while protecting my future.
Buy now or download to read in KU: Amazon Global | Amazon US