Posts Tagged 'sci fi romance'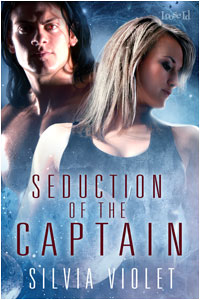 Here's another taste of my recently released BDSM sci fi story, Seduction of the Captain……
Blurb:
Kajinek is a Lalatian Dominant who must feed on fear, pain, and sex for survival. Since leaving his homeworld, he hasn't met a woman who could truly satisfy his needs.
Mercenary captain Saida Alexander needs a pilot for the most dangerous mission she's ever undertaken. She chooses Kajinek, because he's reputed to be the very best. She never suspects that he'll awaken the submissive desires she's ignored for years.
When Saida knocks on Kajinek's door, he senses that she's the partner he's been looking for. He agrees to fly her ship under one condition; she must personally feed his darkest desires. Can Saida give in to what her body wants or will submitting sexually shatter the careful control she wields over the rest of her life?
Excerpt:
Kajinek followed Saida down the corridor toward their quarters, fighting the urge to throw her over his shoulders and run just to get there a few seconds faster. His cock felt like an iron rod in his pants, and the need to take her burned through his veins. At every stop along the tour, she"d managed to brush against him, lean over him, flaunt her body at him, all without seeming to do a thing.
When her ass had brushed his cock as she stepped back into him while reaching for an overhead hatch, he"d almost lost it. He"d planned to introduce her to more of his implements of torment that night. He"d wanted to work her up, make her beg, make her acknowledge what she was to him, but that would have to wait until he got some relief. The second the door to her quarters was closed, he was going to take her hard and fast. Then he was going to torment her until she surrendered her very soul.
Saida laid her palm against the sensor beside her door. Kajinek smiled when he noticed her hand trembling. He breathed deep, drawing in a satisfying stream of hunger and fear.
The door slid back. Saida stepped through. He stepped in behind her, so close they were nearly touching. She smacked the interior sensor. The door slid closed ever so slowly. Kaj didn't move. Neither did Saida. The door clicked shut.
"Full privacy screens." Saida's voice was low and husky.
The control computer responded. "Confirmed."
Kaj grabbed her shoulders, spun her, and slammed her back against the door. He crushed his lips to hers in a brutal kiss. He wasn't interested in finesse or seduction or even forcing her submission—he simply wanted. Wanted what she"d been flaunting all night, wanted relief from the hunger that raged through him.
"Fuck me," Saida demanded, arching her hips to slide her pussy along the hard length of his cock.
He felt the heat of her through her suit and his pants. But that wasn't enough. He needed her naked; he needed to be inside her. He needed to make her scream. But he couldn't seem to tear himself away from her mouth.They bit and sucked at each other. Their tongues were like weapons fighting to devour each other. She dug her nails into his back, tearing into him like the claws she could form. He groaned and used his hips to pin her to the wall while he ground his cock against her pussy lips, which were as clearly defined against her suit as if she were already naked.
She growled and bit his lip hard enough to draw blood. Pleasure jolted through him. He might not need pain like a submissive did, but he"d been taught to appreciate any heightening of sensation. He sucked her tongue into his mouth so hard, she groaned and bucked against him, trying to get him to move, working her clit against the hardness of his shaft. He drank down her fierce need, wanting more, wanting her surrender, wanting to eat her up.
She raked her nails down his back—no longer fingernails, but claws—ripping the fabric of his shirt. He gasped and pulled away from her. Her eyes burned with passion, but they still looked human. "Saida?"
Her need assaulted him, nearly making him choke. She struggled to draw in air. "I'm controlling it. Some of my lovers…like the…danger. I thought you…would too." She worked the fastening of his pants. Once she got them open, she shoved them over his hips, freeing his cock.
She wrapped her still-clawed hand around his cock and slid it up and down. He didn't think it was possible to get any harder, but she proved him wrong. He was supposed to be the one who inspired fear, the one who fed his partner"s need for danger, but the sight of her claws wrapped around his cock was making him hotter than he"d thought possible. If she didn't stop soon, he was going to come.
"Enough." He closed his fingers around her wrist. She released him, but she trailed one of her claws down the length of his cock, barely skimming the delicate skin. He sucked in his breath. His cock jerked, reaching for her touch, wanting the danger she offered.
Saida chuckled. "I knew you were addicted to danger."
Anger burned inside him. How the hell had she gotten the upper hand? As soon as he"d slaked the lust burning through him enough to think again, he was going to torture her until she begged to serve him. He"d make her his slave. He looked up, letting her see the anger burning like fire in his eyes. "You have no sense of self-preservation."

Here's a second excerpt from my brand new m/m/f, BDSM, sci fi release, Shifter's Galaxy: Accommodating Desire. Read the first excerpt here.
Accommodating Desire by Silvia Violet
A sexy captain, his dominating security chief, an outrageous proposition. How could a girl say no?
Lucy Vasilia is the director of the Alkestis Market, a well run trading center catering to both legitimate and black market concerns. She's not a woman who normally mixes business with pleasure, but shipping tycoon Ian Hadley's dominating presence and cool control make her knees weak.
When he matter-of-factly proposes a three way with his lover, Security Chief Connor Langley, she decides to make an exception and give herself over to pleasure for an afternoon.
But Ian and his dark, dominating lover want far more from her than a few hours' dalliance. They intend to make her acknowledge their soul-deep connection, and they won't be satisfied until they've claimed her in every possible way.
Excerpt:
Ian ran a hand over her hair. "I do believe Langley enjoyed the show. You may stand and turn so he can get a better look at you."
Lucy did as he asked. Hot desire stabbed through her core, and her legs shook as
she got her feet under her. Her pussy was so wet from the delicious taste of
Ian's cock that she could feel moisture on her inner thighs. She thrummed with
need to look at Langley, but she knew what he and Ian expected, and she craved
their mastery even more.
After several long seconds, Langley spoke. "Look at me."
She raised her eyes slowly, taking in the supple leather boots that encased his
lower legs, the powerful straining muscles of his thighs. The massive erection
outlined so clearly by his tight leather pants. His flat stomach and wide
shoulders.
Finally, she looked at his beautiful face. His long black hair was pulled back
in a tight braid and his forest green eyes showed a combination of hot need and
icy control that made her stomach flip flop. Ian's dominance made her squirm,
but this man might be able to touch her very soul.
Ian ran a finger slowly down her spine. She couldn't help but arch into his
touch. Langley smiled and she feared she might melt into a puddle.
Buy it here.

Shifter's Galaxy: Accommodating Desire is an m/m/f BDSM sci fi story set in the same world world of my Shifter's Station collection and it's coming your way in less than a week. Here's a little sneak peak…..
Shifter's Galaxy: Accommodating Desire
by Silvia Violet
Ian Hadley opened the door to the reception area for the Alkestis offices. A Vindolesian with the characteristic grass green hair and onyx eyes burst out of Ms Vasilia's office. "Stupid bitch," he yelled as he threw a nano tablet at the receptionist, narrowly missing her head. "If that slut thinks she can keep us out of her fucking market, she's even stupider than I thought."
Ian stepped into his path. "You would be wise to retract that last statement."
The Vindo shoved at Ian's chest. "Fuck off, asshole."
In one swift motion Ian drew his plasma gun and shoved the man up against the wall, weapon pressed under his chin. "If I or one of my employees hear you refer to Ms. Vasilia like that again, those will be the last words you ever speak."
"Jeez, lighten up man. You fucking her or something?" Ian shoved the weapon harder against the man's chin. The Vindo made a choked gasp. "Fine. Fine. I'll lay off your girlfriend."
"I respect the women I do business with, and I will defend their honor even if that means some asshole has to die. Don't let me see you on this station again."
Ian stepped back and the Vindo scrambled to the door and disappeared down the corridor.
***
Lucy Vasilia electronically signed a document and folded her nano tablet before looking up at Ian Hadley. She made a final, slow perusal of his well-toned physique, suppressing a sigh that their meeting had come to an end. "That should conclude our business. I've sent a copy of the contract to your ship's computer."
He smiled, a slow, sensuous curve of his lips. "Excellent." He made no move to leave her office.
"Did you have further questions?" Lucy managed to keep her tone professional though he made her want to purr.
"I do have one question." He paused, his bright blue eyes hot and unrelenting. "Would you like company?"
Lucy titled her head and stared at him. "For what?"
His smile deepened. "When I fuck you."
Lucy sucked in her breath. "Presumptuous, aren't you?"
"I've seen your eyes drifting down to my cock. You want this as much as I do."
She stared pointedly at his crotch. His erection threatened to burst one of the seams of his expensive suit. "You certainly are making a rather impressive display."
He smirked. "Indeed."
"I assume you'd like your Head of Security to join us?"
"Ah, so you did do your homework."
"I never meet with anyone I haven't researched thoroughly. You hired Langley at Captain Devlin's suggestion." It was a statement, not a question.
Ian nodded. "Devlin said to tell you hello by the way."
"Did he indeed? I take it Chief Langley isn't fully human."
Ian shook his head. "He's not, but I have the impression you won't be disturbed by his particular needs."
She grinned. "I'm not as fragile as I look."
"I never thought you were. So what will it be? How much hard use are you game for today?"
She nearly choked. "I can take whatever you and your lover want to give."
"You may live to regret that statement. When?"
She held up a finger signaling him to wait and pressed a button on her desk unit, paging her receptionist. "Cynthia."
"Yes, Director?"
"Cancel my next two appointments."
Ian raised his brows, studying her curiously.
A sharp voiced erupted from the comm. Unit. "With all due respect, Director, the delegation from-"
"My business with Mr. Hadley is taking longer than expected. I will simply have to reschedule."
"Yes, Director." Cynthia sounded resigned.
Lucy looked at Ian, fighting the urge to tremble. The sexual heat in his eyes was devastating. She'd never slept with a business associate, and she'd certainly never cancelled an appointment so she could get a quick fuck in her office.
Then again, she couldn't recall a man who'd ever turned her on as hard and fast as Ian did. She'd glimpsed him with his lover as she'd headed to dinner the night before. Connor Langley was a glorious mix of beauty and pure animal power. He moved with a panther's grace, but she had no doubt he could kill most men one-handed. She'd been working her ass off. She deserved a treat. "Call Langley now."
He pressed a button on his wrist unit. "Langley, you're needed in the Director's office."
"Is there a problem, sir?"
"No, we are simply in need of a . . . consultation."
"I will be right there, sir, " Langley responded.
Learn more here.