Vampire Week – Silvia Violet
If You Like Alphas, Try A Vampire by Silvia Violet
When I was younger I was extremely squeamish. I could easily work up a swoon worthy of a Victorian lady when confronted with a vampire's elixir of life. I would tell any nurse or doctor who was about to stick me with a needle that I needed to lie down first lest I faint. With this aversion to blood, I'd always assumed reading about vampires would bring all my squeamishness to the surface. I was so wrong.
In a weak moment, I let my husband convince me to watch Bram Stoker's Dracula (the version starring Gary Oldman). Knowing my reading choices and my darker fantasies, he swore I'd find vampires all too sexy. Hw was right (and I don't say that often). Rather than being squicked by Dracula, I was aroused. Next we watched Interview with the Vampire and yep, you guessed it – not icky, just oh so hot. My interest in vampires took off from there and soon I was convinced that vampires were sexy as sin.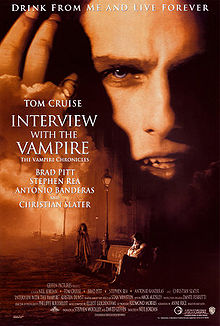 So what makes vampires so hot that a woman who disliked seeing blood could get off on watching them feed? They fuel all my domination fantasies. They are stronger, faster, and more dangerous than a human man. They can seduce you, overpower you, even make you offer your blood – the ultimate surrender. Then there's the thrill of the chase. They'll hunt you down, capture you, and take what they want. Add to that the kick of adrenaline from fear. How much blood will they take? Do they have a good side, or are they only thoroughly wicked? Oooh, it's enough to make a girl with Alpha male fantasies squeal.
Having found so many reasons to lust after vampires, I went on a quest for vampire romances. I read several with angsty vampires who wished they could be human again. These were not the sexy, take charge, bad boys I wanted. Then I discovered Angela Knight's vampires. I drank down her stories from Red Sage's Secrets anthologies, the heroes in "Blood and Kisses", and "Candidate for the Kiss" thoroughly fulfilled my need for sexy vampires.
And the hottest vampires I encountered? Julian, Dominic, and Andre from Angela Knight's "The Bloodslave". This story remains a favorite that I re-read frequently. A hot alpha vampire in space, what could be better? How about three of them at once, and did I mention they like to use restraints? This story is currently out of print but it will eventually be available again from Berkley Heat.
These stories furthered my obsession with vampires and inspired my own alpha male characters be they vampires, werewolves, simply strong-willed humans.
My newest release features two alpha vampires, Niall and Ethan. They serve the vampire consulate as Protectors, assassins who eliminate threats to both vampires and the humans they feed own.
Here' a sexy excerpt: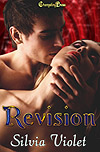 Revision by Silvia Violet
Blurb:
Vivian used the power of the written word to free Niall from an evil wizard and discovered a world of vampires, magic, and incredible sex she thought existed only in her fantasies. Now the wizard's power is growing and Vivian and Niall must work with the Vampire Consulate to destroy him before he unleashes his power on humans and non-humans alike.
As danger intensifies, Vivian and Niall's connection strengthens until there is no doubt she is his Companion. Their desire for one another rages out of control, but will fear of what the future holds keep them from sealing their bond?
X-rated Excerpt
Niall's mind was a riot of emotion: fear, resentment, and overriding it all, hot, stabbing need. He'd spent months trapped, unable to do anything but wait for someone to answer his call. Then Vivian had saved him, and he'd paid her back by irrevocably altering her life.
He wanted to rip something or somebody apart. But if he could lose himself in Vivian, he might be able to forget how badly he'd screwed this mission up, at least for a few minutes.
She held out her hand and walked backward toward the bedroom door. He followed, fighting the urge to drag her to the floor and take her right there. He could wait until they got to the bed. Maybe. But she was damn beautiful with her dark curls tousled from sleep and her hazel eyes burning with passion.
His control broke as they entered the bedroom. He lifted her and tossed her on the bed, crawling on top of her and pinning her arms above her head. His hands closed around her wrists.
Her eyes were wide, lust tinged with fear filled the air. He breathed it in. "I have no restraint right now. This is going to be hard, rough, and fast. Are you ready?"
She nodded even as her fear spiked. "Dear God, yes."
He drove deep. She screamed. He fought for control, stabbing his lip with his fangs to distract himself. Did I hurt you?
Her thoughts were a wild mix of need and fear, and they were delicious. Yes. Sore. Don't Care. Like it.
The last hold on his control broke with her hot confession. He pulled back and shoved in, sinking in her to the balls. Her legs locked around his back.
He fucked her mercilessly, needing to claim her, devour her. He'd used her hard all night, but he couldn't get enough. He didn't think he'd ever slake his hunger for her. Every story about the Companion bond described the insatiable hunger that consumed the vampire and his Companion and gave them the stamina to fuck for days on end.
He shifted his position so he could lick and suck at her breasts. When he bit down on one of her nipples, Vivian's nails dug into his back. He snarled and sucked harder. She bucked against him.
I'm going to make you scream for me.
Please!
He sank his fangs into her breast.
Learn how Niall and Vivian met in Stranger Than Fiction

Comments
Selena Illyria says:

Excellent post. I hated needles growing up, now they're just a pinch. There's just something about vampires, I suppose the monster and the man all in one. *shiver* You're making me want to write one.

G W Pickle says:

This is a great post. I'm sorry that I just found out about this vampire week today. All of the posts are very good. The only needles I don't like are the ones aimed at my rear end. It is a long story. I like vampires so much that I wrote my first romance novel as an erotic vampire story. I've gotten excellent responses from readers telling me they loved my version of vampires.
IMHO Vampires are the ultimate romance character. I grew up watching all the classic vampire movies and now there is such a wealth of vampire novels for us vampire junkies to overdose on.