Guest Blogger: Cassandra Carr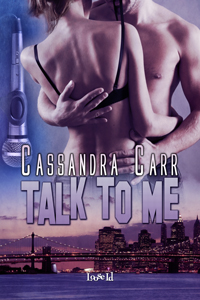 Welcome to author Cassandra Carr! Thanks for joining us today, Cassandra. Tell us about your latest release.
Talk to Me is a fun, sexy story about a woman named Jamie. She's a radio producer who takes a position at a sports talk radio station in New York City. There she meets the host, Drew, and hears his voice, which has this incredibly sexy, raspy vibe. As they work together and Jamie is forced to listen to him talk for hours on end five days a week, she becomes more and more attracted to him. He's attracted to her as well, but is trying to keep his hands off because she's a great producer and he doesn't want to mess that up. One night, though, Drew catches Jamie in a compromising position at the radio station and all hell breaks loose in the best possible way!
What is your favorite genre to write? What other genres do you enjoy?
My favorite genre to write is contemporary erotic romance. I'm good at it and the words flow for me. I also write non-erotic contemporary romance.
For reading, I am interested in a lot of genres. About the only thing I stay away from is sci-fi romance. I'm not crazy about paranormal (sorry to all the folks who write it), but there is some that I do read.
Do you have a favorite character from one of your books?
Well, I love love love all my heroes, but my favorite character is the first hero I ever wrote – Sebastian from Should've Known Better. The book is still unpublished, but he's just a doll and I adore him. Incidentally he's one of the youngest heroes I've ever written, so he's got that irresistible combination of manliness and youthful enthusiasm.
Is there a style or genre of writing that you haven't tired yet but you'd like to explore?
There are some genres, like historical, that I'd love to try my hand at, but I figure – go with what got you where you are!
How do you make time in your life for writing?
*snort* I write when my toddler is napping or after she goes to bed. I'm also lucky that her paternal grandmother only has one grandchild and so she babysits my daughter once or sometimes twice a week. She'll be in preschool two mornings in the fall, and I'm hoping to get her into a private day care maybe one other day.
What do you like to read? Do you have some favorite authors?
I read a wide variety of romance. I've read other genres – literary fiction, mystery, etc, but I love romance! Oh man, I have a lot of authors I love. In historical, Lisa Kleypas is excellent. I also love Jennifer Crusie, especially the books she co-authored with Bob Mayer. Agnes and the Hitman is a hilarious book! Deidre Martin and Rachel Gibson do a good job with hockey romance.
In erotic, where do I start? *takes deep breath* Miranda Baker, Camryn Rhys, Cat Grant, Viki Lyn, Scarlett Parrish, Natasha Moore…the list goes on. There are so many great erotic romance authors! Overall, my favorite author is Maya Banks. I met her at this year's Romance Writers of America conference and went totally fangirl on her. I think she may have a restraining order against me now. <g>
If you decide to take a Saturday off, what are we likely to find you doing?
Usually something with my family. This upcoming Saturday is our annual summer party – we do a clambake and the church right by us kindly provides fireworks practically in our front yard (their summer festival is the same day).
Choose six adjectives to describe yourself.
Oh geez…let me think: tenacious, reliable, protective (if you're mean to my daughter, watch out!), dry-witted (is too an adjective!), fidgety, and loyal.
Describe the perfect meal.
Sushi, steak, ice cream. BAM! Oh, you wanted details? Well, I love sushi, so starting out with a nice dry white wine and a couple of rolls, followed by a nice juicy filet mignon with a good red wine, sounds pretty perfect to me. And ice cream melts into the crevices in your tummy, so there's always room for it!
If you were a dessert what would you be and why?
Probably an Oreo cookie: one thing on the outside, another on the inside. (Oooh, mysterious answer!)
Thanks so much for having me!
Thank you for being here!
Excerpt: Talk to Me by Cassandra Carr
By the time the show ended and Jamie thought about how long it would take her to shut everything down for the night, then hustle herself off to the subway station and take the three different trains to get to her apartment all the way out in Brooklyn, she was truly afraid she would self-combust.
Drew ran out of the place like a bomb scare had been called in, so at least she didn't have to worry about him anymore. Nonetheless, Jamie waited a good ten minutes past when she was finished with her nightly duties, then made her way back to the small production room where she and Drew had recorded his promo earlier. She knew a copy of it would still be stored on the computer in the room, and after scooting in and shutting the door, she booted it up. She told herself she needed to check it one more time before giving it to the station manager tomorrow, but who was she kidding? She needed to hear him but in a safe environment. Where she couldn't do anything stupid. She needed his voice to weave inside her, through her, like a drug.
The rough yet strangely melodic sounds of Drew's voice drifted over Jamie as she leaned back in her chair. Closing her eyes, she pictured his face in her mind — his to-die-for lips traveling down the length of her body, just as her hand was doing at the moment; his navy blue eyes, focused only on her as he brought her to orgasm… She reached the button of her jeans and eased them open, propping her feet up on the desk.
She couldn't believe she was doing this at work, but no one was around, and if she didn't do something to assuage this ache, she was likely to jump him the next time she saw him. Bad idea. Bad, bad idea. Fantasizing about the man was one thing; straddling his powerful, muscular thighs in the studio chair and offering herself to him was another. That thought brought another rush of heat to her pussy, and she moaned. She needed serious help.
At first she just teased herself a little, rubbing outside her panties, but it soon became too much. She needed relief too badly to continue to torment herself. As Drew's voice continued to assail her from all directions in the small, windowless room, she pushed her hand down inside the waistband of her panties and through her curls until she found the damp center of her sex. The sweet smell of her musk wafted up to tickle her nose, arousing her even more.
Twirling her fingers as much as the constricting position allowed her to, she imagined they were Drew's tongue instead. She let out a plaintive moan as the picture caused her juices to flow even more, soaking her fingers. Plunging two of them into her pussy, she pressed her thumb on her clit, craving the direct stimulation. Jamie gasped as shock waves of pleasure shot from her pussy through her clit and up her spine, her back arching. And through it all, Drew's voice urged her to new heights.
BIO:
Cassandra Carr lives in Western New York with her husband, Inspiration, and her daughter, Too Cute for Words. When not writing she enjoys watching hockey and hanging out on Twitter. Her debut novel, Talk to Me, was released by Loose Id on March 22, 2011. For more information about Cassandra, check out her website, "like" her Facebook fan page or follow her on Twitter.