Sweet Treats: Pecan Pie Cupcakes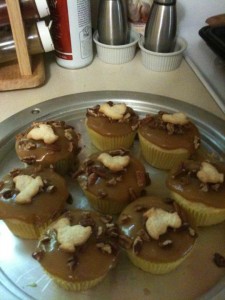 My daughter thought these would be the perfect back-to-school cupcakes so we made them this week and they were amazing. They're my favorite of all the new cupcakes we've tried lately. The pie crust cut outs that we put on top were supposed to be leaves but we didn't have a small leaf-shaped cutter so we used a duck.
The Frosting
1 cup heavy cream
1 cup dark corn syrup
1 cup brown sugar
1/2 cup cornstarch
4 egg yolks
1/4 tsp salt
4 T butter
1 tsp vanilla
Stir first six ingredients together in a saucepan. Cook over medium heat until boiling, stirring very frequently. (I often play fast and loose with directions that say "stir constantly" but this mixture sticks fast!) Allow to boil for a minute or until thickened. Take off heat. Stir in butter and vanilla. Lay plastic wrap against the surface and chill in refrigerator for at least three hours.
The Cake
1 cup butter
1.5 cups sugar
4 eggs
3 cups flour
3 tsp baking powder
1 tsp salt
1 cup milk
2 tsp vanilla
Preheat over to 350F. Cream butter and sugar in mixer. Add eggs one at a time, mixing after each addition. Sift dry ingredients into a medium mixing bowl. Add vanilla to milk. Add dry ingredients alternately with milk, starting and ending with dry ingredients. Mix until thoroughly combined. Fill lined cupcake cups 2/3 full. And bake 12-15 minutes.
The Toppings
1 cup toasted pecans
Pie crust rolled out and cut into leaves or other small shapes and baked at 450 for 5-10 minutes or until lightly browned.

Comments
Hank Edwards says:

OMG. How did I miss this? These look amazing! Thanks for posting the recipe.

Silvia says:

They really are crazy good. So worth the time to make them. The cake part takes a little like sugar cookies and is awesome 🙂

Staci says:

s a universal fact that to compete with your business competitors you have to promote
your business product. Furthermore, they are constructed
to last a long time they can be recycled for
other uses.