Dinner with a Hero: Lee Brazil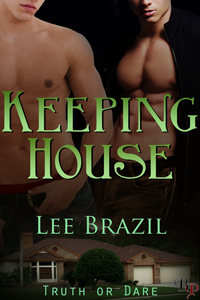 Today I have charming fellow food enthusiast, Lee Brazil here to share a dinner in honor of his delectable hero, Mischa Blake…..
I'm so thrilled to be asked to contribute to this feature, because food is my other hobby.  Writing, reading and cooking are the three things I cannot live without.  There's always a meal of some kind in my books, and one of my favorite things about Keeping House was finding recipes for Mischa to use.  Mischa's never cooked a thing in his life, see?
Just like he's never cleaned, done laundry or anything else.
However, he's resourceful.
And he has the internet.
Google to the rescue.
In honor of Mischa, my menu today is all from Google, all easy to prepare and tasty.
Appetizers:  Angels on Horseback
"Bacon-wrapped oysters are seasoned with smoked paprika and roasted until crisp in this addictive appetizer."
INGREDIENTS:
12 shucked oysters
12 slices bacon
1/2 teaspoon salt
1/8 teaspoon ground black pepper
1/8 teaspoon smoked paprika
2 tablespoons chopped fresh parsley
DIRECTIONS:
1.    Preheat an oven to 450 degrees F (230 degrees C). Set a wire rack into a small baking dish.
2.    Wrap each oyster with a slice of bacon, and secure with a toothpick. Sprinkle with salt, pepper, paprika, and parsley; set onto wire rack.
3.    Bake in the preheated oven until the bacon is crispy, 10 to 12 minutes. Serve immediately. They aren't as good once they get cold.
ALL RIGHTS RESERVED © 2011 Allrecipes.com    Printed from Allrecipes.com 6/23/2011
Salad: Tomato and Avocado Salad
"A very simple, very delicious salad, that makes a perfect starter for dinner parties."
INGREDIENTS:
1 teaspoon Dijon mustard
1/4 cup extra-virgin olive oil
1/2 cup balsamic vinegar
1 pinch ground black pepper
1 avocado – peeled, pitted and sliced
2 small tomatoes, each cut into 8 wedges
DIRECTIONS:
1.    In a small bowl, whisk together the mustard, olive oil, balsamic vinegar and pepper. Arrange the slices of avocado and tomato alternately like the spokes of a wheel on one big serving plate, or individual plates. Drizzle lightly with the dressing, and serve immediately.
ALL RIGHTS RESERVED © 2011 Allrecipes.com
Entrée:  Steak au Poivre
4 (3/4- to 1-inch-thick) boneless beef top-loin (strip) steaks (8 to 10 oz each)
1 tablespoon kosher salt
2 tablespoons whole black peppercorns
1 tablespoon vegetable oil
1/3 cup finely chopped shallots
1/2 stick (1/4 cup) unsalted butter, cut into 4 pieces
1/2 cup Cognac or other brandy
3/4 cup heavy cream
Preheat oven to 200°F.
Pat steaks dry and season both sides with kosher salt.
Coarsely crush peppercorns in a sealed plastic bag with a meat pounder or bottom of a heavy skillet, then press pepper evenly onto both sides of steaks.
Heat a 12-inch heavy skillet (preferably cast-iron) over moderately high heat until hot, about 3 minutes, then add oil, swirling skillet, and sauté steaks in 2 batches, turning over once, about 6 minutes per batch for medium-rare.
Transfer steaks as cooked to a heatproof platter and keep warm in oven while making sauce.
Pour off fat from skillet, then add shallots and half of butter (2 tablespoons) to skillet and cook over moderately low heat, stirring and scraping up brown bits, until shallots are well-browned all over, 3 to 5 minutes.
Add Cognac (use caution; it may ignite) and boil, stirring, until liquid is reduced to a glaze, 2 to 3 minutes. Add cream and any meat juices accumulated on platter and boil sauce, stirring occasionally, until reduced by half, 3 to 5 minutes. Add remaining 2 tablespoons butter and cook over low heat, swirling skillet, until butter is incorporated. Serve sauce with steaks.
Courtesy of http://www.epicurious.com/recipes/food/views/Steak-au-Poivre-
Dessert: Grilled Pineapple with Vanilla Ice Cream
Grilled Pineapple
Ingredients
1 ripe pineapple
1/2 cup melted unsalted butter
3/4 cup granulated sugar
1 teaspoon grated lime zest
1 teaspoon ground cinnamon
1/8 teaspoon ground cloves
Ice cream
Directions
Preheat the grill to high. Oil the grate.
Cut the rind off the pineapple, leaving the green leaves intact. Cut the pineapple in half lengthwise through the leaves as well as the fruit to obtain 8 slender wedges of pineapple with leaves intact. Trim the core off each pineapple wedge. Have the melted butter in one shallow bowl; mix the sugar, lime zest, cinnamon and cloves in another bowl.
Dip each wedge of pineapple first in melted butter, then in the sugar mixture, shaking off the excess. Grill the pineapple wedges until browned and sizzling, 5 to 8 minutes per side. Transfer the pineapple wedges to plates or a platter. Serve with ice cream.
©Television Food Network G.P.
Keeping House, Truth or Dare #1
Available at
Breathless Press
Amazon
All Romance eBooks
Blurb:
Mischa knew his brothers were up to something.  He didn't know it would lead him to Donovan Holloway and change his carefree lifestyle forever.
Donovan Holloway, advertising executive, newly made vice president of the company where he's worked for twenty years, grew up in a free love hippie commune taking care of the parents who should have been taking care of him. He's worked hard to put himself through school and achieve the American dream- all he's ever wanted was a normal family life- house in the suburbs, two cars, two kids, a shaggy dog. A family to come home to, to care for, to care for him has been his dream since he was a small boy.
Mischa Blake is the green eyed, liberally pierced, black haired, Mohawk wearing spoiled youngest son of a Hollywood producer and his actress wife. Mischa has made a terrible mistake. In a fit of childish pique he's accepted a dare from his older brothers. The dare? Live on his own supporting himself completely for a year without accessing his trust fund. No problem. Except Mischa has never worked a day in his life, hasn't finished college, and has absolutely no skills that he can bring to the table.
So when he sees Donovan's ad for a housekeeper/gardener, he has nothing to lose by applying, because really…how hard can it be?
Excerpt:
"So, tell me why you want to work for me." That should give him pause.
"I don't. My brothers dared me to get a job, and it's been a lot harder than I expected. I just came from a McDonald's where the manager had a guy with a BS cleaning the toilets and an MBA flipping burgers. The economy sucks." Mischa sounded dejected.
"Ahh." He wanted a job on a dare? What the hell? Who told a prospective employer they didn't want to work for them? "Let me tell you a little about the parameters of the job."
Mischa gazed at him quietly, waiting. Maybe the daunting aspects of the task would send the kid the way of the first applicant. "You'll be responsible for preparing meals. I eat breakfast at six, daily, take a boxed lunch to work, and expect a minimum of a three course dinner. Sometimes I have guests, and occasionally dinner parties." He didn't really, but threw out the possibility anyway. For a moment, he was distracted by the amusing vision of a room full of elegantly clad clients and coworkers staring in horror as a Goth-garbed Mischa, hair spiked and piercings glittering in the candlelight announced that dinner was served.
"Got it. Cooking. I can do that." Mischa seemed to be trying to convince himself as much as Donovan of that fact.
"You'll have to do the shopping. I don't have time for things like that. Then there's the cleaning. I expect the house to be spotless at all times." He assiduously ignored the fact that the house was currently anything but clean.
Mischa wasn't inclined to be so kind, though. He glanced pointedly around the kitchen, at the stack of dirty dishes in the sink, the debris from several takeout meals on the counter tops, and the unpacked boxes of kitchenware. "OK. Clean. I can do that."
"I need the house put together, too. The boxes," he waved around, "unpacked and stuff put away. The walls painted, furniture ordered and assembled and put in place."
Mischa looked shocked. "You trust me to decorate your house?"
"No. I have the plans here." He thumped the red leather-bound album that held the dream house drawings he'd labored on over the years on the marble counter. "I need my housekeeper to coordinate the workmen, decorators, deliveries and so on."
More nods. "I can do that."
Donovan stared helplessly at the kid. Stop calling him kid. It's too pervy. What else? "References? Do you have references?"
Mischa bent over and the tight black t-shirt rode up as the skinny jeans inched down. Damn. All that creamy white flesh, hairless and smooth tempted him to reach out and touch, to examine the texture and resiliency. He wondered if there were any more shiny piercings hidden under that severe black garb.
"Hey," Mischa was waving a handful of papers in front of his face, and Donovan flushed slightly. Could Mischa tell he'd been staring inappropriately at his exposed skin?
"I'll, ahh, I'll keep these. I need to call on them later." He searched desperately for something, anything to turn the kid-man off the idea of working for him. Recalling the indignation and vitriol of the second applicant, he took a shot in the dark and threw it out there. "I'm gay."
No response.
"I said I'm gay, a homosexual, a flamer."
No response. Just inquiring green eyes locked on his face. Someone must have told the kid–man that eye contact was important.
"I sleep with other men?" Shit now he was making statements as questions.
The pierced brow rose slightly at that in an enigmatic gesture, but no response was forthcoming.
"This is a live in position. You don't mind working for and living with a gay man?"
Finally, Mischa smiled. Donovan's heart lurched at the sexy sweetness of that smile. The tiny silver hoop in his lower lip glinted seductively. Wonder how that piercing would feel when he pressed his lips to Mischa's? It certainly drew attention to the swollen plumpness of the full red lower lip. Yeah—he really needed to get laid this weekend.
"No. I don't mind working for a gay man, as long as you don't mind hiring one." Mischa's smile was now a broad grin, and he settled back more comfortably on the barstool, as though he were suddenly making himself at home.
Sudden sympathy overrode Donovan's concerns. Why not give the kid a chance? If Martin Weston hadn't hired him to work in the copy room at his company all those years ago despite his being an underage gay hippie he wouldn't be where he was today. He'd probably regret this, but it looked like the skater-Goth-boy/man had talked himself into a job. And the corporate advertising executive was sentencing himself to a series of cold showers.
To learn more about Lee, visit his blog.

Comments