Sweet Treats: Oatmeal Hershey Bar Cookies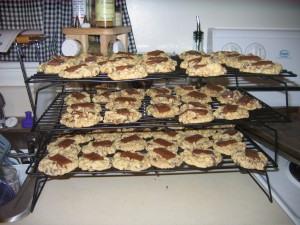 These cookies were first introduced to me 12 years ago when I was living in Baton Rouge and teaching at a private high school. An awesome young woman who was my student would make these cookies periodically and bring them to the teachers' lounge for us to snack on.
Before she graduated, my student, several of her friends, and I gathered for an evening of baking, and I learned how to make these cookies. She brought them to school the next day and we shared them in my classes. I ate 16 of them in the course of 2 hours and then had the worst sugar crash I've ever experienced
Oatmeal Hershey Bar Cookies
(This recipe makes 10-12 dozen cookies so I usually halve it.)
2 c. Butter (4 sticks)
2 c. Sugar
2 c. Brown Sugar
4 Eggs
2 t. Vanilla
4 c. Flour
5 c. Oatmeal, ground into powder (I do this in the food processor)
1 t. Salt
2 t. Baking Powder
2 t. Baking Soda
2 c. Chopped Pecans
3 cups Semi-Sweet Chocolate Chips
12 Hershey Bars (the plain milk chocolate ones that are divided into 12 pieces)
Preheat oven to 375F.
Cream butter and both sugars.  Add eggs and vanilla and blend until creamy.  Add flour, oatmeal, salt, baking powder and baking soda.  Blend just until combined.  Add pecans and chocolate chips and blend on the mixer's lowest setting. (If I make a full batch, it overflows from my mixer and I have to do the chips and pecans by hand.)
Drop by tablespoons onto a parhment lined cookie sheet.  Bake 6-8 minutes.  The cookies will be soft and will not look done when you take them out.  The edges may have just a hint of brown. Do not overbake!
Before removing them from the pan, top each cookie with one section of a Hershey bar.  After about 2 minutes, remove them from the pan and let cool. The chocoalte will remain gooey and soft for a long time.
Enjoy!

Comments
leebrazil says:

omg- that sounds fabulous

Silvia says:

Thanks Lee! They really are amazing 🙂