Apple Pie and Paws on Me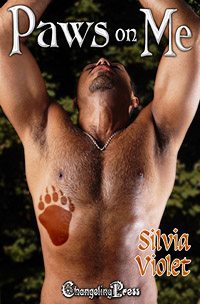 Like apple pie? So do my men in Paws on Me. They like it A LOT. They like to eat it in non-traditional ways 😉
When I make an apple pie, I use my favorite crust recipe:
Silvia's Pie Crust
For a 2 crust pie
2 cups flour
1/2 tsp salt
1 pinch baking powder
8T cold butter cut into small pieces
2T shortening
8-9T ice water with a few drops of lemon juice added
Mix dry ingredients. Cut in butter and shortening. Do not overmix. Add water and mix with a fork. Turn out on a cutting board or other hard surface. Split in half and form into two flattened disks. Refrigerate for at least 3 hours or up to 2 days.
Filling
I use the filling from this recipe. And bake 15 minutes at 425F and then 30-45 minutes at 350F.
To find out how to use an apple pie to spice up your life, go read Paws on Me.