Holiday Recipe Extravaganza – Ellis Carrington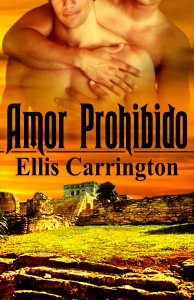 Cozy up this holiday season with a couple of mugs of sweet & spicy Mexican hot cocoa, and the hot heroes of Amor Prohibido.
Simple Mexican Hot Cocoa (adapted from allrecipes.com)
Ingredients
3 tablespoons instant hot chocolate mix
1 tablespoon chocolate syrup
1/2 teaspoon ground cinnamon
1 pinch chili powder
1/4 cup milk
3/4 cup boiling water
Directions
In a large mug, mix the hot chocolate mix, chocolate syrup, cinnamon, and chili powder. Pour in the milk. Add the boiling water and stir. You may need to play with the water/milk ratio to get it just right. Enjoy!
About Amor Prohibido:
Jacob Freehan has no job, no man, and no motivation. In pain both from ending a long-term abusive relationship and a severe back injury, he escapes to the sunny seaside town of Puerto Morelos for a little yoga, a little R&R, and possibly a place to quietly end his own life.
Pakal is a centuries-old immortal Mayan spirit guide who has been charged with getting Jacob on the path toward healing. Romantic involvement with a spirit charge is strictly forbidden, and it has never been a problem…until now. Pakal sees something special in Jacob, but failure to keep a rapidly growing attraction at bay could result in Jacob losing his life and Pakal being condemned to the Underworld forever…
Excerpt:
"Uh, yeah. Hi. Pakal, right?" As if he didn't remember. Just like he remembered the hills and valleys of the large man's muscular arms, the golden glow of the sun as it shimmered on his chest. The strong grip with which the man had shaken Jacob's hand. He had, in fact, remembered it the night before in his dreams, and again that morning in the shower.
Pakal nodded and grasped Jacob's injured leg without any pause to request permission. "Let me look at this," he murmured.
Ah, damn. Pakal's hands were warm, firm, and alarmingly reassuring as they massaged the muscles around Jacob's aching knee. And then…there was that strange pulse again, strongest at the points where Pakal's hand touched Jacob's skin.
Though it had been a little startling at first, the sensation wasn't at all unpleasant. It reminded Jacob of walking into a large dance club and feeling his body throb along with the bass line of his favorite music. He had an inexplicable urge to place a hand over Pakal's bare chest, to see if it was the larger man's heartbeat that Jacob's body was vibing with.
Amor Prohibido is available from Amber Allure and Amazon. Also check out Goodreads for Ellis's free short story, Yes, Sir. Find out more at EllisCarrington.com, Ellis's author page on Facebook, or on Twitter @MMbyEllis.