BDSM Excerpt Week – Heidi Lynn Anderson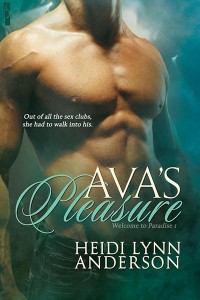 Ava's Pleasure by Heidi Lynn Anderson
Blurb
Of all the sex clubs, she had to walk into his.
When prim proper Ava stumbles into a Miami sex club, she isn't expecting to find the man from her dreams. Navy SEAL Logan is just wasting time between missions until this naïve and innocent woman turns his world upside down.
How was Ava Cullen supposed to know her prim and proper aunt was part owner of the premier sex club in Miami and a top-notch Dominatrix? When she stumbled into club Paradise and came face to face with her dream man, she had a feeling she stood on the precipice of something life changing.
Navy SEAL Logan Turner always knew he needed more out of life than the next mission. That's why he opened Paradise with his best friend Julie. It didn't hurt that he could reap the benefits of owning a sex club. That was until a sexy, doe-eyed woman walked in, making his control slip for the first time ever.
Excerpt
Ava's tongue swiped over her lips. "I don't know."
Logan slid the blindfold over Ava's eyes and stood back to drink in the sight before him.
"I don't know if I like this," she said.
"What don't you like, honey?" Logan watched the pulse in her neck beat a fast tattoo.
"I don't know."
"Are you uncomfortable?"
She shook her head. "No."
"I know you think you haven't been in control of your life." Logan grasped the flogger and ran the silk strands over his palm. "But the opposite is true."
"You've been making all the decisions for yourself." Logan ran the strands between Ava's full round tits, tracing their curve.
The sound of her moan had Logan inhaling hard. He needed to be careful, if he didn't want to blow his load too soon. "Honey, you're beautiful like this." Logan made his way slowly—almost painfully so—to her luscious pussy. The sounds of longing that came from Ava filled him with joy and love.

Comments
Heidi Lynn Anderson says:

Hi everyone!
Thank you for coming. I hope you like this little snip it of Ava's Pleasure.
You can find me at my website http://www.heidilynnanderson.com
I would love to hear from you so please leave a comment.
Have a great day!
Heidi

Ditter Tha'great says:

Great blog!!! Love it! Thanks Heidi!

Barbara Brant says:

Sounds like a good one! Best wishes!

Barbara

Lois Merrill says:

Wow! The only BDSM I have read would be Fifty Shades…this sounds really good! I will definately put this on my TBR list. Thank you for the snip it.

Amy says:

Gotta get this. The blog is wonderful ;0)

Heidi Lynn Anderson says:

Thanks, Ditter, Lois, Barbara and Amy for coming. I hope you have a great evening.
Heidi

Heidi Lynn Anderson says:

Thank you Silvia for having me on. I really appreciate it. .

Silvia says:

Heidi, you're very welcome. I loved your excerpt 🙂