BDSM Excerpt Week – Ayla Ruse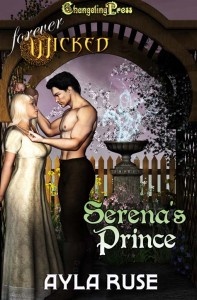 Serena's Prince by Ayla Ruse
Blurb:
A frog, a curse and a broken promise. Sometimes punishment can be its own reward.
Serena never thought asking for help from a frog would result in her being naked and tied to her bed. She should be afraid. She should call for the guards. She definitely should not be… begging for more.
Prince Rennick needs to get his hands on Serena's necklace — the one item sure to break the curse that turned him into a frog. When an accident makes him temporarily human, he cannot help but use his dominant nature to bend Serena to his will.
What should have broken the curse turns into a desperate attempt to save Rennick's life. As they try to find the key, Rennick demands much from Serena, but is she willing to surrender everything to this frog-turned-prince?
Excerpt:
Serena carefully sat on her knees near the water, as he directed. It felt strange, letting someone else tell her what to do. A part of her wanted to defy him on principal, because she was used to having the last word. But for a few moments, she'd give over to his requests. They seemed innocent enough, and it was exciting to wait, to see what he'd ask of her next, to wonder where he'd take her.
"I like seeing you like this," he murmured, his gaze dropping to her breasts. She didn't have to look to know her nipples pebbled hard against the tight bodice. Seeing him stare made them tighten more. He squatted down, cupped his hands in the water, and poured a small stream of liquid over her shoulder. She shivered as the cool water trickled over her chest and into the valley between breasts.
"What are you doing?" she asked, not stopping him, though. She liked how his eyes had darkened and grown hooded. He had a plan, and it included the two of them naked, she was sure. She shivered again as he poured more water over her chest.
"Don't ask," he told her. He took one wet finger and rubbed her bottom lip. "My mind is tired from trying to figure out the riddle of the curse and the necklace. Maybe taking my mind off the puzzle will show me the answer." She set a kiss against his finger, then swiped it with her tongue. She returned his smile and quirked her brow, as if challenging him. In truth, she wanted his mind away from the puzzle, too.
"I see that look," he said. "Let's see how well you remember to do as I ask. Don't get up, but hold your hands behind your back." Her chest thrust forward, and just as she'd feared when she'd put on the dress that morning, the movement pulled the material down and her nipples popped out over the top of the neckline. His lips twitched as if he'd expected such a thing to happen. To amp up the tease, she arched her back, making her breasts spill out of her dress a little more.
He laughed at her move. "You're a quick learner, Serena. And a tease, it seems. I like that. Now I need you to remain exactly as you are."
He cupped more water and ran it over her until her dress clung to the entire front of her body. He'd occasionally flick her pebbled nipples with the backs of his fingers, and she moaned at every contact. When he reached behind her and unclasped her necklace, she stiffened.
"Shh. Don't move. I'm only rearranging the strand." She remained still, although it was hard. When Rennick finished, she glanced down and saw that he'd made one loop so the pearls hung low to her belly. He arranged the strand so it lay on the outside of each nipple.
He dipped his head and pulled both her nipple and the necklace into his mouth. He rubbed the bumpy pearls around and over the tip while his teeth grazed her flesh. She gripped her hands together, making soft little whimpers with his every touch. The added sensation of the necklace stroking her as he suckled sent streaks of fire running through her. She grew wetter between her legs and she squirmed, wanting him to take off the dress and bury himself deep inside her.
She forced herself to be still and bit her lip to keep from begging him again. She squeezed her eyes closed as he continued what he was doing. The way he took her breasts made her head spin and her body ache.
He plumped up her breasts as he feasted from one to the other, always taking the necklace and her nipple at the same time. When she thought she couldn't take any more, that she'd throw her arms around him and pull him down on top of her, he trailed a hard tongue through the valley between her breasts, up to her neck. Meeting her lips, he kissed her hard, raising up to his knees and making her head fall painfully back under the press of his mouth.