BDSM Excerpt Week – Promotion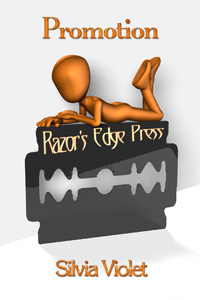 Here's an excerpt from a little piece of escapist erotica….
Promotion by Silvia Violet
Luke Jackson has been hot for his boss since the day he started work. When he's offered the chance to win a promotion, he has no idea what his boss expects in return until he finds himself on his knees in his boss's office. For Luke, his promotion doesn't just come with better pay but also the fulfillment of all his submissive desires.
Excerpt
My heart pounds as I walk down the hall to my boss's office. I have to get myself together. Yes, the man is fucking hot, but I have to learn not to be tongue tied in front of him, or I'll never get the promotion he's been dangling in front of my face.
A few days ago I was called to an executive level meeting out of the blue. My boss told me he'd chosen me to handle our newest accounts and that if I gave him everything he wanted, I'd be promoted to VP. I was speechless, as I usually am around him — speechless and horny as hell.
He's the most perfectly put together man I've ever seen, but his presence is what really does me in. He fills the whole room, dominates everyone, gets whatever he wants with no more than a look. He's ruthless power personified, and I want him. I want him to take me, use me, and do unspeakable things to me. But every time I see him, I start dropping things and goggling like a fish.
When I reach his outer office, his assistant buzzes me in. His back is to me as he types on his laptop. Rather than say anything, I simply take him in, his perfect posture, his smooth, long-fingered hands that I know would feel so good running over my body.
So much for my plan of keeping my thoughts professional. Now I need to use the file folder I'm carrying to cover the hard-on tenting my suit pants.
He curses and pushes away from his desk. When he glances up, something my twisted mind wants to believe is erotic interest flashes in his eyes. His lips curl up in a self-satisfied smile. Does he know I want him? I fight the urge to fall into his nearly black gaze. His eyes are so hypnotizing, I almost think he holds some supernatural power over me.
Several heart pounding seconds pass in silence. Then I find my voice. "What can I help you with, sir?"
He stands and walks around to me, invading my space with his heat and his nearly tangible aura of authority. He shifts his hips so he's half sitting on the edge of his desk and looks me up and down. He's close enough I could reach out and pet him — and I want to.
My gaze drops to his mouth as his lips part and his tongue swipes across them before he speaks. "Yesterday you said you'd be willing to do anything I needed. Did you mean that?"
His question makes my breath catch. Why do I have the feeling he isn't just talking about putting in extra hours? I nod. "Yes, sir."
Buy it at Amazon
Buy it at Changeling Press

Comments
Joelle Casteel says:

Silvia, is this not on Goodreads yet? I just bought "Surrender in the Dark" so I wanted to add this to my to-read list until I have some space to add this to my current reads 😀

Silvia says:

Hi Joelle, I'm not sure why it wasn't on Goodreads, but I added it so you should be able to find it here: http://www.goodreads.com/book/show/16070988-razor-s-edge I hope you enjoy Surrender in the Dark!

Cornelia says:

Love to read this book.