Guilty Indulgence Blog Hop – Cover Reveal for Shifting Hearts
We're Celebrating the Ndulgent Bloggers' 4th BLOGiversary!


4 Years of Reviews. 4 Years of Supporting Authors. 4 Years of Great Books. 4 Huge Bags o' Swag.
Visit each of these BLOGS -Authors, Reviewers and Bloggers- and have fun!
I'm thrilled to be part of the Guilty Indulgence Blog Hop today!
I have a cover reveal for you today for Shifting Hearts, Wild R Farm Book 6. This is one of my all times favorite covers. Meredith Russell has done an amazing job.
In case you haven't met the men of Wild R Farm, I would like to introduce them to you. Wild R Farm is owned by Cole Wilder, a halfbreed werewolf. The first book in the series, Finding Release, is about Cole and his partner Jonah and each subsequent book tells the story of more of the men who work at the farm or living in the town of Cranford, TN. Finding Release is also available in audio.
And now for the cover reveal, Book 6, Shifting Hearts will be released October 25, check out the gorgeous cover.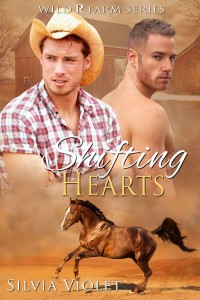 Comments
Shirley Ann Speakman says:

I love the "Wild R Farm" books and I'm really please to find out there is another one coming out soon YAY!!

Lisa G says:

That is a gorgeous cover! I need to get caught up on this series 🙂

Tracy Gee says:

The cover is stunning… I can't wait to read this book…. One of my favourite series.