Historical Romance Guest Author: Deanna Wadsworth
I'm thrilled to have Deanna Wadsworth on the blog today to celebrate historical romance. Everyone be sure to check out the giveaway below for a chance to win a copy of one of Deanna's books and one of mine.
Welcome, Deanna!
_________________________________________________________
I'm so excited to be celebrating 4th of July and gay romance novels with my girl Silvia Violet! One of my first experiences with romance novels were American historicals. I used to read a series buy Sunfire with all of these overdramatic teenage girls who couldn't choose between two boys in various American historical settings. Anyone remember those?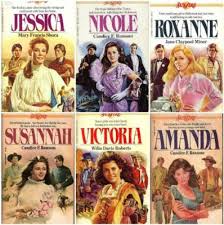 Then I moved on to the steamy ones, you know… the bodice rippers were everybody's doing it in a poppy field LOL
Historical have always been my favorite romance setting so when I first started writing WRECKED, I knew it had to have a classic romance novel cover. To this day the beautiful cover for WRECKED by Paul Richmond is my all-time favorite book cover. If I ever get my office remodeled….er? organized and clean, I plan to hang a large print of WRECKED in my reading nook.
Seeing as my second love in romance writing is paranormal, there is a supernatural twist in WRECKED too. Check it out:
Blurb
Off the Key West coast, Rief Lawson works as a wrecker, salvaging ships and their cargo. Exiled to the outskirts of society because of his mysterious gift of sight, Rief's only respite from his loneliness is painting an unknown blond man. When a merchant ship wrecks during a violent storm, Rief rescues a drowning victim and comes face-to-face with his destiny.
It is the man from his art!
Heir to an English barony, Mathew Weston entered the merchant trade with his greedy father and soon-to-be father-in-law. Dominated by his father and smothered by the people around him—including his sweet but tiresome fiancée—Mathew is terrified to follow his true desires. Marriage and obedience seem safer than a life of secrecy and possible prison.
After the daring rescue, a fire ignites between the two men. Powerless to resist his desire, Mathew learns what it means to be a man in Rief's arms. With this newfound confidence, Mathew teaches Rief through gentle touch that he deserves the affection he's long been denied. Yet their affair is doomed from the start. Two desperate men, wrecked in heart and mind, must find a way to salvage the chance at love fate has given them.

Excerpt
Reaching forward, Rief pointed at the canvas, his inner arm brushing Mathew's shoulder. "This is how I see you," he explained in a hushed voice. "Temptation, desire, and beauty all at once."
A visceral bolt of arousal shot through him. What could he say to that?
Then Rief stepped away, placing his back to him, the lines of his shoulders suddenly rigid. "Why did you really come here?" he asked, void of all emotion. "And don't say to bring me a book."
Embarrassment and confusion at Rief's change in mood made him stutter. "I-I think you know w-why I came here."
Rief's head tipped to the side, but he did not turn around. "Why?"
Did he expect him to say it aloud?
Taking a tremulous breath, Mathew struggled to find the words, but the emotions inside him were so new, too terrifying to give them voice. He glanced away, the erotic painting staring at him with accusation. Mocking him, because he could never be as bold as the doppelganger of color and oil.
What if Rief realized he was nothing like the man he'd painted?
Mathew was not powerful or alluring. He was weak with wanting, desperate with loneliness. Indecisive and scared. Living in fear for years. All alone, even in a crowded room.
He glanced back at Rief, and a whisper of light fought to escape the darkness. He might not be the man in the painting, but he had to try.
For both their sakes.
Latching on to hope, he boldly forged ahead, "You ask me why I am here? How could I not seek you out? Every day I wake up knowing that I am destined to be alone, yet with just a few words, you've shown me that life isn't as hopeless as I once imagined. When we speak, it as if I am speaking to my own soul. How can a man turn his back on a connection such as that?"
Rief turned at his confession, coming toward him fast.
He instinctively withdrew from the dark hurt in his eyes, but Rief kept coming until Mathew's back was against the wall. "You made it pretty clear you think I'm no better than a thief, Matt. So why pretty this up with talk of friendship and loneliness? The only thing lonely is your cock."
"H-how dare y-you?" he sputtered, their bodies now less than a hairsbreadth apart. "You make it sound so… so dirty. I'm a gentleman. I came here to extend the hand of friendship."
Rief looked sad and weary despite his dominant posturing. His entire being withered right before Mathew's eyes. "Friends or lovers, Matt? State your intentions now. If you do not want both, you should leave, for I cannot survive anything less from you."
Emboldened, Mathew met the gaze of the man who changed the very course of his life. A man he wanted so badly that he had risked discovery, betraying the vows of denial he'd placed upon himself. Releasing a shuddery breath, he let the words tumble out, allowing his heart full sway of his mouth and damning the consequences.
"I want to be your friend and your lover," Mathew declared, staring deep into those pained eyes. "It has been my greatest wish since the beginning. I have long been afraid to go after what I want, but it is not that way when I am with you. I want you. I want this." Before he lost what courage he'd gained, he placed a trembling hand on Rief's chest, his voice wavering as he asked, "How can you not know that by now?"
With a muffled cry, Rief melted against him.
The instant he felt the heat of Rief's body, Mathew kissed him, unable to hinder their desires a moment longer. Blood pounding, throbbing all the way to his groin, he poured all the passion and intensity that years of denial had left in their wake into the harmony of their mouths.
Rief groaned against his lips, pressing closer and wrapping arms around his waist. In a burst of fervor, their tongues battled, bodies rolled. A physical reflection of a bond of body and heart. Outside, the rain grew in tempo, pounding faster than Mathew's pulse. Louder still were their ragged breaths filling the air along with the howl of the gale. The world fell away and it was only Rief in his arms, feeling better than anything he'd ever dreamed.
Fingers pulled at the waist of his trousers. "I need you," Rief panted.
Overcome, his head lolled back. "Yes, please!"
So steamy! I hope you like lots of sex and angst in your historicals, because WRECKED is full of both!
Thank you, Silvia for hosting me and thanks to the readers for stopping! Don't forget to enter the rafflecopter for a chance to win Silvia's book and my 1976 semi-historical—LOL depending on who you ask— Easy Ryder!
WRECKED
Amazon │Dreamspinner │Google Play │iTunes │ Kobo │Barnes & Noble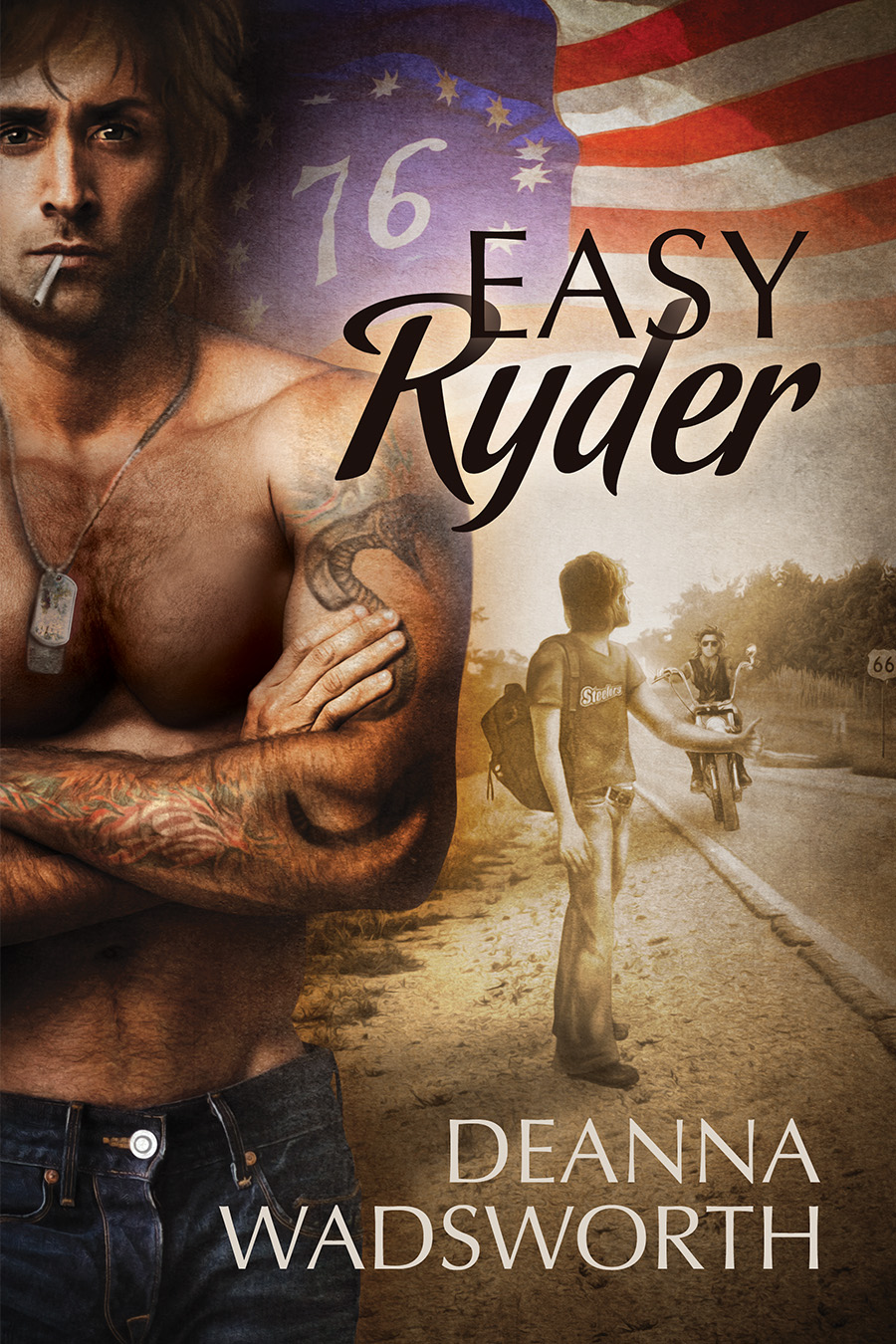 EASY RYDER
Amazon │Dreamspinner │Google Play │iTunes │ Kobo │Barnes & Noble
Deanna Wadsworth might be a bestselling erotica author, but she leads a pretty vanilla life in Ohio with her wonderful husband and a couple adorable cocker spaniels. She has been spinning tales and penning stories since childhood, and her first erotic novella was published in 2010. She has served multiple board positions at her local RWA chapter and is the current President 2017 for Rainbow Romance Writers of America. When she isn't writing books or brainstorming with friends, you can find her making people gorgeous in a beauty salon. She loves music and dancing, and can often be seen hanging out on the sandbar in the muddy Maumee River or chilling with her hubby and a cocktail in their basement bar. In between all that fun, Deanna cherishes the quiet times when she can let her wildly active imagination have the full run of her mind. Her fascination with people and the interworkings of their relationships have always inspired her to write romance with spice and love without boundaries.
Website │Facebook │ Twitter │Pinterest │goodreads │Amazon │Instagram
You can also find her young adult alter ego, K.D. Worth Facebook │Twitter
a Rafflecopter giveaway