Posts Tagged 'bunny shifter'
As I get all squirmy with excitement over this week's release of my Protect and Serve story, Savage Wolf. I wanted to get to know some of the other men in uniform a bit more intimately *grin*. So I convinced Cynthia Sax to send Officer Drake, hero of Badge Bunny, my way……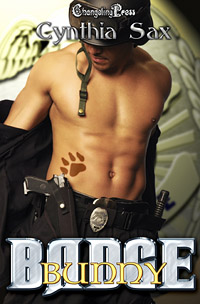 Silvia: (shivers and fights not to lick her lips) Umm, Officer Drake how do you feel about having a werewolf on the force?
Officer Drake: (runs a big hand over his bald head) How do I feel? What kind of pussy shit question is that? Do I look like I have uterus? (looks down at the impressively large bulge in his tight cop pants)
Silvia:  (twines hands together to keep from reaching out to touch that  clear evidence of manhood) I would never question your manhood. It's  quite . . ..um . . .obvious.
Officer Drake:  Hrumph. (studies Silvia, detecting sarcasm in her voice) As for your question, I feel like sunshine and fuckin' rainbows, that's how I feel. (rolls his eyes) I hate fuckin' shifters. One minute they're human, and the next minute, they're animals. I wish they'd make up their fuckin' minds. (holds up one lined palm) Now, before you bust my balls about Savage, I'll admit that, so far, he's been an asset to the force, cracking down on the bad guys, and yeah, rumors say he's saved his partner's ass more than once, but he's still a shifter, damn it, and you never know if the wolf side will bust loose and he'll do something crazy ass sick like tear a shoplifter's throat out, or sniff a fellow officer's ass.
Silvia:  Wolves can be unpredictable but some of us enjoy a bit of  danger. (looks Officer Drake up and down leaning over to look at his tight ass and thinks that if she were a shifter she'd damn well sniff it) You look like a rather  dangerous man
yourself.
Officer Drake: I'm dangerous only if you break the law. Break the law, and I'll throw your pert ass in the clink, or worse, plug a hole in you… another hole. So I'm wondering… have you been a good girl, or a bad girl, Silvia?
Silvia (noting handcuffs hanging from his belt): Oh Officer, I'm afraid, I've been very bad. Do you get the chance to use those handcuffs often? What would someone for that particular privilege .  . .um . . . I mean punishment?
Officer Drake (dangles handcuffs from the tips of his fingers): These aren't just for show. Are you coming with me peacefully, or do I have to restrain your sexy self?
Silvia (licks lips slowly): I do believe I'm in the mood to put up quite a struggle. You're only getting me out of here if I'm thoroughly restrained.
Officer Drake (grins wickedly): I'll use whatever means necessary to get my gal. (lunges at Silvia)
If you haven't had the pleasure of getting to know Officer Drake, I highly recommend you check out Badge Bunny. It's hot, wicked, and hilarious.