New Releases Coming Soon!!
On July 1, Samhain Publishing will release my spicy historical, To Capture A Spy, which is set in France in 1814.  And in a few weeks, Changeling Press will release my latest short story, Stallion's Summer which is a sequel to Stallion's Gambit.  I'm s-l-o-w-l-y working on a novella to wrap up Raya and Calder's story so look for news about that.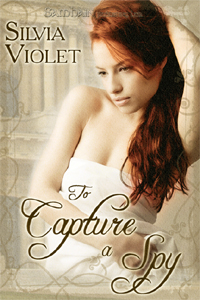 To Capture A Spy by Silvia Violet
When danger lurks, is courage alone enough to save a country—and a heart?
It's not enough Meg Wentworth has suffered kidnapping, imprisonment and torture. She kept her wits about her and escaped with her life, only to be captured by a handsome British officer—and promptly accused of spying for the French. Convincing him otherwise turns out to be easier than dealing with her next discovery: that Lucien just might be the man to help her put her life back together. If only he will let go of his rigid control long enough to let her show him they belong together.
Recovering from a near-fatal injury, British intelligence officer Lucien Archer hoped to leave the shadowy, violent world that left him scarred, body and soul. But a mysterious letter calls him back to duty, and nothing prepares him for Meg. The beautiful spy's fiery spirit threatens to break through the shell Lucien has built around his heart.
But Meg's kidnapper wasn't looking for simple ransom. He's an old enemy of Lucien's, Le Lézard, who's resurfaced with a single goal. To raise magical forces dark and powerful enough to destroy England. To do it, blood must flow. The blood of Lucien and Meg.
And the fire of passion that burns between them is the perfect lure to get them both where he wants them. On an altar of sacrifice.
Learn more here.

Comments
Caffey says:

Hi Silvia! Its Cathie. Gosh what a beautiful cover. I love your historical romances! Too, I like the unique setting, I haven't read much set in Spain. I hope its out soon. I have some catching up to do since I've been away alot so I must check out your other books too. Miss reading your writing voice, but thrilled to find your blog and looking forward to visiting more!
Cathie (Caffey)
tbranxiety @ yahoo . com

Caffey says:

Silvia, where's your site? I can't find the link on this blog nor with a search. Thanks.

silviaviolet says:

Thanks Cathie! That's weired about my site. When I google Silvia Violet, it comes right up on top. I don't know what was going on. It's http://violet.chaosnet.org