Wolf Caller 1: Control by Silvia Violet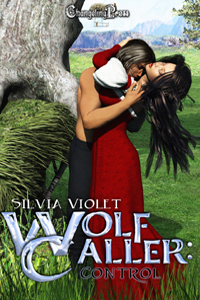 The first chapter of Control, the first book in my Wolf Caller trilogy is posted at D. Renee Bagby Presents First Chapters. Go check it out!
Blurb:
As their world draws closer to war, the future of Albion is in the hands of a werewolf pack who must protect the country's most carefully guarded secret, a new magically-generated fuel source. Rumors about the mysterious Lord Derek Valmont abound, but no one in Albion's Upper Circles knows the whole truth. Valmont is a werewolf. He's also an operative for the Office of Clandestine Affairs.
Captivated — literally — by the hauntingly beautiful wolf caller-witch Serena, he's furious that he can't break the hold she has over him in wolf form. When she flees their encounter he drinks in her lingering scent, determined to find her again — on his own terms. But before he convinces her to use her powers to aid his pack and his government, he'll take her to his bed and prove he's the one in control.
Serena may not be able to control the man as she does the wolf, but she's got an agenda of her own — and her sights set on both the Alpha, and his second in command.