Giorgio (Vigilance Book 1) is out now!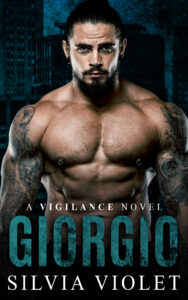 Giorgio starts a new series, Vigilance. This is a spinoff from The Marchesi Family but it can be read on its own. Vigilance is a secret group of former spec ops soldiers and federal agents who handle problems the police can't or won't touch.
I'm a sniper. A trained operator. A bodyguard. A member of the elite private security force known as Vigilance.
When my boss's son acquires a stalker, of course I'm the one he calls to keep the guy safe. Mr. X's one rule? Keep my hands to myself.
Not a problem.
At least, not until I meet Lane Porter.
He's gorgeous. Flamboyant. Fascinating. He makes me want things I can't have. He stretches my self-control to the limit… and then breaks it.
As the threat to Lane intensifies, we're forced to hide out in a remote, one-bedroom cabin with danger stalking us from all sides, but suddenly keeping the boss's son safe isn't enough.
My new mission is to make Lane mine.
Buy Giorgio now or borrow in Kindle Unlimited.