Archive for the 'm/f' Category
Welcome Kameron and Dirk! They are here to share a little about themselves along with an excerpt from their erotic collaboration, Sinfully Delicious

.
Bio: Kameron and Dirk, a passionate couple in and out of the bedroom, has decided to join forces and bring their erotic imagination to life with words. Their solo stories are electric; however, the works they create together will practically sizzle off the page. Yes, they might live in a quiet suburb neighborhood, but they're anything but tame and unadventurous. A fact you shall read and learn about soon enough. 
Contact info:
Blog
Facebook Author page
Goodreads' links:
Amazon Author Pages: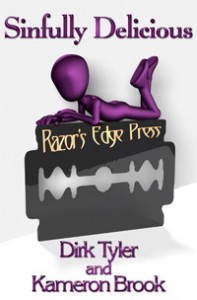 Kam and Dirk collaboration – "Sinfully Delicious" (M/F)
Book Summary:
Christine's been without a man for far too long, so she lets her BFF Jasmine talk her into speed-dating. Unfortunately, far too many of her dates are romantic non-starters — in the worst way. But all it takes is one… and when the right man comes along, he's Sinfully Delicious.
Excerpt:
Wednesday Evening
It'd been two years, six months, and fourteen days since Christine had felt the loving touch of anyone but herself — not that she was keeping track. Which was the reason she'd allowed her best gal-pal, Jasmine, to talk her into heading out tonight and giving the speed-dating scene a try… again.
"Woo hoo, Christine. Come in. Are you with me?"
Christine studied her completed look in the glass door of the Midnight Rendezvous. She held the phone tucked between her ear and shoulder while she kept tugging at the hem of her dress, which barely covered her ass cheeks. "Jasmine, I can't believe you talked me into this get-up. I'm literally popping out all over."
"Babe, you look hot, so quit the bitching and stop tugging on it."
Christine's hands stalled and dropped to her sides. "How'd you know what I was doing? Are you lurking nearby?"
Jasmine's voice rose an octave. "Hello, best friend here. I know you, and I know you're freaking the hell out. Do me a favor and relax, because any man would be lucky to have you. Now, hang up and get your sexy ass inside."
Christine gave herself a final once-over and took a deep breath, releasing it slowly. "Thanks, Jasmine. You always know how to calm me down. Love you."
"I love you too. Now go."
Christine nervously inched her way over to the sign-up table, paid the twenty-dollar fee, picked up a nametag, and found an unoccupied chair. As the announcer went over all the rules of the event, she eyed the prospects and found several who looked attractive. Hope began to blossom. It seemed simple enough. Every two minutes a new man would sit down across from her and engage in a brief conversation. If she believed a connection was made, she would place his name on a card. The men would do the same, and if there was a match between cards, both parties would be notified through an email. "I can do this," she mumbled.
The announcer rang the bell.
The first eligible bachelor, Bradley, sat down, and it was two minutes of pure awkwardness. His hands shook uncontrollably, and he wouldn't stop apologizing. He refused to make eye contact and finally excused himself to the restroom, leaving her alone.
Christine couldn't believe how badly the night was starting off. She tried to embrace Jasmine's glass half full attitude and hope the next guy would at least remain seated for the entire two minutes.
Ding. A very handsome man with perfect features slid into the chair across from Christine. She noticed right off the bat he had no wrinkle lines, crow's feet, laugh lines — nada. She found that odd until he spoke. Then it all became clear. Unlike Bradley, he didn't say "Hi" or offer any other pleasantries. His gaze traveled from her face down to her chest, head tilting left to right, and then he spoke. "You have a beautiful face and body, from what I can see, for a woman of your age, but if you ever decide to fix your trouble spots, I'd be happy to give you a discount."
Christine couldn't believe her luck. She already doubted her looks, and now this man she didn't know was judging her appearance? Great, just freaking great. If she were Jasmine, she would've been spewing words that would make a sailor blush; however, Christine hated public confrontations. Instead she put on a fake smile. "Don't bother writing my name down." Their remaining time couldn't possibly end quickly enough for her liking.
Ding. "Thank God that's over." One look at the surgeon, and she realized she'd spoken aloud. She opened her mouth to apologize, but before she could get the chance, he turned and walked away.
Prospective dates three through twelve were nice enough, but she knew they'd be no more than friends, and not the kind with naughty benefits. Her shoulders slumped in depression and she wondered why she'd let Jasmine talk her into this. A dozen men had come and gone but none lit a fire in her belly. Eyes downcast, she waited to hear the sound of a chair scraping the floor.
Instead, she felt cool glass press against her palm and a warm breath against her ear. "I didn't know what you normally drink, but I sensed you needed something strong."
Christine looked up into the most gorgeous eyes she'd ever seen. They were almost hypnotic, and his voice was equally distracting, drawing her in. She was clueless about how long she stared at him like a lovesick puppy, but it was long enough that another bachelor took his position for the two-minute meet and greet. Spell broken, she addressed dreamy eyes first because she had to know his name. "Umm, yes, thank you, Mr…"
"You may call me Sin." Then he stood upright and kept all his attention on her but clearly directed his words to the gentleman across the table. "If you were a smart man, you'd start the conversation by telling her how gorgeous she looks tonight. Let her know no other woman has ever looked lovelier in your eyes. That from the moment you saw her, you wanted nothing more than to feel her lips against yours, to touch her and be touched by her."
Christine grew more aroused with each word Sin uttered. She'd come out tonight looking for a spark, and damn if she hadn't found a five-alarm fire. Did Sin realize the effect his words were having on her?
He winked, and her silent question was answered. Damn him, he knew exactly what he was doing to her. The other bachelor cleared his throat. "Yeah, thanks for the advice, but I don't need it. I've got this."
Sin's face tensed up. "Not yet, you don't."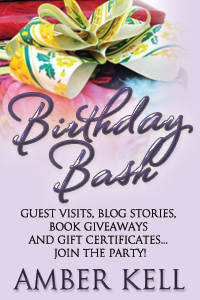 Mikela Q. Chase (Amber Kell's alter ego) is visiting today as part of her Birthday Bash. Below is Part 15 of her story m/f story, Rhea. Go here to find links to Parts 1-14 and look for more to come each day this month.
Rhea wrenched her arm free. "We aren't getting married. I don't know what kind of lame idea is forming in your head, future brother-in-law."
Ooh it was fun to watch him wince.
"But we are going our separate ways and if we're lucky we'll only run into each other at the occasional family gathering. And, if you are really lucky I'll resist the urge to gut you with my blade."
The hammering started again.
"Enter." Rhea yelled before Teven had the chance to lecture her again.
Married. Not in this lifetime. There was no way she was pinning herself down to one guy when there were so many out there. She hadn't even sampled more than one of the men on this planet. With the number of moons on this planet she'd need much more tasting, comforting and red hot sex.
She didn't have time to think of much else because two of her largest guards Peller and Rafe slammed their way in. They must've just arrived planetside and discovered her missing. The two cat shifters shoved the other guards out of her way. Rhea winced, so much for interplanetary relations. She'd fucked the king and they trounced his servants. They were off to a stellar start.
Two pairs of burning amber eyes glared down at her.
Rhea shrugged. "I guess I should've let you know where I was."
Like she didn't know about the tracking device they had embedded in her heel. She showed them her best "contrite" look.
"Try to remember next time." Peller scolded gruffly.
Rafe nodded his angry expression already fading.
"Oh please, I can't believe you bought that." Teven glared at her. "If you'd skipped out on me I would've spanked you until you couldn't sit for two days."
Rhea lifted her chin. "Which is why I'll never be yours."
On that pronouncement she sashayed out of the room…only to come face to face with her sister.
"Tell me you didn't sleep with the king," Jamie begged.
"Yes darling tell your sister that lie she wants to hear."
Jamie looked over her shoulder at the king. "She's really good with a knife you know."
Rhea smiled, she purposely didn't turn around and see the king's face. Better leave while she could still cling to her dignity with her last desperate breath.
"Come on sis, I'll take you to your room and you can try to get some sleep. Even though you never do," Jamie coaxed.
"She slept with me." Teven's voice could only be described as smug.
Rhea frowned as she realized the king was right she had slept quite soundly in the king's arms.
Weird.
Rhea didn't bother to answer the king, instead she hooked arms with her sister and walked away, her two guards trailing behind.
To give her credit, Jamie waited until they were out of earshot before she gave Rhea hell for being with the king.
"What were you thinking!" Jamie whispered. It was an angry whisper but quiet all the same. The cat shifter guards were probably the only people who could hear her.
"I didn't know he was the king." Rhea confessed after she was pretty certain her sister had run out of steam.
"It all happened really quickly and the magic was riding me hard."
"Oh.' Jamie didn't have a response for that they both knew what bad decisions she made when she was trying to dull the power of the magic.  It was generally agreed among their people that Rhea had too much magic, but the only effective way of draining it was sex. That still didn't stop her from denying her mother's request to set Rhea up with a harem.
Of course picking up strange men who turned out to be kings?
Not necessarily a better choice.

Surrender in the Dark by Silvia Violet
Blurb:
Radek, king of the Underworld, knows that Nia is destined to be his. Yet as the crown princess of Upperworld, Nia is unavailable to him. Desperate to claim her, Radek puts the safety of his own colony at risk and lures her to him by seducing her in his dreams.
A progressive ruler, Nia believes in the importance of modernization. But as princess, her say is limited. Her mother, the Queen of the Upperworld, forbids the Underworld's king from attending Nia's crowning. So when a man from Underworld invades Nia's dreams and invites her below, she accepts the offer, hoping for an audience with the king
The moment Nia lands in Radek's throne room, she realizes her mistake. By Underworld law, she is Radek's slave for seven days — and seven nights. Radek vows to make use of every moment.
Nia's society expects women to dominate in bed, but Radek draws out her hidden desires. How can serving him be so deeply thrilling? Even when he shows her the pleasure in pain, she craves more of his brand of dominance.
The seven days pass far too quickly. When Nia and Radek must face the censure of two societies, passion may force them apart more thoroughly than it held them together.
Excerpt:
"Taste me, Nia."
She hesitated. He wrapped her hair around his wrist and jerked her toward him. "Now."
Her tongue snaked out, licking the head of his cock. He sucked in his breath. Her tentative strokes fired him in a way the most experienced slave never could. "Take me into your mouth."
Fear showed in her eyes, but Nia did as he bade. He fisted his hands in her hair, longing to feel the back of her throat, but resisting the urge to thrust deeper. He wanted her to love serving him this way, to relish being on her knees in front of him. Only after she had would he show her the sweet agony of swallowing him whole.
"More. Take me deeper."
She groaned, but managed it.
His knees threatened to buckle as the heat of her mouth surrounded him. "Suck." The single word was all he had breath for.
Within seconds he would have sworn she'd lied about her experience. Her mouth brought him exquisite pleasure, and he didn't need his Lalatian senses to know desire fueled her enthusiasm, along with her natural need to serve. He could smell the hot cream dripping from her cunt, and he wanted to taste it as much as he wanted to draw his next breath.
The rhythm of her sucking quickened, and she swirled her tongue around his shaft with as much skill as any woman in his harem. His climax rose. He tightened his grip on her hair, thrusting into her as she sucked. "Swallow as you feel me come in; see how much of me you can take."
Fear returned to her eyes. She tried to pull back, but he held her firm. "Trust me to know your limits."
Nia whimpered, but ceased her struggles.
"I'm going to come in your mouth, and you are going to take it like the gift it is."
Her eyes widened as he thrust into her mouth, holding her still. A few strokes later, he felt her surrender.
Buy it at Amazon
Buy it at Loose Id
Buy it at All Romance eBooks

Protect and Serve: Savage Wolf by Silvia Violet
Blurb:
I'm Wolf, Officer Aidan "Wolf" Savage. I'm a werewolf. But unlike most of my kind these days, I'm one of the good guys even if I do scare the hell out of most people the first time they meet me. When a white-tailed deer shifter comes leaping into my life, she makes my body hotter than an erupting volcano. She's on the run, and she doesn't want my help. But I'm not about to let her get herself killed, and I'll use any means necessary to keep her safe.
Excerpt:
I tried to make myself be a gentlemen and roll off my naked little shifter. But werewolves aren't gentlemen. I heard her racing heart and smelled the hot cream between her legs, and my wolfish side begged me to shove her legs up onto her chest and bury my cock in her pussy. Then she shocked me by opening her legs and inviting me in. How could a man say no?
And, by all that's holy, she said those four words that just about made me lose it before I'd even gotten inside. "I like it rough." Just what an alpha wolf like me needs. A woman who appreciates my appetite.
When I drive into her, holding nothing back, she cries out. Her pussy holds me tight. I fight to hold still and let her adjust to my size. But she wraps her legs around my hips and bucks against me.
"More," she begs, and I'm not about to deny her. I slide out nearly all the way. She whimpers.
I thrust back in, and she groans, "Yes." After that I ride her hard and fast. She meets every stroke, slamming her hips against mine. I fuck her with brutal strength, and she keeps crying for more. I'm in heaven.
Her gorgeous breasts bounce up and down in rhythm with my thrusts. I can't wait another second to get better acquainted with them.
I shift my weight to one arm, and use the other hand to cup the tantalizing flesh, which is as soft and smooth as it looks. I slide my thumb back and forth over her tightly puckered nipple, and I'm rewarded with a sharp cry.
I keep up the light, teasing strokes. She arches toward my hand, whimpering. I pinch and tug on the pink bud. She bucks so hard she nearly unseats me. "Yes, God, yes!" she cries.
I need one of those sensitive nipples in my mouth like I need to breathe. I grab her hips, holding her firmly on my cock as I sit back on my heels. She lets her torn dress and bra slide from her arms. Then she wraps her arms around my neck and pulls herself up until she's seated in my lap. Now I can lick and suck and bite those hard buds all I want while driving myself even deeper inside her tight, wet cunt.
As if she can read my mind, my doe pulls my head down to her breast. I draw a pink tip into my mouth and suck hard, letting my teeth sink in just enough for her to feel them. She cries out, digging her hands into my scalp. "Harder, oh God, harder. I . . ."
I glance up without letting go of her nipple, desperate to know what she wants to say. Her deep brown eyes are wide and filled with need. "I like it to hurt."
I nearly choke around the hard flesh in my mouth. Have I died and gone to werewolf heaven? I bite hard enough to make her scream. She writhes against me. Before she's recovered, I give her other nipple a vicious pinch.
Buy it at Amazon.
Buy it at ARe
Buy it at Changeling Press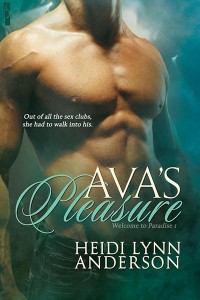 Ava's Pleasure by Heidi Lynn Anderson
Blurb
Of all the sex clubs, she had to walk into his.
When prim proper Ava stumbles into a Miami sex club, she isn't expecting to find the man from her dreams. Navy SEAL Logan is just wasting time between missions until this naïve and innocent woman turns his world upside down.
How was Ava Cullen supposed to know her prim and proper aunt was part owner of the premier sex club in Miami and a top-notch Dominatrix? When she stumbled into club Paradise and came face to face with her dream man, she had a feeling she stood on the precipice of something life changing.
Navy SEAL Logan Turner always knew he needed more out of life than the next mission. That's why he opened Paradise with his best friend Julie. It didn't hurt that he could reap the benefits of owning a sex club. That was until a sexy, doe-eyed woman walked in, making his control slip for the first time ever.
Excerpt
Ava's tongue swiped over her lips. "I don't know."
Logan slid the blindfold over Ava's eyes and stood back to drink in the sight before him.
"I don't know if I like this," she said.
"What don't you like, honey?" Logan watched the pulse in her neck beat a fast tattoo.
"I don't know."
"Are you uncomfortable?"
She shook her head. "No."
"I know you think you haven't been in control of your life." Logan grasped the flogger and ran the silk strands over his palm. "But the opposite is true."
"You've been making all the decisions for yourself." Logan ran the strands between Ava's full round tits, tracing their curve.
The sound of her moan had Logan inhaling hard. He needed to be careful, if he didn't want to blow his load too soon. "Honey, you're beautiful like this." Logan made his way slowly—almost painfully so—to her luscious pussy. The sounds of longing that came from Ava filled him with joy and love.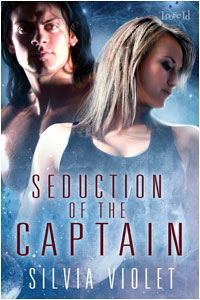 Here's an excerpt from the third book in my BDSM Sci fi series, Surrender, starring another sexy Lalatian dominant.
Seduction of the Captain by Silvia Violet
Blurb:
Kajinek is a Lalatian Dominant who must feed on fear, pain, and sex for survival. Since leaving his homeworld, he hasn't met a woman who could truly satisfy his needs.
Mercenary captain Saida Alexander needs a pilot for the most dangerous mission she's ever undertaken. She chooses Kajinek, because he's reputed to be the very best. She never suspects that he'll awaken the submissive desires she's ignored for years.
When Saida knocks on Kajinek's door, he senses that she's the partner he's been looking for. He agrees to fly her ship under one condition; she must personally feed his darkest desires. Can Saida give in to what her body wants or will submitting sexually shatter the careful control she wields over the rest of her life?
*Warning: This is an X-rated excerpt*
Excerpt:
Kajinek followed Saida down the corridor toward their quarters, fighting the urge to throw her over his shoulders and run just to get there a few seconds faster. His cock felt like an iron rod in his pants, and the need to take her burned through his veins. At every stop along the tour, she"d managed to brush against him, lean over him, flaunt her body at him, all without seeming to do a thing.
When her ass had brushed his cock as she stepped back into him while reaching for an overhead hatch, he"d almost lost it. He"d planned to introduce her to more of his implements of torment that night. He"d wanted to work her up, make her beg, make her acknowledge what she was to him, but that would have to wait until he got some relief. The second the door to her quarters was closed, he was going to take her hard and fast. Then he was going to torment her until she surrendered her very soul.
Saida laid her palm against the sensor beside her door. Kajinek smiled when he noticed her hand trembling. He breathed deep, drawing in a satisfying stream of hunger and fear.
The door slid back. Saida stepped through. He stepped in behind her, so close they were nearly touching. She smacked the interior sensor. The door slid closed ever so slowly. Kaj didn"t move. Neither did Saida. The door clicked shut.
"Full privacy screens." Saida's voice was low and husky.
The control computer responded. "Confirmed."
Kaj grabbed her shoulders, spun her, and slammed her back against the door. He crushed his lips to hers in a brutal kiss. He wasn"t interested in finesse or seduction or even forcing her submission—he simply wanted. Wanted what she"d been flaunting all night, wanted relief from the hunger that raged through him.
"Fuck me," Saida demanded, arching her hips to slide her pussy along the hard length of his cock.
He felt the heat of her through her suit and his pants. But that wasn't enough. He needed her naked; he needed to be inside her. He needed to make her scream. But he couldn't seem to tear himself away from her mouth.They bit and sucked at each other. Their tongues were like weapons fighting to devour each other. She dug her nails into his back, tearing into him like the claws she could form. He groaned and used his hips to pin her to the wall while he ground his cock against her pussy lips, which were as clearly defined against her suit as if she were already naked.
She growled and bit his lip hard enough to draw blood. Pleasure jolted through him. He might not need pain like a submissive did, but he"d been taught to appreciate any heightening of sensation. He sucked her tongue into his mouth so hard, she groaned and bucked against him, trying to get him to move, working her clit against the hardness of his shaft. He drank down her fierce need, wanting more, wanting her surrender, wanting to eat her up.
She raked her nails down his back—no longer fingernails, but claws—ripping the fabric of his shirt. He gasped and pulled away from her. Her eyes burned with passion, but they still looked human. "Saida?"
Her need assaulted him, nearly making him choke. She struggled to draw in air. "I"m controlling it. Some of my lovers…like the…danger. I thought you…would too." She worked the fastening of his pants. Once she got them open, she shoved them over his hips, freeing his cock.
She wrapped her still-clawed hand around his cock and slid it up and down. He didn't think it was possible to get any harder, but she proved him wrong. He was supposed to be the one who inspired fear, the one who fed his partner"s need for danger, but the sight of her claws wrapped around his cock was making him hotter than he"d thought possible. If she didn't stop soon, he was going to come.
"Enough." He closed his fingers around her wrist. She released him, but she trailed one of her claws down the length of his cock, barely skimming the delicate skin. He sucked in his breath. His cock jerked, reaching for her touch, wanting the danger she offered.
Saida chuckled. "I knew you were addicted to danger."
Anger burned inside him. How the hell had she gotten the upper hand? As soon as he"d slaked the lust burning through him enough to think again, he was going to torture her until she begged to serve him. He"d make her his slave. He looked up, letting her see the anger burning like fire in his eyes. "You have no sense of self-preservation."
Buy it at Amazon
Buy it at ARe
But it at Loose Id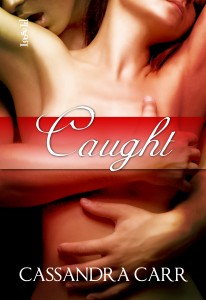 Caught by Cassandra Carr
BLURB:
When Callie returns to her hometown for the holidays she comes face to face with her old lover and Dominant, Jack. She left him three years ago believing he could never be the happily-ever-after man she needed. Yet Jack still wants her and she finds herself wanting to submit to him again.
As Jack and Callie explore their Dominant/submissive relationship, Callie gets drawn deep into Jack's world all over again. For his part, Jack can't seem to forget how she nearly ruined him when she took off without even saying good-bye all those years ago, but he's afraid his baser needs will destroy Callie.
If Callie give Jack another chance to prove he can be what she needs, can Jack overcome his own fears and claim Callie forever?
EXCERPT:
'They're really taking this politically correct thing too far.'
Stepping from the foyer into the living room, Callie spied a twinkling Christmas tree in the corner. On the mantel, a lit menorah burned, the candles flickering as the people nearby jostled for position as more and more guests crammed into the room. This was a boisterous crowd; already drinking like it was New Year's. Advancing further into the room, she noticed the Kwanza decorations and rolled her eyes.
'Pick a holiday and go with it, people. You can't please everyone.'
She sought out the host and hostess, old friends from her grad school days, and said hello, handing over the obligatory "Thanks for inviting me" bottle of wine. They chatted for a bit to catch up before she grabbed a cocktail and made her way toward the dining room in search of other former classmates and some food. The smells of the various delicacies wafted by, making her mouth water in anticipation. She had just gotten into town and was starving. Plopping a slice of Cheddar cheese onto a cracker, she stuffed it into her mouth and then looked up — and everything inside her came to a screeching halt.
Jack was there.
With a beer hanging from his long, rough fingers, he leaned against the wall, casual as can be, while her world tilted on its axis. He looked so good– still the same tall, well-muscled body, still the same olive skin, black hair, and full lips. His Italian ancestry lent him an air of exoticness, and she'd always been a sucker for that.
Her stomach roiled. The cracker caught in her throat, choking her. As she began to cough and sputter, he turned to see what the commotion was, and their gazes met. Callie watched as his eyes went dark with heat and recognition. A blush rushed up her chest through her neck and into her face. With suddenly cold fingers, she touched her burning skin.
He brought his beer to his lips and took a long pull, his tongue sneaking out to catch a stray drop from his top lip. Her gaze followed the movement. His own intense gaze never left her face. Even when his companion said something to him, he merely nodded and kept the whole of his attention on her. She took a fortifying sip of her vodka and cranberry juice, then another, longer gulp, trying to dislodge the cracker from her throat. And still he stared.
And she did the same damn thing she'd done three years ago when she'd gotten scared by his demands, his power — she ran. Cursing herself for her cowardice, she nonetheless wove her way through the crowd, setting her drink down on the nearest available surface as she rushed past. But before she made it to the front door, she felt his hand, still chilled from holding the beer bottle, curl around her overheated arm. "Long time no see. Leaving so soon, Callie?"
He pulled her around to face him, he backed her up against the wall in the foyer. With him this close, with his touch and his smell and his sheer size surrounding her, her body betrayed her, just like it always had where he was concerned. Her nipples tightened, her pussy ached, and her breath quickened. "What are you doing here?" She sighed at her own stupidity for asking something so obvious.
"These are my friends. A better question to ask is — what are you doing here?"
"I came back to town for the holidays, and I wanted to see some of my old grad school buddies. I guess I-I didn't think about the possibility of you being here."
"Is me being here a problem?"
"No," she answered too quickly.
"I miss you."
"I miss you too."
'Dammit! What else am I going to admit to him?'
"I still want you. I want to touch you. I need to touch you. May I?" At her silent nod, he lightly rested his hand around her throat. Not hard enough to choke, but enough to establish his dominance over her.
'Like he needs to establish that. How could I possibly forget who and what he is?'
Callie shivered. God, she wanted him. She'd never been as scared or as excited or felt as alive as she had during the year and a half she had subbed for Jack. Seeing him again made her want to get down on her knees and give him anything he wanted. If she remembered correctly, that was everything. But could he give it back to her? Before, he'd been unable or unwilling to, and when she hadn't been able to handle loving him without reciprocation anymore, she'd left.
Her lips were parched, and she darted her tongue out to wet them. His eyes turned black as they blazed back at her. "I want you too." And it was the truth. She wanted him, and this time, she'd have him. If she ran away again, she knew she'd regret it for the rest of her life.
"Are you collared?"
"No."
"Seeing anyone?"
She turned the question around. "Are you seeing anyone?" A strange look passed over his face, but Callie couldn't interpret it before it was gone.
"No. Answer me, Callie — are you seeing anyone?"
"No."
Letting out a soft growl, Jack cupped the back of her neck in his large hand and kissed her. There was nothing gentle in his kiss — there never had been. This kiss was one of possession, of establishing even more control. He pressed in further, molding his body to hers while he continued to plunder her mouth. He didn't force his tongue inside; he didn't have to.
Surrendering, she relaxed and let him take her. He let out a grunt of satisfaction and changed the angle of her head so he could deepen the kiss. He slid a powerful thigh between hers as she moaned from the sensual onslaught.
After long moments he pulled away, grabbed her hand, and led her toward the back of the house. Callie gasped when he pushed her into a bedroom and kicked the door closed. She whirled around to face him but couldn't bring herself to look him in the eye, reverting to the naturally submissive pose of staring at his feet, her hands behind her back. She hadn't subbed for anyone in the three years she'd been gone and was amazed at how quickly the submissive veil slipped over her again. He chuckled.
"My pet, you're still a delightful submissive, I see." He took a gentle hold on her chin and pulled her face up to his. "I want you. I've always wanted you, since the moment you walked into my classroom. I know I'm a selfish bastard, but I'm going to ask for this most exquisite Christmas present anyway: will you submit to me again?"
Callie nodded, too overcome with emotion to speak.
"I want to hear the words — I want you to be sure."
"Yes, I'll sub for you," she managed to get out around the lump in her throat.
"Good. Then you'll be available to me insofar as you're able to, barring other commitments. Do you understand me?"
"Yes," she answered, the word hardly loud enough to be considered a whisper. She licked her lips again.
"Yes, what?"
"Yes, Sir."
"By the way, I'm clean. I was tested a few months ago. You?"
"Yes, Sir, same."
He stepped forward and shoved her to her knees. She went willingly. Callie wanted this — she wanted to show him she could handle him this time. Keeping her eyes trained on the floor, she waited for his next move. He let her stew for a minute and then pulled her to him, undoing his pants with his other hand. He guided his already-erect cock into her mouth, and she took it, letting his essence wash over her tongue, relearning the contours of the head, the smoothness of the shaft, as he sawed in and out of her mouth with brutal strokes. He'd never been easy on her, and tonight was no exception.
He pulled his still-hard cock out of her mouth, resting just the very tip on her bottom lip. "How long are you in town for?"
Callie drew back enough to answer, "Through the first of the year."
She looked up in time to see him smile. "Excellent. We have a few weeks, then." He thrust all the way to the back of her throat, and she struggled not to gag. He held the back of her head with both hands, forcing her to take his dick all the way to the root, and held it there for several seconds. "Where are you staying?" He pulled out again. He had always liked carrying on conversations as Callie sucked him — reinforcing his dominance by repeatedly pulling out and then shoving back into her mouth as he saw fit.
"With Lora," she answered, naming her oldest friend.
"Ah, not far from me. I still live on Tremont. Is she going to let you play?"
"Lora lets me do whatever I want — she doesn't judge."
"I think I'm really going to enjoy the holidays for the first time in a long while." He went up on tiptoe and pushed back into her mouth, tilting her head until it was at the angle he wanted, and then began ruthlessly plundering her depths. "It's been a long time since you've tasted my cum, my sweet. You're going to swallow it — every drop, like the gift it is."
A scant few seconds later, Callie felt his cock swelling even larger, growing even longer, and then after pulling back until only his cockhead remained inside her mouth, he was coming; straining, as jet after jet of warm, salty liquid shot onto her tongue and slid down her throat. When he was finally spent, he withdrew completely and put himself back together. She remained on her knees, the denim of her jeans little protection from the hardwood floor.
Some might say she gave in too easily, but as Callie considered the man before her who'd turned her world upside down now for the second time, she knew that wasn't true. Not at all. Her soul was at peace for the first time in years. She was a different person than she'd been all those years ago. Callie was what and where she needed to be: she just had to figure out how to hold on to the fragile sense of contentment she'd discovered tonight.
He briefly stroked the side of her face, then leaned down to touch his lips to hers. "Give me your number." She started to reach into the purse that had fallen beside her on the floor. He chuckled. "You may rise." Standing up with her purse, she pulled a small sheet from the memo pad she always kept with her. "Still jotting notes, I see."
"Yes, you never know where or when you'll find inspiration," she answered, quoting one of his own mantras back to him. After writing down her cell phone number, she handed him the paper.
He held up it and kissed it. "I'll be in touch." After taking one last look at her, he left the room.
She sat down on the bed, touching the tips of her fingers to her lips. Undoubtedly he thought he'd scored a great coup, bringing her back into his fold. Little did he realize, though… Sometimes the hunter becomes the hunted.
Copyright 2011, Cassandra Carr