How to Seduce a Werewolf Cop…..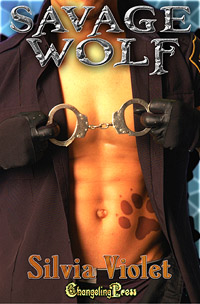 Make Steak Diane. Bake some potatoes. Load them up with butter, sour cream, bacon and cheese. Then come to dinner wearing nothing al all.
Officer Wolf: Silvia's onto something here. I would definitely go for that. Manly food. Nakedness. Dirty sex for dessert. I'm all for it.
Get better acquainted with Officer Wolf in Protect and Serve: Savage Wolf by Silvia Violet

Comments
Jeanette says:

Now this Wolf cop looks so so good! I wouldn't mind being a deer for him lol!

silviaviolet says:

Thanks Jeanette! I agree. He can go all scary predator on me anytime.

Terra Pennington says:

Hey Silivia,

I got this book the other week at the LRC party and can't wait to finish reading it.
Terra

Terra says:

LOL Sorry added to my I's in your name. Let me try again. Hi Silvia.

Terra

Dawn R. says:

Well damn….I now want to have Wolf over for dinner *grins wickedly* He can bring the handcuffs and I got the whipped cream. *grins*

silviaviolet says:

I hope you enjoy it Terra!!

Officer Wolf to Dawn: I never leave home without my handscuffs and I do so love my desserts covered in whipped cream.