Holiday Recipe Extravaganza – Nicole Dennis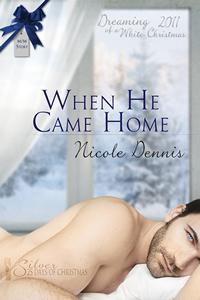 When He Came Home
By Nicole Dennis
Blurb:
Kicked out after graduation by his strict, abusive father, Blake Denton didn't return home for fifteen years. Now a psychiatrist and counselor to the GLBT community, he found forgiveness and love with his long-time partner, Sullivan Fitzgerald, and a home in Vermont. A phone call to his mother to wish her happy holidays ends with a plea for a visit home. This time, with Sully's support, they drive to the farm and spend Christmas with his family. Things have changed since he left. All of his younger siblings have married and are parents. His mother is standing on her own at the door. His father isn't within the home, but the memories of years of abuse linger everywhere. Can it ruin the first Christmas Blake has with his family?
Excerpt (unedited):
Fifteen years had slid by since Blake Denton last drove this winding route. For some reason, this path off the country lane that led to the old-fashioned farmhouse seemed to have lengthened since that long-ago night. His knuckles whitened around the steering wheel, gripping it harder than needed to control the SUV. The tires hit a pothole the shock absorbers couldn't quite handle.
"Holy crap, Blake! Isn't this thing paved?" Sullivan Fitzgerald cursed and grabbed the oh shit bar on his side of the car.
"Never. Around a farm, they put money where it's needed most." Blake maneuvered around another pothole in the driveway. Rather, he maneuvered around the ones he could see under the layers of snow. "Around here, everyone has big-ass trucks and Jeeps to handle this kind of shit, or they're on tractors, which roll over anything in their path. They probably don't even know about them."
Sully grumbled and flexed his fingers around the handle when the SUV rocked.
Blake glanced at his partner and lover. Peeling his fingers from the steering wheel, he reached down for Sully's hand. Their fingers entwined. "I wouldn't make this trip without your support, Sully."
"Taking a step forward and driving down to backwater, small-town North Carolina to start over with your family," Sully said.
"Does anyone know we're coming?"
"Just my mother."
"Did she tell anyone else?"
"I asked her not to, considering Dad's reaction to when I left fifteen years ago."
Buy it here.
For my recipe, an old favorite twisted into something new.
Hot Chocolate with Marshmallow on a Stick
Hot Chocolate Fudge Ingredients: (Time: 12 hrs to Overnight to SET)
**Can Cheat and use a box brownie mix – I recommend Ghiradelli Double Chocolate Brownies – if you prefer brownies to fudge.**
1/2 c heavy cream
14 ounce can sweetened condensed milk (1 1/4 c)
3 c semisweet chocolate (3 c chopped chocolate bars or chips)
3/4 c unsweetened baking chocolate (4 ounces)
Tools:
9×9 pan
Tinfoil
Heavy bottom saucepan
Rubber or silicone spatula
Whisk
Sharp knife to slice
Cutting board
Directions:
Line a 9×9 pan with foil and set aside.
Combine cream and milk in a saucepan over medium heat. Heat until steaming, but not boiling, stirring occasionally to keep from scorching. (This is not the time to be wandering away, please.)
Add all of the chocolate and remove from heat. Allow the chocolate to melt, undisturbed, for 10 minutes. After 10 minutes, whisk firmly until it is thick and shiny.
Use a spatula to spread the mixture out evenly in prepared pan. Allow to cool at room temperature 12 hours or overnight so that it firms slowly.
Take fudge from the pan and remove the foil. Place on a cutting board. Using a knife heated with hot water and wiped dry, cut the fudge into 2" squares.
Homemade Marshmallows Ingredients: (Time: Up to 4 hours)
**Trust me, they're easier than you think! If you must, then buy those new Square Marshmallows and use at least two for each Fudge square.**
Vegetable oil, for brushing
4 envelopes unflavored gelatin (3 Tbsp plus 1 1/2 tsp)
3 c granulated sugar
1 1/4 c light corn syrup
1/4 tsp salt
2 tsp pure vanilla extract
1 1/2 c confectioners' sugar
Tools:
Candy thermometer **Must be one made for CANDY**
Electric mixer w/whisk attachment
9×13 glass dish
Medium saucepan
Offset spatula
Large dinner plate
Parchment paper
Sharp knife to cut
Silicone brush for oil
Directions:
Brush glass dish with oil. Line with paper, allowing a 2" overhang on long sides. Brush paper with oil and set aside. **More oil the easier to remove the marshmallows at end**
Put granulated sugar, syrup, salt, and 3/4 c water in pan. Bring to boil over high heat, stirring to dissolve sugar. Clip thermometer to side of pan. Cook, without stirring, until mixture registers 238 degrees on thermometer, about 9 minutes.
Meanwhile, put 3/4 c cold water in bowl of mixer, sprinkle with gelatin. Soften 5 minutes.
Attach bowl with gelatin to mixer, turn on low speed, beat hot syrup into mixture. Gradually raise speed to high, beat until very stiff about 12 minutes. Beat in vanilla. Pour into prepared dish, and smooth with offset spatula. Set aside, uncovered, until firm, about 3 hours.
Sift 1 c confectioner's sugar onto a work surface. Unmold marshmallow onto sugar, remove parchment. Brush knife and fingers with oil, then cut marshmallows into 2" squares. Sift remaining sugar on a plate, roll each marshmallow to coat all sides.
They can be stored in airtight container up to 3 days
To assemble:
Long lollipop sticks
Colorful plastic wrap or plastic bags
Ribbon to tie
Place Fudge square on bottom and Marshmallow on top. You can decorate further with cocoa powder or broken candy canes, but I leave them alone. Poke the stick all the way through to bottom. Wrap with plastic wrap or place in bag and tie with the ribbon.
Find Nicole on the web: