Holiday Recipe Extravaganza – Ashlynn Monroe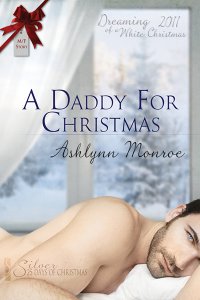 Charlie St. Claire didn't mean to let herself love the three terrified little boys the day she became their caseworker, but she did. The boys had unique issues, but with her typical positive hopeful attitude, she decided that she could give them a better life.
Everything was going well with her plan to adopt them until their deadbeat biological father wouldn't give up his rights. When the brave eldest brother asked to see his father for Christmas, it gave her the perfect opportunity to confront the jerk and demand he see that she was what was best for his kids.
Richmond Wolfe hadn't seen his sons in years. He had no idea that his estranged wife had taken such a downward spiral until she died of a drug overdose. It was just one more thing for him to feel guilty about. He couldn't help what he'd become, but he'd tried to make up for it by leaving. Now some city-girl do-gooder wanted his kids. He wasn't willing to give them up because he loved them.
Soon Charlie discovers Richmond's terrible secret. It explains so much, but also puts her and the boys in danger. Burgeoning feelings for the hunky outdoorsman fill her with confusion and something more.
If you want a sweet, albeit passionate romance this Christmas, try my story A Daddy for Christmas from Silver Publishing.  If you like adventure and werewolves, you'll love this quick read.  In my story Richmond and his boys really like venison, my whole life I've had hunters in my life and as you can imagine game was often served on our table.  Christmas Eve supper was always a choice of venison chili or oyster stew growing up.  Here's my recipe for venison chili.  (Turkey works just fine too.)
1 lb ground venison                                                1 can mild chili beans
1/2 lb ground beef                                                1 can red kidney beans
1/2 lb ground pork                                                1 can baked beans
1 small onion chopped,                                      1/8 cup chili powder
1 small green pepper chopped                                    2 stalks celery chopped
Mix the meat, peppers, celery, and onion together.  Brown over medium heat then drain, add chili powder and 1/8 cup water.  Cook for approximately five minutes.  Add beans, mix well, cook for another five minutes or until hot.  Serve with sour cream and cheese if desired.  This is great in bread bowls.
Learn more about Ashlynn at her website.

Comments
Silvia says:

Thanks for being here Ashlynn. My husband has a friend at work who loves deer hunting and we always buy venison from him so I'll have to try this recipe.