Holiday Recipe Extravaganza – Sugar Cookies
Today I'm celebrating the release of my Christmas story, One Kiss. When I decided to write a Christmas story back in the heat of summer, I knew I wanted to highlight the significance of family traditions. One thing I loved about Christmas as a child were all the holiday activities we did in the same way year after year. They were as comforting to me as a steaming mug of cocoa.
With that seed in my mind, Ben and Jake's story began to take form. As I got to know Jake's family, I gave them some of my own traditions, some plucked from the Christmas traditions of friends, and some I'd like to try to add into our already crazy holidays.
One thing I did every Christmas when I was a child was make sugar cookies with my grandma. We used a recipe that my great aunt, Leola, had given my grandma when my mom was young. The recipe, written in my great aunt's scrawly handwriting on a small card, is still in use in my house today. It is simply titled Good Cookies.  Some years we dye the dough red and green as I usually did with my grandma and some years we leave it plain, but we always enjoy selecting the cookie cutters we want to use and decorating the cookies with lots of sprinkles.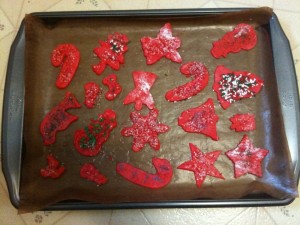 Great Aunt Leola's Good Cookies
1 cup butter
1.5 cups sugar
2 eggs
1 tsp vanilla
3.5 cups flour
1 tsp baking powder
1 tsp salt
Preheat over to 350F. Cream butter and sugar until fluffy. Add eggs and vanilla. Mix until combined. Sift flour, baking powder, and salt together then add to butter mixture and stir until combined. Wrap dough in plastic wrap and chill for at least 3 hours. Then roll out dough, cut out cookies and bake until edges have a hint of brown, approximately 7 minutes. Cooking time will vary based on how thin you roll the dough.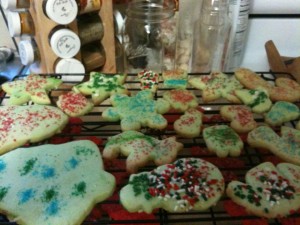 One Kiss by Silvia Violet
Jake Sanders comes home for Christmas after a dreary semester filled with sleepless nights and a cheating boyfriend. Finding a new man is the last thing on his mind until he discovers that Ben Swinburne now owns the bakery where they both once worked.
Five years ago, Jake and Ben shared a single kiss, and Jake has never forgotten the way Ben's lips felt against his. When Ben catches Jake under the mistletoe, passion ignites between them.
This time around, Ben wants more than one kiss, but Jake isn't sure he's ready for another relationship. Can Jake move past his pain and open his heart, or will he miss out on a second chance with the man of his dreams?
Excerpt
When I pulled into my parents' driveway, I couldn't help but smile at the crazy colored lights snaking along the roofline, outlining every window, and circling the porch columns. Strands of glittery reindeer lights covered the azaleas lining the front of the house, and bells tinkled in the breeze
My mom loved Christmas, and every year she sent my dad outside on the day after Thanksgiving with string after string of lights, admonishing him to cover every available space with them. I noted that this year, a bevy of penguins had joined the animatronic reindeer and polar bears on the lawn. I could imagine my dad shaking his head as he set them out. But making my mother happy made him happy. So no matter how much he grumbled about the decorations, he always did his best to turn our home into a winter wonderland.
It was good to be home. I'd been avoiding my family, using the excuse of my tough-as-hell vet school schedule, but really I'd been depressed ever since I got dumped by my cheating bastard of a boyfriend a few months ago. I wasn't good company for anyone.
I grabbed my duffle bag and my laptop from the backseat and headed to the door smiling as one of the penguins greeted me with "Merry Christmas from Winterville".
"Mom! I'm home!" I called as I pushed the door open.
"Jake!" She rushed from the kitchen wearing one of her Christmas aprons. This one was an appalling shade of green with little Santas all over it. She raced down the hall, and I gathered her up in a tight hug. Yep, it was good to be home.
I took a deep breath, drinking in the wonderful smells coming from the kitchen. "Chicken and dumplings?"
My mom smiled. "You know I always make your favorites when you come home."
I gave her a kiss. "Thanks, Mom. Did you make chocolate cake too?"
She laughed. "That's your sister's treat, not that you won't eat your share."
"When will Lauren be here?" My sister and I had always been close and I regretted not calling her more in the last few months.
"Not for a few hours. Come on and put your things in your room." My mom started up the stairs, and I followed, grinning at the greenery that circled the railing and imagining my dad complaining about the whole damn house smelling like a pine forest.
I slung my duffle bag on my old bed and set up my laptop as Mom chattered about old friends of mine who'd gotten married and former teachers who'd retired and other local tidbits. I was about to inquire about our plans for the next few days when she said, "You'll never guess who bought Highland Bakery a few months ago."
My heart sped up as it always did when I thought about the bakery. Remembering the years I'd worked there meant thinking about Ben, my high school crush. He was six years older than me, and he had refused to go out with me until I graduated. I'd counted the days waiting for my fantasies to come true. Then a few months before graduation he told me he'd finally saved up enough money for chef school. I was thrilled for him until I found out he'd be moving. We shared one amazing kiss that night. Just one kiss, but I've never forgotten the feel of his lips on mine.
"Marsha sold the place?" I asked as I untangled my laptop cord.
"I told you she was thinking about retiring."
My heart beat even faster when I turned and saw that my mom had a look like she was up to something. "Who bought it?"
"Ben Swinburne."
I had to force myself to swallow before I could respond. "Really?"
She smiled slyly. "Yes. He'd been working as a pastry chef at a restaurant in Atlanta, but he wanted his own place."
I nodded. "He dreamed about that back when I knew him." Lusted after him. Dreamed about him.
"You should go see him. You've got plenty of time before Lauren gets here."
My heart pounded so hard I wondered if it could bruise my ribs. What was wrong with me? I hadn't seen Ben in over five years, but the thought of him still made me feel like a confused eighteen-year-old. I hated myself for being such a fucking coward. I would have to face him sooner or later. I'd be home for over a week. No way would mom give up on the idea now. But I needed more time to prepare myself. "I don't think so. I'd rather unpack, settle in."
Mom frowned. "Are you sure? He's made some renovations, and he's very proud of the place. You should go see what he's done. You were such good friends."
Yep, she wasn't going to let the idea go. "Another day maybe."
Mom cocked her head to the side, studying me. That always meant trouble. "Were you more than friends?"'
"Mom!" I groaned. "No."
"Well, I think he's a nice boy." Boy? He would be nearly thirty now, and even in his early twenties Ben Swinburne had been no boy.
"Mom, are you trying to set me up?" I'm fortunate in my family's acceptance of me. When I'd come out to them right before college my parents and sister had shown nothing but support. I shouldn't resent my mom's interference in my love life. She was only showing me the same consideration she gave my sister Lauren, but I really didn't want to talk about guys with my mother.
Mom smiled, still looking devious. "Of course not. But Ben did ask about you."
"He did?" My mom's eyes twinkled. Damn, I sounded way too eager.
Buy it here.

Comments
Johnny Miles says:

Sounds wonderful! I'll have to check it out. The excerpt reads like a Hallmark or Lifetime holiday movie. Much success and many sales to you.

Matthew says:

What a beautiful excerpt! I can't wait to see what happens next! …Must go buy and download it now… 😉
-Matt

Silvia says:

Thanks Johnny. I was going for a sappy homey feel so I'm glad it worked 🙂