Holiday Recipe Extravaganza – Johnny Miles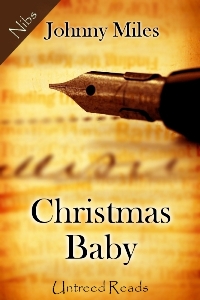 Being first generation American I had an interesting, and sometimes difficult, time of straddling two worlds. It seemed the different cultures were always clashing and juxtaposed at odd moments of my life. This couldn't have been any more evident than at Christmas.  While I faced cold weather, snow, and the prospect of meeting red-suited jolly old Saint Nick himself, my mom reminisced about cutting grass and leaving it under the bed — along with a bowl of water — for the camels and the Three Wise Men. In exchange, they'd leave presents of thanks under the bed; not unlike the Tooth Fairy I suppose. Of course, I don't remember if my mom said she actually left anything for Balthazar, Melchor and Gaspar. Who knows? It was a long trip. Maybe they were supposed to eat the grass, too.
For all the differences I observed, there were just as many similarities. The one thing that was the same was how the holiday revolved around food. In fact, some of my favorite memories are food-related.
The irony is that, as a boy, I wanted a typical American household. I wanted the Normal Rockwell Thanksgivings and Christmases, the stuff I'd see on television. Little did I know.
As I write this, I'm having a small epiphany. I think my upbringing has strongly affected my writing! Because of my struggles with straddling two very different worlds, I tend to have big cultural gaps and differences with my characters. In "Casa Rodrigo" we have Alonso and Arbol, a Spanish slave owner in love with one of his slaves. In "Lauderdale Hearts" we have Blake and Ricky, a caucasian advertising/marketing exec falling for a Latin masseur. And in "Learning To Samba" we have Brian and João, an American romance novelist who learns to love again with a Brazilian.
My latest story, "Christmas Baby" is probably the only piece that doesn't have a big cultural difference in it. But in a way, it's probably because the differences here are much subtler. This was a bit of a stray for me as it was my first foray outside of the m/m genre and takes place Christmas of 1957. But I think sometimes it's good to try new things.
And speaking of new things, if you'd like to try one of my all-time favorites from when I was a kid, check out tostones. They're a crunchy side-dish made from green, unripened plantains that are surprisingly simple to make. Cubans make them from the same plantain but once it's ripened to the point where it looks like you should throw them out. Please note that this isn't the type of thing you eat if you have problems with deep-fried or salty foods, or dieting.
You start off with green plantains. The ones shown here are already starting to ripen and that's okay. Just know it's best to get them when they're completely green. On average, you want about one plantain per person, unless you're a complete piggy like me and want an entire plateful just for yourself.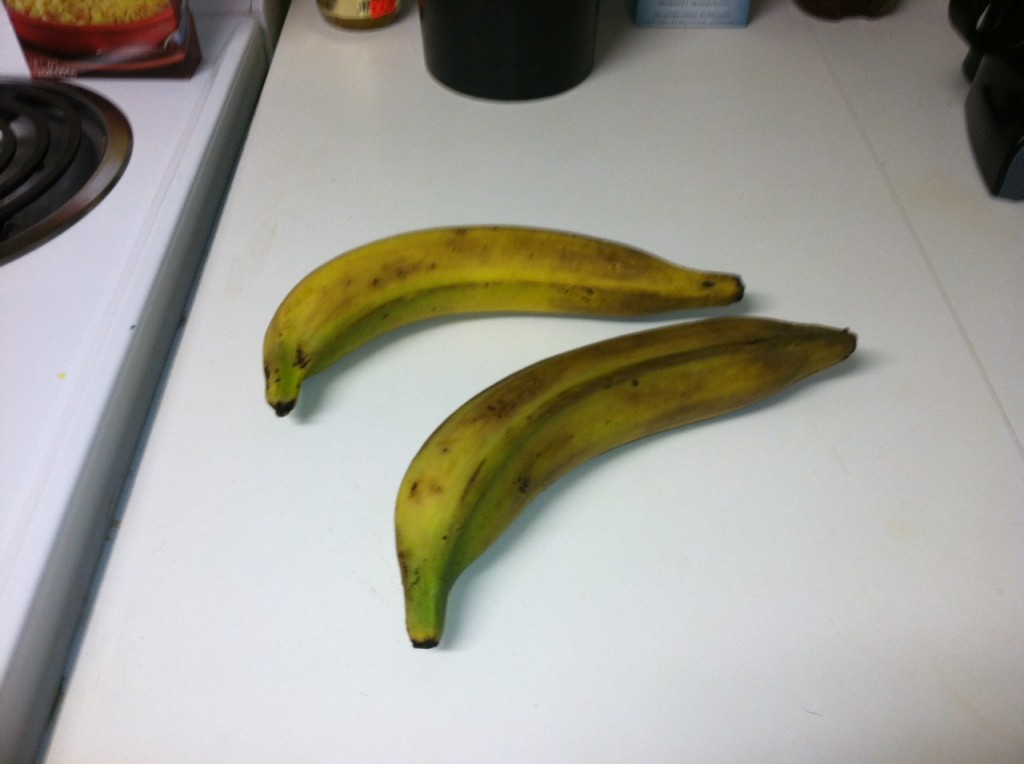 In a large frying pan, pour about ¼" worth of oil and turn up the heat. Vegetable oil is fine, or even canola oil. I've also been known to use olive oil. Keep the burner on medium as it will work nicely and you don't splatter. However, note that in order for the plantain to absorb as little oil as possible, the oil should be bubbling.


While the oil is getting hot, cut off the ends of the plantain then score the skin so you can peel them. Once peeled, cut the plantain into diagonal pieces about ½" thick. By this time the oil should be nice and hot.


Using a spatula, or long fork — or whatever else you feel comfortable with that won't squish the plantain — place the cut pieces of plantain into the hot oil until they've browned a bit. Flip the individual pieces over and brown the the other side. Once they've reached a nice golden color (this should only take about a minute or two), pull the plantain out.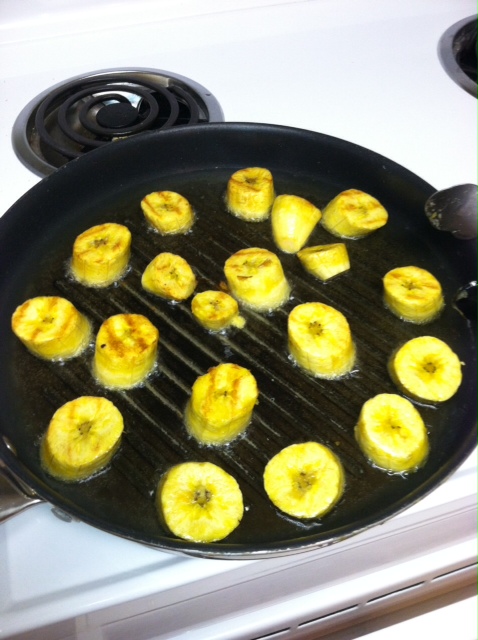 Now, here's the tricky part. My mom used to use paper bags to help absorb excess oil. However, we have this plastic contraption (I've also seen them made of wood) called a tostonera. Whatever you use, you want to make sure you flatten the plantain so the individual piece is about ¼" thick. Once you've squished the plantain, place it back into the frying pain and brown both sides for another couple of minutes.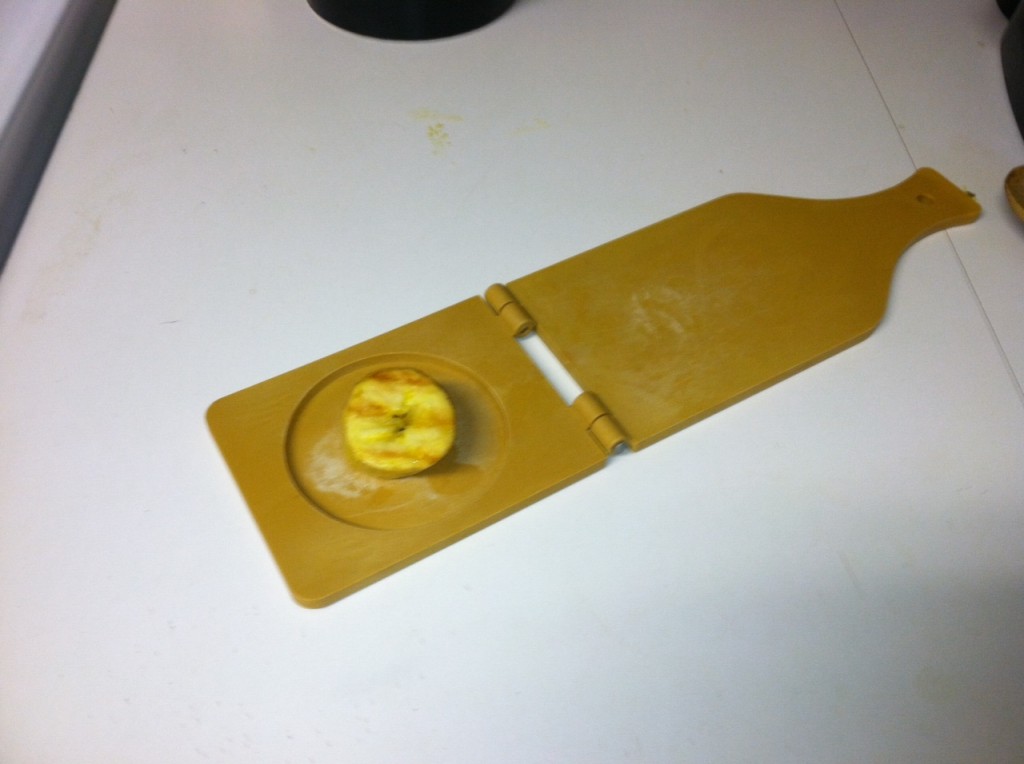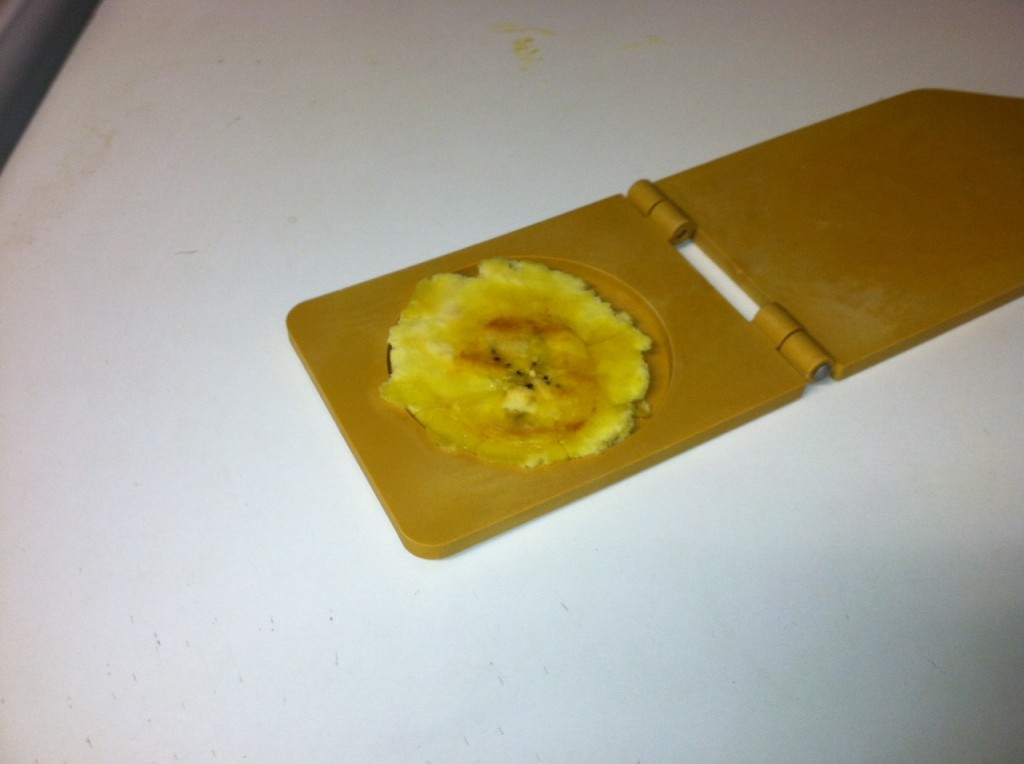 As you pull the tostones out, make sure you have a large plate nearby covered with a paper towels to absorb excess grease. Trust me when I say that, no matter how hot that oil is, the plantain is still going to absorb it.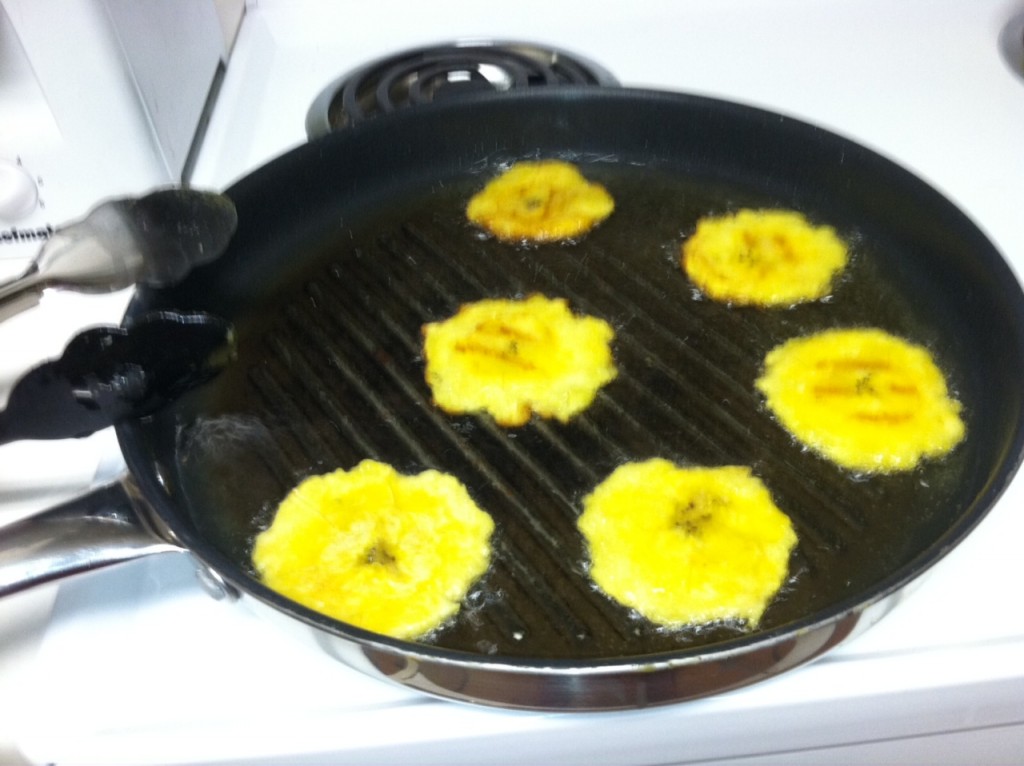 Once you're all done and the flattened, golden brown tostones are out, they'll be nice and crunchy. Season to taste by sprinkling with salt or crushed sea salt, and garlic powder if you wish. My mom sometimes uses minced garlic in the oil. But no matter what you sprinkle on them, these crunchy little treats will be tasty.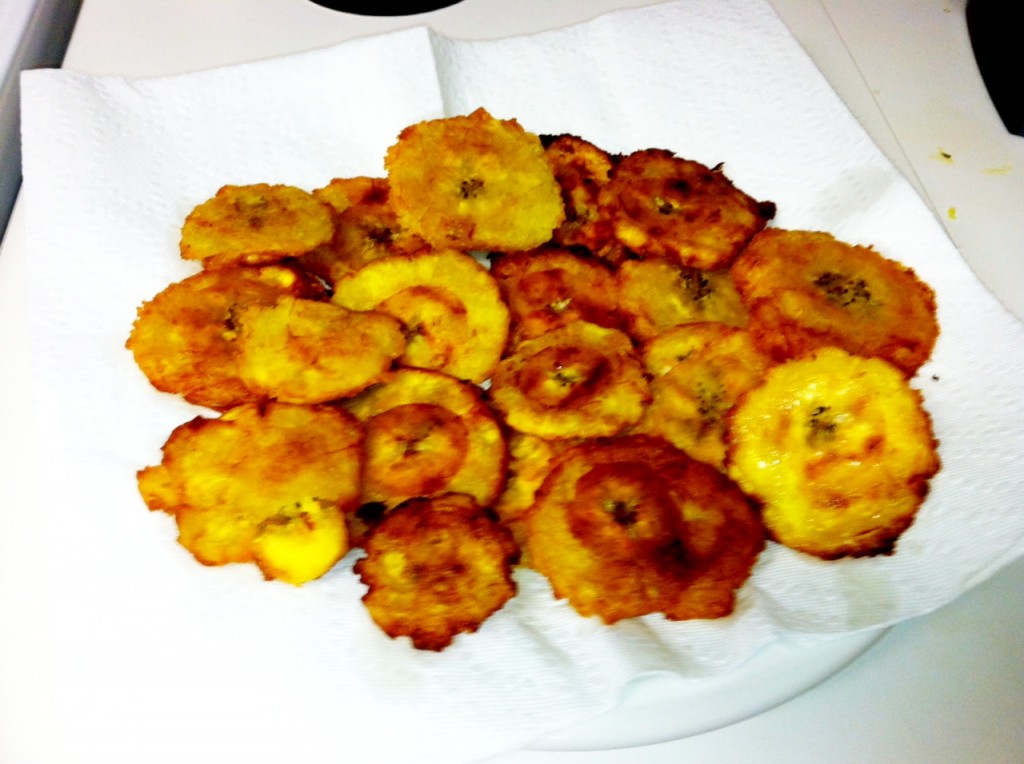 Happy Holidays everyone. Enjoy!
Christmas Baby by Johnny Miles
Description:
It's Christmas Eve morning, 1957, and John wakes up to find his parents are missing. When he realizes they never came home from a holiday party they attended the night before, John calls his estranged uncle, a man he barely remembers and hasn't seen in nearly 14 years. Together, they face a life-changing tragedy and John discovers a family secret that's been tucked away like the Christmas presents hidden in his parent's coat closet.
Excerpt:
I was five when my brother died. I never knew him. He enlisted in the war in '42. Three years later, there was a knock at the front door. I remember because I was the one that opened it, stretching so I could reach the doorknob.
Behind me, Mom called out in that tone mothers seem to have that can make you feel two inches tall and make you want to wet your pants all at the same time.
"Young man! What did I tell you about opening the door without asking who it is first?"
Not that it would have mattered. Most times it was a neighbor; another housewife coming to borrow a cup of sugar, a couple of extra eggs, a cup of coffee. Usually, though, they came for what my Dad called womanspeak. And some gossip.
I remember looking up at the man I did not recognize. The sun was behind him and his face was in shadow. All I could make out was a huge flash of white teeth. He wore a uniform like a policeman's, only without all the shiny buttons and badges.
"Hello, little fella. Is your Mommy home?"
But he could see for himself she was a few steps behind me. I remember her hand on ­my shoulder, gently pulling me away from the door and nudging me back towards the living room where I was trying, in vain, to put my brother's Lionel trains together. I can still feel the cold metal tracks in my hands as I tried to insert one end into the other.
I could hear the hushed voices of my Mom and the Western Union man. The sound of her purse as she popped it open. I knew without looking that she was rummaging through it. Then the pocket book snapped shut.
There was a "Thank you, Ma'am."
And the man was gone.
My Mom walked into the living room very slowly, looking at the envelope in her hand. As she sat at the end of the sofa, the end closest to my Dad's chair, she flipped the envelope over and pulled out a piece of folded paper.
"What's that Mommy?" I asked.
But she never answered. I saw her lips move as she read. Then I saw her clutch at her throat. She gave a little sound like a choke, or a gasp. Perhaps both. She then looked out the window and bit her lower lip as large, fat tears streaked down her cheeks.
"Mommy?" I remember like it was yesterday, as if I had just watched the movie myself; except that I was in it. She scooped me up in her arms as I approached and she just squeezed me. Very hard. I didn't understand why she was crying, but I understood that in that moment, she needed me.
My parents never really talked much about Billy. At least, not to me. But I could hear them sometimes, talking to one another. Late at night. My room was on the other side of what eventually became the shrine of a boy I grew to know only in pictures, the trophies, ribbons and pins he won at school.
And my Mom sobbing in his room long after my Dad had gone to bed.
Buy it here.

Comments
Johnny Miles says:

Thank you so very much for having me Sylvia. It was a pleasure. But now I'm hungry for more tostones!

Johnny Miles says:

Aaaack! Sorry. Silvia. Not Sylvia. Damn it. I should know better than to type before I've had enough caffeine to wake me up.