Pride Blog Fest 2013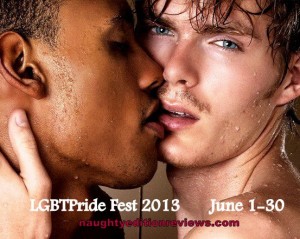 Hi everyone! I'm happy to be part of the 2013 LGBTPride Blog Fest at Naughty Editions reviews. I love writing about LGBT relationships and giving my characters happy endings. I hope that eventually all LGBT people will be able to publicly take pride in who they are and that everyone in our society will realize that we're all just people no matter who we love.
Today in celebration of Pride Fest I'm giving away all three ebooks in my Wild R Farm series. To be entered to win leave a comment here.
In the Wild R Farm series, my characters face predjudice both because they are gay and because they are shapeshifters. Just as there are those in our society today who tell LGBT people that their actions are sinful, there are people in my shapeshifter world who preach that changing form goes against God and that shapeshifters shouldn't take their animal forms. In other words, they should suppress who they really are.
The third book in this series, Embracing Need has just been released. I hope you enjoy Tristan and Wes as much as I've enjoyed writing them.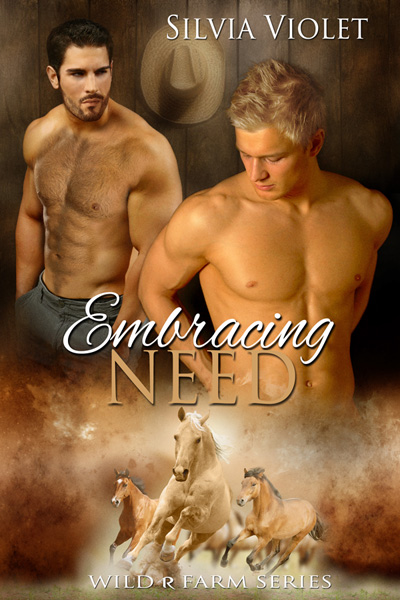 Embracing Need (Wild R Farm 3) by Silvia Violet
Blurb:
Horse shifter, Tristan Hayes, doesn't believe in relationships. He believes in hot, sweaty one-night stands that leave him aching for days.
Private investigator, Wesley James, is looking for someone to settle down with, but it's never occurred to him that someone could be a man.
Tristan loves a good game, so he flirts with Wes, never thinking anything serious will come of his attraction. Wes fends him off, but after three months of cat and mouse, both men are worn out from fighting what they feel.
When a young woman from Tristan's herd goes missing, he asks for Wes's help. Tristan keeps up his flirtatious façade until Wes calls his bluff, taking him out for dinner and dancing. As they search for the missing shifter, Tristan struggles to believe Wes could care for the man Tristan hides beneath his abrasive exterior.
Excerpt:
Tristan was sitting in a chair on Wes's front porch with his feet up on the railing when Wes pulled up.
Wes jumped out of his car, but his messenger bag tangled on something, and he tripped as he tried to yank it free. After cursing and kicking the car door, he turned back to Tristan, who was doing nothing to hold back his laughter. "If you were hoping that would turn me off, it didn't work."
Wes flipped him off, but Tristan just smiled. Wes's T-shirt stretched across his muscular chest as he worked to catch his breath. His well-trimmed, dark beard begged Tristan to rub his face against it and find out if it was as soft as he imagined. Even the annoyance in Wes's rich, brown eyes only made Tristan hotter, because knowing he could fluster Wes so easily was a major turn-on. Not that Tristan had any business pushing Wes's buttons more than he already had. The right thing to do was to keep things businesslike, but he just couldn't help himself. Years of overindulgence made his desires impossible to curb.
"What are you doing here?' Wes asked, his tone implying Tristan was the last person he wanted to see even though the fact that he was still not breathing steadily after falling out of his car belied his disinterest.
"I have a business proposition."
"Is that an innuendo?"
Tristan grinned. "Do you want it to be?"
"I've never paid for sex, and I don't intend to start now."
"Ouch." Tristan stuck out his lip, and Wes laughed, too good-natured to stay annoyed.
"I do have to say it's unsettling to find you all cozied up on my porch."
Tristan stretched deliberately, letting his shirt ride up. He ran a hand over his chest and across his toned abs, stopping just short of his crotch. "I have been getting rather comfy waiting for you."
Wes eyed him suspiciously. "What are you really doing here?"
"Are you afraid I'm here to demonstrate my riding skills?" He pushed up the hat, the same straw one he'd been wearing when he'd last seen Wes.
Wes's gaze strayed to the hat and then skittered over Tristan's lean body. "No. Yes. Damn it, Tristan, quit being so fucking infuriating."
Tristan took pity on him then. "A young woman from my herd is missing, and I need your help to find her."
Wes sighed. "Calling the police is out of the question?"
"Yeah. We don't involve humans in our affairs unless we absolutely have to."
Wes stared at him. "I'm human. Did you forget that?"
"Oh, you don't count."
Wes glared. "I don't?"
Heat rose in Tristan's cheeks. "You know what I mean. You're not going to try to force us to adhere to your human ways."
Wes shook his head. "I'm not going to force you to do anything."
"Really? Are you sure? I've been such a bad boy. You might need to teach me a lesson."
Wes growled. "Knock it off."
"Aren't you going to invite me in?" Tristan asked, gesturing toward Wes's front door.
Wes sighed. "Do I have to?"
"Well." Tristan paused to fan himself dramatically. "It is a bit warm out here." With Wes so close, warm was an understatement.
When they got inside, Wes offered Tristan a bottle of water from the fridge. He took it, then watched, paralyzed, as Wes cracked his own bottle open and gulped it down, the muscles of his throat flexing, his large hand wrapped around the bottle.
When Wes put the bottle down, he seemed to realize Tristan was staring at him, and his cheeks reddened. Tristan looked away and opened his own water. He really needed it now, since all the moisture seemed to have left his mouth.
"I'm assuming you haven't eaten dinner," Wes said.
Tristan shook his head.
"Then let's go get some. I even know a place where after we eat, you can show me your dance moves like you've been threatening to do."
Tristan stared, openmouthed. He'd been teasing Wes about taking him out dancing since the day they met, but he never thought Wes would propose such a thing. "What are you up to?" he asked. Calling his bluff. That's what the bastard was doing.

Comments
Browncountrygirl says:

This story sounds enticing. .First I heard of the series, but would love an opportunity to read it. .

laurie says:

I also love the sounds of the story. TA chase also did a horse shifter story and it was good!

Trix says:

Sounds like a very engaging series!

Joelle Casteel says:

Oh I so want to read all 3 of these books 🙂

Emily W. says:

This sounds like an awesome series, can't wait to read it!

tiger-chick-1(at)hotmail(dot)com