Mischief Corner Books New Shenanigans Blog Tour
Mischief Corner Books – What Happens When Creative Minds Start Thinking Too Much
We didn't set out to do this. Honestly, we didn't. MCB was born of a need to keep a bunch of friends writing together who miss each other too damn much. We live all over America and even in Australia, for gosh sakes, and we only get to see each other maybe once a year, if that.
It's tough being separated but group writing projects made us feel like we were still in the same room, bouncing ideas off each other, making outrageous suggestions just to see if someone would take us up on it. Someone always did. But the more we worked on these things, the more we realized…we needed to go legit. So Mischief Corner Books was born as a company.
Today, we thought we'd share some details and some snippets of MCB stories – both from the current release and some past ones that are getting ready for individual release soon.
The current release, Horns and Halos was a reader selected anthology. We like that kind of thing. You guys tell us what you want. We go out and interpret the request each in our own unique way. We had three takers on this one: Toni Griffin, Freddy Mackay and Angel Martinez, and while we had originally asked for short stories, this collection of three tales ended up at 99K words. Um. Yeah. Some of us need to learn the meaning of short. *ahem*
The prompt? Write a story about angels and/or demons. Take your cues from whatever culture you like. Write in whatever genre you see fit. We ended up with an interesting trio.
Archie's Accidental Kidnapping by Toni Griffin (M/M Fantasy – Hellhound Shifters)
Hell may not have any fury like a woman scorned, but even that's nothing compared to a Hell Hound when you get between him and his mate.
Snippet:
"What the hell are you doing?"
"Sleeping. What does it look like I'm doing?" Archie asked quietly as sleep tried desperately to take him away. Really, Archie was starting to wonder about his kidnapper with a question like that.
"You get kidnapped and think it's okay to just go to sleep?" The man sounded genuinely confused. Archie didn't know why. Everyone needed sleep.
"See, told you that you kidnapped me."
Internment by Freddy Mackay (M/M Fantasy)
Tadashi's life spirals out of control, and he hides away on his mountain taking care of the one place he knows he is safe, and people are safe from him. But the world has a way of interrupting life.
Snippet:
The squirrel danced around the broom, determination on its face. It sat back on its hind legs and pointed at him. "Bad human!"
"Argh!" God, it talked. It really fucking talked. The broom came down on instinct, landing right on top of the demon squirrel. It squeaked. That seemed normal.
"Stop trying to squish me!"
That did not! Its tail flicked wildly under the bristles.
"Get this broom off me!"
"Stop talking!" he demanded, his chest heaving. His head felt kind of light. That couldn't be good.
Hell For The Company by Angel Martinez (M/M Science Fiction/ Humor
Shax, the Demon Prince of Thieves, has reconciled himself to exile. He has a grand time careening around the galaxy as a high-end, intergalactic purloiner of pretties. Everything's going just fine, thank you very much, until he comes across an injured angel in a psychedelic alien jungle.
Snippet:
"Ver."
"Hey, trouble."
Shax sipped his coffee, staring in confusion down into the not-quite-empty-anymore hold. "We have cows."
"You figured that out all by yourself."
"They're…floating."
"Yeah." Steam rose from Verin's nostrils when he snorted. "They're antigrav cows. The guy explained the science-y stuff about how they have some kind of extra antigrav stomach built into their genetics but I wasn't really listening."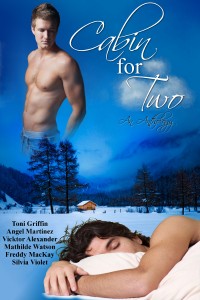 Cabin For Two was our first anthology, inspired by…our cabin. Ha. That's where we all met, though, and it was quite an inspirational place 🙂 Next month, we'll start releasing the Cabin for Two stories as individual pieces, nice little bite-sized Mischief Corner stories just for you. A few tastes to hold you over:
Their Natural Habitat by Silvia Violet (M/M Contemporary)
A forest ranger and his lover just want a nice weekend away. The bear baiters have other ideas.
Snippet:
Dan had been told how to handle a bear encounter countless times. Why the fuck couldn't he remember what to do? He looked down stupidly at the flashlight in his hand. Carry a flashlight if you go out, Parker had said. What the hell was he supposed to with a flashlight? Shine it in the bear's eyes? That seemed unwise. Try to bash it over the head? That would be sheer stupidity.
A loud clang behind him nearly stopped his heart. The bear dropped to all fours and took off into the woods. Dan stared, unable to move.
"You okay?"
Parker's voice snapped him out of his paralysis.
He turned to see his lover holding a large bell. He tried to find the words he wanted to say, but his mouth just hung open as he tried to remember how to breathe.
Parker lifted the bell. "I keep this on the porch, because it's good for scaring off bears."
"You could've told me that."
Three Little Words by Mathilde Watson (M/M Historical
Lifelong friends have returned from the Korean conflict and now need to fight their way through the feelings they've harbored for each other for so long.
Snippet:
Hugh opened the door and disappeared inside. Gary followed him into the bedroom and took in his surroundings, once again frozen in place. The room had a tiny closet, a chest of drawers… and one large bed. Only one. Gary swallowed hard and watched as Hugh moved around the room.
"My things are all in the bottom two drawers. You can have the two on top. And I've got some extra hangers in the closet… What is it?" Hugh frowned at him from across the room. Gary took a deep breath, willing himself not to panic. He cleared his throat.
"Where…" One word and he ran out of air. Gary took another deep breath, carefully trying to keep his tone light. "Where do I sleep?"
Hugh looked pointedly at the bed. His eyebrows were drawn together over a puzzled expression. "In the bed."
"With you?"
"Well, yeah. Unless you want to sleep on the floor…" Hugh sighed, his voice softening. "I warned you that this place was small. But the bed, it's big enough for the both of us.
We're on a roll now – look for lots more in the future, including our (yet to be titled) Cowboy anthology coming out later this fall! Stay with us folks. It's going to be an interesting ride.

Comments
Nancy S says:

I would love to be a fly on the wall when you are all in the same space, bet it gets wild. Can't wait to see what you guys do with cowboys.

Tina B. says:

Horns & Halos sound great!!! definitely going on my TBP list…

Angel Martinez says:

LOL – Nancy! Yes, it can get a bit, er, boisterous 🙂

Thank you, Tina! Hope you enjoy it!

jessica says:

looking forward to reading this ;p

Jessica B
brootalzdotcom@hotmail.com

Yvette says:

Can't wait to read this one and of course the Cowboys Anthology too.
Yvette
yratpatrol@aol.com

Jocelyn Hardman says:

What a great prompt! Looking forward to reading more from some of my favorite authors:)