Archive for the 'cowboy' Category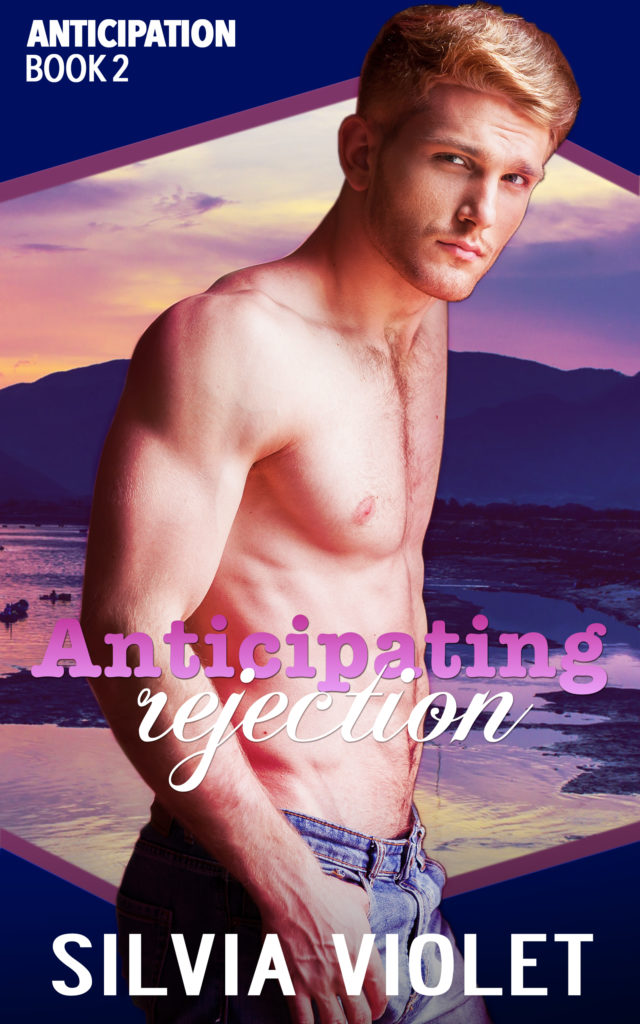 I'm so excited to bring you Anticipating Rejection, the next book in the Anticipation series. This is Noah and Del's story and it's actually the first one that came to me as this series developed. If you know about my love of baking, you'll know why this one is extra special to me. I hope you enjoy it as much as I have.
Here's a little more about the story:
Del is now a single dad, and for the sake of his young daughter, he's moving back to his parents' ranch. Returning to Anticipation means seeing Noah again—the man who was his best friend and then so much more. Del enjoyed surrendering control to Noah, but fear of what their relationship would mean sent him running. Will Noah even speak to him again, much less give him a second chance?
Noah has resigned himself to a quiet life improving his baking skills and running his family's café. When his mom volunteers him to pick up Del at the airport despite an incoming blizzard, he braces himself to be stranded overnight while trying to pretend he hasn't missed the man who broke his heart.
The moment they see each other, heat flares between them, and all Noah's dominant urges come to life again. He wants Del as badly as he always has, but he can't trust Del to stay around long enough for their relationship to develop. Is there any chance of a future for these two men who are both anticipating rejection?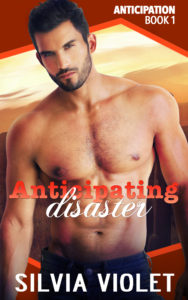 ---
If you haven't read Book 1, Anticipating Disaster you can find it in ebook, audio, and print.
I'm currently working on Book 3, Anticipating Temptation and plan to release it in late July or early August.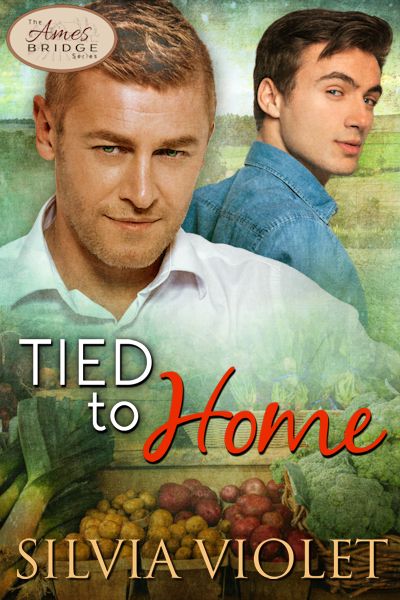 Tied to Home (Ames Bridge 3) is out now! Jack and Luke's story can be read as part of the series or as a standalone.
Luke Sumner has spent his whole life being coddled, after nearly dying as an infant. At twenty-one, he is more than ready to break free from his restricted world. He hasn't told anyone he's gay, and he's only just admitted his kinkier needs to himself, but he hopes to work up the courage to say something to the older man who has captured his attention.
Since moving back to Ames Bridge, Jack Lawrence has been consumed with running a successful bed-and-breakfast. He hasn't considered making time for relationships until he starts flirting with Luke each week at the farmers' market. By the end of the summer, Jack is wondering where the spark between them could go.
When Luke finally ventures into a club where he can fulfill his desires, he unexpectedly runs into Jack, and they discover they're a perfect match in the bedroom. With each hot encounter, more tender feelings surface, but between the age gap, not being out in Ames Bridge, and Luke's need to come into his own, do they dare be more to each other?
Buy now! Amazon | Barnes and Noble | iBooks | Smashwords

We're Celebrating the Ndulgent Bloggers' 4th BLOGiversary!


4 Years of Reviews. 4 Years of Supporting Authors. 4 Years of Great Books. 4 Huge Bags o' Swag.
Visit each of these BLOGS -Authors, Reviewers and Bloggers- and have fun!
I'm thrilled to be part of the Guilty Indulgence Blog Hop today!
I have a cover reveal for you today for Shifting Hearts, Wild R Farm Book 6. This is one of my all times favorite covers. Meredith Russell has done an amazing job.
In case you haven't met the men of Wild R Farm, I would like to introduce them to you. Wild R Farm is owned by Cole Wilder, a halfbreed werewolf. The first book in the series, Finding Release, is about Cole and his partner Jonah and each subsequent book tells the story of more of the men who work at the farm or living in the town of Cranford, TN. Finding Release is also available in audio.
And now for the cover reveal, Book 6, Shifting Hearts will be released October 25, check out the gorgeous cover.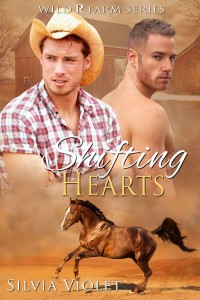 I'm entering a new decade in my life this week and to celebrate, I'm having a sale on some of my titles. Also tomorrow, Wednesday, I'll be sharing lots of beautiful men on Facebook, Twitter, and Tumblr.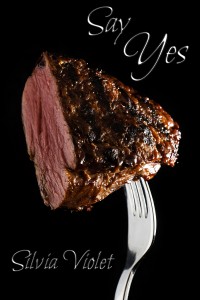 Say Yes is free through 9/18 at All Romance eBooks.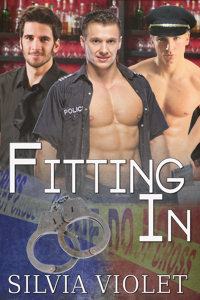 Fitting In is 75% off through 9/18 at Amazon and All Romance ebooks.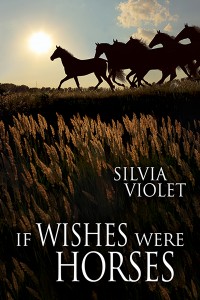 If Wishes Were Horses is 40% off through 9/21 at Amazon and All Romance ebooks.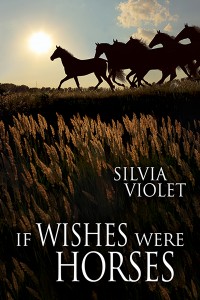 Vendors were fast to get things loaded up so if Wishes Were Horses is ready for you now! You can get it at Amazon in ebook or print, at ARe, and at Smashwords. Barnes and Noble will be up soon as well as iBooks and Kobo.
I'm so excited about everyone meeting Ken and Andy!
Blurb:
Kenneth Carver had everything growing up except warmth and acceptance. When protecting his family's name became more than he could bear, he came out as gay, sold his company, and bought a horse ranch.
Andrew Wofford's last undercover assignment nearly cost him his sanity. Now he has another chance of catching the drug runner who killed one of his informants and then escaped, but gruesome flashbacks threaten his ability to function in the field.
Andy's latest investigation sends him to Ken's ranch where he poses as a ranch hand. Ken is a prime suspect, but Andy refuses to believe Ken is guilty, in part because Andy is falling for him. Ken knows Andy isn't who he seems, but he can't bring himself to push the man away. When Ken hears rumors that someone is using his land to move drugs out of the city, he worries that it's Andy.
Neither man can trust the other even though that's exactly what their hearts tell them to do.
From Chapter One (for another excerpt, see the book page):
Ken wrapped his hand around the ornate door handle and tugged. He was not going to ring the bell at his childhood home, though that was what his parents expected. Even as a kid, he'd been treated more like a visitor than a member of the family.
He stepped into the foyer and glanced around. His mother had redecorated since he'd been here last. But the style still screamed ostentatious wealth like it always had. He strode down the hall and into the dining room where his parents were already at dinner. He was an hour late, and his mother wouldn't have risked upsetting Renata, the cook.
Thinking of Renata made Ken smile despite the tension pulsing through him. She was perhaps the only person on Earth his mother was afraid of.
"I'm sorry I'm late," he said as he took a seat.
His mother sniffed. "It was to be expected."
His mom was justified in starting without him. He'd never been enthusiastic about family gatherings, but he'd shown up late or failed to show at all since he'd stopped hiding who he really was—a gay man who disagreed with the way his father ran Carver Corp.
Of course, if his family had ever given him a warm reception, he might have tried harder to be punctual. Tonight, though, his tardiness had been unpreventable. He'd been stuck in a meeting for hours, finalizing the sale of the company he'd built, an offshoot of his family's conglomerate. He grinned as he laid a starched linen napkin in his lap. His parents were going to be pissed even though he had sole ownership and the capital he'd invested had all been his. The idea of anything bearing the Carver name being sold outside the family would give his father a heart attack if he had a heart.
Ken had arranged to have dinner with his parents so he could let them know before the news became public, more courtesy than they deserved considering they'd have taken the company from him in half a second if they'd had legal grounds to.
His mother looked up from her plate wearing the cool smile she used for public appearances. "How have you been, Kenneth?"
"Just peachy, which you'd know if you ever called," he responded, giving her the false look of graciousness he'd been schooled in from infancy.
"I'm not the one who broke off contact." Her ice calm infuriated Ken.
"If you hadn't insisted—"
His mother interrupted. "The only time you called even before the tacky airing of your private business was when you needed something, so don't try the guilt trip with me."
His father cleared his throat. "You said you had something important to tell us."
Ken nodded. "Yes, sir. I do."
"Then let's get down to business before we all lose our goddamned appetites."
That's how it'd always been. Business first. As far as his father was concerned, his family was just another arm of Carver Corp, a public relationship requirement.
Conversation stopped as the main course was brought in. Ken acknowledged the servant who'd just set his dinner in front of him with a warmer smile than he'd given his parents, even though he didn't recognize her. He looked down at the steak, grilled asparagus, and creamy mashed potatoes with gravy on top and nearly sighed. This might be the last meal of Renata's he'd ever have, and he doubted he'd get to eat it.
"I sold Carver Pharmaceuticals."
"What? That's impossible," his father stammered.
"I assure you it's not. I put out the word that I was looking for a buyer. I found one, and we just signed the paperwork. That's why I was late."
His mother pinched the bridge of her nose as if trying to fight off a headache.
"I'll top the offer," his father said as Ken had predicted he would. That was the main reason he'd kept things silent until the deal was done.
"The deal has been finalized, and my buyer will not be accepting offers." He'd given the man, an old friend from boarding school, a good price, a steal really, and he'd put a clause in the contract that his friend could not sell the business to anyone in Ken's family.
"He'll take mine," Mr. Carver insisted.
"He can't. The sales agreement won't allow it."
His father narrowed his eyes and then almost smiled. "I hadn't given you credit for being that big of a bastard. You've got bigger balls than I thought to try this shit with me."
"I learned from the best."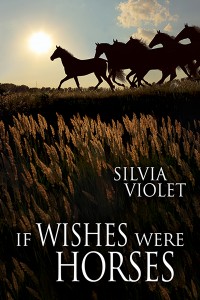 Here are a few hot and dirty excerpts from my upcoming books. To see character inspirations for these books, check out this post and this one on my tumblr and follow me there for more dirty excerpts.
The first excerpt is from If Wishes Were Horses which releases on May 16. Ken is a ranch owner and Andy is an undercover copy who's investigating a drug-running operation while working at the ranch.
Ken grinned. "Control issues?
"You're one to talk."
Ken gave a hard thrust, and Andy groaned, tipping his head back and closing his eyes. Ken should have known it was an act, but he got lost in seeing Andy's pleasure.
Andy used the moment to break free and shove at Ken's shoulders, knocking him off balance. He stumbled and Andy lunged for him, grabbing him around the waist and dragging him to the floor.
He wrapped a leg around Andy's and flipped them, spearing his hands into Andy's hair and using the leverage to slam his head against the floor.
Andy roared and arched up, nearly bucking Ken off.
They tussled, rolling over until they hit the edge of Ken's desk. Andy ended up on top, and he managed to get hold of Ken's wrists and pin them over his head. Andy hung over him, looking like he was trying to decide if he was ready to stop fighting and fuck.
"Fighting is excellent foreplay, but maybe it's time for more. What do you think?" Ken asked.
"Fuck you," Andy said, shoving at him and standing up.
Ken watched Andy as he loomed over him. The man was pissed that he'd given up on self-control and come back for what he wanted.
Andy turned like he was going to walk away, but Ken wasn't about to let that happen. "Andy."
Andy froze and slowly turned. Ken pressed his palm against his cock and rubbed, back and forth along his length. Andy watched, mesmerized. Then Ken unzipped his jeans, pulled his cock out, and kept stroking. "I thought you were here to do something about this."
"Hands off," Andy ordered.
Ken grinned at him. "Make me."
Andy took a step toward him. "I'm going to tear you up."
Ken grinned. "You were right, you know?"
"About what?"
"I love a man who's got what it takes to hold me down and shove his cock up my ass. Do you have what it takes?"
This unedited excerpt is from Unexpected Trust, a sequel to Unexpected Rescue staring Jackson's friend Sport. The projected release date is mid July. Sport is an FBI agent and Danny specializes in black ops for one or multiple lettered agencies. Danny has been following Sport trying to determine whether to bring him in on his current mission.
Sport settled at the bar and downed drink after drink. He was furious, probably more with himself than anyone else. Danny could tell by the way he carried himself even if the drinking hadn't been a clue. Danny toyed with the idea of making a move on him but this wasn't the time. Instead he chatted up a couple of young men who'd been eye-fucking him while they made out with each other. When he proposed that one of them seduce Sport while Danny fucked the other one against the wall out back, They looked like they'd won the lottery. The fact that they couldn't let on to Sport that it had all been planned made it even sweeter for them. Danny was afraid they might come just from thinking about it before he ever got them outside.
If Sport had been anything approaching sober, Danny wouldn't have gotten away with it. But he was drunk and angry and he'd let his guard down. By the time Sport stumbled outside with the twink Danny had sent to seduce him, Danny already had the young man's friend pressed against the wall, hands spread, legs apart.
The man with Sport looked at him and winked. Danny scowled but the kid didn't have time to react, because Sport grabbed his shoulders and pushed him to his knees. Danny rolled on a condom and slicked up as he watched, slapping his partner on the ass when he begged Danny to move faster.
Danny watched, mesmerized as Sport unfastened his suit pants and pulled out his cock. "Suck me," he demanded, his low, rough voice just carrying over to Danny.
Danny took his cock in hand and pushed into the young man in front of him. He groaned as the man's tight ass gripped his cock, thrusting in hard, not caring if it hurt. "You like it rough?" he asked.
The man nodded frantically. "Good, because that's how I give it." Especially when I'm so turned on I can't see straight.
Danny pounded the young man, desperate to get off. He was moaning and grinding back, loving the rough treatment. His friend must like rough too because Sport braced himself on the wall and grabbed his hair dragging his head back, and the boy took it, relaxed and easy like he would do anything Sport asked.
Danny lost his rhythm and nearly swallowed his tongue when Sport turned to look at him, holding his gaze as he drove all the way down the boys throat, choking him, using him. Holy fuck. That was the best thing Danny had every seen. He was going to get off to that memory for a long time.

I'm so excited to be part of the Hot Off the Range anthology! I love cowboys be they hard-riding cattle drivers from the Old West, modern day ranch hands, or space cowboys.
We giving away gift certificates and books. There are details below so don't forget to enter! Click here for a list of all the posts.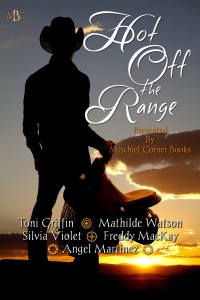 I also love to bake. It's the one hobby I manage to fit into my life no matter how busy I am. When I write, I like to include this love of baking (and eating) in my stories. Here are the first paragraphs of Accounting for the Hero…
Grant leaned on the porch railing and looked out across the dry fields. Most of the grass had turned brown after a long summer with almost no rain. The cattle were skinny, and they hung their heads, looking as if they didn't have the energy to move. Grant didn't have the money for extra feed, and no one would buy the animals from him with them looking like that. There had to be a way to turn this mess around, but hell if he could see it.
He took another bite of the chocolate cake his aunt had brought him when she'd visited earlier in the day. He'd given up on slicing it and was now eating directly from the cake plate, pretending he was evening up the edges. Unfortunately, his aunt didn't have any better ideas than he did. She'd told Grant's grandfather to sell and move to town when his health started to fail, but he wouldn't give up the farm, especially not to developers, and now, with Grandma gone too, the land no one wanted was all Grant's
Whenever I make a cake, I often catching myself "evening up the edges" after it's been cut. Those pieces obviously don't count. *grins*
Later in the story, Miles, makes a cake for Grant, and this is Grant's reaction:
"I love dessert," Grant said, his voice all swoony. He couldn't make himself care that he sounded like a twelve-year-old girl with a rockstar crush.
Miles grinned. "It's nothing fancy, just pound cake."
"Never discount the importance of cake."
When I bake I love to share what I've made and to pass on recipes to other bakers. So today I want to share the recipe for the chocolate cake Grant is eating. It's quick (almost as quick as a mix) and I make it often with my daughters helping me.
Grant's Chocolate Cake
1 3/4 cups sugar
1 3/4 cups flour
3/4 cup cocoa powder (Dutch process cocoa will give you the richest chocolate taste)
1.5 tsp baking powder
1.5 tsp baking soda
1 tsp salt
2 large eggs
1 cup milk
1/2 cup oil
1 tsp vanilla
1 cup boiling water
Mix the dry ingredients in a large bowl or the bowl of a stand mixer. Add eggs, milk, oil, and vanilla and mix on medium speed for 2 minutes. Add the boiling water and mix until well combined. Don't worry if the batter looks too thin.
Pour into 2 greased and floured 9in cake pans.
Bake at 350F for 30-35 minutes or until a toothpick comes out clean. Cool in pans for 10 minutes. Then remove from pans and cool completely before frosting.
Frosting
1/2 cup butter (1 stick)
2/3 cup cocoa
3 cups powdered sugar
1/3 cup milk
1 tsp vanilla
Melt butter and sift in cocoa (un-sifted cocoa tends to leave lumps in the frosting). Then add powdered sugar alternately with milk until frosting has a good consistency. Stir in vanilla.
Here's a larger helping of Accounting For the Hero….
"So you don't have any experience working on a farm?" Grant asked.
"Not really. No." Miles chewed his lip again and ran a hand through his hair. Grant realized he was openly assessing him, but he couldn't stop. Miles's hands were smooth and beautiful. They belonged on a piano keyboard, not wrapped around a pitchfork. Of course, they wouldn't look bad wrapped around Grant's… No. Not going to go there.
Grant frowned at him. "What I really need is someone who not only knows how to work a farm but also how to manage one. This land was my grandmother's and I want to keep it, but I need someone experienced to help me get the farm back on its feet."
"I work real hard, and I'm a fast learner," Miles said.
"That's great, but if you don't know what you're doing, and I don't know what I'm doing, then we're not going to get much of anywhere are we?" Grant wondered why the fuck he'd invited Miles to the farm when he'd known the man wasn't qualified. Maybe in the back of his mind, he'd convinced himself Miles would turn out to be 6'5" and solid as concrete so at least he could do some of the heavy labor Grant had been struggling with, but Grant had no business leading Miles on. He needed someone who knew how to run a ranch, not a hot boy in tight jeans.
Miles looked Grant up and down. Heat rose into Grant's face as the young man's gaze slid down over his worn jeans to his dusty boots and back up. Suddenly, Miles didn't seem like an innocent boy anymore. There was definitely heat in his glance. Grant's gaydar started sending loud signals to his barely functioning brain.
"You look like you know what you're doing," Miles said. His tone wasn't overtly flirtatious, but his words had Grant's cock taking notice.
Grant gave a nervous laugh. "So just 'cause I wear my jeans well, I must be a real cowboy? Trust me. Looking like a cowboy doesn't qualify me to run a ranch, especially not one that's been neglected for years."
"Look. My mama died in a car wreck last month, and my stepdad took off, saying he 'couldn't handle it.' She'd been out of work for a while and had almost nothing, especially after helping me with tuition for UT. My aunt and uncle took my brother in, he's fourteen, but they won't have anything to do with me 'cause…well, they just won't have me. I said I was home from school for the summer, but the truth is I won't be able to go back, not until I earn the money for tuition. I need to stay close to my brother, so I have to find a job around here. My aunt doesn't want me around him. They're trying to turn him against me, but I'm not going to let that happen."
Grant was almost certain Miles's aunt and uncle had rejected him because he was gay, but if he did his hiring based on feeling sorry for the applicants, he was going to guarantee the ranch's bankruptcy. "That sucks, and I'm real sorry, but this ain't a charity." Grant felt like an ass, but he couldn't do Miles any good if he couldn't pay him, and he wouldn't be able to unless someone helped him turn the ranch around.
Miles nodded. "I know. I just… I'm sorry I wasted your time."
He turned to go, and the look on his face sliced right into Grant's heart. Don't do it, Grant cautioned himself, but the warning did no good. "Wait!"
PRIZES!
You really think we'd have a blog tour without prizes. Pfft. No! We Most definitely have those. What do you need to do? Go to the different posts and leave comments and email addresses.
$10 All Romance Gift Certificate
$15 Amazon Gift Certificate
Hot Off the Range Anthology (eBook)
Your Choice of eBook from Toni Griffin's Backlist
Your Choice of eBook from Angel Martinez's Backlist
Your Choice of eBook from Silvia Violet's Backlist
Your Choice of eBook from Freddy MacKay's Backlist
In ADDITION, we are participating in Rafflecopter.
If you make a comment, FB like and tweet our blog hop, then each time you do so will enter you. For those to count though, you need to use the widget.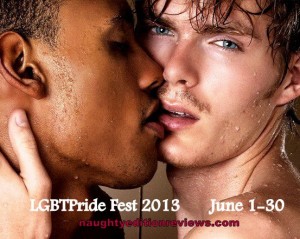 Hi everyone! I'm happy to be part of the 2013 LGBTPride Blog Fest at Naughty Editions reviews. I love writing about LGBT relationships and giving my characters happy endings. I hope that eventually all LGBT people will be able to publicly take pride in who they are and that everyone in our society will realize that we're all just people no matter who we love.
Today in celebration of Pride Fest I'm giving away all three ebooks in my Wild R Farm series. To be entered to win leave a comment here.
In the Wild R Farm series, my characters face predjudice both because they are gay and because they are shapeshifters. Just as there are those in our society today who tell LGBT people that their actions are sinful, there are people in my shapeshifter world who preach that changing form goes against God and that shapeshifters shouldn't take their animal forms. In other words, they should suppress who they really are.
The third book in this series, Embracing Need has just been released. I hope you enjoy Tristan and Wes as much as I've enjoyed writing them.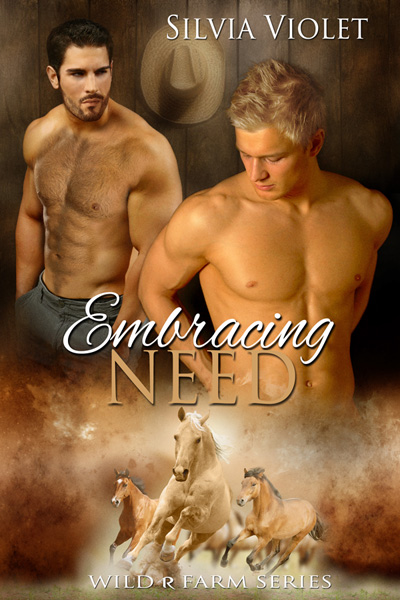 Embracing Need (Wild R Farm 3) by Silvia Violet
Blurb:
Horse shifter, Tristan Hayes, doesn't believe in relationships. He believes in hot, sweaty one-night stands that leave him aching for days.
Private investigator, Wesley James, is looking for someone to settle down with, but it's never occurred to him that someone could be a man.
Tristan loves a good game, so he flirts with Wes, never thinking anything serious will come of his attraction. Wes fends him off, but after three months of cat and mouse, both men are worn out from fighting what they feel.
When a young woman from Tristan's herd goes missing, he asks for Wes's help. Tristan keeps up his flirtatious façade until Wes calls his bluff, taking him out for dinner and dancing. As they search for the missing shifter, Tristan struggles to believe Wes could care for the man Tristan hides beneath his abrasive exterior.
Excerpt:
Tristan was sitting in a chair on Wes's front porch with his feet up on the railing when Wes pulled up.
Wes jumped out of his car, but his messenger bag tangled on something, and he tripped as he tried to yank it free. After cursing and kicking the car door, he turned back to Tristan, who was doing nothing to hold back his laughter. "If you were hoping that would turn me off, it didn't work."
Wes flipped him off, but Tristan just smiled. Wes's T-shirt stretched across his muscular chest as he worked to catch his breath. His well-trimmed, dark beard begged Tristan to rub his face against it and find out if it was as soft as he imagined. Even the annoyance in Wes's rich, brown eyes only made Tristan hotter, because knowing he could fluster Wes so easily was a major turn-on. Not that Tristan had any business pushing Wes's buttons more than he already had. The right thing to do was to keep things businesslike, but he just couldn't help himself. Years of overindulgence made his desires impossible to curb.
"What are you doing here?' Wes asked, his tone implying Tristan was the last person he wanted to see even though the fact that he was still not breathing steadily after falling out of his car belied his disinterest.
"I have a business proposition."
"Is that an innuendo?"
Tristan grinned. "Do you want it to be?"
"I've never paid for sex, and I don't intend to start now."
"Ouch." Tristan stuck out his lip, and Wes laughed, too good-natured to stay annoyed.
"I do have to say it's unsettling to find you all cozied up on my porch."
Tristan stretched deliberately, letting his shirt ride up. He ran a hand over his chest and across his toned abs, stopping just short of his crotch. "I have been getting rather comfy waiting for you."
Wes eyed him suspiciously. "What are you really doing here?"
"Are you afraid I'm here to demonstrate my riding skills?" He pushed up the hat, the same straw one he'd been wearing when he'd last seen Wes.
Wes's gaze strayed to the hat and then skittered over Tristan's lean body. "No. Yes. Damn it, Tristan, quit being so fucking infuriating."
Tristan took pity on him then. "A young woman from my herd is missing, and I need your help to find her."
Wes sighed. "Calling the police is out of the question?"
"Yeah. We don't involve humans in our affairs unless we absolutely have to."
Wes stared at him. "I'm human. Did you forget that?"
"Oh, you don't count."
Wes glared. "I don't?"
Heat rose in Tristan's cheeks. "You know what I mean. You're not going to try to force us to adhere to your human ways."
Wes shook his head. "I'm not going to force you to do anything."
"Really? Are you sure? I've been such a bad boy. You might need to teach me a lesson."
Wes growled. "Knock it off."
"Aren't you going to invite me in?" Tristan asked, gesturing toward Wes's front door.
Wes sighed. "Do I have to?"
"Well." Tristan paused to fan himself dramatically. "It is a bit warm out here." With Wes so close, warm was an understatement.
When they got inside, Wes offered Tristan a bottle of water from the fridge. He took it, then watched, paralyzed, as Wes cracked his own bottle open and gulped it down, the muscles of his throat flexing, his large hand wrapped around the bottle.
When Wes put the bottle down, he seemed to realize Tristan was staring at him, and his cheeks reddened. Tristan looked away and opened his own water. He really needed it now, since all the moisture seemed to have left his mouth.
"I'm assuming you haven't eaten dinner," Wes said.
Tristan shook his head.
"Then let's go get some. I even know a place where after we eat, you can show me your dance moves like you've been threatening to do."
Tristan stared, openmouthed. He'd been teasing Wes about taking him out dancing since the day they met, but he never thought Wes would propose such a thing. "What are you up to?" he asked. Calling his bluff. That's what the bastard was doing.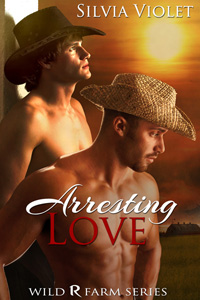 Here's the first chapter of my brand new release, Arresting Love (Wild R Farm 2). Leave a comment on this post for a chance to win book 1 in the series.
Arresting Love (Wild R Farm 2) by Silvia Violet
http://www.amazon.com/Arresting-Love-Wild-Farm-ebook/dp/B00AUVNSF8
Blurb:
Billy Lawson is jealous. Every day he watches his boss, Cole, and his boss's lover, Jonah, prove again and again how deeply in love they are. Billy's never had a real relationship, and he didn't believe true love existed until Cole proved otherwise. Now, he longs for what Cole and Jonah have.
When he meets Levi, a scared, wounded shifter who needs his help, he ignores the chemistry that flares between them, thinking he'd be taking advantage of Levi at a vulnerable time in his life. Before Levi can convince Billy they were made for each other, his past catches up to him, and both men must fight for a chance at love.
Excerpt:
The crazy cuckoo clock his boss's lover had rescued from the farmhouse attic began to chirp, signaling the start of a new year. Cheers went up from the hands, and Billy watched his boss, farm owner Cole Wilder, pull Jonah to him for a kiss.
Billy took a pull from his beer and tried to make himself look away, but he couldn't keep from staring as Cole staked his claim, seeming to devour his young lover. Jonah gave back as good as he got, and Billy's cock stirred in his pants. The two men were beautiful together.
When Cole finally pulled back, the look on his face made Billy's chest ache. No one could miss seeing Cole's love for Jonah. They had a bond that was strong as steel, and Billy was jealous.
Four years ago when he'd been hired as barn manager at Wild R Farm, Billy had developed a crush on Cole, but he'd quickly realized Cole would never see him as more than a friend. He'd accepted that. He treasured their friendship, and he'd never forgotten that Cole had given him a chance when he could have hired someone better educated with years more management experience. But watching Cole and Jonah together made him long to connect with someone. Having a man look at him the way Jonah looked at Cole would be a taste of heaven.
Billy drained the rest of his beer. That line of thinking would do nothing but depress him. He needed to be thankful for what he had. The chance of finding the kind of love Cole and Jonah shared was nearly non-existent. He was starting another year doing a job he loved on a farm where he didn't have to hide the fact that he was gay. Considering he'd been kicked out by his family at seventeen, he'd done a damn fine job of pulling his life together.
It wasn't in his nature to be morose, but he'd be turning thirty this year, and he was getting tired of living in a bunkhouse, no matter how much he enjoyed the company of the hands he shared it with. He was weary of men who wanted nothing more than a hard, rough fuck behind a trailer at a horse show. He wanted a home and someone to share it with. Age was making him soft.
He stepped onto the farmhouse porch and took a breath of the chilly night air. He shivered, but he'd rather be out here than in the crowded house especially in his current mood. He leaned against the porch railing and listened to the rush of water in the stream that ran behind the house as he tried to push his depressing thoughts away. One of the horses whinnied, and he wondered if going for a midnight ride would help.
"What you doing out here?" Cole asked, stepping out on the porch and letting the screen door slam behind him.
Billy shrugged. "Just gettin' some fresh air."
Cole frowned. "Are you okay?"
"Yeah, you know I don't like crowds."
Cole snorted. "Me either. I'm about to get rid of everybody since we've rung in the New Year. This whole party thing was Jonah's idea. I had a much better plan for the night, but he wouldn't listen."
Billy forced himself to smile. "I'm guessing your plan involved Jonah naked and flat on his back."
Cole grinned. Then he narrowed his eyes and studied Billy. "Are you sure you're all right? You've been grouchy for weeks now."
Billy raised his brows and looked pointedly at Cole.
"Yeah, yeah. I'm grouchy all the time. I know it." Cole said.
Billy rolled his eyes. "Damn temperamental wolf."
Cole snorted. "I'm better than I used to be, now that I've got Jonah." As soon as those words came out, Cole tensed.
Jonah's brother, Nathan, had kidnapped Jonah, drugged him so he had to remain in horse form, then sold him. Fortunately, he'd ended up at Cole's friend's horse sanctuary. As Cole and the rest of the crew at the farm fought to keep Jonah safe, Billy ended up in a fistfight with Nathan. In the aftermath, Cole finally realized Billy had hoped for more than friendship between them. Fortunately, Cole hadn't freaked out, but he was still sensitive about talking to Billy about his relationship with Jonah. Billy wished he'd just get over it.
"You're right. Jonah's been good for you." Billy clapped him on the shoulder, and Cole looked his way, tension easing.
"You should take some time off," Cole said. "With planning the addition to the barn and new horses coming in, you've been working non-stop for weeks."
That was true, but when he was working, Billy didn't feel lonely, and he didn't have time to be jealous of Cole. "I don't mind. I'd rather be working with the horses than doing anything else."
Cole frowned. "When was the last time you left the farm?"
Billy shrugged. "I don't know. I went into town a few weeks ago."
Cole raised his brows and glared.
"I'm fine. Really."
"You need a vacation."
Billy shook his head. "I'm happy here. There's nowhere else I want to go."
He'd spent his late teens and early twenties wandering, finding work where he could, never staying anywhere long. Now that he had a place he felt safe and accepted, he never wanted to leave.
Cole leaned closer and sniffed. It had taken Billy a while to get used to Cole's werewolf habits, but now he took such things for granted.
"Something's bothering you," Cole said. "I can smell it."
"I'm just keyed up. It's probably the barn addition. I want to be sure I've got all the details right before we break ground."
"You need to relax," Cole insisted.
Billy scowled. "The last thing I need to is sit around on my ass. You know I can't stay still long."
"Maybe you need to learn how. You're taking a three-day weekend starting next Friday, and I won't listen to any complaints."
Three whole days to think about everything he didn't have instead of concentrating on what was right in his life. "Where the hell do you expect me to go?"
Cole frowned. "I don't know, but I'll figure it out and let you know."
Billy glared at him. "You're not sending me on a trip."
Cole growled. "The hell I'm not. Consider it a bonus."
* * * *
Billy put up a token fight, but in the end, giving into Cole's plan was the only option since he threatened to bodily remove Billy from the farm. So, against his wishes, Billy had driven to Nashville, checked into a fancier hotel than he'd ever stayed at in his life, plopped down on the bed, and stubbornly started making spreadsheets for the next week's horse training rotations. Cole could make him leave the farm, but Billy would be damned if Cole would keep him from thinking about farm business.
A few hours later Billy ordered a burger and watched a pointless movie filled with motorcycle chases and things blowing up. At least the fast-paced film distracted him from the quiet of his room. At the farm, he was never lonely for long. Here, in a hotel room, it was painfully obvious he had no one to share this forced vacation with.
He survived the evening holed up on his own, but the next day he got restless and decided to go for a walk. The temperature was hovering around freezing, and the wind cut right through his fleece-lined jacket. He noticed some beautiful carvings of horses in a gallery window. Danielle, the farm's head trainer, would love them.
The gallery appeared to be having a craft fair, and he decided to take the opportunity to get out of the cold. He found the booth with the horse carvings. They were so detailed and life-like they looked like they might take off running despite being only six inches high. He purchased a galloping stallion for Danielle then spent nearly half an hour talking with the artist and his partner. They reminded him of Cole and Jonah. They had the same settled, unabashedly-in-love look about them. He sighed as he waved good-bye and headed back into the cold.
He shivered as he stepped out of the gallery. The wind howled along the storefronts, and it felt as if snow was on the way. He scurried across the street into a coffee shop. He'd joked about designer coffee plenty of times, preferring his brew strong and black, but he was supposed to be on vacation, and he did have a thing for chocolate. So, after a casual glance to make sure he didn't see anyone he knew, he ordered an enormous mocha with whipped cream and chocolate sprinkles on top.
He sat down with his drink and pulled his tablet from his satchel. He read some articles on the care of newborn foals. Then he scanned through some of the horse care message boards he frequented. By the time he'd finished his drink, he was jumpy from the caffeine. He couldn't sit still any longer. He walked around the city for a while, trying to ignore the cold that seemed to settle all the way to his bones. He hated winter. He'd much rather be dripping with sweat on a burning August day than checking the sky anxiously for snow. Sooner than he wanted to, he headed back to his hotel where he flipped through channels and paced the room.
When the silence got to be too much, he decided to go find a bar. He didn't think there was a chance in hell he was going to meet someone who was interested in more than a quick fuck, but if a warm body next to his for a few hours was all he could have, he'd take it. He was on vacation after all. Maybe with a few drinks in him, he wouldn't care so much.
He did a search for gay bars in the area and found one a few miles away. He considered walking so he could drink as much as he liked, but when he glanced out the window a wet mix of sleet and snow had started to fall. No way was he walking in that crap. He shouldn't drive in it either, but he couldn't spend one more minute in the hotel.
Buy it at Amazon
Buy it at ARe
Buy it at BN
Wild R Farm 1: Finding Release is available here.

Read the prologue and first chapter of Finding Release and if Cole and Jonah seduce you, buy the book at Amazon, ARe, or Barnes and Noble.
Finding Release (Wild R Farm 1)
Prologue
"That should be the last of it." Jonah tossed the final sack of feed on the back of Cole's truck parked outside his family's feed store. "You need anything else?"
Jonah looked at Cole with his big brown eyes as if he needed something. Cole caught his scent, and his wolf stirred to life. He smelled like horse and sweat with an underlying citrusy scent, young and clean. Prey. Cole's cock wanted to fulfill all Jonah's needs, but Cole wasn't stupid enough to even flirt with an eighteen-year-old high school senior whose stepfather had been the most vocally anti-gay preacher in town. The only reason the Marks family deigned to sell him grain was because in these hard times they needed his money.
Cole tried to ignore the fantasies playing out in his mind. "Nope. We're good."
Jonah looked down at his dusty boots. "You got a minute?"
Cole took a deep breath. He glanced around. They couldn't talk here, not openly. Jonah needed a friend, and Cole had once been young and different and scared. "Sure. You wanna get a cup of coffee?" He tilted his head toward the diner down the street.
"Yeah." Jonah looked at his watch. "I'm due for a break."
"All right. Mind if I leave the truck here?" Cole asked.
"Nah, we're not expecting another big delivery until this afternoon."
They walked to the diner in awkward silence.
Cole couldn't let himself think about how gorgeous Jonah looked, staring at him with those puppy dog eyes. Jonah was off limits for too many reasons to count.
They got a booth by the front windows, and Cole ordered coffee for them. Once the waitress brought the steaming mugs, Cole let himself look at Jonah. His red-brown hair was rumpled from finger combing. A combination of sunburn and embarrassment tinted his cheeks. His denim jacket hugged his broad shoulders and… No! Cole wasn't going to let his perusal go any lower, not even in his imagination. His wolf growled deep inside, his werewolf nature recognizing the equine inside Jonah, the shifter side his family forced him to deny.
He concentrated on Jonah's strong, pale hands as they wrapped around the coffee cup, holding it tight for warmth and stability. Cole wanted to reach out and take Jonah's hands in his own, but that would be bad for both of them.
Cole realized he'd made a mistake. He should have told Jonah he was in a hurry to get back to the farm, or something that would've kept him from sitting here alone with a very young horse shifter who was having an indescribable effect on him.
"Mr Wilder?"
Well, being addressed as 'Mister' certainly burst the lurid fantasy in his mind. He was only thirty, but now he felt ancient. "You know you can call me Cole."
Jonah's cheeks got even redder. "I know… it's just… I was wondering if you'd consider hiring me. I know I don't have experience working in a barn, but, I… well… I'm kind of a natural with horses." He grinned as he said this.
His cutely upturned mouth made him look even younger, and Cole cursed his inappropriate thoughts. The boy needed his help, not his perving.
Jonah's home life had to be hell. His father had left them when he was little, and his mother and elder brother were both self-righteous Bible-thumpers. From what he could tell, Jonah couldn't do a damn thing right in their eyes, but Jonah working at Wild R Farm would be a disaster. Cole could smell Jonah's desire for him. Sooner or later, he'd give into his own desire and exploit that. Jonah deserved freedom and a man who had more self-control.
Cole's wolf growled, the sound almost escaping Cole's mouth. If he put his hands on Jonah, he feared his wolfish instincts would take over. Jonah smelled like prey, like something to be consumed, possessed. Cole shuddered. No. He could never let those desires loose. "Jonah, I—"
"Please…" He dropped his voice to a whisper. "My family… I can't live with them anymore."
"Your mother's not going to let you work for me."
"I'm eighteen. She can't stop me."
Cole tried a different tactic. "You need to finish school. Didn't I hear you'd won a scholarship?"
Jonah looked directly into Cole's eyes as if willing him to understand. "Yeah, but I can't take it anymore."
"You'll graduate in four months. Then you can get out of here, go to college."
He shook his head. "I won't last that long."
He wouldn't last long on Cole's farm either, if Cole snapped and let his werewolf side take control. "Why ask me?" Cole thought he knew, but he wanted confirmation.
Jonah glanced around the restaurant. Only a few tables were occupied, and no one sat nearby. In a voice so low even Cole's sensitive ears could barely hear, he said "Cole, I'm… different, like you. If my brother finds out…"
If Nathan found out, he'd kick Jonah out, maybe beat him. Cole wished Jonah didn't stir him up so much. "I'm sorry. I've got all the hands I need right now."
The eager light went out of Jonah's eyes. He sloshed coffee on the table in his haste to get out of the booth. "OK, I understand. I'm sorry."
Cole grabbed Jonah's arm before he could run. Heat snapped between them, nearly making Cole let go. "I'm sorry for what you're going through."
Jonah shook his head. "Not sorry enough." He pulled free and left.
Jonah's condemnation hit Cole like a punch to the gut. Cole leaned back and closed his eyes, willing the thick, bitter coffee to stay down.
Chapter 1
One year later
What the hell was Cole doing at a horse rescue center? He needed some promising colts, not another stray. But he'd run into his friend April when he stopped for lunch on the way to visit a breeder, and she'd sweet-talked him into coming out to her farm to see her rescue organization's latest adoptees. Cole was probably the most soft-hearted werewolf in the history of his kind. His inability to resist a stray was legendary.
April ushered them into her kitchen and plied him with her illegally delicious chocolate chip cookies. Cole let himself relax and enjoy just sitting and talking for a while. He'd forgotten how much he enjoyed April's company. They'd met when he was in college, and when he'd moved back to Cranford, they'd gotten reacquainted, though he saw her less than he meant to. Billy, his barn manager, kept telling him to take more time off. Working all the time made Cole act old and cranky.
Eventually, they headed to the barn, and Cole braced himself for a hard sell. As they walked down the aisle looking at the latest rescues, Cole saw a quarter horse he thought a friend could use so he gave April the contact info. As they neared the end of the barn, Cole thought he was going to escape empty-handed. Then a terrified whinny broke the silence, making Cole shudder.
"That's Demon." April walked toward the heart-rending sound. "His owner died and a neighbor saved him from being destroyed and brought him here. He's been beaten and starved. He won't let any of us touch him, and he's not eating."
Cole followed her. He heard stomping and banging as if the horse was slamming himself against the stall door in his panic. His heart ached for the poor horse. "He's going to hurt himself."
April nodded. "I know. He's already been injured trying to escape. I'm scared we'll have to put him down if we can't get him to eat."
Cole reached the end of the barn and saw the roan stallion. His ribs stood out. His coat had the potential to shine like autumn leaves in the sun, but lack of grooming had made it dull, and scars and saddle sores marred his back. Demon lifted his head and stared at Cole. Suddenly the fight drained out of him.
The force of his stare made Cole step back, instincts on high alert. Something in Demon's eyes called to him, melting his heart and making the hair on the back of his neck stand up at the same time. Cole wasn't sure how he knew, but his life was about to change irrevocably.
Demon stared at Cole for several seconds, standing nearly motionless. Then he stuck his head over the door of his stall, snorted gently, and stretched his neck. He was hoping for a treat.
Cole hardly dared to breathe. Nervous horses normally got more skittish around him. He'd never been able to gentle a horse before. His human half made riding possible, but he still needed much longer to bond with a horse than a pure human would. Some of the animals grew to trust him, but the truly wild ones never accepted him.
April laid a hand on Cole's arm. "I've never seen Demon act this way. He's never shown interest in any of us."
Cole stayed where he was, but spoke to the horse in a low voice. "Easy, boy. You want a treat?"
Demon whinnied softly. Cole took a step toward him.
Demon stayed put.
Cole took a deep breath and counted to three, not wanting to move too fast. As he waited, frozen in place, he noticed something in the barn smelled familiar, a bright scent he couldn't place.
April laid a hand on his back. "Keep walking slowly. See if he stays calm."
Cole took a few more steps. Demon whinnied loudly, but it was a happy sound. No hint of his earlier terror remained. "Wait here," April instructed. She backed away slowly, and then returned with some carrots in her hand.
Cole couldn't figure out what was going on. Why would a terrified horse show an interest in him? Had a werewolf been kind to him in the past? The familiar smell tantalized him again. He tried to pull it deep enough into his lungs to figure out what it was, but memories only teased him.
Demon flared his nostrils. He smelled the carrots, but he wasn't looking at Cole's hand as most horses would. He looked right into Cole's eyes, studying him as if he knew him.
Cole had never seen this horse before. No one would forget him. If the animal hadn't been abused, he'd be stunning. But the sense that their meeting held a deep significance took hold and wouldn't let go.
Cole held out his hand, palm up, offering the carrot. Demon ate it quickly, and then nuzzled Cole's hand. Cole stared, unable to believe what he was seeing. The horse was starving. If he'd snatched the treat and backed away, Cole might have dismissed his easy acceptance of a man with wolf blood, but Demon still wanted attention. He rubbed Demon between the ears. The tantalizingly familiar smell was stronger now. Was it coming from Demon? He rubbed the horse's nose and concentrated, but he couldn't grab the memory before the scent of hay, leather, sweat, and other horses overwhelmed Cole's senses.
April cautiously stepped up beside him. "I can't believe it."
"Me either."
"He hasn't responded to anyone else. We've barely been able to take care of his wounds and offer him food without getting hurt. Then in walks a half-breed werewolf, and he's as content as can be."
"Do you think he's known a wolf before, a civilized one like me?"
April grinned. "Sweetie, there aren't many like you."
Demon snuffled as Cole scratched his ears. How could someone treat such a wonderful horse so badly? His gut knotted as he looked at the horrible scars on Demon's back. He couldn't imagine what could make someone think they needed to beat a horse. "You're going to be OK, now. You know that don't you, boy?"
Demon snorted and nodded as if truly answering. Cole smiled. "You're a smart boy, aren't you? April is going to take such good care of you."
Demon pulled back and stomped his foot as he shook his head vehemently.
Cole looked at April. "Is he saying 'no'?"
She grinned. "Looks like it." April stepped up to the door of the stall, and Demon laid his ears back. His nostrils flared. "Demon, do you want to go with Cole?"
"April." Cole growled, but Demon's ears perked up, and he nodded.
Cole didn't need another rescued animal to join the growing pack of dogs and cats, and… hell, some of his grooms were rescues too. He didn't have time for this project, but how could he say no? The last time he'd turned someone away… well… Jonah had never been found. He might have died because Cole didn't have the courage to hire him.
He couldn't atone for what he'd done to Jonah by taking in an abused horse. But ever since Jonah disappeared, Cole had been incapable of saying no to someone in need. Billy kept pointing out how expensive this habit had become. They'd nearly come to blows over his decision to hire an ex-con Cole believed had been wrongly accused. So far the man had exceeded every one of Cole's expectations.
Maybe Cole could turn Demon into an all-star horse. Demon was asking for help in the only way he could. Yes, cozying up to a man with werewolf blood was strange behavior, but Cole had already begun to think of Demon as his horse
April studied Demon carefully. "Did somebody teach you how to answer questions?"
Demon snorted and shook his head.
Cole was astounded. "Are you sure he's not a shifter?"
"If he could turn into a human, why did he stay with his former owner? Wouldn't he have shifted and run?"
Cole considered her statement. "What if he was hiding from something or someone?"
April pointed to the scars on Demon's flank. "What could make him endure that?"
Cole forced himself to look, to imagine enduring such torture. "You're right. No secret could be worth such pain."
April turned to him, but before she asked the inevitable question, he preempted her.
"Yes, I'll take him."
She grinned. "Thank you. I know Demon thanks you too."
The horse snorted and nodded vigorously.
Cole was going to nurse him back to full strength. He had horses he trusted and loved, but he'd never truly bonded with one. He could bond with Demon, he was sure of it. They were perfect for each other.
* * * *
After leaving April's, Cole spent a long, grueling day haggling with some of the best breeders in the area. Fortunately, his efforts paid off. He purchased two beautiful colts, the most perfectly gaited Tennessee walkers he'd seen since he'd taken over the farm. If his instincts were right, he'd gotten them at a bargain price.
Rain poured down on him all afternoon. He was splattered with mud, sweat-soaked after the adrenaline rush of haggling for fine horseflesh, and starving. He wanted to run into the house, grab something to eat, and take a hot shower, but he had to see to Demon first.
A terrified whinny sent Cole rushing to the trailer. "I'll lead him out."
His trainer, Danielle, eyed him as if he'd lost his mind. "I don't mean to disrespect you, Boss, but I'm not sure you're the best one to coax him out."
"I'm the only one who can coax him out."
Billy gave Danielle a look that told her to back off. She did, though she obviously wanted to know what was going on.
Cole approached the trailer. "Demon, it's OK. I'm here." He kept his voice low, talking like he would to a shy dog rather than a horse, an animal that "got" him, that could be convinced he was part of Cole's pack.
The horse calmed and Cole climbed into the trailer. He rubbed Demon's flank as he approached. "Easy, boy. We're on my farm now. I need to put a halter on you and lead you to a stall. No one here will hurt you."
Demon's eyes were wide. A shiver ran along his back, and he tossed his head.
"Shhh!" Cole leaned close and hugged Demon's neck. "I know this is hard. You've been hurt, but so have a lot of us here. We want to help you."
Demon pawed the floor of the trailer. His ears swiveled, trying to interpret all the new sounds and check for danger.
Cole sighed. He worried his legs would fold under him. He'd give anything to lie down on a soft bed, but Demon needed him.
"I'll stay with you as long as you need me, OK?"
Demon nodded. And snuffled softly.
Cole slipped the bridle over Demon's head, feeling the horse tremble under his hands. "I'll take it off once you're in the stall."
Demon nodded again. How the hell could the horse understand and answer so clearly if he wasn't a shifter? But April was right. A shifter would've changed and gotten free. Demon had probably been owned by someone who trained him for a circus. Although Cole had never heard of another horse who could answer complex questions so easily.
He clipped the lead rope to Demon's halter, clucked his tongue, and encouraged Demon to back out of the trailer. "Clear the way for us, or he's going to panic."
Billy, Danielle, and the grooms moved back, but they all stared.
"What the hell's going on, Boss?" Shep asked. The groom had worked for Cole's grandparents. He was the only employee who'd stayed on after they died. He'd witnessed first-hand how hard Cole worked to get the horses to accept him when he'd first come to the farm as a grieving teenager.
"I wish I knew. I don't understand it either," Cole said in a low voice as he emerged from the trailer. Demon nuzzled him and snuggled against his side as if he were a security blanket.
"Can he really talk?" another of the grooms asked.
Cole grinned. "His grammar's not so good, but he's got 'yes' and 'no' down."
"Hell, my grammar ain't so good either, city boy. You saying that horse is as smart as me?"
Cole laughed. When he got to the barn door, Demon pulled back and neighed nervously. "What is it, boy?"
Demon shook his head. Billy and Shep had entered the barn ahead of him. They were settling the colts he'd bought into their stalls.
He stepped back and scratched Demon between the ears. "You're going to have to get used to being around the other horses."
Demon snorted.
Cole tugged hard on the lead, but the horse scrambled backward. "Damn it." Cole was exhausted, tired, and hungry. He should've stopped for a burger on the way home. He tugged again.
Demon flattened his ears.
"Fuck." Cole kicked at the ground. "You're going in the barn. I'm not going to hurt you, but we've got to get you into a stall."
Demon still refused to budge. Cole forced himself to take a slow breath. "Is it the horses? Did you think you'd get a private barn?"
Demon shook his head.
"Then what the—oh, you don't want my men in the barn, right?"
Demon's ears came back up, and he gave a small nod.
"Billy, Shep, you got those colts settled?"
"Yes, sir," Shep answered.
"Then do me a favor and head on to the bunkhouse. I don't think Demon's going to let anyone else be in the barn."
Billy raised a brow. "That is one odd horse."
"Yeah, but I guess we got to give him his quirks after all he's been through."
"Sure, but cozying up to a wolf. Hmmph. No accounting for taste."
Cole flipped him off. "Fuck you."
"Let me shower first, Boss." Billy retorted.
"Ha. Like I'd want your bony ass." Cole laughed as he remembered how lucky he was to have a manager he could joke with.
"I'll make sure they leave some supper for you, Boss," Shep called as the two men headed out the far door of the barn.
Once the men were gone, Demon followed Cole into the barn without further protest. The light outside was beginning to fade. Cole turned on the lights over the aisles, but the stalls remained deeply shadowed.
Cole's stomach growled as they walked to one of the far stalls. He usually managed to keep his lupine instincts under control, but he'd let himself get way too hungry, and now the barn smelled like food. He wished Demon would let someone else groom him. By the time he got back to the house, he'd have to grab a steak from the fridge and eat it raw. Cole tried to live like a pure-blooded human, but sometimes the wolf inside him was damned hard to fight.
At least the others would be in the bunkhouse and wouldn't see him. A few months ago, Billy had caught him stuffing raw meat in his face like a maniac. Cole feared his friend would run, maybe even quit, but he just made a joke about working for a savage. Other than ribbing him about it occasionally in private, he'd never said anything else. But Billy's acceptance didn't keep Cole from being embarrassed about letting his animal needs control him.
How much pull would his predatory instincts have if he were a full-blooded werewolf? He couldn't imagine fighting stronger urges than those he already felt. No wonder so few werewolves were civilized enough to live among humans. He'd once longed to be a pureblood, but after a year of trying as hard as he could to shift with no success, he'd denied his wolf whenever possible and worked at being human.
Being pulled in both directions was tearing him apart. He imagined hunting prey on four legs, racing through the woods like sleek muscular vengeance. He'd sink his teeth into his prey and… no, best not to think about that. Such animalistic freedom might make it hard to become human again.
As he led Demon into the stall, he smelled the familiar scent again, a bit like fresh hay but orangey and bright and… young? What did that mean? Maybe he was going crazy.
He'd found a horse that preferred a half-werewolf to a human, and he believed the horse could answer his questions. Yep, he sounded crazy all right. Smelling strange things was just an added bonus. Thankfully, April had seen the horse answer him, or he'd be convinced he'd lost it.
Cole unhooked the lead rope but kept hold of Demon's halter. "Are you going to let me groom you? I promise to be gentle."
Demon nodded.
"Good. I'll be right back." Cole slipped out of the stall door, latched it behind him, and went to get a grooming kit. When he returned, Demon was waiting patiently for him. He selected a curry comb and started working the dust out of the horse's coat. Demon hadn't let anyone on April's farm groom him, and his hair was a mess. Tonight wasn't the time to really get him good and clean, but Cole wanted to make a start. He rubbed in firm circles, careful to avoid the freshest wounds which were still healing.
As he worked on Demon's flanks, the horse studied him curiously. His big brown eyes held confusion, fear, and longing—for safety? For a real home? Cole sympathized, and he hoped to God he could give Demon some security.
He finished with the curry comb and rubbed Demon's nose. "I'm going to brush you and clean your hooves. Then I'll get you some dinner."
Demon pushed against Cole's hand and watched him, his eyes soulful, familiar.
What? How could they be familiar? Cole stepped back. The barn spun around him, and the citrusy smell floated in the air again. What was wrong with him? He shook off the feeling that he was missing something important and grabbed the brush. He'd be OK once he got some protein in him. He'd just waited too long to eat. That would explain the swirling of his thoughts and the sloshy feeling in his stomach.
He brushed Demon quickly. The horse continued to watch him as if he was trying to figure something out or trying to memorize every inch of Cole. The constant attention unnerved Cole.
By the time he finished brushing Demon and cleaning his hooves, the horse's ears stood up and Cole would have sworn his mouth curled up in a smile. "Do you feel better, boy?"
Demon nodded vigorously.
"Good. I'm going to get you some hay, and then I'll have to get my own dinner."
Demon nodded again and nuzzled Cole.
Cole patted his nose before leaving the stall. He headed to the far end of the barn and grabbed a feeding bucket. But a few seconds later, a clattering sound made his skin prickle. Something was wrong. He dropped the bucket and ran to Demon's stall.
Demon wasn't there.
Jonah stood in the middle of the stall, pale and thin and completely naked.
Cole rubbed his eyes. He had really gone over the edge now. "J-Jonah?"