BDSM Excerpt Week – Sara York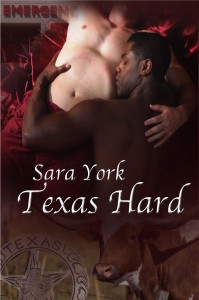 Thank you Silvia for having me on today. Connor, from Texas Hard, needs to be bound but he's placed his trust in the wrong man before. Trusting Riley is difficult in the beginning, but once he does his world is forever changed.
Blurb
Spurned by his heart's desire, Riley's aching for a fight, and he finds one with Connor, a sexy Texas lawman. Attraction fires between them, but Riley walks away, ignoring the lust between he and Connor…Until weeks later he's caught trespassing on Connor's new property–Naked.
Connor's tempted to arrest the audacious naked man in his watering hole until he realizes it's Riley. Lust muddles Connor's logic and soon he finds himself on a path rife with temptations. Passion twists Connor inside out leading him to share one of his deepest secrets. Still Riley's hiding something and the lack of mutual trust may end their relationship.
Then there's the Lane factor. Riley's ex leaves Connor feeling threatened. Riley swears it's over, but something doesn't sit right and Connor needs resolve. Coming to terms with their attraction means submitting to the fears haunting Connor and Riley before they can grasp the love that brought them together.
Texas Hard excerpt
Their lips met in the softest, most emotional kiss Conner had ever experienced. They clung together, gripping each other like their lives depended on them staying connected. Riley probed Connor's mouth, their tongues twining. Riley tugged at Connor's shirt, slipping his fingers under the material and grazing his belly. Connor jumped at the sensation. He remembered his need to be bound so he pushed Riley away. Hurt showed on Riley's face before he hid the pain.
"I need you to tie me up. Please."
"I've never really tied anyone up before."
"Oh."
"I'm willing, but I don't want to hurt you."
Connor fingered the buttons on Riley's shirt, unbuttoning the top one before moving to undo the second. "I'll give you a safe word. A word that if I say it, you stop."
"Tell me." Riley's eyes were filled with passion, his lids half closed. His nostrils flared as he sucked in a deep breath.
Connor undid another button, opening Riley's shirt, giving him a view of the man's crisp white undershirt.
"Give me your safe word," Riley commanded.
Connor shut his eyes and threw his head back, wicked cravings snaking their way though him. "Apple."
"Nice. A bit sinful, I like it. But first, I need you to help me find something you're willing to be tied up with."
"Anything." A wave of lustful dizziness washed over him as he opened his eyes and looked at Riley.
"No, I'm a doctor first, which means I'll keep you safe if we're going to do this."
Tears clouded Connor's vision. He'd known this was the perfect guy to do this with, now all of his doubts were dashed away. He hadn't made a mistake when he asked Riley to tie him up.
"Babe, what is it?"
Connor swallowed over the rush of emotions, "I trust you to keep me safe."
"Come on, help me look."
Riley held Connor's hand as they made their way through the house, opening and closing drawers, cabinets and closets. It was crazy how many household items wouldn't work. Connor was willing to use a phone cord, but Riley wouldn't allow it. They finally agreed on a tie for a bathrobe, a leather belt, an old necktie that Riley hated, and a plaid long-sleeved shirt with a rip in one of the sleeves. Connor insisted on a blindfold, and Riley solved the problem by using a soft cotton scarf.
Connor buzzed with excitement, almost ready to explode from Riley being near. He stood at the end of the bed, anticipation weaving through him as he waited for Riley to come back to the bedroom with the scarf. Riley approached hesitantly, his eyes downcast with a shy look on his face as he held up the scarf.
"I'm a little afraid of hurting you," Riley whispered.
Connor breathed out an explosive breath and a load of tension left his body.
"You okay?" Riley dropped the scarf on the bed and wrapped his arms around Connor.
"Yeah, just the last time I trusted someone to do this, I shouldn't have."
"I swear I won't hurt you. Apple is our safe word. Any time you feel overwhelmed or want me to stop, say the word and I'll pull back. I want this to be pleasurable to you, not scary."
Connor nodded as his throat closed with emotions. Riley was being amazingly nice, to the point that Connor was falling more and more for the guy.
"Say the word," Riley commanded.
Connor glanced into Riley's eyes and blinked. "Apple."
"Good, you be good and I'll let you come. You got that, big boy?"
Connor nodded and Riley grabbed Connor's ass and pulled him close. "Say yes sir."
Heat filled Connor, sparks flitting over his body, leaving all of his senses heightened. "Yes, sir."
"That's better. Now, I want you to take off your clothes."
Connor grabbed at his shirt, ready to pull the material off but Riley's hand came down hard on his arm, not a slap but the action made Connor jump.
"Slow, I want you to go slow, and you keep your eyes on mine as you undress."
Connor nodded and began pulling off his shirt, keeping his gaze on Riley. His hands shook as he pulled at the zipper on his pants, finally getting them unbuttoned after the third try. Tingling sensations rolled over his body, covering him in goose bumps. Connor shivered.
"Are you cold?" Riley asked.
"No."
Riley cocked his eyebrow, a look on disappointment on his face. For a second Connor wondered what he'd done wrong, then he remembered.
"No, sir."
"That's better. It's time to shower, I've had a long day and I don't want to smell like a hospital any longer."
Connor was disappointed for a moment before realizing Riley was being smart trying to make this a wonderful experience for both of them. He followed Riley into the bathroom and let Riley soap him up, washing off the day. After Riley sudsed and rinsed his own body, he turned off the water and wrapped Connor in a towel, drying his skin. Riley led him back to the bedroom, his hand on Connor's arm directing him where to go.
"Lie down on the bed, face-down so I have access to that sweet little hole," Riley growled.
Connor crawled onto the bed and lay down in the middle. Riley sat at the foot of the bed and grabbed Connor's right ankle. He wrapped one sleeve of the plaid shirt around Connor's ankle and tied a knot.
"That fine?" Riley asked.
"Yes, sir."
"Good answer. I'll reward you for saying sir."
Pleasure slithered through Connor, leaving him all warm and gooey inside. His cock throbbed, and his balls tightened. Pleasing Riley was his focus, everything from this point on was about doing what Riley wanted.
Riley worked on using the items to tie Connor down, making it difficult for him to move. He could probably get free if he wanted to. Riley hadn't tied him too tight, but he didn't want to be free. He was right where he needed to be, tied up and under Riley's control.
The last piece of their bonds Riley hadn't put into place was the blindfold. Riley knelt on the bed, close to Connor's head. Connor turned his head to the side. Before he placed the scarf over Connor's eyes, Riley leaned in and kissed him, his lips brushing gently over Connor's.
Riley pulled away and licked his lips, his eyes filled with excitement. "Use your safe word if you need to. I'm serious."
"Yes, sir," Connor breathed out.
The world went dark as Riley covered his eyes, wrapping the scarf around his head and tying a knot at the side. Before he'd positioned himself on the bed they'd propped up his lower body with a couple of pillows, giving Riley a good view of Connor's hole and balls. Connor's cock grew stiff, pushing at the pillows below him. He ground his dick forward and was surprised at the sharp sting of Riley's hand on his ass. He gasped in a breath, choking in surprise.
"You move when I say you move." Riley's mouth was at his ear, whispering the command.
Sara York's website
Sara York's blog