Archive for the 'sweet treats' Category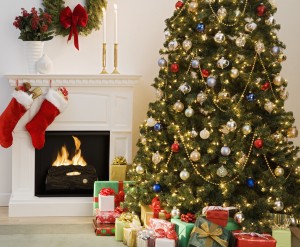 Writing, reading, and baking. Three of my favorite things so this holiday season, I've combined them to bring you lots of food and sexy reading for the holidays.
Every day from November 28-Dec 21, authors will be sharing a holiday recipe and an excerpt. I have two releases in December, One Kiss (m/m) and Stallion's Accord (m/f). And I have recipes to share with both.
So check back here each day for a little sexy escape and something yummy to make.

My Christmas story, One Kiss is available for pre-order! And if you pre-order it or any other Coming Soon title now through November 20, you earn triple reward points at Silver Publishing.
One Kiss by Silvia Violet
Jake Sanders comes home for Christmas after a dreary semester filled with sleepless nights and a cheating boyfriend. Finding a new man is the last thing on his mind until he discovers that Ben Swinburne now owns the bakery where they both worked.
Five years ago, Jake and Ben shared a single kiss, and Jake has never forgotten the way Ben's lips felt against his. When Ben catches Jake under the mistletoe, passion ignites between them. This time around, Ben wants more than one kiss, but Jake isn't sure he's ready for another relationship. Can Jake move past his pain and open his heart, or will he miss out on a second chance with the man of his dreams?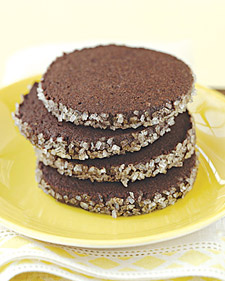 It probably won't shock you that I'm all kinds of crazy about holiday baking. I've been known to make over a dozen different kinds of cookies during December and all my relatives know they'll receive a cookie basket from me. One of my favorite holiday activities is pouring over the recipes in the Martha Stewart Living holiday special edition. A few years ago, one of the treasures I discovered there were these chocolate-black pepper cookies. They are a wonderful combination of chocolate and spicyness. And you can make the dough, roll it into a log and freeze it until you are ready to bake. It's like your own homemade slice and bake.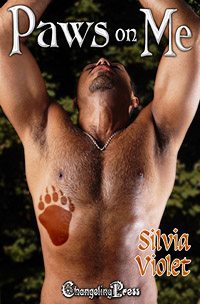 Like apple pie? So do my men in Paws on Me. They like it A LOT. They like to eat it in non-traditional ways 😉
When I make an apple pie, I use my favorite crust recipe:
Silvia's Pie Crust
For a 2 crust pie
2 cups flour
1/2 tsp salt
1 pinch baking powder
8T cold butter cut into small pieces
2T shortening
8-9T ice water with a few drops of lemon juice added
Mix dry ingredients. Cut in butter and shortening. Do not overmix. Add water and mix with a fork. Turn out on a cutting board or other hard surface. Split in half and form into two flattened disks. Refrigerate for at least 3 hours or up to 2 days.
Filling
I use the filling from this recipe. And bake 15 minutes at 425F and then 30-45 minutes at 350F.
To find out how to use an apple pie to spice up your life, go read Paws on Me.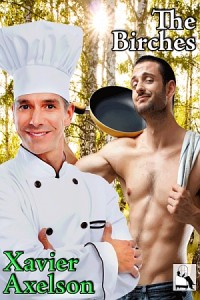 Today we welcome my scintillating friend, Xavier Axelson. Xavier has a deep dark passion for food and he's got yummy things to share with us.
I've been asked recently if I would ever consider writing a cookbook.  This may be because every one of my books features food.  Either being eaten, cooked, talked about, or used as an aphrodisiac, food features prominently in all my fiction.  I didn't even realize the trend until someone brought it to my attention.
You can imagine my pleasure at being asked to come up with a menu for Silvia Violet's blog.  The hardest part was deciding which of my characters I would cook for.  Being that The Birches is about to be released and is ALL about food I'm going to prepare dinner for Dock.  He is a self-taught cook and owner of The Birches and is the type of guy who would rather forget the rules when it comes to culinary and sexual pursuits.  I'm feeding him a hearty but simple and yummy repast.  I think he would appreciate the simple goodness behind these recipes, and would probably roll the dessert crust without his shirt on.  Lucky us.
I would start by serving a Bibb Salad with Basil Green Goddess Dressing.
Followed by a Perfect Broiled Steak
Served with Baked French Fries
For dessert I would serve homemade Deep-Dish Apple Pie with Cheddar Crust
Swallow That!
If you're still hungry and I know you are, here is an excerpt from my new release, The Birches available now from Seventh Window Publications.
Excerpt from The Birches
He pulled into the parking lot of The Birches and sat on his bike a minute. He felt nervous, like he was about to meet a celebrity and the self-doubt that plagued him made him queasy.
"You gonna sit outside or come in?"
Leo jumped at the sound of the man's voice. He pulled his helmet off and looked around, but didn't see anyone.
"Over here."
Leo looked just past his left shoulder and saw a man emerging from the nearby woods that surrounded the little restaurant.
"Oh, hey," Leo called out, his voice cracking.
"You looking for something to eat?" the man asked, coming closer.
Leo was shocked to find himself riveted to the spot, staring at the man who came towards him.
The man offered Leo a rough, calloused hand. "I'm Dock,"
"Hey," Leo managed weakly.
"I was out back, picking blackberries, they grow wild around here.  I thought they'd make a great dessert. Don't know what kind of dessert, but how can you go wrong when you have stuff like this?" He said as he offered up a large, wooden bucket half-full of dark, purple black berries.
There were purple smears across Dock's white tank top that seemed barely able to contain Dock's impressive chest. There were several brown freckles on Dock's shoulders, next to where the strap of tank top clung to his body.
"Lucky berries," Leo said under his breath.
"What?"
Sweat ran down Leo's back, he felt so nervous. For a brief moment, he thought of hopping on his bike and taking off.  Instead he said, "Um, nothing, sorry, I just wanted to come by and–"
"You want to come inside and have an iced tea or something?" Dock asked, "It's hot as hell out here and I know I need to cool off." He swiped a hand across his face and left a smudge of blackberry juice across his cheek.
Leo's heart was pounding, what was it about this place, this man?
Buy The Birches at Seventh Window or Amazon
You can find Xavier Axelson at his website, on Facebook, on Twitter and at his Examiner column.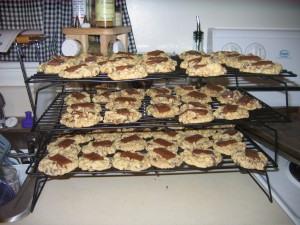 These cookies were first introduced to me 12 years ago when I was living in Baton Rouge and teaching at a private high school. An awesome young woman who was my student would make these cookies periodically and bring them to the teachers' lounge for us to snack on.
Before she graduated, my student, several of her friends, and I gathered for an evening of baking, and I learned how to make these cookies. She brought them to school the next day and we shared them in my classes. I ate 16 of them in the course of 2 hours and then had the worst sugar crash I've ever experienced
Oatmeal Hershey Bar Cookies
(This recipe makes 10-12 dozen cookies so I usually halve it.)
2 c. Butter (4 sticks)
2 c. Sugar
2 c. Brown Sugar
4 Eggs
2 t. Vanilla
4 c. Flour
5 c. Oatmeal, ground into powder (I do this in the food processor)
1 t. Salt
2 t. Baking Powder
2 t. Baking Soda
2 c. Chopped Pecans
3 cups Semi-Sweet Chocolate Chips
12 Hershey Bars (the plain milk chocolate ones that are divided into 12 pieces)
Preheat oven to 375F.
Cream butter and both sugars.  Add eggs and vanilla and blend until creamy.  Add flour, oatmeal, salt, baking powder and baking soda.  Blend just until combined.  Add pecans and chocolate chips and blend on the mixer's lowest setting. (If I make a full batch, it overflows from my mixer and I have to do the chips and pecans by hand.)
Drop by tablespoons onto a parhment lined cookie sheet.  Bake 6-8 minutes.  The cookies will be soft and will not look done when you take them out.  The edges may have just a hint of brown. Do not overbake!
Before removing them from the pan, top each cookie with one section of a Hershey bar.  After about 2 minutes, remove them from the pan and let cool. The chocoalte will remain gooey and soft for a long time.
Enjoy!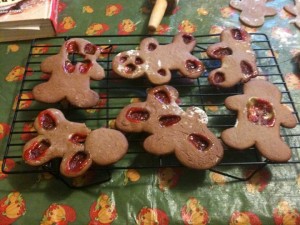 Last year, by accident, we discovered how to make awesome zombie cookies. We were decorating gingerbread men, and my daughters wanted to add some candy corn. I warned them that the candy corn would likely melt, but they remained adamant. When the cookies came out, the candy corn had melted and strangely enough turned red. The girls and I and several friends agreed that the red areas looked like decayed flesh. Thus zombie cookies were born or reborn I might should say.
I use the King Arthur Flour recipe for the gingerbread.  After the dough has chilled for several hours, we roll it out and cut out our gingerbread men. Then we place candy corn where we want our rotted effect. We tore off some limbs and even a head or two. You can use 1/2 pieces of candy or whole but more than two placed together results in so much melted candy that they fall apart.Place them on a baking sheet lined with parchment paper so the melted candy doesn't stick to the pan and bake at 375 for 10-12 minutes. The candies melts into an ooze in the last few minutes of baking. If they aren't quite melted enough, swirl them with a toothpick right after removing the pan from the oven.
Enjoy making your own!!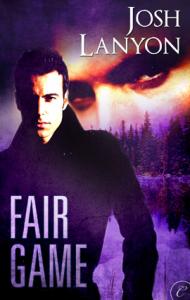 Today, Josh Lanyon, a write I admire immensely, invites you to join two of my favorite heroes, Tucker and Elliot from Fair Game for a mouth-watering repast….
Cocktails
Lemon Drop Martinis
Ingredients
• 1/2 oz. Jose Cuervo Especial Gold T
• 1 1/2 ounces vodka
• 1/2 ounce triple sec (may sub Grand Marnier for extra kick)
• 1 teaspoon superfine sugar (to rim martini glass)
• 3/4 ounce fresh lemon juice
• 4 -5 ice cubes
• Twist of lemon
Directions
• Chill martini glasses in freezer for at least 10 minutes prior to serving.
• Place Vodka, Triple Sec, lemon juice and sugar into a cocktail shaker with 4-5 ice cubes and shake vigorously for 30 seconds.
• Run the lemon twist around the edge of the chilled martini glass and dunk in a small amount of sugar for a coated rim.
• Pour the strained martini into the chilled glasses and serve.
Hors D'Oeuvres
Roasted Eggplant and Tomato Bruschetta
Ingredients
• 1 French baguette, cut into 36 1/4-inch-thick slices
• 3 tablespoons olive oil 2 halved garlic cloves
• 1 medium eggplant
• 1 large seeded, diced tomato
• 1 tablespoon fresh lemon juice
• 1 tablespoon shredded fresh basil leaves
• Salt and pepper
Directions
• 1.Cut a French baguette into 36 1/4-inch-thick slices and brush lightly with 1 tablespoon olive oil. Toast in a 350° oven for about 7 minutes until golden. Rub the toasts with 2 halved garlic cloves.
• Lightly coat 2 large baking sheets with vegetable oil cooking spray. Slice 1 medium eggplant lengthwise 1/4 inch thick and arrange the slices on 2 baking sheets. Brush with 2 tablespoons of olive oil and season with salt and pepper. Roast for about 10 minutes, until softened. Cut the eggplant into 1/2 -inch dice and transfer to a large bowl. Add 1 large seeded, diced ( 1/4 inch) tomato, 1 tablespoon fresh lemon juice, 1 tablespoon olive oil and 12 shredded fresh basil leaves. Season with salt and pepper.
• Mound the eggplant-tomato mixture on the garlic-rubbed toasts and serve.
Soup
Butternut Squash & Apple Soup
Ingredients
• 2 Tbs. unsalted butter
• 1 yellow onion, thinly sliced
• 1 jar (2 lb.) butternut squash puree
• 1 Granny Smith apple, peeled, cored, thinly sliced
• 2 cups low-sodium chicken broth
• 2 small bay leaves
• 3 tsp. kosher salt
• 1/2 cup crème fraîche
• 1/4 tsp. ground coriander (optional)
• 1/4 tsp. grated peeled fresh ginger (optional)
• Fried sage leaves for garnish
• Freshly ground pepper, to taste
• In a Dutch oven or stockpot over medium heat, melt the butter. Add the onion and cook until soft but not browned, 12 to 15 minutes.
• Add the butternut squash puree, apple, broth, bay leaves and salt and stir to combine.
• Bring the mixture to a boil, then reduce the heat to medium-low. Partially cover the pot and simmer for 30 minutes.
• Remove the bay leaves and discard. Add the crème fraîche.
• Using an immersion blender, puree the soup directly in the pot until smooth. Stir in the
coriander and ginger.
• Ladle the soup into warmed bowls and garnish with fried sage leaves and pepper.
• Serve immediately.
Main Course
Tucker's Cedar Plank-Grilled Salmon with Garlic, Lemon and Dill
Ingredients
• 1 (3 pound) whole filet of salmon, skin on, scored (up to but not through the skin) into serving pieces
• 6 tablespoons extra-virgin olive oil
• 4 large garlic cloves, minced
• 1/4 cup minced fresh dill
• 2 teaspoons sea salt
• 1 teaspoon ground black pepper
• 1 teaspoon lemon zest, plus lemon wedges for serving
Directions
• Soak an untreated cedar plank (or planks) large enough to hold a side of salmon (5 to 7 inches wide and 16 to 20 inches long) in water, weighting it with something heavy, like a brick, so it stays submerged 30 minutes to 24 hours.
• When ready to grill, either build a charcoal fire in half the grill or turn grill burners on high for 10 minutes.
• Meanwhile, mix oil, garlic, dill, sea salt, pepper and lemon zest; rub over salmon and into scored areas to coat.
• Place soaked cedar on hot grill grate, close lid, and watch until wood starts to smoke, about 5 minutes. Transfer salmon to hot plank, move salmon off direct charcoal heat or turn burners to low, and cook covered until salmon is just opaque throughout (130 on a meat thermometer inserted in the thickest section) 20 to 25 minutes or longer, depending on thickness and grill temperature.
• Let sit 5 minutes; serve with lemon wedges.
Roland's Cauliflower with Mustard-Lemon Butter
Ingredients
• 1 small head of cauliflower (about 1 3/4 pounds)
• 1 teaspoon coarse kosher salt
• 6 tablespoons (3/4 stick) butter
• 2 tablespoons fresh lemon juice
• 2 tablespoons whole grain Dijon mustard
• 1 1/2 teaspoons finely grated lemon peel
• 1 tablespoon chopped fresh parsley
Directions
• Preheat oven to 400°F. Butter rimmed baking sheet.
• Cut cauliflower in half, then cut crosswise into 1/4-inch-thick slices. Arrange slices in single layer on prepared baking sheet; sprinkle with salt.
• Roast until cauliflower is slightly softened, about 15 minutes.
• Meanwhile, melt butter in small saucepan over medium heat. Whisk in lemon juice, mustard, and lemon peel.
• Spoon mustard-lemon butter evenly over cauliflower and roast until crisp-tender, about
10 minutes longer. DO AHEAD Can be made 2 hours ahead. Let stand at room temperature. If desired, rewarm in 350°F oven until heated
through, about 10 minutes.
• Transfer cauliflower to platter. Sprinkle with parsley and serve warm or at room temperature.
Dessert
Warm Chocolate Cakes with Mascarpone Cream
Ingredients
• 8 ounces bittersweet chocolate, chopped, plus shavings for garnish (optional)
• 1 1/2 sticks (6 ounces) unsalted butter
• 3 large eggs, plus 3 large egg yolks, at room temperature
• 1/2 cup sugar 1/4 cup cake flour
• 1/2 cup heavy cream
• 1/2 vanilla bean, split and seeds scraped 2 tablespoons light brown sugar
• 1/2 teaspoon finely grated lemon zest
• 1 cup mascarpone (8 ounces)
• 1 teaspoon fresh lemon juice
• About 1/2 cup brandied cherries or kirsch-soaked sour cherries
Directions
• Preheat the oven to 375°. Coat six 6-ounce ramekins with butter, and dust lightly with flour. Set the ramekins on a sturdy baking sheet. In a microwave-safe bowl, melt the chocolate with the butter; let cool.
• In the bowl of a standing electric mixer fitted with the whisk, beat the eggs, yolks and sugar on high speed until pale and fluffy, about 4 minutes. Using a rubber spatula, gently fold in the chocolate, then fold in the cake flour just until no streaks remain.
• Spoon the batter into the prepared ramekins and bake for 15 minutes, until the cakes have risen, the tops are dry and the centers are slightly jiggly. Let stand for 5 minutes.
• In a bowl, beat the cream with the vanilla seeds, brown sugar and lemon zest until soft peaks form. Add the mascarpone and lemon juice and beat until blended.
• Run the tip of a small knife around each cake to loosen it, then unmold onto plates. Spoon the mascarpone cream onto the cakes and garnish with the brandied cherries and chocolate shavings.
Bailey's Irish Coffee
Ingredients
• 1 (12-ounce) wine glass, preheated
• 10 ounces brewed coffee
• 1 shot glass of Bushmill's Irish whiskey
• 1 1/2 jiggers Bailey's Original Irish Cream
• 1/4 cup heavy cream, whipped until stiff peaks form
• Ground cinnamon or chocolate shavings (optional)
Directions
• Pour whiskey into heated glass
• Add hot coffee
• Add the Bailey's and stir well to blend
• Top with a mound of whipped cream
• Sprinkle with cinnamon or shaved chocolate.
• Serve responsibly.
Fair Game by Josh Lanyon
Buy at Amazon, ARe, or Carina Press
Watch the book trailer.
Blurb:
A crippling knee injury forced Elliot Mills to trade in his FBI badge for dusty chalkboards and bored college students. Now a history professor at Puget Sound university, the former agent has put his old life behind him—but it seems his old life isn't finished with him.
A young man has gone missing from campus—and as a favor to a family friend, Elliot agrees to do a little sniffing around. His investigations bring him face-to-face with his former lover, Tucker Lance, the special agent handling the case.
Things ended badly with Tucker, and neither man is ready to back down on the fight that drove them apart. But they have to figure out a way to move beyond their past and work together as more men go missing and Elliot becomes the target in a killer's obsessive game…
Excerpt:
On the sidewalk outside the house, Tucker preempted Elliot with a harsh, "I don't want to hear it. Personally if someone did pop the kid, I like Daddy-o for it."
"I'm not saying you're wrong."
'The guy is a bona fide homophobe – with a violent streak to boot. Have you had a look at his record? Assault charges were filed against him three times back when he and your pop were buying their tie-dyed tickets to Woodstock."
Tie dyed tickets? Despite the face that there was little to find funny in any of this, Elliot's mouth twitched. "What happened to the assault charge?"
"Maybe the same thing that happened today. Someone convinced someone else against his better judgment to drop them."
Elliot met Tucker's flinty gaze. He shook his head. "The guy's a lawyer, Lance. A very successful lawyer. And he's a grieving father. Where do you think a court's sympathy is going to lie? With a model citizen like him or a hard-ass like you?"
Tucker's gaze grew adamantine. He opened his mouth, but Elliot said, "It's a rhetorical question. I know the answer if you don't. Can you give me a lift back to the college?"
After a moment, Tucker nodded curtly.
The drive back to campus was accomplished in record time and dead silence. As the tires bit into the chapel parking lot, Tucker glanced Elliot's way and growled. "You okay?"
Elliot gave him a narrowed look. "Why wouldn't I be?"
"What happened back there?" Tucker glared at Elliot's knee, which Elliot had been unconsciously rubbing.
"Nothing." That was obviously not true. Elliot qualified, "I rammed my knee into the counter."
Tucker opened his mouth, then seemed to think better of it. He shrugged.
"I'm fine. Don't worry about it." He was not fine, of course. He felt drained, depressed, and his knee was pulsing to a steady, painful beat, flares of anguish surfacing through damaged nerves and muscles and tendons when and where he least expected.
He was sorry he'd ever agreed to look into Terry Baker's disappearance. What the hell use had it been?
"Good," Tucker clamped out, pulling up beside Elliot's Nissan. "Great."
"I'll talk to you later." Was there some reason he would be talking to Tucker later? Elliot wasn't sure, but he knew that he couldn't say a final goodbye to Tucker here and now. He didn't dare examine that conviction, but it persisted all the same. This was not the time or the place to face never seeing Tucker again.
He reached for the door handle, and Tucker said suddenly, urgently, "Elliot?"
He turned his head and Tucker's big hand landed ungracefully on his shoulder, drawing him back as his warm mouth landed on Elliot's.
For an astonished moment Elliot was aware of nothing but the feel of Tucker's hard, insistent lips on his, the almost desperate pressure, the taste, the scent, the disturbing reality of Tucker's desire.
"Elliot," Tucker whispered, breaking contact for a moment. The heat of his breath was against Elliot's face, hypnotizing, bewildering. His mouth touched Elliot's again, and Elliot could feel his name – and a question – formed against his skin. Just that. Just Elliot?
There was a terrible familiarity to it. A reminder that he had not forgotten nearly enough, nearly what he had reassured himself was far, far behind him. It was all there, buried deep, but still flickering, like a short in his wiring, like an imprint on cell memory. Genetic code and the secret message was Tucker. The sudden unbearable sweetness of it made his breath catch and his eyes sting. Turned his guts to liquid with furious longing for that touch – that touch and no other.
The unfairness of it, the outrage of it, gave him the necessary strength to pull away. Tucker stared back at him, pupils dilated, breath uneven.
"What the fuck?"
Tucker's chest rose and fell.
"Where did that come from?"
Still nothing from Tucker, and Elliot's anger soared.
"Are you out of your fucking mind? You think after two years you're just going to – to pick up where we left off? What the hell's the matter with you?" Elliot pushed Tucker. Shoved him back into his corner behind the steering wheel. Tucker made no move to defend himself.
"You're what's the matter with me," he cried. "Why did you have to come back?"
"I'm not back."
"Then what are you doing here?"
"I'm working for the Bakers."
"Bullshit. Bullshit, Elliot."
"You think I got involved because you're on this case?"
"No. I know better than that. Maybe you've developed selective amnesia, but I haven't. I remember the way it went down. I'm not the only one who made mistakes."
"What the hell is that supposed to mean?"
"You're so goddamned stubborn. And you always have been."
At some point it would be funny, the fact that the two of them were sitting there glaring at each other, panting and nearly inarticulate with anger and lust and complete, utter confusion. But it was not funny now. Now it was merely one more painful, pointless instant in a day of painful, pointless incidents.
"Yeah, you just keep telling yourself that, Tucker," Elliot threw back. He yanked open the car door, jumped out. "Eventually you'll convince yourself I walked away." He slammed the door shut with all the energy and anger he could summon.
He stood there rubbing his knee impatiently, absently, as Tucker's car sped from the parking lot.
Learn more about Josh Lanyon at his website.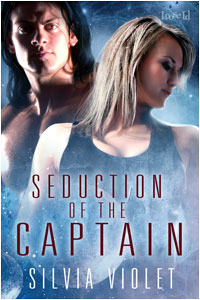 Today I'll be cooking dinner for the darkly sexy Kajinek, hero of my sci fi story, Seduction of the Captain. Since his self-imposed exile, Kajinek has missed the spicy, aromatic cuisine of his home planet, Lalatia. I think he'll enjoy Indian food as a substitute so I'm going to make him an Indian feast including tandoori chicken, chick pea curry, naan, raita and kheer.
I love this recipe for Tandoori chicken made on the grill.
I make Naan using the basic bread recipe from Artisan Bread in Five Minutes A Day.
Raita, a cooling yogurt dish is a great accompaniment to spicy food.
Silvia's Husband's Chick Pea Curry
2T oil
1 onion, chopped
1 clove garlic minced, or more to taste
1T curry
1T tomato paste
1 15oz can chick peas, drained
1/2T lemon juice
½ t salt
Heat oil. Saute onion until slightly browned. Add garlic and cook 1 min. Add curry and tomato paste and cook 2 min more. Add chick peas, liquid, and lemon juice, salt, and pepper to taste. Cook 10 minutes or until chick peas are soft and flavorful. Serve over basmati rice.
Kheer is an Indian rice pudding that makes a delicious dessert.
Excerpt from Seduction of the Captain which is available at Loose Id, ARe or Amazon.
Kaj opened the door of his resort-class suite and nearly stumbled as a heady female scent hit him with tangible force. He'd yet to probe the mind of the woman who'd interrupted his quiet afternoon, but her submissive needs screamed at him, begging him to take notice. His cock hardened instantly.
Her long blonde hair was pulled back in a braid that reached her waist. He fought the urge wrap it around his hand and crush her against him. Her skintight flight suit left little of her body to his imagination. Her muscles tensed under his gaze, and her green-gold eyes studied him suspiciously. She reminded him of a feline preparing to spring. He could smell her desire. Apparently he was affecting her as much as she affected him.
"Kajinek of Lalatia?"
He nodded, not sure he could keep the predatory growl out of his voice.
"I'm Captain Saida Alexander of the Allied Mercenary Corporation ship the Ascendant. I've come to offer you a job."
Kaj smiled. He'd heard of Captain Alexander. She was well respected as a hard-ass leader who always accomplished her mission objective. For a captain of her standing to show up unannounced at his personal quarters, she must be desperate for his help. This must be his lucky day. "Do come in."
He pressed at the edges of her impressive mental shields and gleaned just enough information to confirm what was already clear to him. While he doubted anyone else realized it, Captain Alexander longed to find a man strong enough to dominate her. She was desperate for the release she could never find with a partner who refused to test the limits of her strong will.
He'd not met a woman this compatible for his needs since leaving Lalatia. And he wasn't about to let her get away. Before this day ended, she would be his.
"Have a seat, Captain." He gestured toward the plush chairs in the small seating area near the window, which overlooked the station garden. "I'll order us some refreshments."
The sexy captain moved through his quarters with silent, controlled grace. He suppressed a shudder of anticipation as he imagined how she would move under him as he thrust deep in her body. If he didn't watch it, he wasn't going to be able to focus on the business at hand. He'd take whatever job she was offering, but he doubted she'd like his terms.
He knew his smile must be particularly predatory when her eyes widened. By Varin, she was going to be a feast. "Would you like some coffee?"
She still looked wary, but now he saw a hint of a smile. "Real, honest-to-God coffee?"
He laughed. "Of course."
"Yes, please."
He walked to his comm unit and pressed down the button that connected him with the resort concierge. "Please send up coffee and an assortment of pastries immediately."
"Yes, sir."
Captain Alexander smiled, briefly losing her controlled exterior and looking almost girlish. "You needn't go to the trouble, but I do appreciate it. I haven't tasted real coffee in months."
Her joy at this simple gesture stirred something in him even stronger and more potent than lust. Hearing her cry out his name as he whipped her ass would be delicious. But satisfying her enough to bring that smile to her face might feed something more than physical hunger in him. The thought unnerved him but made him no less determined to have her.
He sat in the chair facing hers. "So you're in need of a pilot?"
The captain nodded. "The last pilot I hired proved unsatisfactory. We have a job in three days. I'd like you in the pilot's chair."
"What is this job?" His sensitive ears heard her pulse accelerate. What was she up to?
"We will act as escort for three ships intent on sailing through the Rebel-controlled sector of Quadrant 16. They'll appear to be private cargo ships, but they'll be manned by Imperial Intelligence agents."
Kaj snarled. "I don't do Imperial jobs."
Captain Alexander arched a brow and held his gaze. The delicious smell of her fear belied her confidence. "I've heard you'll take any job as long as the price is right."
He gestured at the opulent room. "Does it look like I'm in need of work?"
"Lovely as all this is, you don't strike me as a man who likes to sit on his ass. I think you need to fly. I think you need the rush of danger."
He smiled, knowing she could see the swirl of orange and yellow flames in his eyes, a sure sign of a Lalatian's anger or lust. "I do enjoy a thrill, but I can get that right here. You seem like a rather dangerous woman."
Anger flashed in her eyes. The scent of fear deepened.
The doorbell rang, signaling the arrival of coffee. Kaj was thankful for the distraction. His cock was harder than a steel rod, and he was close to pinning Captain Alexander to the wall and taking exactly what he wanted. His lack of control was appalling, but she was doing things to his libido that made him feel like a boy with his first trainer.
He took the tray from the delivery bot and poured coffee for the captain. As he handed her the mug, he let his fingers brush hers. He was rewarded by her sharp intake of breath.
The contact distracted her, and he felt her fear ease, supplanted in part by lust. He couldn't help but smile as he sat down, taking a sip of the delicious, strong coffee he'd grown addicted to.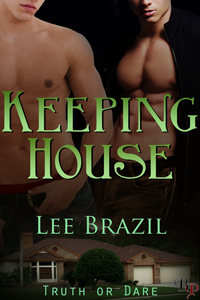 Today I have charming fellow food enthusiast, Lee Brazil here to share a dinner in honor of his delectable hero, Mischa Blake…..
I'm so thrilled to be asked to contribute to this feature, because food is my other hobby.  Writing, reading and cooking are the three things I cannot live without.  There's always a meal of some kind in my books, and one of my favorite things about Keeping House was finding recipes for Mischa to use.  Mischa's never cooked a thing in his life, see?
Just like he's never cleaned, done laundry or anything else.
However, he's resourceful.
And he has the internet.
Google to the rescue.
In honor of Mischa, my menu today is all from Google, all easy to prepare and tasty.
Appetizers:  Angels on Horseback
"Bacon-wrapped oysters are seasoned with smoked paprika and roasted until crisp in this addictive appetizer."
INGREDIENTS:
12 shucked oysters
12 slices bacon
1/2 teaspoon salt
1/8 teaspoon ground black pepper
1/8 teaspoon smoked paprika
2 tablespoons chopped fresh parsley
DIRECTIONS:
1.    Preheat an oven to 450 degrees F (230 degrees C). Set a wire rack into a small baking dish.
2.    Wrap each oyster with a slice of bacon, and secure with a toothpick. Sprinkle with salt, pepper, paprika, and parsley; set onto wire rack.
3.    Bake in the preheated oven until the bacon is crispy, 10 to 12 minutes. Serve immediately. They aren't as good once they get cold.
ALL RIGHTS RESERVED © 2011 Allrecipes.com    Printed from Allrecipes.com 6/23/2011
Salad: Tomato and Avocado Salad
"A very simple, very delicious salad, that makes a perfect starter for dinner parties."
INGREDIENTS:
1 teaspoon Dijon mustard
1/4 cup extra-virgin olive oil
1/2 cup balsamic vinegar
1 pinch ground black pepper
1 avocado – peeled, pitted and sliced
2 small tomatoes, each cut into 8 wedges
DIRECTIONS:
1.    In a small bowl, whisk together the mustard, olive oil, balsamic vinegar and pepper. Arrange the slices of avocado and tomato alternately like the spokes of a wheel on one big serving plate, or individual plates. Drizzle lightly with the dressing, and serve immediately.
ALL RIGHTS RESERVED © 2011 Allrecipes.com
Entrée:  Steak au Poivre
4 (3/4- to 1-inch-thick) boneless beef top-loin (strip) steaks (8 to 10 oz each)
1 tablespoon kosher salt
2 tablespoons whole black peppercorns
1 tablespoon vegetable oil
1/3 cup finely chopped shallots
1/2 stick (1/4 cup) unsalted butter, cut into 4 pieces
1/2 cup Cognac or other brandy
3/4 cup heavy cream
Preheat oven to 200°F.
Pat steaks dry and season both sides with kosher salt.
Coarsely crush peppercorns in a sealed plastic bag with a meat pounder or bottom of a heavy skillet, then press pepper evenly onto both sides of steaks.
Heat a 12-inch heavy skillet (preferably cast-iron) over moderately high heat until hot, about 3 minutes, then add oil, swirling skillet, and sauté steaks in 2 batches, turning over once, about 6 minutes per batch for medium-rare.
Transfer steaks as cooked to a heatproof platter and keep warm in oven while making sauce.
Pour off fat from skillet, then add shallots and half of butter (2 tablespoons) to skillet and cook over moderately low heat, stirring and scraping up brown bits, until shallots are well-browned all over, 3 to 5 minutes.
Add Cognac (use caution; it may ignite) and boil, stirring, until liquid is reduced to a glaze, 2 to 3 minutes. Add cream and any meat juices accumulated on platter and boil sauce, stirring occasionally, until reduced by half, 3 to 5 minutes. Add remaining 2 tablespoons butter and cook over low heat, swirling skillet, until butter is incorporated. Serve sauce with steaks.
Courtesy of http://www.epicurious.com/recipes/food/views/Steak-au-Poivre-
Dessert: Grilled Pineapple with Vanilla Ice Cream
Grilled Pineapple
Ingredients
1 ripe pineapple
1/2 cup melted unsalted butter
3/4 cup granulated sugar
1 teaspoon grated lime zest
1 teaspoon ground cinnamon
1/8 teaspoon ground cloves
Ice cream
Directions
Preheat the grill to high. Oil the grate.
Cut the rind off the pineapple, leaving the green leaves intact. Cut the pineapple in half lengthwise through the leaves as well as the fruit to obtain 8 slender wedges of pineapple with leaves intact. Trim the core off each pineapple wedge. Have the melted butter in one shallow bowl; mix the sugar, lime zest, cinnamon and cloves in another bowl.
Dip each wedge of pineapple first in melted butter, then in the sugar mixture, shaking off the excess. Grill the pineapple wedges until browned and sizzling, 5 to 8 minutes per side. Transfer the pineapple wedges to plates or a platter. Serve with ice cream.
©Television Food Network G.P.
Keeping House, Truth or Dare #1
Available at
Breathless Press
Amazon
All Romance eBooks
Blurb:
Mischa knew his brothers were up to something.  He didn't know it would lead him to Donovan Holloway and change his carefree lifestyle forever.
Donovan Holloway, advertising executive, newly made vice president of the company where he's worked for twenty years, grew up in a free love hippie commune taking care of the parents who should have been taking care of him. He's worked hard to put himself through school and achieve the American dream- all he's ever wanted was a normal family life- house in the suburbs, two cars, two kids, a shaggy dog. A family to come home to, to care for, to care for him has been his dream since he was a small boy.
Mischa Blake is the green eyed, liberally pierced, black haired, Mohawk wearing spoiled youngest son of a Hollywood producer and his actress wife. Mischa has made a terrible mistake. In a fit of childish pique he's accepted a dare from his older brothers. The dare? Live on his own supporting himself completely for a year without accessing his trust fund. No problem. Except Mischa has never worked a day in his life, hasn't finished college, and has absolutely no skills that he can bring to the table.
So when he sees Donovan's ad for a housekeeper/gardener, he has nothing to lose by applying, because really…how hard can it be?
Excerpt:
"So, tell me why you want to work for me." That should give him pause.
"I don't. My brothers dared me to get a job, and it's been a lot harder than I expected. I just came from a McDonald's where the manager had a guy with a BS cleaning the toilets and an MBA flipping burgers. The economy sucks." Mischa sounded dejected.
"Ahh." He wanted a job on a dare? What the hell? Who told a prospective employer they didn't want to work for them? "Let me tell you a little about the parameters of the job."
Mischa gazed at him quietly, waiting. Maybe the daunting aspects of the task would send the kid the way of the first applicant. "You'll be responsible for preparing meals. I eat breakfast at six, daily, take a boxed lunch to work, and expect a minimum of a three course dinner. Sometimes I have guests, and occasionally dinner parties." He didn't really, but threw out the possibility anyway. For a moment, he was distracted by the amusing vision of a room full of elegantly clad clients and coworkers staring in horror as a Goth-garbed Mischa, hair spiked and piercings glittering in the candlelight announced that dinner was served.
"Got it. Cooking. I can do that." Mischa seemed to be trying to convince himself as much as Donovan of that fact.
"You'll have to do the shopping. I don't have time for things like that. Then there's the cleaning. I expect the house to be spotless at all times." He assiduously ignored the fact that the house was currently anything but clean.
Mischa wasn't inclined to be so kind, though. He glanced pointedly around the kitchen, at the stack of dirty dishes in the sink, the debris from several takeout meals on the counter tops, and the unpacked boxes of kitchenware. "OK. Clean. I can do that."
"I need the house put together, too. The boxes," he waved around, "unpacked and stuff put away. The walls painted, furniture ordered and assembled and put in place."
Mischa looked shocked. "You trust me to decorate your house?"
"No. I have the plans here." He thumped the red leather-bound album that held the dream house drawings he'd labored on over the years on the marble counter. "I need my housekeeper to coordinate the workmen, decorators, deliveries and so on."
More nods. "I can do that."
Donovan stared helplessly at the kid. Stop calling him kid. It's too pervy. What else? "References? Do you have references?"
Mischa bent over and the tight black t-shirt rode up as the skinny jeans inched down. Damn. All that creamy white flesh, hairless and smooth tempted him to reach out and touch, to examine the texture and resiliency. He wondered if there were any more shiny piercings hidden under that severe black garb.
"Hey," Mischa was waving a handful of papers in front of his face, and Donovan flushed slightly. Could Mischa tell he'd been staring inappropriately at his exposed skin?
"I'll, ahh, I'll keep these. I need to call on them later." He searched desperately for something, anything to turn the kid-man off the idea of working for him. Recalling the indignation and vitriol of the second applicant, he took a shot in the dark and threw it out there. "I'm gay."
No response.
"I said I'm gay, a homosexual, a flamer."
No response. Just inquiring green eyes locked on his face. Someone must have told the kid–man that eye contact was important.
"I sleep with other men?" Shit now he was making statements as questions.
The pierced brow rose slightly at that in an enigmatic gesture, but no response was forthcoming.
"This is a live in position. You don't mind working for and living with a gay man?"
Finally, Mischa smiled. Donovan's heart lurched at the sexy sweetness of that smile. The tiny silver hoop in his lower lip glinted seductively. Wonder how that piercing would feel when he pressed his lips to Mischa's? It certainly drew attention to the swollen plumpness of the full red lower lip. Yeah—he really needed to get laid this weekend.
"No. I don't mind working for a gay man, as long as you don't mind hiring one." Mischa's smile was now a broad grin, and he settled back more comfortably on the barstool, as though he were suddenly making himself at home.
Sudden sympathy overrode Donovan's concerns. Why not give the kid a chance? If Martin Weston hadn't hired him to work in the copy room at his company all those years ago despite his being an underage gay hippie he wouldn't be where he was today. He'd probably regret this, but it looked like the skater-Goth-boy/man had talked himself into a job. And the corporate advertising executive was sentencing himself to a series of cold showers.
To learn more about Lee, visit his blog.