Shifter's Station: Pilot's Bargain For 1¢
For the next week, you can buy Shifter's Station 1: Pilot's Bargain for 1¢. That's right just a single penny!
Edited to add: You can now buy it for only 99¢.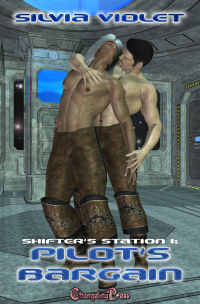 Book Summary
Larissa, a freighter pilot for an interstellar delivery company, has been blackmailed by her boss into delivering a cache of illegal weapons to a trading post on the edge of Common World space. When she arrives, one of the faulty weapons explodes, killing an inspector and injuring several others.
The station's commander, an alien with the power to read the truth from someone's mind, confirms that Larissa knew nothing about the weapon's potential to malfunction. But the captain, a former officer of Terran Special Forces, refuses to let her go. Instead, he makes a wicked bargain. If she can resist his and the commander's attempts at seduction for two hours, then she is free to go. If she gives into her desire for them, then she will serve as their bed slave for one month.
Publisher's Note: Pilot's Bargain is Book One of the Shifter's Station Series, available in the Shifter's Station Collection and in print.